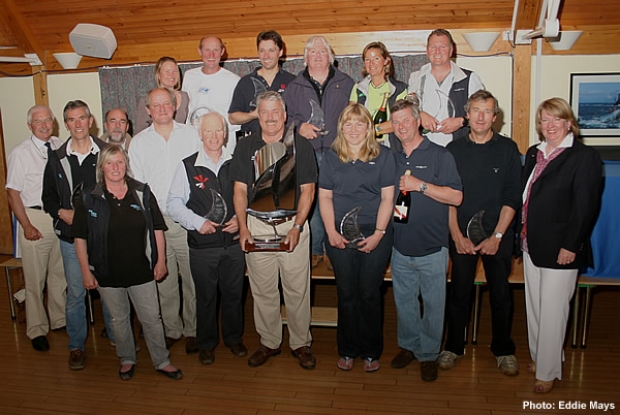 Prize winners
Warsash Sailing Club was packed on Friday 16th May 2008 when the prizegiving for the Raymarine Warsash Spring Series and Spring Championship was held. 2008 marked the Silver Jubilee of the event which started on a much smaller scale but this year saw 277 entries - the second highest total ever. Chairman Peter Bateson thanked the 125 volunteers who had made everything run smoothly. On some weeks, the race management team had included Fiona Pankhurst, International Marketing Communications Manager for title sponsors Raymarine. Fiona and her husband Terry had joined the busy Laser SB3 committee boat with Commodore Peter Knight running a separate line for this class in 2008.
Special thanks were given to Cliff and June Norbury who had provided their Starlight 39
Zest
as a committee boat for the event over many years. Cliff was also retiring from the Spring Series Committee where his words of wisdom would be sadly missed.
It was then time to present over 60 prize winners before reaching the three special trophies for the year. The Commodore's Cup is awarded to the outstanding winner of an IRC class. This year it went to Nick and Anne Haigh of
Dark and Steamy
. They scored four first places out of five ranking races in IRC1 as well as winning their class in the Big Boat Championship. The Founder's Trophy, presented in memory of Tom Cozens, one of the founders of Warsash Sailing Club 51 years ago, went to Geoff Carveth (
Palava
) in the Laser SB3 class who won the Spring Championship by a 35 point margin and the Spring Series by an even more remarkable 45 points. The Raymarine Trophy is presented by the event sponsors to a boat or individual on merit. This year it went to the J/80 team of Ian Atkins on
Boats.com
who won both the Spring Series and Spring Championship but especially showed good sportsmanship and support for the event.
Raymarine Warsash Spring Series and Spring Championship
Class winners 2008
Spring Series White Group
SBR Sportsboat Finn M'Coul Tom Clay
Hunter 707 Tequila Miles Dalby
J/80 Boats.com Ian Atkins
Laser SB3 Palava Geoff Carveth
Spring Championship White Group
Hunter 707 Cacciatore Dicky Barnes
J/80 Boats.com Ian Atkins
Laser SB3 Palava Geoff Carveth
Spring Series Black Group
J/105 Fay-J Paul Griffiths
J/109 Zelda Ben Richards
IRC4 Elusive Jackie and Robert Dobson
IRC3 Rushlex Russell Hodgson
IRC2 Circus Andrew Webster
IRC1 Dark & Steamy Nick and Anne Haigh
Spring Championship Big Boats
CC3 Prime Suspect David and Gill Richards
First 40.7 Tarka Guy Prest
45 foot Freddie Freeloader Eamonn O'Nolan
IRC Dark & Steamy Nick and Anne Haigh
Back to top
Back to top