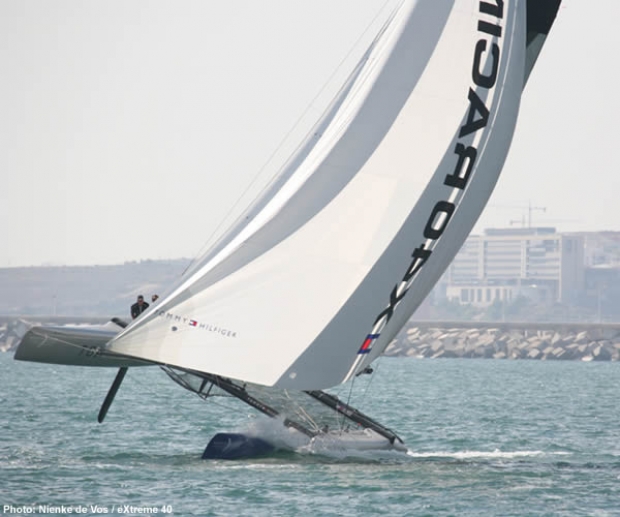 Smyth on a roll
The
Delta Lloyd/Tommy Hilfiger
crew put on an amazing demonstration of Extreme 40 sailing today, to win all six races, taking them convincingly into the lead overall. Yesterday all six catamaran teams took a race win, but today the American skipper Randy Smyth and his crew of Mischa Heemskerk (NED), Pim Nieuwenhuis (NED), and Pieter Jan Postma (NED) dominated from start to finish, taking every winner's gun.
Delta Lloyd/Tommy Hilfiger
stamped their mark on the day early on, taking the first two races with ease, both times followed home by yesterday's winners
Alicante 2008-09
, skippered by Frenchman JC Mourniac. By the second some nice puffs were coming down the race course, adding to a great spectacle but making life hard work for the crews -
OrangeB
struggling to furl their spinnaker as they careered towards the seawall!
In glorious sunshine and a perfect 12 knots of breeze it was ultra-close for Race 3.
Delta Lloyd/Tommy Hilfiger
,
Twins
and
Holmatro
all rounded the bottom mark just inches apart, but
Holmatro
lost the battle as they too suffered spinnaker issues which saw them drop out of contention for the lead. That went to
Delta Lloyd
, who pulled away to win from the French boat
Twins
.
Staying out of trouble
Today's fourth race (Race 12 in the series) saw a perfect formation start, and five of the fleet were closely packed as they headed across the course on starboard tack, all hollering for water as they rapidly reached the other side of the harbour. The only boat not to join the melee was
Delta Lloyd/Tommy Hilfiger
, which tacked off early towards the right - and popped out in front by the first cross, rounding ahead and never looking in danger.
Alicante 2008-
09 came home second, followed by
OrangeB
.
In race five
Delta Lloyd/Tommy Hilfiger
had to work hard to take their next victory. Hugh Styles and crew on
Volvo Ocean Race
were neck and neck with them around the top mark, but at the first gate the duo split -
Delta Lloyd/Tommy Hilfiger
again taking the winning right-hand side to come out ahead. By the second rounding
Alicante 2008-09
had come through to second, which they held to the finish.
It was the same boat in front by the first mark rounding in race six, with
Delta Lloyd/Tommy Hilfiger
clear of trouble in a packed leeward mark rounding which saw
Twins
hit the mark and plenty of protests lodged.
Alicante 2008-09
took yet another second, securing them in the runners' up spot at the end of day two on 37 points, behind Randy Smyth and the
Delta Lloyd/Tommy Hilfiger
crew on a score of 29. It's close for third overall, with just one point separating
OrangeB
, skippered by Aaron Mcintosh of New Zealand, from
Twins
, skippered by Erik Maris. However, the protest committee are going to be busy late into the night, so we may see some changes to the overall leaderboard tomorrow...
Back to top
Back to top