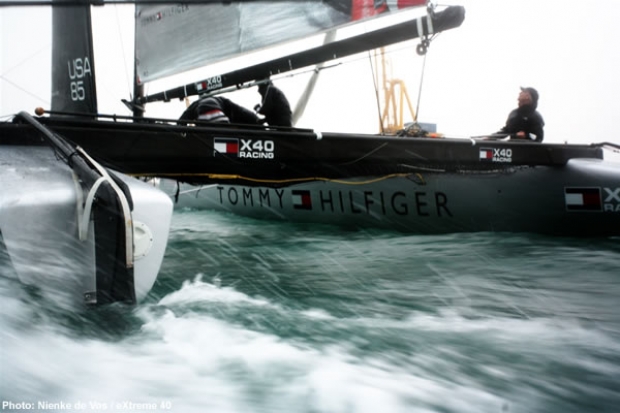 Tied at the top
One day to go in the Extreme 40 Series - Alicante Grand Prix and two boats are still dueling for the overall top spot in round one of the series, with
Delta Lloyd/Tommy Hilfiger
and
Alicante 2008-09
tied on equal points. Behind them there is a close fight for third, as
Holmatro
made the best of a tough day on the water to climb the scoreboard.
Day 4 of the Extreme 40 Series | Alicante Grand Prix didn't start well, with crews awaking to thunder and lightning streaking across the Volvo Ocean Race start port. As the winds built to over 20 knots, with gusts approaching 30 showing on the 40-40s of the VO70s moored alongside, the fleet were held ashore for an hour. And then the rain started. But the Extreme 40 crews are used to high adrenaline sailing, and all six boats gamely set out for three scheduled races at 16,30 - and were rewarded with a timely ease in the breeze to give an afternoon of light but tricky sailing conditions.
From a reaching start, with massive windshifts bouncing across the course,
Volvo Ocean Race
led all the way around to take today's first race win. In torrential rain, with the skies as grey as the aircraft carrier moored next to the startline, the breeze filled in a little for the second, which went to
Holmatro
. Together with a second and a third, this gave Carolijn Brouwer and team the best results of the day, nudging them up just two points off
OrangeB
in the fight for third overall.
"It was very light, and very tricky today," said a soaked but happy Carolijn Brouwer after racing. "The breeze did a 180-degree shift in the first race but we got away with it and came third. Then the wind swung and we had some running starts for races two and three, and we got away well to lead throughout. We're really happy to have sailed well in the light stuff."
"
OrangeB
is going to be our aim for sure tomorrow, it's all coming together now so if we can put down some good results tomorrow third place would be awesome!"
In the fading light,
Holmatro
looked set to take another win in today's final race, but
Alicante 2008-09
sailed lower and faster down the final leg to just pip them at the line. This leaves JC Mourniac and team on
Alicante 2008-09
tied on 72 points with Randy Smyth's
Delta Lloyd/Tommy Hilfiger
after 25 races.
"We're playing cat and mouse with team Alicante," said Smyth. "Yesterday was our day, today was their day. Hopefully the last day tomorrow - when we have eight races - we will come back strong and get ahead of those guys, but they're sailing well. We're sailing pretty well too, but the starts are everything so it's all down to that tomorrow!"
Eight races are scheduled tomorrow, starting around 15,00pm with the Round 1 winners of the four-event eXtreme 40 Series Grand Prix crowned at 20,00pm at the Amstel Happy Hour and prizegiving.
Overall results after day 4 (provisional):
1st Delta Lloyd/Tommy Hilfiger (4-2-4) 72 points
2nd Alicante 2008-09 (2-5-1) 72 points
3rd OrangeB (5-6-3) 86 points
4th Holmatro (3-1-2) 88 points
5th Twins (6-3-6) 101 points
6th Volvo Ocean Race (1-4-5) 103 points
Back to top
Back to top