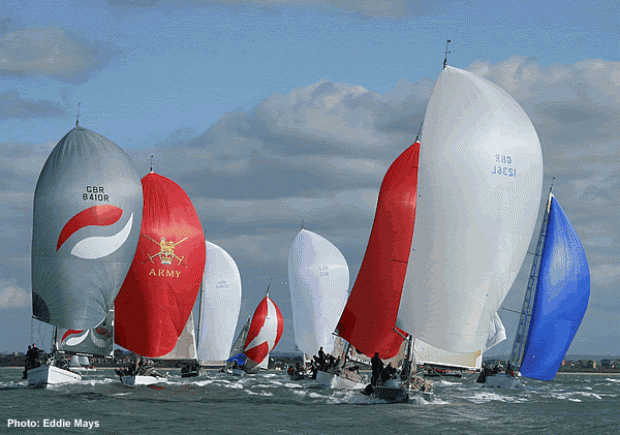 Dates confirmed
The Raymarine Warsash Spring Series, the Solent's premier early season event, takes to the water again from 15th March 2009 and continues on 22nd, 29th March and 5th, 19th and 26th April.
The Black Group classes (IRC, J/109s, J/105s) will generally have one good race a day, whilst White Group (Laser SB3s, J/80s, Hunter 707s and SBR Sportsboats) will have three shorter races each Sunday.
The Spring Championship for "Big Boats", the 45-foot class, First 40.7s and other one-designs is on the weekends of 4th/5th and 25th/26th April, with a total of 12 races over the two weekends.
The White Group Spring Championship for Laser SB3s, J/80s and Hunter 707s is on 18th/19th and 25th/26th April with a total of 18 races.
Everything builds up to a grand finale on 25th/26th April with the deciding races in both Spring Championships and in the Spring Series itself.
The dates allow competitors a week off over the Easter Bank Holiday, whether for a rest or to compete in other popular fixtures such as the RORC's Easter Challenge in Cowes.
The Spring Series offers three central Solent start lines, with Laser SB3s racing separately. A minimum ten boats can be considered for a separate class and extracted results from the IRC handicap section can also be listed.
All competitors are assured of a warm welcome at Warsash Sailing Club's riverside base near the entrance to the River Hamble, where breakfast and lunch will be available on Sundays. Fast on-screen results can be viewed in the friendly bar where weekly class winners can collect their champagne prizes, courtesy of series sponsor Raymarine.
Keeper prizes will be presented to series winners and podium places at the prize giving on Friday 15th May, plus the superb Raymarine Trophy for outstanding achievement. In 2008 the winner was Ian Atkins of
Boats.com
who took his class in both the Spring Series and Spring Championship as well as showing good sportsmanship and support for the event. 2008 saw near-record entry numbers and Warsash Sailing Club look forward to welcoming competitors old and new in 2009.
For entry details see:
Warsash Sailing Club
01489 583575
admin@warsashsc.org.uk
Back to top
Back to top