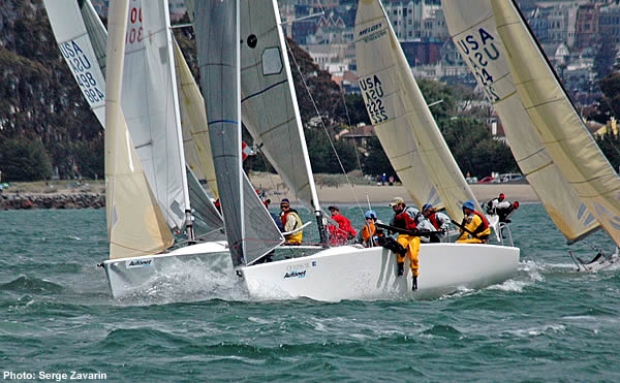 Fourth title for Porter
In an amazing final day of racing on San Francisco Bay, Brian Porter on USA-749
Full Throttle
won a three-way tie for first place to win a record-setting fourth US National Championship title, a first in US Melges 24 Class history. Also, tied for first place was Vince Brun on USA-553
Bailout
and in third was Dave Ullman on USA-505
Pegasus
505. Each of the top three teams carried 20 points apiece.
Going into today's racing Porter led by a slim, five point margin over Ullman in second and Brun in third. In fourth was Bruce Ayres on USA-747
Monsoon
and in fifth was Dan Kaseler on USA-379
pTeron
.
The first race of the day found lady helm Kristen Lane on USA-623
Brickhouse 623
on top of her game to take the win over Ayres finishing second and Ullman in third. Brun was fourth and Daniel Wilhelm on USA-540
Wilco!
was fifth.
For race eight, the final race of the regatta Porter was still leading, two points ahead of Ullman, and three ahead of Brun. At the gun Porter was called OCS, giving him a dead last start. Brun charged ahead taking full advantage of Porter's misfortune as did Ullman. They both moved to finish in first and second respectively. In third, was Corinthian Matt MacGregor on USA-401
Elwood
, ultimately moving him up the leader board to finish in sixth overall.
"We were so far behind, it was unbelievable. It really looked hopeless. We must have been a half-mile behind the guy we needed to beat in order to stay in the race." commented Porter. "All I can say, is that we just didn't give up. We knew we just needed to do the best we could." According to Porter, he and his crew of Harry Melges, brother John Porter and Andy Burdick simply put as much speed on the boat as they could and started passing boats. "We cut through the fleet like a hot knife through butter." said Porter.
On the last run of the race, he was even surprised to find himself in fourth position to finish with a total of 20 points. With Brun's bullet and Ullman's second place finish, the challengers shared a three-way tie for first overall.
Top 10 results:
1 Brian Porter, Full Throttle
2 Vince Brun, Bailout
3 Dave Ullman, Pegasus 505
4 Bruce Ayres, Monsoon
5 Dan Kaseler, pTeron
6 Matt MacGregor, Elwood
7 Kristen Lane, Brickhouse 623
8 Loren Colehan, Lounge Act
9 Guy Mossman, Battle Rhythm
10 Peter Lane, Brickhouse 539
Full results
here
Corinthians
Seven teams of the 21 competitors qualified as Corinthians. Bruce Ayres and his crew of Jon Pinckney, Dave Shelton and Don Smith are 2009 Autonet Mobile Melges 24 Corinthian US National Champions. Their first place finish in race three of a series of eight set the pace for the regatta as they led the event after the first day of racing. Ayres placed fourth overall.
In second place is Matt MacGregor and crew of Jim Caputo, Keith Hammer, Kati Belden and Matt Pistay racing their best on the final day. They took third in race 8 moving them up in the overalls from eighth to sixth.
Third Corinthian is Loren Colehan on USA-556 Lounge Act with his team of Jeff Grange, Jeff Otis and Tedd White. They finished eight overall, with their best race also being on the final day in race 8, they finished fifth.
Top five results:
1.) Bruce Ayres
2.) Matt MacGregor
3.) Loren Colehan
4.) Kevin Clark
5.) Dan Hauserman
The U.S. Melges 24 Class Association would like to extend a sincere thanks to title sponsor Autonet Mobile; official Nationals apparel sponsor and title sponsor for the U.S. National Championship Series SLAM; Melges Performance Sailboats as they fully supported the fleet with service onsite; the St. Francis Yacht Club, in particular John Craig, PRO John Seigel and especially Melanie Roberts. The USMCA is extremely grateful to all the competitors who were able to compete in San Francisco, most especially the organizational efforts and enthusiasm of USMCA West Coast District Governor Neal Ruxton and Kristen Lane.
Back to top
Back to top