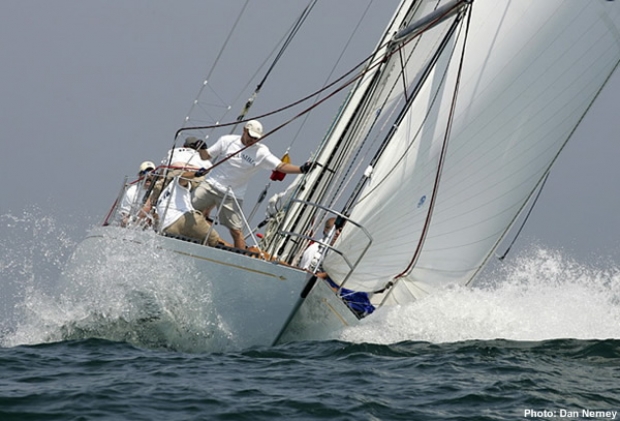 Gathering of the clans
Nothing evokes America's Cup memories like the golden era of 12 Metres, and this fall, from September 22-27, it will seem as if the hands of time have been turned back when dozens of these elegant racing sloops - preserved for their historical significance and simple beauty - once again grace the shores of Newport for the 12 Metre World Championships. The world championships will be the focal point of what organizers have called 'The Golden Year of Racing', which launched in 2008 on the 50th anniversary of the 12 Metre's debut in the America's Cup, and continues this summer with regattas in Newport, Edgartown and Nantucket before the crescendo of the Worlds in September which will be followed by a farewell event in New York City in early October.
Among the 12 Metres participating is the one that started it all,
Columbia
, who is also known as US 16 to the America's Cup aficionados who commit sail numbers to memory. In 1958, she defeated the British challenger
Sceptre
- K17 off Newport and was followed by a long line of successful defenders, four of which also will compete in the Worlds. They include
Weatherly
- US 17, which won in 1962;
Intrepid
- US 22, which won in 1967 and 1970;
Courageous
- US 26, which won in 1974 and 1977; and
Freedom
- US 30, which won in 1980.
Since the USA successfully defended the America's Cup for 132 years to establish the longest winning streak in sporting history, it comes as no surprise that many of the classic 68ft yachts remain in the country and that 18 still call Newport home. But it will be those 12s that travel from afar, such as
Australia III
- KA 9, currently based in Miri, Malaysia, and
Kookaburra I
- KA 11, based in Melbourne, Australia, that will turn heads.
"Not since Newport last hosted the America's Cup in 1983 have the waters of Rhode Island Sound hosted such an impressive collection of 12 Metres," said class president Jan Slee. Slee is co-chairing the regatta with Gary Jobson, the tactician on Ted Turner's winning 1977 America's Cup team who now is one of sailing's most recognizable media personalities, and Dyer Jones, who served as President of the class association from 1994 to 2006. "Fierce competition will capture memories of times past, and attract sailing stars, fans and media from the world over," added Slee.
Rhode Island PBS Special and Events for the Public
Gary Jobson, winner of an Emmy Award for his coverage of Olympic sailing for NBC, will produce and host a one-hour movie on the 12 Metre World Championships which will air on Rhode Island's PBS and its affiliates, while several opportunities for public participation have been planned, including competition viewing, dockside parties, a lecture series, book signings and film presentations. Among the sailing notables expected to participate in a Luminary Forum are Alan Bond, Malin Burnham, Paul Cayard, Dennis Conner, Ted Hood, Bill Koch, Buddy Melges and Tom Whidden.
Anticipated to participate in The Golden Year of Racing events:
DIVISION A* ~ Grand Prix - yachts built for the 1987 America's Cup
America II ~ US 42 and US 46
Australia III ~ KA 9
Hissar ~ KZ 5
Kiwi Magic ~ KZ 7
Kookaburra I ~ KA 11
USA ~ US 61
*Two additional Grand Prix yachts are expected, including one from the Mediterranean.
DIVISION B* ~ Modern - yachts built between 1974-1983
Courageous ~ US 26
Defender ~ US 33
Enterprise ~ US 27
Freedom ~ US 30
Intrepid ~ US 22
Lionheart ~ K 18
Valiant ~ US 24
Victory '83 ~ K 21
* One additional Modern yacht is expected from the Mediterranean
DIVISION C* ~ Traditional - yachts built between 1958 and 1970
American Eagle ~ US 21
Columbia ~ US 16
Easterner ~ US 18
Nefertiti ~ US 19
Weatherly ~ US 17
DIVISION D* ~ Vintage - yachts built 1919 and 1937
Gleam ~ US 11
Northern Light ~ US 14
Onawa ~ US 6
Back to top
Back to top