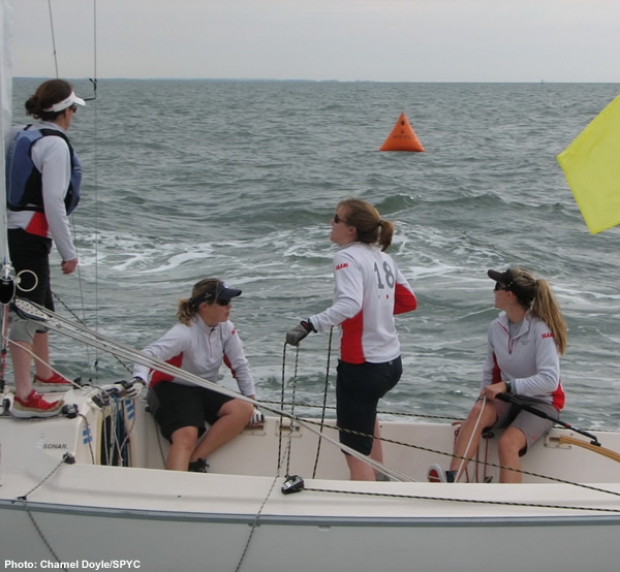 Clean sweep for Tulloch
Genny Tulloch and her team won the 2009 Rolex Women's Match, hosted over April 9-12 by the St. Petersburg Yacht Club in Florida. Sailing with Tulloch, who is ranked #1 on the US Sailing Team AlphaGraphics, were crew members Liz Hall (Bristol, R.I.), Jamie Haines (Newport, R.I.) and Chafee Emory (Newport, R.I.). A total of 10 teams competed in the International Sailing Federation (ISAF) Grade 3 match-racing regatta, which was created in 2002 to improve opportunities for women sailors specifically interested in match racing. With the win, #43 world-ranked Tulloch, along with second-place finisher Debbie Capozzi (Bayport, N.Y.), gained an automatic invitation to the Rolex Osprey Cup, an ISAF Grade 1 regatta, to be held October 21-24, at the St. Petersburg Yacht Club.
"The regatta was really good for us," said Tulloch as she waited to board a flight to Charleston Race Week. "It is the first time my team has sailed together. There was a lot of stuff we needed to work on; coming out of it in the lead on the last day was awesome."
Two round robins were completed over the course of three days, Thursday-Saturday. On Sunday, there wasn't enough wind to complete another round, so the St. Petersburg Yacht Club Race Committee, under the leadership of Pat Seidenspinner and Tom Farquhar, called it a day. Tulloch went undefeated in all 18 of her matches and with that record, she was declared the 2009 Rolex Women's Match champion.
Although Tulloch may have made winning look easy, it was far from it. "The conditions were interesting for match racing," she said. "The wind was puffy, so we all had to keep our heads out of the boat. At times we had to stop match racing and start fleet racing. We were sailing the shifts and covering our competitors. It got easier with our communications getting better. We really focused on keeping our heads out of the boat. If we were close at the start, we weren't necessarily using match racing tactics the way you would in non-shifty conditions. This wasn't the easiest racecourse so we had to make sure we kept it together."
St Petersburg Yacht Club hosted dinners on Thursday and Saturday evenings for all of the competitors, race committee, umpires and competitors housing hosts.
Final results – 2009 Rolex Women's Match
Finish, Skipper, Hometown, Crew
1. Genny Tulloch (Tiburon, Calif.) with Liz Hall (Bristol, R.I.), Jamie Haines (Newport, R.I.), Chafee Emory (Newport, R.I.)
2. Debbie Capozzi (Bayport, N.Y.) with Emily Hill (Miami, Fla.), Jackie Schmitz (Washington, D.C.), Derby Anderson (Annapolis, Md.)
3. JoAnn Fisher (Annapolis, Md.) with Lynda Hiller (Annapolis, Md.), Debbie Probst (Fort Wayne, Ind.), Casey Williams
4. Alana O'Reilly (Washington, D.C./ Charleston, S.C.) with Lyndsey Gibbons-Neff (Rosemont, Penn.), Emily Flint (Longmeadow, Mass.), Emily Babbitt (Dartmouth, Mass.)
5. Katy Lovell (New Orleans, La.) with Dana Riley (San Rafael, Calif.), Corrie Clement (La Porte, Texas), Ann Graham (Houston, Texas)
6. Sandy Hayes (Scituate, Mass.) with Cindy Olsen (Scituate, Mass.), Karen Park (St. Petersburg, Fla.), Verian Aguilar (St. Thomas, USVI)
7. Louise Bienvenu (New Orleans, La. ) with Marcy Lake, Anne David, Sarah Enwright
8. Liz Hjorth (Marina del Rey, Calif.) with Karyn Jones (Pacific Palisades, Calif.), Stine Cacavas (Los Angeles, Calif.), Marylyn Hoenemeyer (Los Angeles, Calif.)
9. Jennifer Wilson (Chicago, Ill.) with Krista Paxton (Detroit, Mich.), Becky DaMore (Annapolis, Md.), Maegan Ruhlman (Cleveland, Ohio)
10. Christine Erdmann (Detroit, Mich.) with Lori Jost (Sheboygan, Wis./ Venice, Fla.), Mechele Duhamel (Lake Tahoe/Reno, Nev.), Kim Calnan (Tampa, Fla.)
Back to top
Back to top