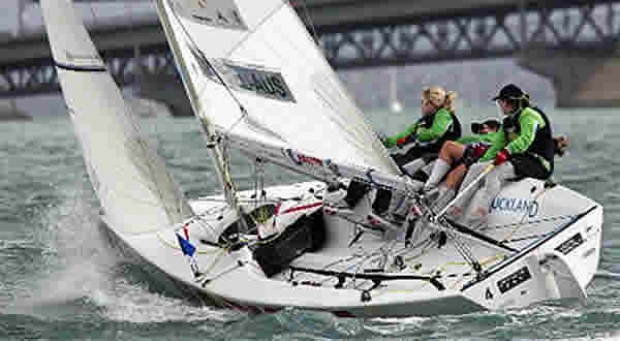 Elliott 6 allocation
The International Sailing Federation (ISAF) has finalised the distribution order for the new Elliott 6m keelboats, the equipment selected for the Women's Match Racing event at the 2012 Olympic Sailing Competition.
Following selection of the Elliott 6m as the boat for the new Women's Match Racing event at the 2012 Olympic Sailing Competition, ISAF published an order and distribution protocol and invited its Member National Authorities (MNAs) to apply for a building slot. Having received applications for over 70 boats and from 16 MNAs (representing Asia, Europe, Oceania, North America and South America), ISAF has now created the distribution order and have allocated the building slots to all nations.
The first Elliott 6m will be distributed to MNAs to support upcoming ISAF Sailing World Cup events. The Elliott 6m will be debuted at Kieler Woche in Germany in June 2009, followed by the Skandia Sail for Gold Regatta in Great Britain during September 2009.
Jason Smithwick, Head of the ISAF Technical and Offshore Department, said: "The ISAF Sailing World Cup will provide the perfect platform for the unveiling on the new Elliott 6m women's match racing equipment. By ensuring distribution for these 2009 ISAF Sailing World Cup events, competitors from around the world will have an equal opportunity to sail the Elliott 6m for the first time."
Subsequent allocations have gone to nations who do not have established Match Racing centres such as China and Israel.
ISAF have been working closely with Elliott Marine and the designer Greg Elliott. Following extensive trials all dimensions and specifications have now been verified for the three women base crew weight of 205kg. The production of the boats at McConaghy boats in China is well underway with production processes in place to produce a minimum of eight complete boats per month. Over 10 boats are now complete and the first shipment will be ready to dispatch to Germany in early May 2009.
In November 2008 the ISAF Council selected the Elliott 6 as equipment for the Women's Match Racing event at the 2012 Olympic Sailing Competition. For its selection as equipment for the Olympic Games, the boat has undergone modifications to the original design of the sails, rig and keel to specifically suit a crew of three women.
Back to top
Back to top