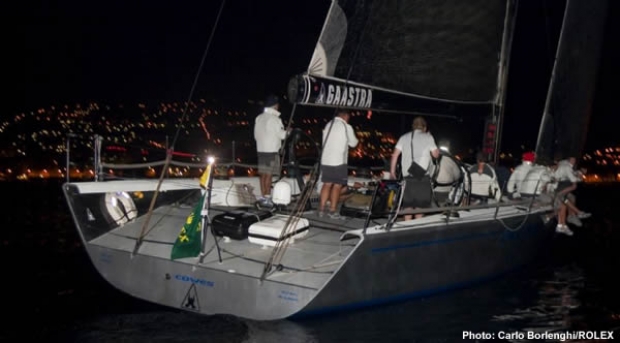 Alegre muscles in
The shorelights of Genoa were strung along the coast and the inky black sky studded with stars and constellations. The Yacht Club Italiano race committee was on station at the finish line at Sturla, outside the entrance to the port of Genoa, awaiting the fleet in the very light and shifting breeze.
Finally several running lights - some red, a few green - materialised out of the night. As the northwesterly breeze filled in yet again, two of the lights grew bigger and it was
Alegre
, the Mills 68 Mini-Maxi of Andy Soriano, leading
Bella Mente
over the line. After 243 miles and 37 hours of racing,
Alegre
finished less than three minutes ahead in one of the closest finishes in recent race history.
16 minutes after, Niklas Zennstrom's
Ran 2
crossed the line. Then
Luna Rossa
and
Container
- all five Mini-Maxis finishing in a fairly compact group, given the distance, within 45 minutes of each other.
Throughout the morning Friday, the Yacht Club Italiano was buzzing a steady stream of arrivals and the sailors enjoyed the pasta and foccacia awaiting them. By Friday noontime, 46 boats had finished.
The order of arrival for the first ten boats, on Friday, 19 June:
1. Alegre (UK), Andres Soriano, 2:05:45
2. Bella Mente (US), Hap Fauth, 2:08:33
3. RAN (UK) Niklas Zennstrom, 2:24:56
4. Luna Rossa (ITA), 2:40:32
5. Container (GER), Udo Schuetz, 2:45:50
6. Sagamore (ITA), Nicola Paoleschi, 3:14:57
7. Groupe Bel (FRA), Kito De Pavant, 3:33:45
8. Paprec (FRA), 3:37:29
9. Wallyno, Fernando Lopez Domenech, 4:10:32
10. Edimetra, Ernesto Gismondi, 4:15:39
And so skipper/owner Andres Soriano has won the Trofeo Rolex and the Trofeo Réné Lavainville as the first yacht overall in elapsed time.
Alegre
completed the course in 36 hours, 58 minutes, 45 seconds.
For Soriano it was a hard-fought victory. Trying to get to the right-hand favored side,
Alegre
didn't have the best of starts, with
Bella Mente
covering them. But clear of the bay of St Tropez,
Alegre
had a good run down to La Fourmigue in six knots that soon built to 14 knots. After rounding,
Alegre
took a hard left to the shore, while
Bella Mente
and
Ran 2
held off;
Alegre
's plan to be the most northerly of their group. Soriano said: "Over the night we were the left-most boat, and also we wanted to be north of the rhumbline to the rock. That's where we ended up and we were happy about that. We expected it to be very, very light there and from experience of the high mountains of Corsica on the western side, it closes down."
At 30 miles out,
Alegre
was sailing in 12 knots of breeze from 110 degrees true; there was a massive compression of the boats, and
Alegre
caught up with the Open 60, Kito de Pavant's
Groupe Bel
.
Alegre
tactician Stuart Childerly added: "We don't have a code zero (headsail), only an A3 so we can't sail certain angles, we couldn't get as high as the other boats, but we extended to the rock rounding nine minutes ahead of
Bella Mente
. From there we had a tight cover on
Bella Mente
, and had an inkling that we wanted to be west of the rhumb line."
Soriano said: "We rounded the rock nicely, after that it was a battle. We held our distance most of the way until the very end, where the gap closed and the group compressed again."
Alegre
parked up with the pack with a mile and a half separation. The breeze was shifting, the group saw 290, then 340 degrees. Here some boats tacked in towards shore and others -
Alegre
and
Bella Mente
- stayed off and were into what there was of a breeze, first.
Of the last miles of sailing Soriano said, "Lots of sail changes - quite a few - but more than anything just light-wind sailing, which is really tough. We were fairly strict in the watch system and the three drivers all got a good rest and we were pretty disciplined in trading out. For the last miles, every time
Bella Mente
tacked, we covered them, so they wouldn't have been happy campers. We must have thrown in 30 tacks in the last four hours….it was painful!"
It's been a friendly rivalry between
Bella Mente
and
Alegre
, both boats having been built at New England Boatworks in Portsmouth, R.I., and were under construction there at the same time. At this season's Palma Vela regatta,
Bella Mente
finished ahead of
Alegre
; at the Trofeo Pirelli Regatta,
Alegre
was second and
Bella Mente
third; at the Settimana dei Tre Golfi,
Bella Mente
prevailed.
For Childerly, an Etchells World champion, one of the best parts of sailing on
Alegre
is that the crew has been steadily improving since last season. "I'm quite pleased with our team, we were just average last year and after each event we've come together; as a team we've really started to gel."
As of 0200 Friday, more than half the fleet - 100 yachts - had rounded La Giraglia rock; seven boats have retired. Arrivals are expected throughout the day and tomorrow morning. The time limit for the Giraglia race is Saturday, June 20th at 1pm.
By press time, overall handicap winners in IRC and ORC had not yet been determined. The Giraglia Rolex Cup prizegiving will take place on Saturday, 20 June at the Yacht Club Italiano.
This is the 57th edition of the Giraglia Race, a 243-mile marathon starting from St Tropez via the Giraglia Rock at the northern tip of Corsica to the finish in the Italian port of Genoa.
Back to top
Back to top