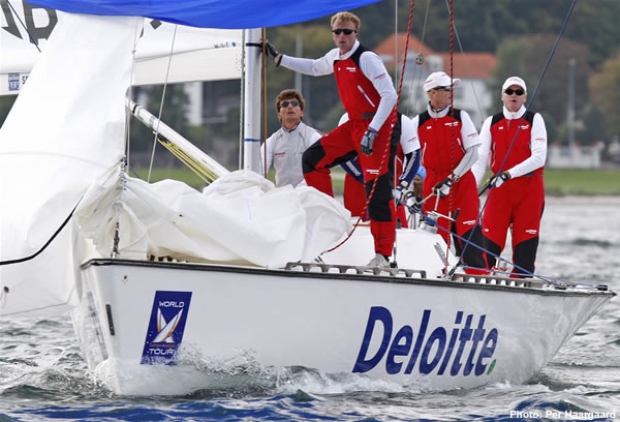 Penalty packed action off Aarhus
An afternoon on the beach waiting for the wind yesterday, was followed by a long long stint on the water today for the crews competing in the Danish Open. The Royal Danish Yacht Club officials got racing under way at 0900, and a stronger northwesterly gradient breeze building through to afternoon to 15 knots, allowed them to speed through the remaining ten flights of the round robins and on to the opening flight of the first to three semi-finals.
Towards the end of the round robins much maths was going on to establish countbacks for the competitors potentially reaching seven wins. In the event the scoring turned out to be straightforward with America's Cup veteran Peter Gilmour of Yanmar Racing clear winner of the round robins on a 8-3 scoreline and Mattias Rahm, Jes Gram-Hansen and Torvar Mirsky the remaining three left on 7-4, after Team Pindar's Ian Williams had been effectively knocked out by Peter Gilmour, the same fate befalling Damien Iehl in his match against fellow Frenchman Mathieu Richard.
Possibly following yesterday's frustration, there were a huge number of penalties today to keep the on-the-water judges occupied.
In the match between Gilmour and Peter Wibroe for example, the young Dane picked up three penalties over the course of the race. "He was circling and circling! Equity-wise I thought he had done enough!" said a content Gilmour. In Gilmour's final match of the round robin against Damien Iehl, the Frenchman incurred a penalty, as it turned out incorrectly, when his spinnaker snagged the flag on top of the leeward mark.
Gilmour received a penalty after a pre-start collision in his first semi-final match with his chosen opponent, local hero Jes Gram-Hansen. "I slipped start and ran into the back of him! It was one of those silly mistakes you make and the umpires had to penalise us." Gilmour left his penalty until the finish line but his Danish opponent was just close enough to overtake in the race's last breath, much to the delight of the spectators assembled on Marselisborg Havn breakwater.
Gram-Hansen came ashore all smiles. "It is always great to sail in front of your home crowd, so that is fantastic, but they are a tough team and there is a long way to go."
One of the highlights of his day was receiving and immediately offloading of not one, but two penalties in the second weather mark rounding in his match against young Kiwi Phil Robertson. "And we came out with the lead," he added.
It was not all bad news today for Phil Robertson when he dispatched his Kiwi senior, Adam Minoprio, after winning the start and picking the shifts correctly up the first beat. "It was very satisfying," said Robertson. "We did it a couple of years ago, but this was the first time in a while and at a big event." Robertson only scored four wins in the round robin, equalling his record from Troia Portugal Match Cup. So, was he pleased? "Yes and no. We had the day of our lives today. We had some awesome winds, but we could have made it six wins today instead of three, if we hadn't made a couple of little errors due to our lack of experience. But we are quite happy."
Australian Torvar Mirsky admitted to having had a few incidents today including planting two penalties on Damien Iehl in the pre-start, one on Jes Gram-Hansen while he received two off Ian Williams during a top mark incident. They also managed to T-bone their Kiwi arch-rival Adam Minoprio.
Mirsky recounted: "Before the mark we were a little bit behind, but we picked up a nice little right hand puff just as we were coming in and from about two to three boatlengths out we thought we had him. We came up quite late into him at the mark on starboard aiming at his mid-ships and we hit him as we turned inside him and went around the mark. But the umpires ruled in favour of Adam. They said that we came up too late, which we are upset about because we thought we had a piece of him. Instead we had a collision, hit the mark and got around, got a penalty and were behind. We thought we were in front and were surprised he got across. But that is the way you go with Adam, it comes down to such minor details." In fact in the process they snagged the mark and could only watch as Minoprio sped off into the distance.
Aside from the numerous penalties today, there was an injury on board Mattias Rahm's Stena Bulk Sailing Team. In their match against Phil Robertson the young Kiwi had planted a penalty on them in the pre-start, yet the Swedes had managed to sail away into the lead. As they circled to shed their penalty on the finish line, the spinnaker pole shot back, its end clouting trimmer Oscar Angerwall on the head. "We managed to win the race but he went to the hospital and got some stitches," recounted Rahm. For their next two races they were able hurriedly to recruit Kristoffer Olesen from Peter Wibroe's team for the final two races of the round robin. Angerwall expects to be back on board tomorrow.
Sunday is also likely to be a full day with the four final races of the semi-final to compete and then the final.
Round Robin Results
1. Peter Gilmour (AUS) Yanmar Racing 8 - 3
2. Mattias Rahm (SWE) Stena Bulk Sailing Team 7 - 4
3. Jes Gram Hansen (DEN) Trifork Racing 7 - 4
4. Torvar Mirsky (AUS) Mirsky Racing Team 7 - 4
5. Ian Williams (FRA) Team Pindar 5 - 6
6. Mathieu Richard (FRA) French Match Racing Team 5 -6
7. Damien Iehl (FRA) French Match Racing Team 5 - 6
8. Adam Minoprio (NZL) ETNZ/BlackMatch Racing 5 -6
9. Sebastien Col (FRA) French Match Racing Team 5 - 6
10.Phil Robertson (NZL) WAKA Racing 4 - 7
11.Peter Wibroe (DEN) Wibroe Sailing Team 4 - 7
12.Jonas Warrer (DEN) 3 - 8
More photos on the following pages....
Back to top
Back to top