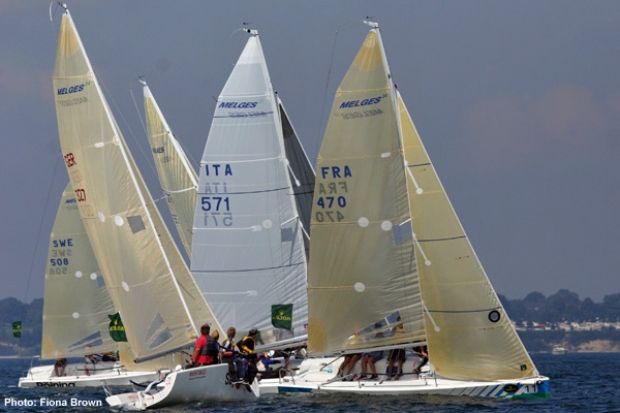 Favini maintains his lead
Monday August 20th 2007, Author:
Fiona Brown
, Location: none selected
Two more races were sailed today for the Melges 24 European Championship at Rolex Baltic Week in Neustadt, Germany. Five of the possible 12 races have now been completed and tonight Switzerland's Flavio Favini continues to lead the regatta by eight points having scored a fifth and a tenth. Behind him it has been all change on the leader board as the demands of sailing in these difficult light to medium and shifting conditions took their toll on some and gave others the opportunity to shine - as Britain's Rob Lark put it after a disappointingly consistent and unusually low 28, 28 score: "It was a tough day at the office!".
Today's top performer was Italy's Sandro Montesfusco with Cesar Bresan's
Airis Sailing Team
who put in a stunning performance to win both of the day's races and move up into second place overall with 29 points. Fellow Italian Lorenzo Bressani had mixed fortunes with a seventeenth in race four followed by a sixth in race five but, with everyone else suffering too, it was enough to move him up into third overall on 38 points. Estonia's Tonu Toniste scored 20 and 3 to move up from ninth to fifth on 65 points while Britain's Jamie Lea, helming
Team Barbarians
for Stuart Simpson, had a very tough day. Having held second place overnight he found himself the wrong side of the line and black flagged in race four and despite a fifth in race five he has dropped right down into 18th place.
The morning opened with bright sunshine and a lovely breeze in the mid teens so all was looking good for the 1100 start, however, as the boats approached the race area the wind dropped and became unstable forcing the committee to postpone. Around 1330 the wind filled in again from 055 degrees and race four's course was rapidly set up.
The first start had to be called off because of a big shift, but there was only a short wait before the race finally got underway. Sandro Montefusco led by the skin of his teeth at the first mark but had his work cut out to hold the top slot. He faced constant challenges on every leg of the course from fellow Italian Roberta de Paoli sailing
Mas Amantes
, Estonia's Peter Sarskin aboard
Zuxu
, Jean Francoise Cruette helming Cedric de Kervenaoel's
Encore
for France, Sweden's Ingemar Sundstedt in
Rocad Racing Team
and Flavio Favini with Franco Rossini's Swiss entry
Blu Moon
. With some wily moves Montefusco ultimately held them off all the way to the finish where de Paoli took second with Sundstedt third, Cruette fourth and Favini Fifth.
Montefusco had clearly got a taste for victory and went on to lead the fifth race from start to finish, pulling out nicely with each leg for a comfortable win. Behind him it was to be an epic battle for second place. Initially Maxim Paul sailing
Marseille Big Ship Quantum
had the better of the following group with Tonu Toniste sailing Estonia's
Lenny
third, 2006 Melges 24 World Champion Nicola Celon, sailing
Bete Bossini
for Ezio Amadore, fourth and Lea in fifth. By the end of the first run
Maxim
held second and Celon had moved up into third but his spinnaker got caught on the top batten during the take down and he lost three places on the drop. Eventually Maxim took second with Toniste third, Sundstedt fourth, Lea fifth and Celon sixth.
In the Corinthian Division for the all amateur crews, who race within the overall competition but are also scored separately, Tonu Toniste came seventh in race four and won race five so continues to lead with a three point margin over Italy's Mario Ziliani in
Gullisara
. Switzerland's Hendrik Witzmann in
Sonnenkonig
has dropped from second to third with Sweden's Ingemar Sundstedt in
Rocad Racing Team
fourth. Italy's Roberta de Paoli was the Corinthian winner of race four and came third in race five enabling her to hold fifth Corinthian overall. The French
Encore
team of Cedric de Kervenoael, helmed by Jean Francoise Cruette, who shared the 2006 Corinthian World Ranking title with Toniste, found their form today after yesterday's disappointing start and scored 3, 5 to move up from 14th to 6th.
Of today's sailing Finland's Tomi Hakola, a regular face in the Corinthian ranking table commented: "Difficult, difficult, difficult. We really messed up the first race with small problems. For us we need to be racing in bigger fleets more often, we've been out of the major international regattas for a couple of years and it shows. It's particularly difficult in light airs and choppy conditions. After the start the first ten or fifteen minutes is crucial and if you get it right you are in business but otherwise……….!"
Ashore this evening International Melges 24 Class President Henri Samuel, who is lying in 21st overall gave us an insight into sailing in such a big fleet: "I am pleased because we have very good speed but we made a mistake on the first mark of race four and had to do a 720 turn, but otherwise we are keeping up with the front of our group and even if we are in the back of our group, like today in the first race, we can come back. Weare not up with the top ten but for us we compare ourselves with the group between 10 and 30 and there we have good speed and are sailing well. We are in very shifty conditions which are not the norm here – but I guess it's like everywhere in the World at the moment! So far the race management has been very conservative and I have been discussing changes for tomorrow with the Principle Race Officer."
Picking up on Henri's comments about the race management changes for tomorrow PRO Walter Mielke said: "I just made amendment number two to the sailing instructions to introduce the option of course number three with two laps only [to date courses have been 3 laps]. In stable wind conditions of lets say 10 knots or more I want to have longer beats of 1.8-2.0 miles to enable us to avoid having all the boats together at mark number 1. Until now the first leg has been 1.36 miles and then the distance from the weather mark to the gate has been 1 mile so it's increasing the leg length by approx 0.5 miles. I've also changed the time limit to 45 minutes for the first leg and 150 minutes overall time-limit."
On the subject of the unpredictable weather conditions Mielke added "For the last three days the weather forecast has not been very good. I called a very famous weather expert in Kiel for his advice and he was astonished about the wind situation in this bay. For tomorrow he forecasts NE wind, which is what we had today in the afternoon when the sea breeze came in, so the direction of the sea breeze and 8-12 knots, starting very slowly early in the morning but maybe when we are out on the water for our 1100 start it should be ready for that and if we get these stable conditions I want to go for the longer beat and course 3."
Two further races in this twelve race series are scheduled for tomorrow and once race six has been completed the discard will come into play which could make some big changes on the scoreboard in this high scoring regatta.
Provisional Overall Top Ten After Five Races
1 Flavio Favini – 3, 2, 1, 5, 10 – 21 points
2 Sandro Montefusco – 14, 7, 6, 1, 1 – 29 points
3 Lorenzo Bressani – 2, 1, 17, 6, 12 – 38 points
4 Tonu Toniste – 13, 22, 7, 20, 3 – 65 points
5 Ingemar Sundstedt – 50, 5, 8, 3, 4 – 70 points
6 Nicola Celon – 29, 4, 12, 17, 8 – 70 points
7 Maxime Paul – 35, 21, 3, 16, 2 – 77 points
8 John Gimson – 7, 6, 21, 21, 22 – 77 points
9 Mario Ziliani – 22, 15, 9, 19, 13 – 78 points
10 Christophe Barrue – 5, 18, 4, 13, 29 – 79 points
Provision Corinthian Top Ten After Five Races
1 Tonu Toniste – 3, 6, 1, 7, 1 – 18 points
2 Mario Ziliani – 5, 3, 3, 6, 4 – 21 points
3 Hendrik Witzmann – 1, 4, 5, 4, 9 – 23 points
4 Ingemar Sundstedt – 17, 1, 2, 2, 2 – 24 points
5 Roberta de Paoli – 6, 4, 10, 1, 3 – 25 points
6 Cedric de Kervenoael – 16, 19, 8, 3, 5 – 51 points
7 Stefano Cherin – 16, 19, 8, 3, 5 – 53 points
8 Sami Ekblad – 9, 12, 21, 9, 12 – 63 points
9 Gunter Tzeschlock – 8, 16, 14, 8, 18 – 64 points
10 Mathilde Geron – 11, 18, 9, 13, 13 – 64 points
More photos on the folllowing pages...
Back to top
Back to top