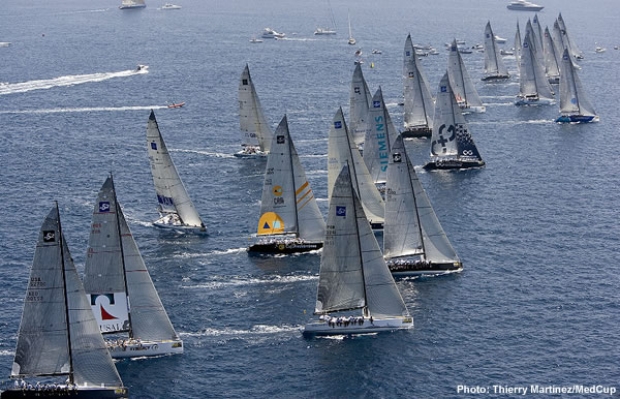 Virtuoso performance
Sunday July 22nd 2007, Author:
Andi Robertson
, Location: none selected
Following a virtuoso performance from skipper Russell Coutts, Torbjorn Torqvist's
Artemis
scored maximum points from today's 33.7 miles coastal race which spanned the Bay of Palma and provided a comprehensive test on all points of sail.
Artemis
' finished three minutes and 11 seconds ahead of Peter de Ridder's
Valle Romano Mean Machine
and closed the gap on Regata Breitling Iles Balears leader
Caixa Galicia
to seven points. Vicente Tirado's
Caixa Galicia
came away today with a fifth and fourth, which tactician John Kostecki acknowledged could have been worse, but it sets up the prospect of an exciting final showdown tomorrow when two windward-leeward races are scheduled.
But the biggest loss today proved later to be that for
Valle Romano Mean Machine
who fell victims to the Coastal Race's double jeopardy penalty. A visit to the protest room was the result of an incident with
Balearia
at the first windward mark and De Ridder's team were consequently scored disqualified from both parts of the race, suddenly being burdened by an additional 50 points, dropping them to a provisional 14th in the regatta. Having also assumed leadership of the Breitling MedCup series today, it proved a very costly protest.
Artemis
showed a clear speed edge upwind on the first beat, and while -
as Valle Romano Mean Machine
's Tom Dodson observed earlier - the black-hulled 2006 Judel-Vrolijk design bolted
Mean Machine
neatly off the pin end of the line and was one of the first to benefit from the persistent left shift, the newer Judel Vrolijk design did not have to be as extreme and started mid-line with a good, solid clear lane of undisturbed air and simply went faster.
It was the Swedish flagged
Artemis
, with owner Torqvist steering throughout the race - which led
Valle Romano Mean Machine
around the windward mark by 11 seconds on the short windward-leeward circuit. This loop was followed by a long, tight Code sails reach westwards across the bay to round the Isle de Sech.
In 9-11 knots of mainly southerly breeze a broader, the return starboard tack gennaker reach became a run as the first leeward mark was approached off the San Juan de Dios before a one-sided, windward leg. The breeze faded slightly as the afternoon wore on and the final shorter windward leg was more tactical, leading into a long, final code sails fetch to the finish just off the entrance to the Marina Portals.
The strength of the
Artemis
sail programme directed by Ross Halcrow and the Judel-Vrolijk design was perhaps most envied on the long westwards reach when they opened distance on
Mean Machine
.
Caixa Galicia
made a modest start but fought hard throughout. "Considering how badly we sailed I have to pretty happy," commented
Caixa Galicia
's tactician John Kostecki. "We had to a back down with a minute to go before the start because we had a big bit of plastic on the keel, so we had a really bad start. But we recovered pretty good but we had a few tactical and a few crewing problems that could have gone better. It doesn't feel like we sailed well enough to get a fifth and a sixth (elevated subsequently to fifth and fourth), and come out still ahead.
Chris Hosking, Artemis Boat Captain reported on their race: "We had a really good first beat. It is so important to get the off the start line well and we did, with a clean lane and the opportunity to tack if we wanted to. We did not want to be dictated to and so we started mid line, really clean, with good speed and good height. The boat is going really well. I think the boat is going well upwind, Torbjorn is doing a really good job steering the boat, Russell is the best in the business and we have a good sail programme going with Ross Halcrow. We have pretty standard set up in that long port leg to the island, just a Code Zero and a genoa staysail. We did notice that Mean Machine had a more reaching orientated Code Zero high clew, deeper sail, and for sure we extended on them on that leg."
There was drama for the crew of
Cam
, Fernando Leon and Kiki Sanchez's Botin & Carkeek design, when their port side pushpit support gave way causing the lifelines to slacken early on the first long port tack reach. They had to quickly roll away the Code Zero and turn back to rescue their seven crew who fell into the water. Lying seventh, they lost more than ten minutes in the manoeuvring and, although they finished 17th then 14th, two crew have been taken to hospital for X-rays on rib injuries.
Valle Romano Mean Machine
's misfortune elevates Doug de Vos'
Windquest
to score a pair of sixth places today giving them third place overall going into the final day.
Results:*
Pos
Boat
Nat
R1
R2
R3
R4
R5
R6
R7
Tot
W/L
Coastal
1
CxG Corporación CaixaGalicia  
ESP  
1
1
4
1
4
5
4
20
2
Artemis 
SWE 
13
2
7
2
1
1
1
27
3
WINDQUEST 
USA 
12
5
9
3
10
6
6
51
4
SIEMENS 
A/E 
8
3
16
14
11
2
2
56
5
Patches 
IRE 
2
4
3
9
22
12
8
60
6
BRIBON 
ESP 
14
8
22
5
5
4
3
61
7
Stay Calm 
GBR 
9
16
10
6
9
9
7
66
8
PLATOON 
GER 
3
7
19
20
3
10
9
71
9
ONO 
ESP 
4
14
8
13
17
8
10
74
10
BALEARIA 
ESP 
11
22
6
 25 DSQ 
6
3
5
78
11
CAM, Caja Mediterráneo 
ESP 
15
11
2
10
13
15
12
78
12
ANONIMO Q8 
ITA 
10
13
15
17
2
11
11
79
13
Valle Romano - Mean Machine 
MON 
7
6
1
4
12
 25 DSQ 
 25 DSQ 
80
14
Glory 
USA 
20
9
12
15
8
13
16
93
15
Cristabella 
GBR 
6
12
17
8
23
14
14
94
16
Mutua Madrileña 
ESP 
5
15
11
7
7
 25 DSQ 
 25 DSQ 
95
17
Bigamist 6 
POR 
18
17
18
19
19
7
13
111
18
Bambakou 
USA 
19
18
20
12
15
16
15
115
19
RUSAL - Synergy 
RUS 
22
 25 DSQ 
5
11
14
21
17
115
20
FRAM XVI 
NOR 
16
10
14
16
20
20
22
118
21
Tau ceramica-Andalucia 
ESP 
21
21
13
21
18
18
18
130
22
AIFOS 
ESP 
17
19
21
23
21
19
20
140
23
C-Quadrat - ASTRO 
AUS 
24
23
24
18
16
17
19
141
24
VALARS 
RUS 
23
20
23
22
24
22
21
155
Back to top
Back to top