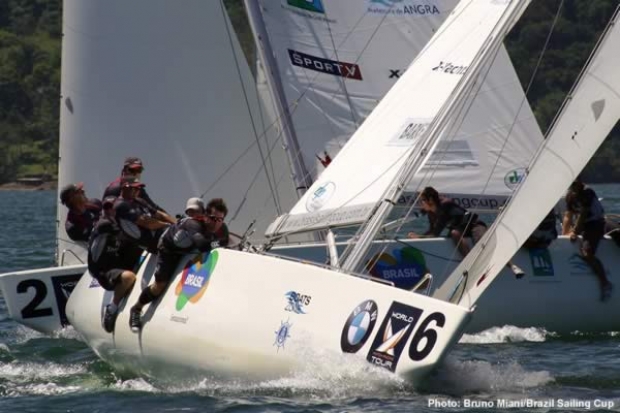 Peponnet fumes after collision
Befitting of St. Patrick's Day, the luck o' the Irish helped propel a Frenchman into the Quarterfinal Round of the Brazil Sailing Cup, in Angra dos Reis, Stage 5 of the 2005-'06 World Match Racing Tour, after he thought he might be eliminated.
Ian Williams (GBR), Williams Racing Team, and Thierry Peponnet (FRA), K-Challenge, joined six others in the quarterfinals, but not after much consternation on Peponnet's part.
Peponnet won his final race of the repechage against Williams. That gave each skipper a 3-1 record and advanced them to the quarterfinals. After the match, however, Peponnet had to sit through an umpire-initiated protest for a pre-start collision in his match against Cameron Dunn (NZL), Mascalzone Latino-Capitalia.
Peponnet was docked 1 point by the umpires for causing damage greater than $1,000 in the collision. Peponnet thought the loss of the point would knock him out of the quarterfinals, and was steaming when he hit the shore. "I'm really upset," said the K Challenge skipper. "We lost the race and then we lost 1 point. I'm very upset with the umpires."
The collision occurred early in the pre-start. Peponnet tried to bear off onto starboard and duck behind Dunn, but he misjudged the duck and slammed into their quarter side. "He was coming up and I tried to bear away," Peponnet said. "It was my mistake, I misjudged it."
"It was a good hit," said Dunn. "He spun us around."
The loss of the point put Peponnet in a three-way tie with Dunn and Staffan Lindberg (FIN), Alandia Sailing Team, each with 2-2 records. But that final win against Williams proved to be Peponnet's lucky charm.
Williams won the round with a 3-1 record, and Peponnet was the only one of the three tied skippers to beat him. That gave Peponnet the tiebreak advantage, but he left the regatta venue when the decision was made final and was unavailable for further comment.
The quarterfinal round showcases some intriguing matches. Magnus Holmberg (SWE), Victory Challenge, takes on Peponnet, and James Spithill (AUS), Luna Rossa Challenge, goes against Williams.
The other matches feature Ed Baird (USA), Alinghi, versus Ben Ainslie (GBR), Emirates Team New Zealand, and Dean Barker (NZL), Emirates Team NZ, against Gavin Brady (NZL), Beau Geste Team.
Today's conditions were the best of the regatta. The wind blew from an easterly quadrant all day, building from about 6 knots this morning to a peak of 12 to 15 knots between 1:00 and 2:30. Williams, who raced in the Group B round robin this morning and the repechage in the afternoon, was duly tired after five hours in the tropical sun, heat and humidity.
"In the morning the breeze builds quickly between 11:00 and 11:30 and peaks from there," Williams said. "Then it starts to drop around 3:30 or 4:00. You have to sail fast and smooth early, and then more tactically later."
Williams placed fourth in the Group B round robin, behind Spithill, Barker and Ainslie. Spithill won with a perfect 5-0 record. "He's very fast through the water," noted Brady.
Barker and Ainslie both finished 3-2, but Barker placed second because he beat Ainslie in their head-to-head match. The teammates are very familiar with each other's style after a winter of two-boat testing and racing in New Zealand, and they had a fiery match.
"It was pretty spicy," said Barker, "a bit like our in-house racing." The veteran Barker got an early advantage on his younger stablemate when he got a pre-start penalty on Ainslie. But Ainslie got to the left up the first beat and tacked to port thinking he could cross.
If there had been another foot in the separation he might have. But Barker, on starboard, wound up hitting the port-tacker in the stern. The umpires issued a second penalty to Ainslie, which he had to perform immediately. "I thought we had a chance and tacked," said Ainslie. "Dean did a good job of coasting in these boats. They're very much like Cup boats."
That sprung Barker and although Ainslie closed up to about a boatlength at the finish, the result for Barker was never in doubt.
Back to Peponnet. It's that incident that had him steamed about being penalized 1 point after losing a race. The umpires said they were told that the damage in the Barker-Ainslie collision was minimal. But that didn't suit Peponnet. "You don't have to double penalize someone like that," he said, well before he was told of his luck.
Brazil Sailing Cup Standings
Group B (After 5 of 5 flights)
1. James Spithill (AUS) Luna Rossa Challenge, 5-0
(Crew: Magnus Augustsson, Michele Ivaldi, Jonathan McKee, Joe Newton)
2. Dean Barker (NZL) Emirates Team New Zealand, 3-2
(Crew: Don Cowie, James Dagg, Jared Henderson, Terry Hutchinson)
3. Ben Ainslie (GBR) Emirates Team New Zealand, 3-2
(Crew: Kelvin Harrap, Richard Meacham, Tony Rey, Rob Salthouse)
4. Ian Williams (GBR) Williams Racing Team, 2-3
(Crew: Bill Hardesty, Gerard Mitchell, Mal Parker, Mark Williams)
5. Staffan Lindberg (FIN) Alandia Sailing Team, 1-4
(Crew: Nils Bjerkås, Robert Skarp, Carl-Johan Uckelstam and Daniel Wallberg)
6. Cameron Dunn (NZL) Mascalzone Latino – Capitalia, 1-4
(Crew: Matteo Auguadro, Maciel Chicchetti, Marco Constant, Antar Vigna)
Repechage Round (After 5 of 5 flights)
1. Williams, 3-1; 2. Peponnet, 2-2; 3. Lindberg, 2-2, 4. Dunn, 2-2, 5. Glomb, 0-4.
Quarterfinal Matches
(Scheduled Saturday, Mar. 18)
Magnus Holmberg (SWE), Victory Challenge, vs. Williams
Barker vs. Gavin Brady (NZL), Beau Geste Team
Ainslie vs. Ed Baird (USA), Alinghi
Peponnet vs. Spithill
(Each match is scheduled first to 2 points)
The World Tour is sanctioned by ISAF, sailing's world governing body. BMW is a Partner of the World Tour and the Official Car. World Tour sponsors include Sebago (Rockford, Mich.), the Official Footwear Supplier, Musto (Essex, England), the Official Clothing Supplier, and Travel Places (West Sussex, England), the Official Travel Partner.
Back to top
Back to top