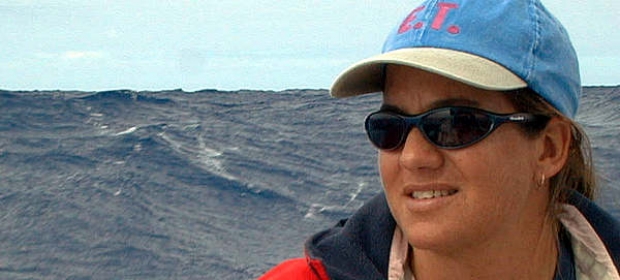 Rolex award winners announced
Two Californians, John Kostecki, age 38, of Fairfax, and Liz Baylis, age 39, of San Rafael, have been named Rolex Yachtsman and Yachtswoman of the Year, respectively, for 2002.
A panel of sailing journalists selected the two accomplished sailors for this year's distinction from a shortlist of nine nominees for the Rolex Yachtsman and five nominees for the Rolex Yachtswoman. Established in 1961 by US SAILING and sponsored by Rolex Watch U.S.A. since 1980, the Rolex Yachtsman and Yachtswoman of the Year Awards recognize outstanding on-the-water achievement in the calendar year just concluded. The winners will be honoured and presented with specially engraved Rolex timepieces at a March 21, 2003, luncheon and press conference at the New York Yacht Club in New York City.
John Kostecki
Kostecki, who also was named Rolex Yachtsman of the Year in 1988, made international headlines in 2002 when he skippered the yacht illbruck to win the Volvo Ocean Race, after nine months of intense around-the-world racing. The 32,700-mile race was the closest racing in the history of the event. In addition to winning overall,
illbruck won four of the nine race legs and on the seventh leg, broke the world monohull speed record with a 484 mile 24-hour run.
Kostecki's responsibilities as skipper included selection of illbruck's 14-person crew as well as management of the training program and onboard strategy during the race. As one of the Rolex panelists put it, "the illbruck team's accomplishment was like scaling Mt. Everest without oxygen while everyone else was hiking the Appalachian Trail."
"This is such a prestigious award, and I'm especially honored to win it for a second time," said Kostecki, whose 1988 Rolex title was bestowed after he brought home an Olympic silver medal for the USA in the Soling class and won the Soling World Championships in the same year. "It's even more exciting now than it was 14 years ago, because the sport is more popular and there is a whole different caliber of sailors out there."
Panelists also considered that Kostecki served as tactician on the winning Farr 40 at the 2002 Sailing World NOOD Regatta in San Francisco and on the third-place finisher at both the 2002 Farr 40 European Championships and Rolex Farr 40 Worlds. A two-time America's Cup tactician (Young America, 1995; America One 2000) and 10-time world champion in a range of one-design classes, Kostecki's leadership and sailing talents are supported by a tremendous depth of experience. A professional sailor, he is eyeing as his next projects the 2004 Olympics as well as another America's Cup campaign.
Liz Baylis
Baylis, a first-time nominee for the award, crowned her sailing resume with a hard-fought victory at the 2002 ISAF Women's Match Racing World Championship in Spain.
Having originally assembled her team in preparation for the women's match racing discipline at the 2004 Olympics, Baylis had steadily climbed into the top six in the ISAF Match Racing World Rankings. Despite that, she was still considered an underdog, as she had never competed at the Worlds before.
"This is by far the biggest award I've received in sailing," said Baylis, who is a Public Health Microbiologist working for the State of California. "I'm now a member of a very special group, a 'who's who' of sailing in the U.S. It's pretty incredible."
Panelists also credited Baylis for crewing to a class victory at the Pacific Cup, a 2200-mile race from San Francisco to Hawaii, aboard an Antrim 27 with just three people aboard. In addition, she co-helmed a Farr 40 to second place at the Belvedere Cup, a match racing series, and skippered to fourth place at the BOAT U.S. Santa Maria Cup, also a match racing event.
Though a women's match racing event is no longer slated for the 2004 Olympics, Baylis plans to continue competing in this discipline and will defend her World title this year in Sweden. She comes from a strong sailing family and points out that her brother, Will Baylis, crewed for her fellow Rolex award winner, John Kostecki, when he claimed his Olympic silver medal in '88.
Since Rolex Watch U.S.A. first presented timepieces to America's Cup defenders in 1958, the company has consistently endeavored to recognize and encourage excellence in every important arena of competitive sailing, including Olympic Games preparation, US SAILING championships, disabled sailing, and offshore, one-design and women's events.
John Kostecki is now undertaking a Star Olympic campaign
Back to top
Back to top