Brilliant gold for Mills and Clark
With Hannah Mills and Saskia Clark (GBR) having already won the Women's 470 gold medal, the battle for silver and bronze came down to a six-way fight between New Zealand, USA, France, Japan, the Netherlands and Slovenia.
In fantastic conditions with 20 knot winds, Annie Haeger and Briana Provancha (USA) took up the early running and led for the first lap, putting them in silver medal position ahead of the 2012 Olympic Champions Jo Aleh and Polly Powrie (NZL). Afrodite Zegers and Anneloes Van Veen (NED), also in with an outside medal shout, and World Champions, Camille Lecointre and Helene Defrance, were firmly in the hunt too.

But a big wind shift produced some new race leaders on the final lap, with Tina Mrak and Veronika Macarol (SLO) streaking away to win the Medal Race. Meanwhile the battleground for the medals was changing by the moment. The Americans were given a penalty turn for fouling the Japanese crew which put them to the back and out of the medals. This left the way clear for New Zealand to take a jubilant silver medal with reigning World Champions Camille Lecointre and Hélène de France (FRA) making a late charge from the back of the fleet to finish sixth, sufficient to give France the bronze by a single point from the Netherlands crew, Afrodite Zegers and Anneloes van Veen. It was tears of joy for the three Medal winning crews but the Americans were distraught after having controlled the race early on, only to come away with nothing.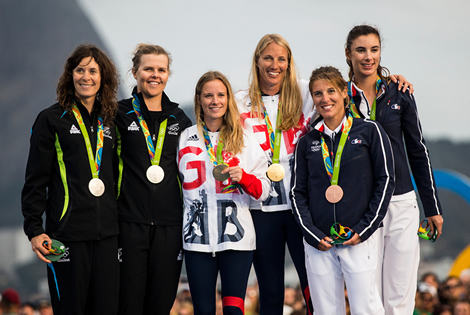 On winning gold at her third Olympic Games and her second with Mills, Clark commented, "It's our second Games together and to actually have a gold medal after seeing our team mates do it in the past and this week as well, for us it's just so exciting."

Mills said, "We're totally overwhelmed right now. Obviously we knew we'd kind of clinched it but I did so many boat checks this morning because we still had to finish the race. That felt like such a lot of pressure to finish one 20-minute race. We were desperate to race yesterday but we are actually quite glad we didn't as it was a cracking sailing day for our medal race with sunshine, wind and waves. It all overwhelms you at once - especially when you see your family and friends who have come all this way to support you and have been with you every step of the way and to be able to share this special moment with them was very overwhelming."
Knowing they had to avoid disqualification or race retirement to win gold, Mills and Clark sailed a safety first Medal Race, not getting involved in any start line positional jostling and sailing behind the fleet to move clear away from the line ultimately finishing the race in eighth place.
Staying out of the pack was a tactic they continued employing for the whole race, and as they crossed the line and came ashore without incident the emotions started to pour.

Mills said: "We ran down the beach. I just wanted to see my mum, she's been here the whole time supporting me, along with my family back at home. It is just such an amazing moment to be able to share with everyone. When you're out on the water you're doing it on your own and it was nice to be able to come in and see everyone.

Clark said: "I can't stop smiling. It's been amazing winning a medal with one of my best mates and Joe (Glanfield), our coach is an absolute legend. We're going to have some drinks with our friends, our families and the whole British Sailing Team who have been here the whole way, we wouldn't be here without them, so it'll be nice to have a few quiet drinks with the rest of the team.
Aleh had no regrets at not being able to defend the gold medal from London 2012. Silver was still great. "I don't have any what-ifs. Sometimes in sport it goes your way and sometimes it doesn't. We're just proud of the fact we've been able to fight all week and come out with a silver. It means more to us than a gold because we've had to fight for everything. Nothing went the way we wanted it to really. We just battled and to contemplate a silver from where we were half way through the event seemed like an impossibility, so we're really happy."

Lecointre was relieved to come away with bronze. "The competition level was close, there were six boats or even more who could have won a medal here so we are so happy we managed to come back into bronze medal position on the final lap of the last race."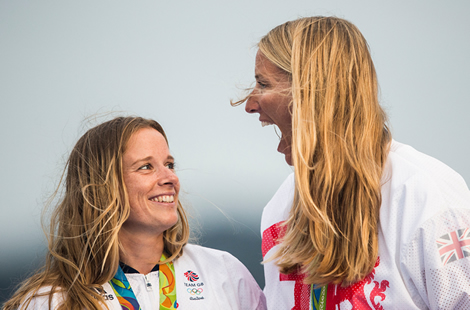 But all of this was of little consequence to Mills and Clark, whose unerring consistency throughout the opening series saw them end the event with a 10-point victory margin.

Mills added: "That last race was really hard. We had to finish the Medal Race, but at the same time there was a massive battle behind us for silver and bronze and we didn't want to be the boat that tacked on someone, causing them to lose a medal. We honestly just tried to stay out of it, it was the right thing to do."

Clark said: "It wasn't a forgone conclusion today; we knew we could have lost the medal. We didn't want to look stupid stood here without a medal after everyone had already been cheering for us, so we knew we had to be sensible and just do the same boring routine things that we've been doing for the last ten days. The big fear was suffering a breakage, such as the mast breaking, so we couldn't finish the race."

This is 28-year-old Mills' second Olympics while Clark, who celebrates her 37th birthday next Tuesday (23 August), is competing at her third Games having finished sixth at Beijing 2008 with Christina Bassadone.
Add to Anti-Banner
Back to top
Results
| | | | | | | | | | | | | | | | | |
| --- | --- | --- | --- | --- | --- | --- | --- | --- | --- | --- | --- | --- | --- | --- | --- | --- |
| Pos | Nat | Helm | Crew | R1 | R2 | R3 | R4 | R5 | R6 | R7 | R8 | R9 | R10 | MR | Tot | Net |
| 1 | GBR | Hannah Mills | Saskia Clark | 4 | 7 | 1 | 6 | 1 | -8 | 1 | 3 | 2 | 3 | 16 | 52 | 44 |
| 2 | NZL | Jo Aleh | Polly Powrie | -21 | 1 | 4 | 1 | 12 | 21 | 3 | 1 | 1 | 4 | 6 | 75 | 54 |
| 3 | FRA | Camille Lecointre | Hélène Defrance | 6 | -18 | 2 | 3 | 4 | 13 | 7 | 7 | 6 | 2 | 12 | 80 | 62 |
| 4 | NED | Afrodite Zegers | Anneloes van Veen | -15 | 2 | 8 | 8 | 14 | 4 | 11 | 2 | 3 | 7 | 4 | 78 | 63 |
| 5 | JPN | Ai Kondo Yoshida | Miho Yoshioka | 1 | 4 | 3 | 7 | -19 | 9 | 12 | 4 | 11 | 1 | 14 | 85 | 66 |
| 6 | SLO | Tina Mrak | Veronika Macarol | 2 | 6 | 5 | 4 | -21 | 12 | 4 | 21 | 5 | 6 | 2 | 88 | 67 |
| 7 | USA | Anne Haeger | Briana Provancha | 7 | 3 | -10 | 2 | 5 | 5 | 2 | 8 | 8 | 9 | 20 | 79 | 69 |
| 8 | BRA | Fernanda Oliveira | Ana Luiza Barbachan | 5 | 5 | 13 | 10 | 2 | -21 | 9 | 6 | 13 | 5 | 8 | 97 | 76 |
| 9 | AUT | Lara Vadlau | Jolanta Ogar | 3 | 12 | 12 | 5 | 6 | 1 | 5 | 16 | -21 | 14 | 18 | 113 | 92 |
| 10 | POL | Agnieszka Skrzypulec | Irmina Gliszczynska | 10 | 14 | 9 | -21 | 3 | 14 | 19 | 12 | 7 | 8 | 10 | 127 | 106 |
| 11 | CHI | Nadja Horwitz | Sofia Middleton | 9 | 11 | -18 | 16 | 10 | 2 | 10 | 10 | 14 | 15 | | 115 | 97 |
| 12 | ESP | Bàrbara Cornudella Ravetllat | Sara López Ravetllat | 14 | 13 | 7 | 11 | 13 | 11 | 13 | -18 | 9 | 10 | | 119 | 101 |
| 13 | RUS | Alisa Kirilyuk | Liudmila Dmitrieva | -21 | 21 | 6 | 9 | 11 | 7 | 18 | 9 | 12 | 11 | | 125 | 104 |
| 14 | SUI | Linda Fahrni | Maja Siegenthaler | 8 | 15 | 15 | 12 | 9 | 10 | 8 | 11 | 16 | -19 | | 123 | 104 |
| 15 | AUS | Carrie Smith | Jaime Ryan | 16 | 8 | 11 | -17 | 7 | 6 | 14 | 15 | 17 | 12 | | 123 | 106 |
| 16 | CHN | Lizhu Huang | Xiaoli Wang | 11 | 10 | 14 | 13 | 16 | 16 | -17 | 13 | 4 | 16 | | 130 | 113 |
| 17 | ISR | Nina Amir | Nina Amir | -21 | 9 | 19 | 15 | 17 | 17 | 15 | 5 | 10 | 13 | | 141 | 120 |
| 18 | GER | Annika Bochmann | Marlene Steinherr | 12 | 16 | 17 | -21 | 15 | 3 | 6 | 14 | 21 | 17 | | 142 | 121 |
| 19 | ITA | Elena Berta | Alice Sinno | 13 | 19 | 16 | 14 | 8 | 15 | 16 | 19 | 15 | -20 | | 155 | 135 |
| 20 | SIN | Jovina Choo | Amanda Ng | 17 | 17 | 20 | -21 | 18 | 21 | 20 | 17 | 18 | 18 | | 187 | 166 |
Back to top