Laser Radial medal race nailbiter
Marit Bouwmeester (NED) won the Laser Radial gold medal, that eluded her four years ago at London 2012. Silver went to Annalise Murphy (IRL), a sweet reward after finishing an agonising fourth place at London 2012. Anne-Marie Rindom (DEN) took bronze.

It was a tense Medal Race for the Laser Radials in light and fluky airs on the Pão de Açucar course in the shadow of Sugarloaf Mountain. Bouwmeester looked to be in a good position during the early stages, but a big split developed in the fleet after the top of the final lap, and the Dutch and Danish contenders were dropped to the back. They could only watch as Murphy and the other front runners sailed away and across the finish line more than a hundred metres ahead.

It was so close between the front five boats on the final run, there was a chance the Irish sailor could steal gold from the Netherlands. But Murphy crossed the line in fifth, yielding the Olympic title to Bouwmeester. With Rindom back in eighth, Murphy had done enough to take silver. All three sailors celebrated and every one of them looked delighted to have emerged with a medal from perhaps the toughest sailing venue ever seen at an Olympic Games.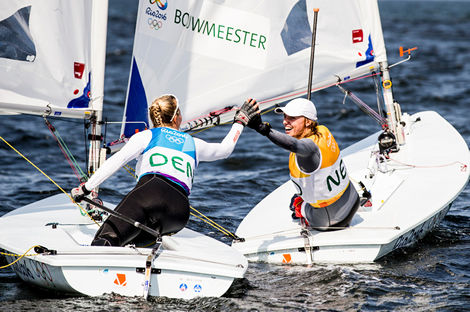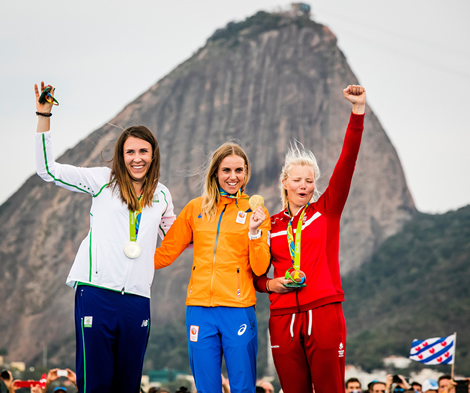 Bouwmeester now has the gold to go with the silver she took in London 2012. It was a tense moment for the Dutch sailor wondering if she'd done enough for gold. "I didn't know who finished first when I crossed the line and Annalise looked so happy celebrating and I was like, 'Do I have it? Do I not have it? I think I have it but I'm not sure.' I didn't know - but now it feels so unreal and I am very happy."

Murphy said, "I don't know what to feel, I'm really happy, a bit shocked and I don't think it's going to sink in for a while. Marit's been sailing so well for the last eight years, she deserves the gold. It's an incredible feeling and I'm just so happy that I'm able to turn my fourth in London into a second here."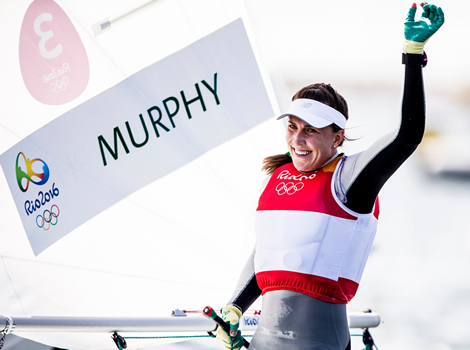 Rindom admitted, "I have a little bit of mixed feelings because it was not my best race but in total I'm very satisfied with my results. This was the goal from the beginning and now I made it. So of course I'm happy."
Team GBR's Alison Young insisted there were "no excuses" after refusing to blame a broken ankle in the build up to the Olympics for her Laser Radial performance in Rio. Young won today's Medal Race to end her regatta in eighth overall.

After the race, Young revealed she suffered a broken ankle in a training accident eight weeks out from the Games, and has undergone an intensive rehab programme to get her onto the Olympic start line. But the 29-year-old was adamant that injury had not hindered her performance in Rio.

She said: "Four weeks out from the Games I couldn't sail but it's been a fantastic effort from the team to get me into a really good shape to race here. It altered my preparation but it hasn't affected my performance here. There are no excuses I just failed to perform under pressure.

"A week out I was in good shape sailing well and I was sure I was going to be competitive here. It's doubly disappointing to have performed so poorly for most of the regatta, and to have left down those guys and not reflect the efforts they've put in to get me to the start line over the last eight weeks and the last four years."

Young endured a tough first four races, posting no score better than 12th, before finding her form at the back end of the opening series, including a penultimate race first, to secure her position in the top 10 to qualify for the Medal Race.

In today's race she recovered from getting a pumping penalty and doing turns on the downwind leg, and rounding mark two in seventh, to stage an impressive comeback in the upwind leg to lead the pack by mark three and hold her position to win. But she knew any medal hopes she had were gone before the race, and is already looking ahead to what's next.

"Tokyo 2020," she said. "That seems a very long time away, but there's plenty to work to get right from here. It was tricky racing out there today, and it was nice to finish on two bullets and to know I could mix it in there, but it's very frustrating the rest of the week has not been the standards necessary."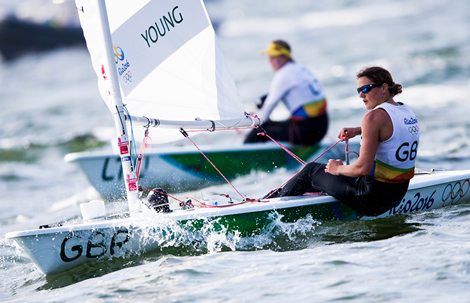 Back to top
Results

| | | | | | | | | | | | | | | | |
| --- | --- | --- | --- | --- | --- | --- | --- | --- | --- | --- | --- | --- | --- | --- | --- |
| Pos | Nat | Helm | R1 | R2 | R3 | R4 | R5 | R6 | R7 | R8 | R9 | R10 | MR | Tot | Net |
| 1 | NED | Marit Bouwmeester | 6 | 4 | -14 | 4 | 1 | 6 | 6 | 13 | 5 | 2 | 14 | 75 | 61 |
| 2 | IRL | Annalise Murphy | 1 | 13 | 4 | 7 | 5 | 2 | -17 | 12 | 6 | 7 | 10 | 84 | 67 |
| 3 | DEN | Anne-Marie Rindom | 5 | 8 | -38 | 3 | 3 | 1 | 4 | 6 | 22 | 3 | 16 | 109 | 71 |
| 4 | BEL | Evi Van Acker | 2 | 12 | 2 | -29 | 16 | 15 | 11 | 2 | 1 | 5 | 12 | 107 | 78 |
| 5 | FIN | Tuula Tenkanen | 4 | -16 | 8.6 | 2 | 14 | 3 | 13 | 8 | 2 | 14 | 18 | 102.6 | 86.6 |
| 6 | SWE | Josefin Olsson | 17 | 5 | 7 | 17 | 7 | 4 | 3 | 14 | -20 | 10 | 6 | 110 | 90 |
| 7 | LTU | Gintare Scheidt | -38 | 1 | 8 | 8 | 12 | 5 | 12 | 21 | 4 | 11 | 8 | 128 | 90 |
| 8 | GBR | Alison Young | 13 | 17 | 12 | -26 | 6 | 9 | 7 | 10 | 16 | 1 | 2 | 119 | 93 |
| 9 | AUS | Ashley Stoddart | 8 | 6 | 16 | -28 | 11 | 11 | 23 | 11 | 7 | 8 | 6 | 135 | 107 |
| 10 | USA | Paige Railey | 15 | 2 | 9 | 21 | 2 | 7 | -25 | 24 | 25 | 4 | 22 | 156 | 131 |
| 11 | ARG | Lucía Falasca | 7 | 11 | 19 | 15 | 20 | 22 | 1 | 15 | 3 | -25 | | 138 | 113 |
| 12 | CZE | Veronika Kozelska Fenclova | 11 | 7 | 10 | 16 | 9 | 16 | 8 | -22 | 17 | 19 | | 135 | 113 |
| 13 | CRO | Tina Mihelic | -38 | 3 | 11 | 10 | 4 | 14 | 38 | 5 | 23 | 16 | | 162 | 124 |
| 14 | HUN | Mária Érdi | 20 | 22 | 1 | 5 | -26 | 20 | 10 | 18 | 9 | 20 | | 151 | 125 |
| 15 | TUR | Nazli Donertas | 16 | 20 | 6 | 9 | 22 | 10 | 5 | 27 | 12 | -28 | | 155 | 127 |
| 16 | CAN | Brenda Bowskill | 9 | -30 | 15 | 20 | 10 | 19 | 9 | 20 | 10 | 15 | | 157 | 127 |
| 17 | ESP | Alicia Cebrian | -27 | 9 | 24 | 12 | 13 | 8 | 27 | 4 | 21 | 12 | | 157 | 130 |
| 18 | CHN | Lijia Xu | 3 | -38 | 3 | 1 | 8 | 12 | 38 | 38 | 19 | 13 | | 173 | 135 |
| 19 | BLR | Tatiana Drozdovskaya | 22 | 10 | 5 | 13 | 25 | 17 | 26 | -30 | 13 | 6 | | 167 | 137 |
| 20 | JPN | Manami Doi | 21 | 14 | 18 | -24 | 24 | 23 | 2 | 1 | 15 | 21 | | 163 | 139 |
| 21 | FRA | Mathilde de Kerangat | 23 | 15 | -25 | 14 | 17 | 18 | 14 | 9 | 14 | 22 | | 171 | 146 |
| 22 | ITA | Silvia Zennaro | 10 | 24 | 23 | 18 | 15 | 21 | 15 | 16 | -28 | 17 | | 187 | 159 |
| 23 | NOR | Tiril Bue | 18 | 18 | 13 | 6 | 19 | 24 | 22 | 25 | 18 | -27 | | 190 | 163 |
| 24 | BRA | Fernanda Decnop Coelho | 14 | 19 | 20 | 19 | -28 | 26 | 16 | 23 | 8 | 18 | | 191 | 163 |
| 25 | URU | Dolores Moreira Fraschini | 12 | -32 | 22 | 22 | 31 | 28 | 28 | 7 | 11 | 24 | | 217 | 185 |
| 26 | SIN | Elizabeth Yin | 19 | 29 | 26 | 11 | 23 | 25 | 20 | 17 | -38 | 23 | | 231 | 193 |
| 27 | POR | Sara Carmo | -34 | 31 | 21 | 25 | 18 | 13 | 29 | 29 | 26 | 9 | | 235 | 201 |
| 28 | ARU | Philipine Van Aanholt | 24 | 21 | 17 | -32 | 27 | 27 | 21 | 19 | 24 | 26 | | 238 | 206 |
| 29 | LCA | Stephanie Devaux-Lovell | 29 | 25 | 29 | -33 | 30 | 29 | 24 | 3 | 27 | 30 | | 259 | 226 |
| 30 | TUN | Ines Gmati | 28 | 23 | 31 | 23 | 21 | 31 | 19 | 28 | 31 | -34 | | 269 | 235 |
| 31 | PER | Paloma Schmidt Gutiérrez | 31 | 26 | 28 | 27 | 29 | 30 | 18 | -32 | 30 | 29 | | 280 | 248 |
| 32 | THA | Kamolwan Chanyim | 25 | 27 | 27 | 31 | 32 | 34 | 30 | 31 | -38 | 31 | | 306 | 268 |
| 33 | MAS | Nur Shazrin Mohamad Latif | 26 | 33 | 33 | 30 | 33 | -35 | 31 | 26 | 29 | 33 | | 309 | 274 |
| 34 | BER | Cecilia Wollmann | 32 | 28 | 32 | -35 | 35 | 33 | 34 | 33 | 32 | 32 | | 326 | 291 |
| 35 | COK | Teau Mckenzie | 30 | 36 | 34 | -37 | 34 | 32 | 33 | 35 | 34 | 35 | | 340 | 303 |
| 36 | CAY | Florence Allan | 35 | 34 | 30 | 36 | -38 | 38 | 32 | 34 | 33 | 36 | | 346 | 308 |
| 37 | ALG | Imen Cherif Sahraoui | 33 | 35 | 35 | 34 | -38 | 38 | 35 | 38 | 38 | 38 | | 362 | 324 |
Back to top