Crazy day on Guanabara Bay
It was the most frustrating day so far for sailing at Rioa 2016, with the wind refusing to play fair on Guanabara Bay. After sitting around for most of the day in next to no wind, the ten finalists for the Women's Laser Radial Medal Race were released from the shore just before 16:00 local time. At the time, the idea of wind arriving seemed inconceivable, but just ten minutes later the breeze had risen to a very pleasant 15 knots. Just five minutes after that, the wind was gusting in at over 30 knots and the waves were building up quickly. The race committee made the reluctant call to postpone the Medal Race until tomorrow.

The Men's Laser Medal Race will also be pushed back to the same day, which will make for a very busy afternoon's entertainment as the Finns and Nacra 17s are also set to decide their medals.

The 470 Men's and Women's fleets didn't manage any racing in the Bay as they waited for wind, but when the big 16:00 buster arrived, boats were capsizing everywhere. There were sails shredded in the gusts and it will be a long evening for some crews making sure their boats are repaired and ready for the next day.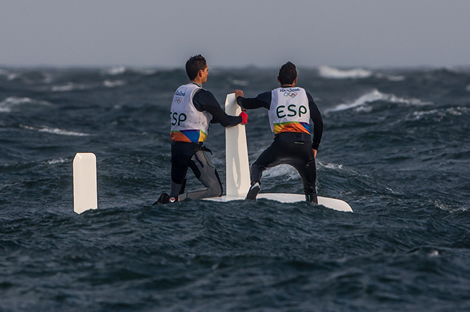 Team GBR's Hannah Mills explained: "We went out and it was nice winds and then 20-30 knots came in from behind. We managed to drop our main just in time in the waves and it was a pretty wacky ride in under jib! We waited all day with no wind inside the bay where we were meant to be racing, so we waited until the 49ers were finished to go on to their course and we were just about to crack on and the wind changed."

Out on the ocean courses the 49er Men and 49erFX Women enjoyed some great conditions, but for the Men's fleet it was a race to get back to the Marina da Gloria as the worst of the late afternoon gusts struck just as the last boats were crossing the finish line.

Of the abandoned Radial Medal Race, second placed Anne Marie Rindom (DEN) commented, "It was okay, no problems. Sailors are used to this. Sometimes we have days and days where we wait. It was no different today. Of course it was an important race that we had to sail today but it's okay. I think it was not a good decision to be sent out because we knew that the storm was coming and it was a good decision we didn't start.

"The wind was not only a little bit too much but it was also a bit shifty and we wouldn't have found the right winner today. They have all day tomorrow to do a race in 20 minutes so it's the right decision."
Britain's Alison Young said: "It was certainly eventful. It was a shame we didn't get racing in but I'm looking forward to a good Medal Race tomorrow. It was interesting. I managed to keep calm so we just get ready to go again tomorrow."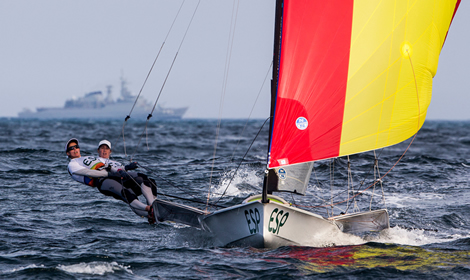 49erFX

Tamara Echegoyen and Berta Betanzos (ESP) scored two bullets from today's three races on the Niterói course moving the reigning World Champions to the top of the scoreboard. Behind them are two former World Champion crews, Alex Maloney and Molly Meech (NZL) who are four points behind the Spanish in second, and Martine Grael and Kahena Kunze (BRA) just one point behind the Kiwis in third overall.

Although previous overnight leaders Jena Hansen and Katja Salskov-Iversen (DEN) scored a second in the last race of the day, their earlier scores of 9,16 have hurt the Danish team, which is now fourth overall. However, the Danes are only nine points off the lead and there are still three more qualifying races scheduled for Tuesday before Thursday's Medal Race.

Echegoyen, the London 2012 Olympic Champion in women's match racing, commented: "We are very happy, we have sailed very well today. It was very important to be very open minded, to be able to adapt ourselves to what was happening. We were well prepared for today's three races, both in terms of understanding the conditions with our meteorologist and also regarding the tactics.

"In the two first races it was clear where to go, but the third one was really crazy and we just sailed with the wind shifts. It has been a good day, but also quite difficult, we have had to work a lot. These results give us the confidence to keep on going in this way. Now we are leading but we are all very close on points. Still three races and the Medal Race ahead, so we have to go step by step and keep on going."
Charlotte Dobson and Sophie Ainsworth enjoyed their best day on the water. In the 7-12 knots SSEerly on the Copacabana course, they started they day sixth overall, and an excellent second in the day's opening race followed by fifth and ninth placed finishes from their three races today has seen them move up a place to fifth overall, 13 points off bronze medal position.

Dobson said: "It was really good to get outside on the ocean today, we did three races really quick back-to-back so it was all a bit of a blur but it was a good solid day so I think we've got to be pretty happy. I'm happy with the series that we're building at the moment, we've had no big disasters so we're looking forward to tomorrow."

Ainsworth continued: "It was about giving ourselves the opportunity to go and attack tomorrow with no howlers so we're looking forward to the rest of the racing. It's just a case of executing the skills we know we have, getting clean off the start line and racing as well as we can and seeing where we end up at the end of the day."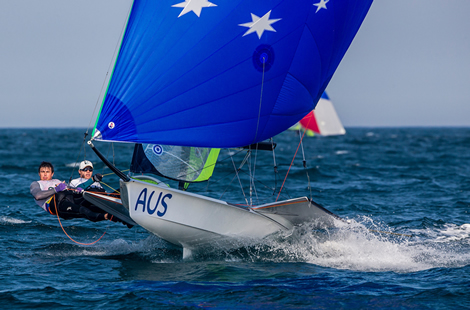 49er

Perhaps inspired by French gold and bronze in the Windsurfing the previous day, Julien d'Ortoli and Noe Delpech fired their way up the rankings into fourth place after mastering the Copacabana course with two firsts and a third place. This puts the French just two points behind the third-placed Australians, reigning Olympic Champions Nathan Outteridge and Iain Jensen.
In the building SE breeze of 8-12 knots on the Copacabana ocean course, the 49ers blitzed through their three races.

It was business as usual for the ever dominant Peter Burling and Blair Tuke (NZL) whose scores of 2,3,1 have opened up an 18-point lead over Erik Heil and Thomas Ploessel (GER). Even if the gold is beginning to get away from the Germans, they do at least have a healthy 15-point lead over the Aussies, with just three qualifying races remaining before the Medal Race.

Burling said, "We're pleased with three low scores, the boat was going really fast. We had some beautiful conditions for racing but got hit by a massive squall on the way in. It was maybe 45 or 50 knots." Tuke added, "A south-west front came in and it went from 11 knots to more than 40 knots in the space of ten minutes." Even the four-time World Champions capsized in the storm-force conditions. "We struggled to stay upright just with the mast up. Some massive waves out there, just happy to be back on shore," said Burling, shivering and itching to get back to checking over the boat for any damage.

The Germans seemed to enjoy the mad ride in through the storm a little more than the Kiwis. "We ragged it quite fast on the way in," said Heil. "But what lucky timing. Just after the last guy came across the finish line, the breeze came in 130 degrees from the other side, and with massive force. Even with just the mast up and no sails, we still needed to get on the trapeze to stop the boat tipping over. We have some boat work to do, we have damaged the sails, we have to check the mast."

Noe Delpech was barely thinking about what a good day he'd had after getting ashore - just happy to be in one piece. "We had three good starts and are very happy with our speed and strategy today. But then there was the wind that arrived straight afterwards. We capsized many times. The mainsail went flying through the air and it fell in the water but our coach managed to save it before we lost it. We had a bad last hour on the water. The sails are not in great condition but I think we are OK mostly."

Delpech was pleased to have closed in on the podium, but like all Olympic sailors never likes to get ahead of himself. "We are two points behind the bronze medal position, so yes, for sure we can start thinking about the options to get a medal, but we have still three important races to do tomorrow. We just go race by race."
Team GBR's Dylan Fletcher and Alain Sign moved within striking distance of the medals after enjoying their best day. They now sit in the top 10 for the first time in their regatta, moving from 13th overall to eighth, thanks to 5-6-9 scores today.
Sign said: "We found a bit more speed today and we are a little bit happier in how we are sailing in the boat so I think it's something to take forward to tomorrow, that we are not miles off the pace.

"Today was all about metres, so if you lost a couple of metres through boat handling errors then you were back in the pack a bit so that damaged us a little bit, but we are happy with how we were going through the water.

"We have three more races tomorrow and our aim is to again try to move up and have a consistent day. We have just got to keep working together as a team, if we are working well together that's when we will start pulling through the fleet or get top threes so we are going to aim to do that tomorrow."

In the first race, Fletcher and Sign enjoyed the perfect start, leading for the first half of the race before dropping a handful of places to cross the line in fifth. Consistency was the name of the game in race two as they held their position in sixth all the way around the course while race three was more of a battle, this time finishing in ninth.

Sign added: "Our aim today was just to be consistent. We knew we were quite good in those conditions, 12 knots and a bit of sea waves, so we just wanted to go out and enjoy it. It's a little bit easier out there on the ocean in those conditions where the wind is a little bit more consistent so we're happy with how we came out."

The Skiffs will have to work quickly with another three races scheduled for tomorrow which looks to be a busy day. The Laser, Laser Radial, Finn and Nacra 17 will all have their Medal Race due to the postponements from today.
Add to Anti-Banner
Back to top
Results:

49er

| | | | | | | | | | | | | | | |
| --- | --- | --- | --- | --- | --- | --- | --- | --- | --- | --- | --- | --- | --- | --- |
| Pos | Nat | Helm | Crew | R1 | R2 | R3 | R4 | R5 | R6 | R7 | R8 | R9 | Tot | Net |
| 1 | NZL | Peter Burling | Blair Tuke | 1 | 1 | 5 | 2 | -7 | 6 | 2 | 3 | 1 | 28 | 21 |
| 2 | GER | Erik Heil | Thomas Ploessel | 6 | 3 | 1 | 3 | 4 | 13 | -14 | 4 | 5 | 53 | 39 |
| 3 | AUS | Nathan Outteridge | Iain Jensen | -13 | 8 | 2 | 5 | 10 | 12 | 4 | 5 | 8 | 67 | 54 |
| 4 | FRA | Julien d'Ortoli | Noe Delpech | -20 | 12 | 16 | 12 | 2 | 9 | 1 | 1 | 3 | 76 | 56 |
| 5 | POL | Lukasz Przybytek | Pawel Kolodzinski | 2 | 13 | 9 | 9 | 5 | 9.3 | -18 | 11 | 7 | 83.3 | 65.3 |
| 6 | IRL | Ryan Seaton | Matthew Mcgovern | 14 | 2 | 4 | 1 | 13 | -17 | 12 | 7 | 13 | 83 | 66 |
| 7 | GBR | Dylan Fletcher-Scott | Alain Sign | 15 | 10 | 7 | -20 | 14 | 4 | 5 | 6 | 9 | 90 | 70 |
| 8 | DEN | Jonas Warrer | Christian Peter Lübeck | 8 | 9 | -21 | 15 | 1 | 5 | 6 | 13 | 14 | 92 | 71 |
| 9 | ARG | Yago Lange | Klaus Lange | 11 | 7 | 6 | 16 | 12 | 16 | -21 | 2 | 2 | 93 | 72 |
| 10 | BRA | Marco Grael | Gabriel Borges | 10 | 11 | 8 | 7 | -19 | 7 | 10 | 17 | 10 | 99 | 80 |
| 11 | ESP | Diego Botín le Chever | Iago López Marra | 16 | 5 | 3 | 13 | 6 | 10 | 13 | 15 | -18 | 99 | 81 |
| 12 | JPN | Yukio Makino | Kenji Takahashi | 3 | 15 | 17 | 8 | 8 | 2 | -19 | 12 | 17 | 101 | 82 |
| 13 | POR | Jorge Lima | José Costa | 4 | 4 | 18 | 6 | 16 | -21 | 11 | 19 | 4 | 103 | 82 |
| 14 | BEL | Yannick Lefèbvre | Tom Pelsmaekers | -19 | 14 | 13 | 17 | 9 | 3 | 8 | 8 | 12 | 103 | 84 |
| 15 | ITA | Ruggero Tita | Pietro Zucchetti | 7 | -20 | 19 | 11 | 15 | 8 | 9 | 9 | 6 | 104 | 84 |
| 16 | AUT | Nico Delle - Karth | Nikolaus Resch | 17 | 6 | 10 | 18 | 3 | 14 | 3 | 14 | -21 | 106 | 85 |
| 17 | CRO | Pavle Kostov | Petar Cupac | 9 | 17 | 11 | 10 | 11 | 1 | 17 | -18 | 15 | 109 | 91 |
| 18 | SUI | Sebastien Schneiter | Lucien Cujean | 5 | 16 | 12 | 4 | -17 | 15 | 15 | 10 | 16 | 110 | 93 |
| 19 | USA | Thomas Barrows, III | Joseph Morris | 18 | 19 | 14 | 14 | -21 | 11 | 16 | 16 | 11 | 140 | 119 |
| 20 | CHI | Benjamin Grez Ahrens | Cristóbal Grez Ahrens | 12 | 18 | 15 | 19 | 18 | -21 | 7 | 20 | 21 | 151 | 130 |
49erFX
| | | | | | | | | | | | | | | |
| --- | --- | --- | --- | --- | --- | --- | --- | --- | --- | --- | --- | --- | --- | --- |
| Pos | Pos2 | Helm | Crew | R1 | R2 | R3 | R4 | R5 | R6 | R7 | R8 | R9 | Tot | Net |
| 1 | ESP | Tamara Echegoyen Dominguez | Berta Betanzos Moro | 4 | -13 | 3 | 1 | 11 | 5 | 4 | 1 | 1 | 43 | 30 |
| 2 | NZL | Alexandra Maloney | Molly Meech | 6 | 5 | 4 | 4 | 5 | 1 | 6 | -12 | 3 | 46 | 34 |
| 3 | BRA | Martine Soffiatti Grael | Kahena Kunze | 9 | 1 | 1 | 10 | 2 | 6 | 3 | 3 | -11 | 46 | 35 |
| 4 | DEN | Jena Hansen | Katja Salskov-Iversen | -21 | 2 | 2 | 2 | 4 | 2 | 9 | 16 | 2 | 60 | 39 |
| 5 | GBR | Charlotte Dobson | Sophie Ainsworth | 2 | -11 | 5 | 8 | 7 | 10 | 2 | 5 | 9 | 59 | 48 |
| 6 | FRA | Sarah Steyaert | Aude Compan | 1 | 9 | 10 | 12 | 12 | -13 | 1 | 9 | 4 | 71 | 58 |
| 7 | ITA | Giulia Conti | Francesca Clapcich | 3 | 7 | 7 | 6 | 10 | 8 | -15 | 13 | 5 | 74 | 59 |
| 8 | NED | Annemiek Bekkering | Annette Duetz | -21 | 10 | 12 | 3 | 8 | 3 | 5 | 7 | 13 | 82 | 61 |
| 9 | USA | Paris Henken | Helena Scutt | 13 | -16 | 14 | 5 | 1 | 4 | 11 | 8 | 8 | 80 | 64 |
| 10 | SWE | Lisa Ericson | Hanna Klinga | 11 | 6 | 9 | 15 | 3 | 9 | 10 | 2 | -16 | 81 | 65 |
| 11 | GER | Victoria Jurczok | Anika Lorenz | -21 | 8 | 8 | 7 | 6 | 7 | 17 | 10 | 7 | 91 | 70 |
| 12 | IRL | Andrea Brewster | Saskia Tidey | 8 | 3 | 6 | 18 | 13 | 14 | -19 | 6 | 18 | 105 | 86 |
| 13 | NOR | Ragna Agerup | Maia Agerup | 10 | -18 | 15 | 17 | 9 | 17 | 13 | 4 | 6 | 109 | 91 |
| 14 | ARG | Victoria Travascio | Maria Branz | 14 | -20 | 13 | 9 | 19 | 12 | 7 | 11 | 10 | 115 | 95 |
| 15 | CAN | Erin Rafuse | Dannie Boyd | 5 | 4 | 11 | 16 | 16 | 16 | -18 | 17 | 12 | 115 | 97 |
| 16 | FIN | Noora Ruskola | Camilla Cedercreutz | 7 | 12 | 16 | 13 | -21 | 15 | 14 | 15 | 14 | 127 | 106 |
| 17 | SIN | Griselda Khng | Sara Tan | 12 | 19 | 17 | 11 | 14 | 11 | 8 | -20 | 15 | 127 | 107 |
| 18 | CHI | Arantza Gumucio | Begoña Gumucio | 16 | 14 | 18 | 14 | 15 | -19 | 12 | 14 | 17 | 139 | 120 |
| 19 | EST | Kätlin Tammiste | Anna Maria Sepp | 15 | 17 | 19 | -20 | 17 | 18 | 16 | 18 | 19 | 159 | 139 |
| 20 | JPN | Keiko Miyagawa | Sena Takano | -21 | 15 | 20 | 19 | 18 | 20 | 20 | 19 | 21 | 173 | 152 |
Back to top