Scott claims Finn gold with a race to spare
As the RS:X fleets sailed their decisive Medal Races, the Finns, 470s, and Nacra 17 fleets continued their racing. Giles Scott has won gold in the Finn with a race to spare. The reigning Olympic Champions in the Men's and Women's 470s are struggling to defend their titles. And the oldest sailor in the competition is showing his young Nacra 17 rivals the way round the track.

Finn

Team GBR's Giles Scott today won the gold medal in the Finn prior to Tuesday's Medal Race. The four-time and reigning World Champion was always expected to dominate the competition in Rio, but where other favourites have faltered at this tricky venue, the British sailor has delivered exactly what was expected of him. An eighth and second place from Sunday's races on the Niterói course were sufficient to give him the winning margin.

For the 28-year-old, this has been a long time coming. Many believed he would have won gold four years earlier at London 2012, but he had to bide his time as Ben Ainslie earned selection ahead of him and went on to win his fourth Olympic gold in a tense Medal Race where the outcome of the medals was in doubt until the very last second.

No such doubt for Scott, who has avoided having to earn his gold medal on the vagaries of the fluky Medal Race course under the shadow of Sugarloaf Mountain. Even the usually invincible Briton looked mortal as he opened his Olympic campaign with a 17th place on the Sugarloaf course earlier in the week. Since then however, Scott has scored seven of the ten qualifying races inside the top three, and three of those were race wins.

Scott doesn't normally show much emotion, but today he did: "I know what it meant to me because of the way it made me feel towards the last stages of that final race. I just found myself welling up and in tingles as it slowly dawned on me what I'd done. I wouldn't put myself down as the emotional sort but I had a little cry to myself which I like to think I don't do that often. Just the emotions that come out of you in that situation you can't prepare yourself for. It's been amazing.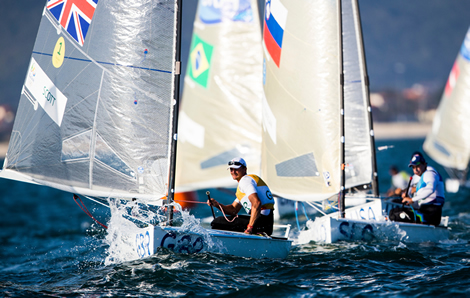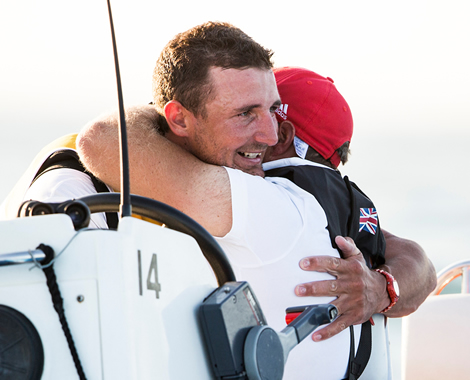 While others might not be that surprised at the level of Scott's dominance, he certainly was. "If you'd have asked me, would I have won the Olympic Games before the Medal Race in Rio? I'd have said absolutely not because of the venue that it is. The racing that we've had this week I've managed to sail more consistently. It's such a privileged situation to be in because the two days from now, everybody else is going to be fighting it out for those medals. It's going to be incredibly stressful and to be able to say I'm not going to have to go through that is pretty nice."
Scott's victory means that Britain has now won the Finn men's heavyweight dinghy class as the last five Olympics – Iain Percy (Sydney 2000), Ben Ainslie (Athens 2004, Beijing 2008, London 2012) and Scott (Rio 2016).
Scott also paid tribute to his coach, Matt Howard, with whom he delivered the perfect four-year campaign after the disappointment of missing out on London 2012 selection to Ainslie, the man whose huge shoes he has now so impeccably filled. "Matt and I decided the way we wanted to campaign was flat out, we weren't going to go soft on any regattas that we went to, anything we went to we wanted to win and win it in style.
"That approach is great but it does put a target on your back. To be able to maintain that gap and to come into the Olympics and win with a race to spare, it just gives huge justification for those decisions we made early on."
With a 24-point lead over second place, Scott will sail Tuesday's Medal Race as a formality. Vasilij Zbogar (SLO) holds a 13 point lead over Ivan Gaspic (CRO), which sets up the Slovenian nicely for the silver medal, while the Croatian will have to be mindful of the fourth and fifth placed sailors, Caleb Paine (USA) and Max Salminen (SWE) in the fight for the remaining medals.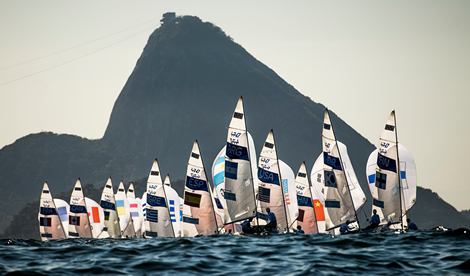 Women's 470

Jo Aleh and Polly Powrie (NZL) won race six of the Women's 470 only to discover they had been UFD disqualified for crossing the start line too soon. Having already picked up a disqualification from race one, the reigning Olympic Champions now have a mountain to climb if they're to win a repeat gold.

Team GBR's Hannah Mills and Saskia Clark continue to hold the lead, although the team now closest to them are the Americans four points back, Anne Haeger and Brian Provancha (USA). Third place is held by Tina Mrak and Veronika Macarol (SLO), although just a point behind are reigning World Champions Camille Lecointre and Hélène de France (FRA) and a point further behind the French are Ai Kondo and Miho Yoshioka (JPN).
Mills and Clark followed up a first race eighth with a victory in the two of the three races scheduled today. But having enjoyed the stable breeze outside of Guanabara Bay on the Copacabana ocean course today, the class is now set to move back inside the bay onto the Escola Naval course for another three races tomorrow.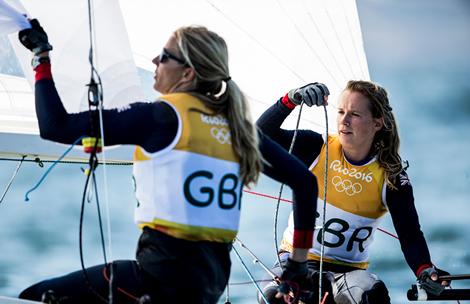 Clark said: "We were pleased with our day overall. We made a bit of a mistake in the first one; we really knocked in a really solid race but went to the finish line instead of the leeward gate. But we were actually really pleased with how we got our heads around that and got our heads back in the game for the final race and got a first.

"It's a big day tomorrow, three races so that's another 60 points it is possible to get on the scoreboard. We're on the Escola Naval course, which is tight, tricky racing so we will keep our heads down, try to stay solid and see what we leave the day with.

"The chasing pack aren't that far behind and everyone really wants this badly so we have to just keep to what we know, keep doing our processes and go from there."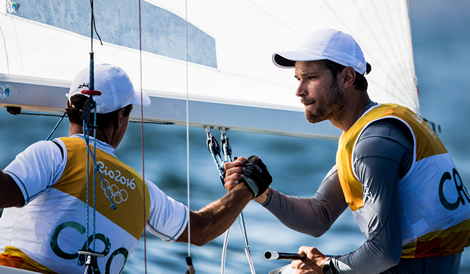 Men's 470

Sime Fantela and Igor Marenic (CRO) have extended their lead over arch-rivals Mat Belcher and Will Ryan (AUS). Once again, whatever the wildly variable conditions in Rio can throw at the Croatians, they seem to have an answer and today the result was 3,4 for Croatia, 8,10 for Australia. With an 11-point gap between them, Belcher will really need to turn it on for the final three qualifying races if he's to retain his Olympic crown.

London 2012 silver medallist Luke Patience (GBR) and his crew Chris Grube had a torrid time of the racing, picking up a UFD disqualification followed by a 20th place, which has dropped the British from third to tenth overall. This moves Panagiotis Mantis and Pavlos Kagialis (GRE) up to third.
Luke Patience: "I'm forever optimistic. What happened to us today can happen to our competitors tomorrow. I mustn't forget that. We come back tomorrow, turn the burners on and hopefully make it good and something that were proud of.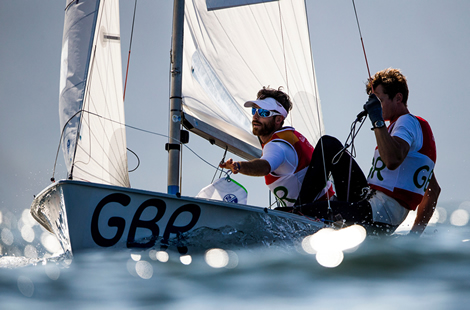 "In the first race, we started early evidently, which you don't find out until the end of the race. We had a really good race and were firing on all cylinders then our coach told us that we had been disqualified so I'm gutted.

"In the next race we inevitably we were a bit cautious on the start line so were hanging back a bit and we got punished for it. Not a fine day in the office and it's frustrating but I'm sure all is not lost."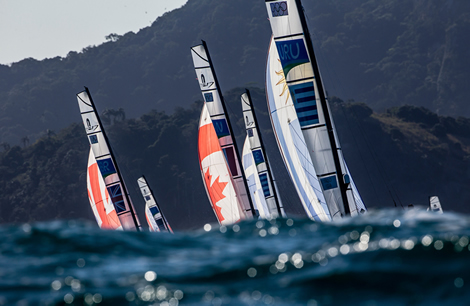 Nacra 17

Santiago Lange and Cecilia Carranza Saroli (ARG) have won the qualifying series in the Nacra 17 fleet after rounding off their scores with a second and first place. This means that Lange, the oldest competitor in the Olympic sailing competition at 57, holds a five point lead over Vittorio Bissaro and Silvia Sicouri (ITA) going into Tuesday's Medal Race. There are seven teams with a shot at gold, the others being AUT, AUS, NZL, SUI and FRA.
Billy Besson and Marie Riou (FRA) couldn't follow up with the quite the stellar performance of the previous day, yet the four-time World Champions do have the slimmest of opportunities to come away with the Olympic title. That would be quite a turnaround after the week Besson has endured with his painful and debilitating back injury.
Britain's Ben Saxton and Nicola Groves suffered a disappointing day. Two 15th place finishes and a 12th for the Brits today left them with only an outside shot of a medal in Tuesday's double points Medal Race as they sit in eighth place overall, with 19 points separating them and Thomas Zajac and Tanja Frank (AUT), who currently sit in bronze medal position.

Saxton said: "It's not over until it's over, we have to go out and win the Medal Race so we will attack it and try and get the win. Today was tough for us. Looking at the event as a whole, we started really well for the first few days and were in a medal position the whole time. We messed up yesterday a little bit, but still were good enough to be in the medals, but today it didn't quite run for us and we are left to look back at some errors.

"Ultimately it has been a wicked experience, you got to look at the good as well as the bad but right now I am pretty gutted."

"I love it, I'm absolutely hooked on the Games, the whole thing is awesome. For me it's all about the sailing. The rest of the noise, like the opening ceremony, Olympic rings and fans, put a smile on your face but it is about racing against the best in the world and trying to be the best in the world, that's the bit I'm hooked on."
Back to top
Results:
Finn
| | | | | | | | | | | | | | | |
| --- | --- | --- | --- | --- | --- | --- | --- | --- | --- | --- | --- | --- | --- | --- |
| Pos | Nat | Helm | R1 | R2 | R3 | R4 | R5 | R6 | R7 | R8 | R9 | R10 | Tot | Net |
| 1 | GBR | Giles Scott | -17 | 3 | 2 | 1 | 11 | 1 | 1 | 3 | 8 | 2 | 49 | 32 |
| 2 | SLO | Vasilij Zbogar | 3 | 1 | 7 | 10 | -15 | 9 | 5 | 4 | 9 | 8 | 71 | 56 |
| 3 | CRO | Ivan Kljakovic Gaspic | 6 | 8 | 10 | -15 | 8 | 8 | 4 | 10 | 2 | 13 | 84 | 69 |
| 4 | USA | Caleb Paine | 7 | 10 | -21 | 3 | 14 | 2 | 17 | 7 | 10 | 4 | 95 | 74 |
| 5 | SWE | Max Salminen | -15 | 11 | 13 | 9 | 7 | 5 | 6 | 11 | 7 | 5 | 89 | 74 |
| 6 | BRA | Jorge Zarif | 4 | 6 | 11 | -22 | 2 | 19 | 2 | 13 | 15 | 9 | 103 | 81 |
| 7 | NZL | Josh Junior | 18 | -24 | 14 | 14 | 5 | 3 | 18 | 2 | 4 | 6 | 108 | 84 |
| 8 | ARG | Facundo Olezza | 1 | 9 | 19 | 18 | 16 | -22 | 10 | 6 | 1 | 7 | 109 | 87 |
| 9 | NED | Pieter-Jan Postma | 14 | 13 | 12 | 4 | 4 | 6 | 14 | 1 | 19 | -24 | 111 | 87 |
| 10 | AUS | Jake Lilley | 16 | -24 | 8 | 6 | 6 | 4 | 3 | 5 | 23 | 16 | 111 | 87 |
| 11 | GRE | Ioannis Mitakis | 12 | -24 | 3 | 2 | 13 | 12 | 21 | 9 | 13 | 3 | 112 | 88 |
| 12 | HUN | Zsombor Berecz | 9 | -24 | 5 | 12 | 1 | 7 | 12 | 18 | 16 | 12 | 116 | 92 |
| 13 | TUR | Alican Kaynar | 2 | 5 | 6 | -19 | 19 | 13 | 8 | 17 | 12 | 11 | 112 | 93 |
| 14 | FRA | Jonathan Lobert | 10 | -15 | 1 | 7 | 12 | 14 | 11 | 12 | 14 | 14 | 110 | 95 |
| 15 | FIN | Tapio Nirkko | 20 | 7 | 15 | 5 | 3 | -24 | 20 | 21 | 6 | 10 | 131 | 107 |
| 16 | DEN | Jonas Hogh-Christensen | 13 | 2 | 4 | -24 | 10 | 11 | 16 | 16 | 17 | 20 | 133 | 109 |
| 17 | NOR | Anders Pedersen | 8 | 16 | 18 | 8 | -22 | 16 | 9 | 14 | 5 | 15 | 131 | 109 |
| 18 | ITA | Giorgio Poggi | 11 | 4 | 16 | 11 | 18 | 15 | 7 | -19 | 11 | 18 | 130 | 111 |
| 19 | URU | Alejandro Foglia Costa | 21 | -24 | 9 | 17 | 20 | 21 | 15 | 15 | 3 | 1 | 146 | 122 |
| 20 | EST | Deniss Karpak | 5 | 14 | 17 | 20 | -23 | 10 | 13 | 8 | 18 | 21 | 149 | 126 |
| 21 | CAN | Tom Ramshaw | 19 | 12 | -22 | 13 | 9 | 17 | 22 | 20 | 20 | 19 | 173 | 151 |
| 22 | CHN | Lei Gong | 22 | -24 | 20 | 16 | 21 | 20 | 19 | 22 | 21 | 17 | 202 | 178 |
| 23 | SEY | Allan Julie | -23 | 17 | 23 | 21 | 17 | 18 | 23 | 23 | 22 | 22 | 209 | 186 |
470 Women

| | | | | | | | | | | | | |
| --- | --- | --- | --- | --- | --- | --- | --- | --- | --- | --- | --- | --- |
| Pos | Nat | Helm | Crew | R1 | R2 | R3 | R4 | R5 | R6 | R7 | Tot | Net |
| 1 | GBR | Hannah Mills | Saskia Clark | 4 | 7 | 1 | 6 | 1 | -8 | 1 | 28 | 20 |
| 2 | USA | Anne Haeger | Briana Provancha | 7 | 3 | -10 | 2 | 5 | 5 | 2 | 34 | 24 |
| 3 | AUT | Lara Vadlau | Jolanta Ogar | 3 | -12 | 12 | 5 | 6 | 1 | 5 | 44 | 32 |
| 4 | SLO | Tina Mrak | Veronika Macarol | 2 | 6 | 5 | 4 | -21 | 12 | 4 | 54 | 33 |
| 5 | FRA | Camille Lecointre | Hélène Defrance | 6 | -18 | 2 | 3 | 4 | 13 | 7 | 53 | 35 |
| 6 | JPN | Ai Kondo Yoshida | Miho Yoshioka | 1 | 4 | 3 | 7 | -19 | 9 | 12 | 55 | 36 |
| 7 | NZL | Jo Aleh | Polly Powrie | -21 | 1 | 4 | 1 | 12 | 21 | 3 | 63 | 42 |
| 8 | BRA | Fernanda Oliveira | Ana Luiza Barbachan | 5 | 5 | 13 | 10 | 2 | -21 | 9 | 65 | 44 |
| 9 | NED | Afrodite Zegers | Anneloes van Veen | -15 | 2 | 8 | 8 | 14 | 4 | 11 | 62 | 47 |
| 10 | CHI | Nadja Horwitz | Sofia Middleton | 9 | 11 | -18 | 16 | 10 | 2 | 10 | 76 | 58 |
| 11 | AUS | Carrie Smith | Jaime Ryan | 16 | 8 | 11 | -17 | 7 | 6 | 14 | 79 | 62 |
| 12 | SUI | Linda Fahrni | Maja Siegenthaler | 8 | -15 | 15 | 12 | 9 | 10 | 8 | 77 | 62 |
| 13 | ESP | Bàrbara Cornudella Ravetllat | Sara López Ravetllat | -14 | 13 | 7 | 11 | 13 | 11 | 13 | 82 | 68 |
| 14 | GER | Annika Bochmann | Marlene Steinherr | 12 | 16 | 17 | -21 | 15 | 3 | 6 | 90 | 69 |
| 15 | POL | Agnieszka Skrzypulec | Irmina Gliszczynska | 10 | 14 | 9 | -21 | 3 | 14 | 19 | 90 | 69 |
| 16 | RUS | Alisa Kirilyuk | Liudmila Dmitrieva | -21 | 21 | 6 | 9 | 11 | 7 | 18 | 93 | 72 |
| 17 | CHN | Lizhu Huang | Xiaoli Wang | 11 | 10 | 14 | 13 | 16 | 16 | -17 | 97 | 80 |
| 18 | ITA | Elena Berta | Alice Sinno | 13 | -19 | 16 | 14 | 8 | 15 | 16 | 101 | 82 |
| 19 | ISR | Nina Amir | Nina Amir | -21 | 9 | 19 | 15 | 17 | 17 | 15 | 113 | 92 |
| 20 | SIN | Jovina Choo | Amanda Ng | 17 | 17 | 20 | -21 | 18 | 21 | 20 | 134 | 113 |
470 Men
| | | | | | | | | | | | | |
| --- | --- | --- | --- | --- | --- | --- | --- | --- | --- | --- | --- | --- |
| Pos | Nat | Helm | Crew | R1 | R2 | R3 | R4 | R5 | R6 | R7 | Tot | Net |
| 1 | CRO | Sime Fantela | Igor Marenic | 1 | 2 | -4 | 1 | 3 | 3 | 4 | 18 | 14 |
| 2 | AUS | Mathew Belcher | William Ryan | 8 | 1 | 3 | 3 | 2 | 8 | -10 | 35 | 25 |
| 3 | GRE | Panagiotis Mantis | Pavlos Kagialis | 9 | 3 | 1 | 5 | -13 | 9 | 5 | 45 | 32 |
| 4 | FRA | Sofian Bouvet | Jeremie Mion | 6 | 6 | 10 | 2 | 6 | 6 | -14 | 50 | 36 |
| 5 | AUT | Matthias Schmid | Florian Reichstädter | 3 | 9 | 6 | 9 | -16 | 2 | 13 | 58 | 42 |
| 6 | USA | Stuart Mcnay | David Hughes | 10 | 7 | 8 | -13 | 4 | 7 | 6 | 55 | 42 |
| 7 | SWE | Anton Dahlberg | Fredrik Bergström | 22 | 8 | 2 | 4 | 8 | -27 | 1 | 72 | 45 |
| 8 | SUI | Yannick Brauchli | Romuald Hausser | 11 | 4 | -19 | 7 | 10 | 10 | 8 | 69 | 50 |
| 9 | NZL | Paul Snow-Hansen | Daniel Willcox | 2 | 10 | 20 | 15 | -23 | 5 | 2 | 77 | 54 |
| 10 | GBR | Luke Patience | Chris Grube | 21 | 5 | 5 | 6 | 1 | -27 | 20 | 85 | 58 |
| 11 | ESP | Jordi Xammar Hernandez | Joan Herp Morell | 4 | 16 | 14 | 10 | 9 | -22 | 7 | 82 | 60 |
| 12 | GER | Ferdinand Gerz | Oliver Szymanski | 13 | 18 | 9 | 23 | 14 | 1 | -24 | 102 | 78 |
| 13 | TUR | Deniz Cinar | Ates Cinar | 14 | -19 | 18 | 12 | 7 | 15 | 12 | 97 | 78 |
| 14 | KOR | Chang ju Kim | ji-hoon kim | 5 | -25 | 12 | 8 | 20 | 13 | 21 | 104 | 79 |
| 15 | RUS | Pavel Sozykin | Denis Gribanov | 12 | 17 | 7 | -25 | 5 | 21 | 18 | 105 | 80 |
| 16 | ARG | Lucas Calabrese | Juan de la Fuente | -17 | 14 | 11 | 11 | 17 | 12 | 15 | 97 | 80 |
| 17 | RSA | Asenathi Jim | Roger Beresford Hudson | 18 | -24 | 15 | 14 | 11 | 18 | 11 | 111 | 87 |
| 18 | FIN | Joonas Lindgren | Niklas Lindgren | 20 | 11 | 23 | 18 | -24 | 19 | 3 | 118 | 94 |
| 19 | ISR | Eyal Levine | Dan Froyliche | 7 | 15 | 17 | -21 | 21 | 20 | 16 | 117 | 96 |
| 20 | CHN | Wei Wang | Zangjun Xu | -23 | 12 | 13 | 22 | 19 | 11 | 19 | 119 | 96 |
| 21 | JPN | Kazuto Doi | Kimihiko Imamura | 15 | 21 | 16 | 16 | 15 | 16 | -22 | 121 | 99 |
| 22 | CAN | Jacob Chaplin-Saunders | Graeme Chaplin-Saunders | -26 | 20 | 22 | 19 | 12 | 14 | 17 | 130 | 104 |
| 23 | CHI | Andres Ducasse | Francisco Ducasse | -24 | 22 | 24 | 20 | 18 | 4 | 23 | 135 | 111 |
| 24 | BRA | Henrique Haddad | Bruno Amorim | 19 | 23 | 25 | 17 | 22 | -27 | 9 | 142 | 115 |
| 25 | UKR | Borys Shvets | Pavlo Matsuyev | 16 | 13 | 21 | 24 | -25 | 17 | 25 | 141 | 116 |
| 26 | ANG | Matias Montinho | Paixao Afonso | 25 | 26 | -27 | 27 | 26 | 23 | 26 | 180 | 153 |
Nacra 17
| | | | | | | | | | | | | | | | | | |
| --- | --- | --- | --- | --- | --- | --- | --- | --- | --- | --- | --- | --- | --- | --- | --- | --- | --- |
| Pos | Nat | Helm | Crew | R1 | R2 | R3 | R4 | R5 | R6 | R7 | R8 | R9 | R10 | R11 | R12 | Tot | Net |
| 1 | ARG | Santiago Lange | Cecilia Carranza Saroli | 11 | 2 | 13 | 2 | 12 | 6 | 1 | 6 | 9 | -21 | 2 | 1 | 86 | 65 |
| 2 | ITA | Vittorio Bissaro | Silvia Sicouri | 10 | 12 | 3 | 3 | 3 | 7 | 6 | -13 | 13 | 2 | 7 | 4 | 83 | 70 |
| 3 | AUT | Thomas Zajac | Tanja Frank | -12 | 3 | 12 | 6 | 9 | 8 | 8 | 3 | 4 | 10 | 4 | 5 | 84 | 72 |
| 4 | AUS | Jason Waterhouse | Lisa Darmanin | 6 | 7 | 4 | 1 | 1 | 5 | 15 | 11 | 11 | 1 | 12 | -17 | 91 | 74 |
| 5 | NZL | Gemma Jones | Jason Saunders | 9 | -13 | 7 | 5 | 4 | 2 | 4 | 8 | 12 | 13 | 13 | 2 | 92 | 79 |
| 6 | SUI | Matías Bühler | Nathalie Brugger | 1 | 6 | 6 | -19 | 11 | 18 | 10 | 7 | 5 | 5 | 1 | 10 | 99 | 80 |
| 7 | FRA | Billy Besson | Marie Riou | 7 | -17 | 15 | 8 | 13 | 15 | 2 | 1 | 1 | 3 | 11 | 7 | 100 | 83 |
| 8 | GBR | Ben Saxton | Nicola Groves | 3 | 4 | 2 | 7 | 5 | 3 | 13 | 12 | -16 | 15 | 15 | 12 | 107 | 91 |
| 9 | USA | Bora Gulari | Louisa Chafee | 13 | 9 | -21 | 12 | 21 | 4 | 9 | 2 | 8 | 8 | 9 | 3 | 119 | 98 |
| 10 | BRA | Samuel Albrecht | Isabel Swan | 17 | 1 | 17 | 9 | 2 | 16 | 12 | 4 | -19 | 7 | 8 | 8 | 120 | 101 |
| 11 | ESP | Fernando Echávarri Erasun | Tara Pacheco van Rijnsoever | 16 | -21 | 5 | 16 | 15 | 10 | 11 | 5 | 3 | 4 | 10 | 6 | 122 | 101 |
| 12 | DEN | Allan Norregaard | Anette Viborg | 8 | 8 | 9 | 14 | 10 | 12 | -17 | 9 | 7 | 11 | 5 | 15 | 125 | 108 |
| 13 | GER | Paul Kohlhoff | Carolina Werner | 14 | 10 | 10 | 17 | 8 | 13 | 5 | 10 | 2 | 9 | 14 | -18 | 130 | 112 |
| 14 | NED | Mandy Mulder | Coen de Koning | 5 | 11 | -21 | 11 | 7 | 14 | 7 | 21 | 6 | 14 | 3 | 13 | 133 | 112 |
| 15 | CAN | Luke Ramsay | Nikola Girke | 4 | 15 | 8 | 10 | 16 | 9 | 18 | -21 | 15 | 12 | 17 | 9 | 154 | 133 |
| 16 | ARU | Nicole van der Velden | Thijs Visser | 15 | 16 | 1 | 15 | 14 | 1 | -19 | 17 | 10 | 16 | 16 | 14 | 154 | 135 |
| 17 | URU | Pablo Defazio Abella | Mariana Foglia Costa | -19 | 5 | 11 | 13 | 17 | 19 | 16 | 16 | 17 | 6 | 6 | 16 | 161 | 142 |
| 18 | GRE | Sofia Bekatorou | Michalis Pateniotis | -21 | 21 | 16 | 4 | 6 | 11 | 3 | 15 | 14 | 18 | 21 | 19 | 169 | 148 |
| 19 | SIN | Justin Liu | Denise Lim | 2 | 14 | 14 | 18 | 18 | 17 | 14 | 14 | 18 | 17 | -21 | 11 | 178 | 157 |
| 20 | TUN | Hedi Gharbi | Rihab Hammami | 18 | -21 | 18 | 21 | 19 | 20 | 20 | 18 | 20 | 19 | 18 | 20 | 232 | 211 |
Back to top