Dutch and French windsurfing golds
France have emerged as the top nation from the Men's and Women's Windsurfing at Rio 2016. It all came good for the French on the final, critical day of Medal Races on the notoriously tricky Sugarloaf Mountain race course.

For Dorian van Rijsselberghe (NED) and Nick Dempsey (GBR), the men's Medal Race was a formality. However the gold and silver medallists from London 2012 turned it on again for Rio and were another level above the rest of the fleet. In the early stages of the regatta, the British sailor had the legs on his Dutch rival, but gradually van Rijsselberghe found his form, and stepped up another gear.

Looking back to the start of the RS:X competition, van Rijsselberghe commented, "I was very fortunate that Nick went off like a cannon in the first couple of races because it really showed me like, 'okay, it's not going to be easy.' We never thought it was going to be easy but he really showed me that if I wanted this, I had to work for it. I tried, worked for it and I got it. It's great when you're sailing against guys that are really pushing you and challenging you. If you don't have that, it would be very boring."
Watching van Rijsselberghe was not boring, and even his competitors acknowledge that it is a privilege to compete against such a talent. João Rodrigues (POR), competing at his seventh and final Olympics, commented, "Dorian is like an artist, he has taken things to a new level, the way he sails the RS:X. And he does it with a smile on his face. Dorian is very popular in the fleet. He really loves what he does and he loves to share that with other people."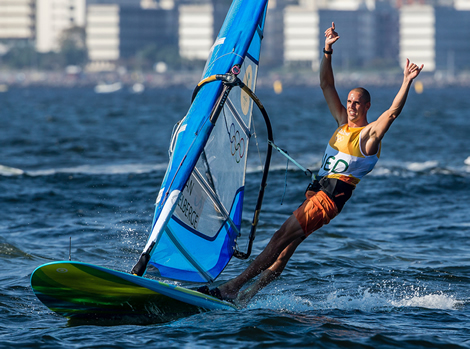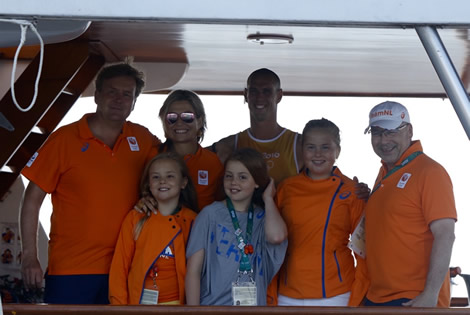 Van Rijsselberghe celebrated his Olympic title with the Dutch royal family who watched him win the Medal Race. "It's very nice that they came out here to watch the races and actually know what's going on. They're talking about me saying, 'you did this, you did that, how come the Spanish guy came to the front.' It's nice, not just shaking hands but to have a proper conversation."
Although he knew he'd secured gold two days earlier, it wasn't until Sunday evening that the bald Dutchman finally let his proverbial hair down, not fully able to celebrate the gold until he had completed the Medal Race. "We are professional athletes and wait until the final moments. We had a wonderful week of sailing. We had crazy wind, everything went well and we didn't wait on the beach for days so we have had a good competition."
For Dempsey, Rio 2016 was his Olympic swan song. The Briton has won three medals from five Games, so he knows what it's like to miss out and he wasn't taking his silver for granted. It has been a life of sacrifice dating back to his first Games in Sydney 2000. He hadn't drunk a beer for five months before the Games, but the evening he knew the silver was secure, he celebrated with three small beers. "I had a hangover the next morning," he said with a smile.

While the gold looked possible for a while, Dempsey is very happy with the silver: "A year ago, I didn't know where I'd finish. At the Olympic Test event last year I wasn't anywhere near the podium so I had a lot of work to do. The last 12 months have gone really well and I've worked bloody hard, so it's nice to come here and have a chance of winning. To have the silver medal is pretty awesome." Dempsey, who turned 36 during the competition, promises this really is the end of his career as a professional athlete. Now he intends to turn his passion for photography into a career.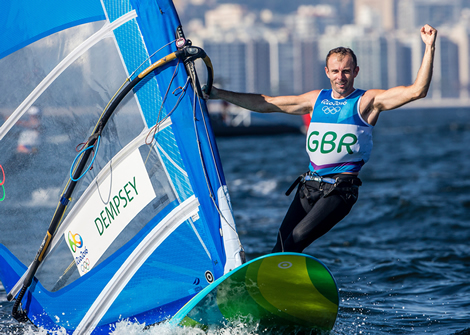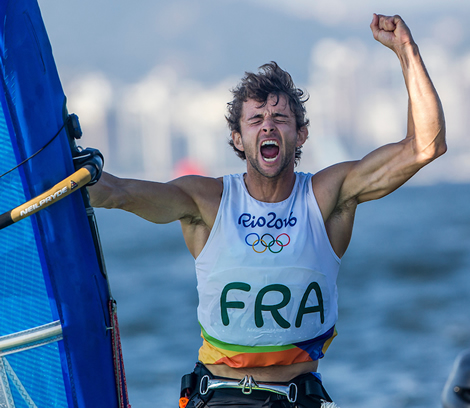 Pierre Le Coq took the bronze medal after sailing his way past the reigning World Champion Piotr Myszka (POL) in the Medal Race. "The sensation of crossing the line knowing that I secured third place was amazing," said Le Coq. "I had a difficult week and I never thought I could catch up to this point, so it's an amazing feeling to finish third at the Olympics. It's my first Olympics, all my family is here, all my friends are here, I just want to celebrate it with them. I really want to congratulate the two first, Dorian and Nick, they were very impressive this week."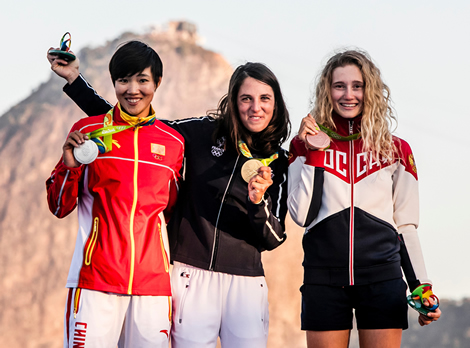 RS:X Women

Perhaps Le Coq's performance was the inspiration that Charline Picon (FRA) needed for her even tougher assignment in the Women's Medal Race. With seven of the ten competitors in the hunt for gold, the final test would require nerves of steel.

One of the leading contenders, Stefaniya Elfutina (RUS), had a shocking start, being given a penalty turn for infringing Bryony Shaw (GBR) up at the committee boat end of the start line. Meanwhile Picon had not made the best of starts either, although she soon found a click of speed to move through the fleet to second by the first mark. However Picon had to be careful because Peina Chen (CHN) had another gear downwind and shot up from sixth to second by the bottom of the first lap. China looked set to take the gold from France, but Picon held on in the light winds to the finish to secure the Olympic title, with Chen settling for silver. Despite her poor start Elfutina rallied to finish seventh place and the 19-year-old just edged out the Medal Race winner Lillian de Geus (NED) for the bronze.

For the 31-year-old Picon, the Olympic title is the culmination of a long campaign in the RS:X class. Eighth at London 2012, she won the 2014 World Championships and had marked herself out as one of the favourites for gold in Rio. She dominated the first day of competition and was always in the hunt. A physiotherapist by training, she competes for the French Navy's Armee des Champions [Champions' Army] team.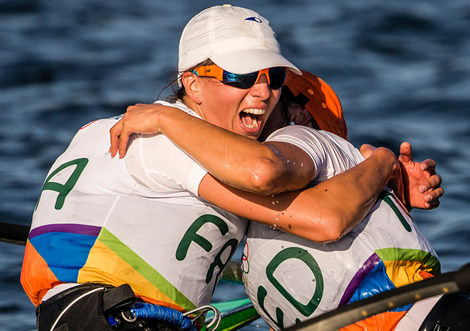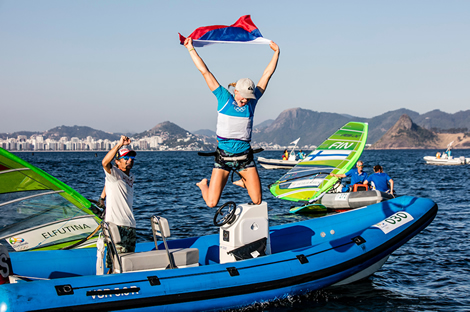 There was no doubting what the victory meant to Picon. "So many feelings and emotions at the finish line! It has been a really difficult week. Yesterday I counted all the points I lost because things didn't go as I wanted, I had some complicated moments. So winning the gold medal like this in this exciting Medal Race and with this Hollywood scenario, it's just incredible.

"After London, it has been four years of preparation, and we were fighting for three medals. Here I knew it could be my time, I believed it from the beginning but this morning I was absolutely stressed. I worked with my psychologist on making the stress work in my favour. I have come a long way since London. Winning the gold medal in the Medal Race on the finish line is...." Words failed her.

Chen commented, "We were seven women fighting, but I tried not to think too much about that, I just wanted to do my race. I am not disappointed at finishing just two points behind the gold medal. I feel that I've given my best and am happy with the silver."

Elfutina said, "Before the start of the race I understood that it was going to be a crazy race, with seven girls fighting for three medals, and we also had the postponement flag so we had to wait ashore. It has been a really close battle, very interesting and unforgettable.

"Before the race I was thinking about how great it would be to be on the podium, but after the start and my 360º penalty I thought that everything was lost. I thought that the only way to get a medal was to pump, and that was what I did. I pumped and a few metes before the finish I realised I could get a medal. I am not disappointed with bronze, the bronze medal is great."
Britain's Bryony Shaw admitted she felt "unfilled" after finishing her Rio 2016 in ninth overall. Shaw, who went into the final double points Medal Race, with the faintest of medal hopes finished the race in sixth overall.

The Beijing 2008 bronze medallist sailed a consistent second half of the regatta with scores all inside the top five to claw her way back into Medal Race contention, after the opening six races had put her firmly on the back foot. But it wasn't quite enough, and having wanted to end on the high of a good Medal Race performance, Shaw was left reflecting on what might have been in Rio.

She said: "I felt unfulfilled after London and I feel unfulfilled here. Any time you don't medal or you feel underperformed to your ability it's tough to take.

"I had a good cycle in the build up to 2012 and didn't have a great Games and the same has happened here. It's potentially a worse scenario here as I was in good health and good form, so this time it's come down more to mistakes and misfortune.

"There was kind of disbelief after day one, and I've ground my way back from a tough mental place. I feel amazement actually that I haven't really performed to my best this week. But it's all in hindsight and you learn from it. Hopefully I'll come back stronger for the next one. All of these things will be learners for the next cycle.

"It's tough as the Olympics is what we all aim for. The fact is this has not been my week, I've still had some amazing comments from the other commentators and coaches. I feel like I've had bad fortune, but it's been a great four years."

Shaw was in the spotlight before the starting horn even sounded for today's race as she was involved in a start line tussle that resulted in eventual bronze medallist, Stefaniya Elfutina, completing two sets of penalty turns either side of the start.

With the wind dropping to as little as four knots, opportunities to make up places around the racecourse got fewer and fewer as the sailors had to use all their strength and guile to pump their boards into even just moving forwards.

Shaw added: "I had a couple of incidents on the start line. The Russian girl was trying to find a gap where there was no gap on the start line and that all set me back in the pack. I knew I wanted to be going left, but I wanted to be going left having had a good start and good positioning above that group. The girls went over to the left side with more pressure and the tide helped as well. So it was quite hampering."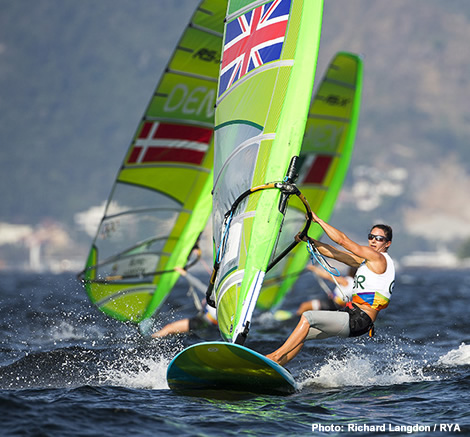 Back to top
Results
RS:X Men

| | | | | | | | | | | | | | | | | | |
| --- | --- | --- | --- | --- | --- | --- | --- | --- | --- | --- | --- | --- | --- | --- | --- | --- | --- |
| Pos | Nat | Crew | R1 | R2 | R3 | R4 | R5 | R6 | R7 | R8 | R9 | R10 | R11 | R12 | MR | Tot | Net |
| 1 | NED | Dorian Van Rysselberghe | 5 | 3 | 1 | 4 | 1 | 1 | 4 | 1 | 1 | 1 | 1 | -6 | 2 | 31 | 25 |
| 2 | GBR | Nick Dempsey | 1 | 1 | 2 | 1 | 4 | -8 | 2 | 5 | 8 | 5 | 7 | 8 | 8 | 60 | 52 |
| 3 | FRA | Pierre Le Coq | 7 | 7 | 12 | 6 | 3 | 2 | 8 | 10 | -17 | 2 | 3 | 12 | 14 | 103 | 86 |
| 4 | POL | Piotr Myszka | 4 | 5 | 5 | 2 | 2 | 3 | 12 | 2 | 6 | 13 | -16 | 16 | 18 | 104 | 88 |
| 5 | GRE | Byron Kokkalanis | 2 | 2 | 6 | -13 | 5 | 5 | 5 | 8 | 12 | 12 | 11 | 10 | 18 | 109 | 96 |
| 6 | GER | Toni Wilhelm | 8 | 4 | 13 | 10 | 9 | 4 | 1 | 7 | -19 | 7 | 8 | 19 | 10 | 119 | 100 |
| 7 | BRA | Ricardo Santos | 6 | 9 | 7 | 3 | 16 | -30 | 21 | 9 | 9 | 6 | 9 | 11 | 12 | 148 | 118 |
| 8 | HKG | Cheng Chun Leung | 3 | 6 | 11 | 5 | 6 | 16 | 9 | 13 | 13 | 21 | 17 | -26 | 6 | 152 | 126 |
| 9 | ESP | Ivan Pastor Lafuente | 17 | 19 | 10 | 7 | 7 | -37 | 11 | 22 | 16 | 9 | 2 | 3 | 4 | 164 | 127 |
| 10 | ITA | Mattia Camboni | 11 | 13 | 4 | -37 | 37 | 9 | 10 | 21 | 3 | 3 | 5 | 1 | 20 | 174 | 137 |
| 11 | POR | João Rodrigues | 21 | 10 | -23 | 15 | 15 | 10 | 15 | 12 | 4 | 4 | 12 | 7 | | 148 | 125 |
| 12 | DEN | Sebastian Fleischer | 15 | 14 | 9 | 12 | -22 | 11 | 17 | 20 | 2 | 11 | 6 | 18 | | 157 | 135 |
| 13 | CHN | Aichen Wang | 16 | 18 | 8 | 18 | -19 | 15 | 6 | 4 | 15 | 10 | 10 | 15 | | 154 | 135 |
| 14 | SUI | Mateo Sanz Lanz | -24 | 15 | 21 | 8 | 14 | 8 | 20 | 11 | 11 | 19 | 4 | 5 | | 160 | 136 |
| 15 | JPN | Makoto Tomizawa | 10 | 8 | 18 | 19 | 13 | -22 | 7 | 14 | 18 | 15 | 14 | 2 | | 160 | 138 |
| 16 | RUS | Max Oberemko | -27 | 25 | 14 | 24 | 17 | 13 | 3 | 3 | 10 | 8 | 13 | 9 | | 166 | 139 |
| 17 | ISR | Shahar Zubari | 9 | 17 | 20 | 22 | -37 | 18 | 19 | 6 | 7 | 17 | 21 | 4 | | 197 | 160 |
| 18 | KOR | Tae Hoon Lee | 14 | 20 | 3 | 9 | 18 | 7 | -33 | 17 | 27 | 14 | 22 | 14 | | 198 | 165 |
| 19 | CYP | Andreas Cariolou | 12 | 12 | 16 | 23 | 10 | 6 | 18 | -27 | 23 | 22 | 19 | 20 | | 208 | 181 |
| 20 | MEX | David Mier y Teran | 28 | 21 | 22 | 26 | 21 | 17 | -32 | 15 | 5 | 16 | 15 | 21 | | 239 | 207 |
| 21 | ARG | Bautista Saubidet Birkner | 20 | 16 | 19 | 17 | 12 | 23 | 14 | 25 | 24 | 18 | -29 | 22 | | 239 | 210 |
| 22 | BLR | Mikita Tsirkun | 23 | 27 | 25 | 16 | 8 | -32 | 16 | 19 | 22 | 24 | 18 | 17 | | 247 | 215 |
| 23 | UKR | Oleksandr Tugaryev | 22 | 31 | 27 | 11 | -37 | 12 | 13 | 16 | 30 | 20 | 30 | 13 | | 262 | 225 |
| 24 | CRO | Luka Mratovic | 13 | 11 | 15 | 21 | -37 | 19 | 27 | 18 | 34 | 26 | 31 | 30 | | 282 | 245 |
| 25 | HUN | Aron Gadorfalvi | 30 | 28 | 29 | 25 | 20 | 20 | 25 | -37 | 26 | 27 | 24 | 23 | | 314 | 277 |
| 26 | LTU | Juozas Bernotas | 19 | 23 | 17 | 29 | -37 | 14 | 26 | 37 | 21 | 37 | 26 | 29 | | 315 | 278 |
| 27 | VEN | Daniel Flores | 18 | 22 | 26 | 20 | 11 | 33 | 34 | -37 | 32 | 37 | 23 | 25 | | 318 | 281 |
| 28 | USA | Pedro Pascual | 25 | 26 | 28 | 28 | -37 | 28 | 22 | 26 | 28 | 23 | 20 | 32 | | 323 | 286 |
| 29 | THA | Natthaphong Phonoppharat | 32 | 29 | 32 | 14 | -37 | 21 | 30 | 24 | 25 | 25 | 28 | 27 | | 324 | 287 |
| 30 | COL | Santiago Grillo | 29 | 24 | 24 | 32 | -37 | 24 | 28 | 23 | 14 | 29 | 35 | 37 | | 336 | 299 |
| 31 | CZE | Karel Lavicky | 26 | 30 | 30 | 30 | -37 | 25 | 24 | 37 | 29 | 37 | 25 | 31 | | 361 | 324 |
| 32 | TPE | Hao Chang | 34 | 34 | 31 | 27 | -37 | 34 | 35 | 37 | 31 | 28 | 27 | 28 | | 383 | 346 |
| 33 | SEY | JEAN-MARC GARDETTE | 36 | 35 | 33 | 31 | 23 | 31 | 29 | -37 | 35 | 37 | 32 | 33 | | 392 | 355 |
| 34 | SIN | Leonard Ong | 33 | 33 | 35 | 33 | -37 | 27 | 36 | 37 | 20 | 37 | 34 | 37 | | 399 | 362 |
| 35 | TUR | Onur Cavit Biriz | 31 | 32 | -37 | 34 | 37 | 29 | 23 | 37 | 33 | 37 | 33 | 37 | | 400 | 363 |
| 36 | ALG | Hamza Bouras | 35 | 36 | 34 | 35 | -37 | 26 | 31 | 37 | 36 | 37 | 36 | 24 | | 404 | 367 |
RS:X Women
| | | | | | | | | | | | | | | | | | |
| --- | --- | --- | --- | --- | --- | --- | --- | --- | --- | --- | --- | --- | --- | --- | --- | --- | --- |
| Pos | Nat | Sailor | R1 | R2 | R3 | R4 | R5 | R6 | R7 | R8 | R9 | R10 | R11 | R12 | MR | Tot | Net |
| 1 | FRA | Charline Picon | 1 | 2 | 1 | 4 | 5 | 10 | 5 | 11 | 8 | -27 | 3 | 10 | 4 | 91 | 64 |
| 2 | CHN | Peina Chen | 9 | 11 | 11 | -15 | 7 | 1 | 4 | 10 | 4 | 1 | 1 | 1 | 6 | 81 | 66 |
| 3 | RUS | Stefania Elfutina | 2 | 5 | 3 | 6 | 2 | 9 | 8 | 4 | 6 | 3 | -16 | 7 | 14 | 85 | 69 |
| 4 | NED | Lilian De Geus | 3 | 4 | 14 | 3 | 3 | 7 | 15 | -19 | 5 | 2 | 7 | 5 | 2 | 89 | 70 |
| 5 | ESP | Marina Alabau Neira | 8 | 7 | 2 | 8 | 6 | 8 | 7 | 2 | 1 | -27 | 9 | 3 | 10 | 98 | 71 |
| 6 | ITA | Flavia Tartaglini | -12 | 1 | 5 | 1 | 1 | 4 | 1 | 12 | 10 | 9 | 5 | 6 | 16 | 83 | 71 |
| 7 | ISR | Maayan Davidovich | 5 | 6 | 6 | 11 | 4 | 3 | 2 | -15 | 14 | 5 | 2 | 2 | 18 | 93 | 78 |
| 8 | BRA | Patricia Freitas | 6 | 8 | 4 | 2 | 13 | -16 | 10 | 1 | 3 | 8 | 8 | 9 | 8 | 96 | 80 |
| 9 | GBR | Bryony Shaw | 7 | -20 | 9 | 7 | 14 | 12 | 3 | 5 | 2 | 4 | 4 | 4 | 12 | 103 | 83 |
| 10 | FIN | Tuuli Petäjä-Sirén | 4 | 9 | 8 | 5 | 9 | 5 | -27 | 3 | 12 | 10 | 6 | 8 | 20 | 126 | 99 |
| 11 | EST | Ingrid Puusta | -18 | 13 | 12 | 10 | 8 | 11 | 9 | 18 | 7 | 16 | 14 | 14 | | 150 | 132 |
| 12 | NOR | Maria Mollestad | 14 | 10 | -20 | 14 | 18 | 20 | 14 | 6 | 11 | 6 | 17 | 11 | | 161 | 141 |
| 13 | MEX | Demita Vega de Lille | 11 | 18 | 18 | 9 | 10 | 17 | -27 | 8 | 13 | 17 | 11 | 15 | | 174 | 147 |
| 14 | POL | Malgorzata Bialecka | 13 | 21 | 13 | 23 | 12 | 6 | -27 | 14 | 9 | 11 | 13 | 18 | | 180 | 153 |
| 15 | DEN | Laerke Buhl-Hansen | 17 | 16 | 17 | 20 | 16 | 13 | 12 | 9 | -21 | 12 | 10 | 12 | | 175 | 154 |
| 16 | USA | Marion Lepert | 10 | 3 | 10 | 13 | 12.9 | 23 | 6 | 23 | 15 | -27 | 19 | 22 | | 183.9 | 156.9 |
| 17 | HKG | Sonia Lo | 15 | 15 | 15 | 16 | 19 | -22 | 11 | 17 | 17 | 7 | 12 | 13 | | 179 | 157 |
| 18 | THA | Siripon Kaewduang-Ngam | 19 | 23 | 22 | 18 | 11 | 2 | -27 | 7 | 18 | 14 | 15 | 17 | | 193 | 166 |
| 19 | GRE | Angeliki Skarlatou | 16 | 17 | 7 | 12 | 17 | 15 | -27 | 20 | 16 | 15 | 20 | 16 | | 198 | 171 |
| 20 | JPN | Megumi Iseda | 23 | 22 | 19 | 22 | 15 | 14 | -27 | 13 | 19 | 13 | 18 | 20 | | 225 | 198 |
| 21 | ARG | Maria Tejerina Mackern | 21 | 12 | 16 | 17 | 21 | 19 | 16 | 16 | 24 | -27 | 23 | 21 | | 233 | 206 |
| 22 | TUR | Dilara Uralp | 20 | 19 | 23 | 24 | 20 | 21 | -27 | 21 | 20 | 19 | 24 | 19 | | 257 | 230 |
| 23 | HUN | Sara Cholnoky | 22 | 14 | 21 | 19 | 23 | 24 | 13 | 22 | 25 | -27 | 25 | 27 | | 262 | 235 |
| 24 | LAT | Ketija Birzule | 24 | 24 | -27 | 21 | 24 | 26 | 27 | 25 | 23 | 18 | 21 | 23 | | 283 | 256 |
| 25 | SIN | Audrey Yong | 25 | 25 | 24 | 25 | 22 | 18 | -27 | 24 | 22 | 27 | 27 | 27 | | 293 | 266 |
| 26 | ALG | KATIA BELABBAS | -27 | 27 | 27 | 27 | 27 | 25 | 27 | 27 | 27 | 27 | 22 | 27 | | 317 | 290 |
Back to top