RS:X Men Gold and silver decided
It was a light and frustrating day for many in the Olympic sailing competition, but not for the London 2012 gold and silver medallists in the Men's Windsurfer, with the Netherland's Dorian van Rijsselberghe and Britain's Nick Dempsey wrapping up Rio 2016 gold and silver before the Medal Race on Sunday.

Meanwhile it was the start of competition for the Men's and Women's Skiff fleets, with an expected leader in the 49er Men, but a surprise leader in the 49erFX Women.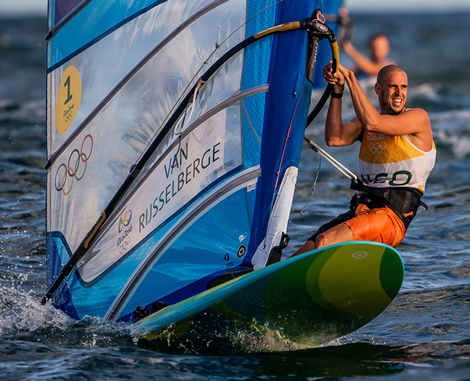 Men's RS:X

Dorian van Rijsselberghe (NED) has won the gold medal in the Men's Windsurfer and Nick Dempsey (GBR) has won the silver, both without having to contest the Medal Race on Sunday. It's a carbon copy repeat of London 2012 when the Dutchman took gold ahead of the Briton. The result is subject to protest, and both sailors will still have to sail the Medal Race, but van Rijsselberghe and Dempsey were already congratulating each other after crossing the finish line of the 12th race of their series.
These two athletes have dominated the Olympic competition, with van Rijsselberghe winning seven of the 12 races and Dempsey winning three. Sunday's battle for bronze will still be close fought between current World Champion Piotr Myszka (POL), Pierre Le Coq (FRA) and Byron Kokkalanis (GRE).

Looking back to the start of the RS:X competition, van Rijsselberghe commented: "I was very fortunate that Nick went off like a cannon in the first couple of races, because it really showed me like, 'okay, it's not going to be easy.' We never thought it was going to be easy but he really showed me that if I wanted this, I had to work for it. I tried, worked for it and I got it. It's great when you're sailing against guys that are really pushing you and challenging you. If you don't have that, it would be very boring."

Even though the Dutchman dominated four years ago to win his first Olympic title, he was still taken aback at his performance this time. "It's unreal. I did it in London and I never expected it to happen again. Now that it's happened again, it's unreal. It's never easy, if it was easy everybody would be doing it. It was an amazing week and having the guys push me really helped a lot. Coming out with a score like this is pretty special."

Van Rijsselberghe paid tribute to the people that helped him to his second Olympic title saying, "The majority of it will be from Aaron, my coach. He keeps pushing me and of course my training partner Kiran Badloe and the others that have helped me bust my balls and blaze along." He also thanked his wife for allowing him to shave his head specially for the Games, just as he had done when he won four years ago in London.

Dempsey almost had a tear in his eye as he sealed a third Olympic medal, the first windsurfer ever to have done so: "I was consistent, but not quite consistently good enough today. I just had to really try and stay in touch with Dorian and I'd be lying if I didn't say I had an eye on the two people behind me. Dorian was too good today. He won it today rather than me losing it and I feel very happy to have won a silver medal."

Dempsey has won three medals from five Games, so he knows what it's like to miss out and he wasn't taking his silver for granted. It has been a life of sacrifice dating back to his first Games in Sydney 2000. This evening he was enjoying his first beer in five months. "A year ago, I didn't know where I'd finish. At the Olympic Test event last year I wasn't anywhere near the podium so I had a lot of work to do. The last 12 months have gone really well and I've worked bloody hard, so it's nice to come here and have a chance of winning. To have the silver medal is pretty awesome."

On his strategy, Dempsey was happy to have taken a conservative approach. "I didn't want to be too aggressive. I wanted to stay pretty safe as it was pretty unstable out there. The last thing I wanted to do was have a day like the Polish guy. He had some horrendous scores, and then all of a sudden you're out of the medals and fighting to get back. I had to be quite careful. I was pretty close to Dorian but he was slightly ahead of me. Unfortunately, he was ahead all of the time but when somebody is out winning there is not a lot you can do apart from limit the damage. He was too good today. It's been an amazing week with great racing."

Dempsey will celebrate his 36th birthday tomorrow with a rest day before Sunday's Medal Race, and he wants to go out on a high. "Sunday is my last race ever so I want to do well and win."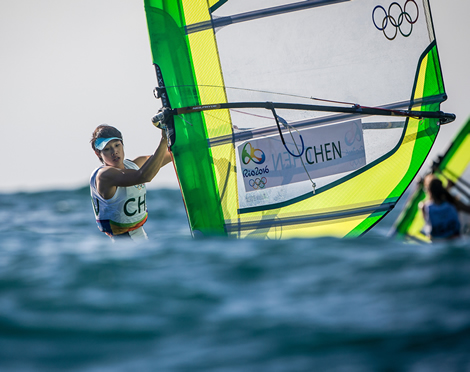 Women's RS:X

Star performer of the day was Peina Chen (CHN), who won the last three races of the qualifying series. In contrast to the Men's RS:X leaderboard, just five points separate the top six sailors going into Sunday's medal race this Sunday. Currently Flavia Tartaglini (ITA) and Stefania Elfutina's (RUS) are tied for the lead, but breathing down their necks are reigning Olympic Champion Marina Alabau (ESP), Peina Chen (CHN), Charline Picon (FRA) and Maayan Davidovich (ISR), the Chinese sailor putting in a formidable late charge winning all three of today's races. A few points further back, but still with an outside shot at the podium is Lillian de Geus (NED). Bearing in mind the final race is worth double points, at present the top nine sailors, including Britain's Bryony Shaw are within 20 points of the leaders.

Alabau is going to have fight hard to keep her Olympic title, but she's relishing the challenge. "It hasn't been a bad day for me but I really think that I could have done it a bit better. It has been a difficult day, with difficult conditions, very changing winds in direction and intensity. Some girls have done it quite bad, not me, but I haven't shone either. Now I have a protest with the Israeli and let's see how it finishes." As to the grand finale on Sunday, "It's going to be the most interesting Medal Race in history. We are seven women to win three medals. Crazy."

Tartaglini led earlier in the week and was a little envious at the ease with which the gold and silver medals have been won in the Men's Windsurfer. "I would have liked to do it as Dorian or Nick, but we are going to keep the suspense until the end. Women are so pig-headed, so we have to suffer till the end. It's a nonsense to work out the points. I have to do my own race, and I hope to win a medal."
Britain's Bryony Shaw picked up fourth places in each of her three races today and currently holds eighth overall after an impressive comeback in the second half of her regatta – scoring all six finishes inside the top five – after initially struggling to find her form on Guanabara Bay.

But she now concedes she only has an "outside chance of a medal" in Sunday's double-points medal showdown, she is not about to stop fighting. "The points are close so the aim is to go out and smash that Medal Race and jump up the standings as much as possible.

"I had a tough two days at the start of the week where I underperformed, didn't get off start lines well and a few unfortunate things that happened that I tried not to dwell on too much and get my head back in the game. The last two days have been much more what Bryony Shaw is capable of. It is a missed opportunity for me to medal here. The last few years I've been a top performer, so I certainly had higher expectations of myself at this regatta.

"I think I was absolutely capable of medalling and being in the mix. It would have been great to be much more of a player going in to the final. As it is, it is an outside chance."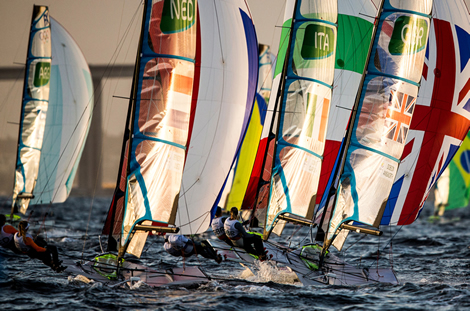 49er

London 2012 silver medallists Peter Burling and Blair Tuke (NZL) made the perfect start to their competition winning both opening heats. After a long wait ashore for the wind to settle on the Pão de Açucar (Sugarloaf Mountain) race course, it was Jonas Warrer and Christian Peter Lubeck (DEN) who found themselves duelling with the New Zealanders at the front of the fleet. Warrer, the 2008 Olympic Champion, looked to have got the better of the Kiwis on the final lap and was leading down to the finish when he belatedly realised he had missed out the gate mark. The Danes reluctantly, but hurriedly dropped their gennaker to resail the course correctly, leaving the way clear for an easy opening victory for Burling and Tuke. Warrer crossed in eighth, an expensive mistake that could cost him further down the line.

In the next race the Kiwis rounded the first mark in fourth and patiently worked their way to the front ahead of the Irish pair Ryan Seaton and Matthew McGovern. At the end of a day that saw some spectacular racing in moderate breezes and beautiful winter sunshine, New Zealand holds the lead, Portugal is second and Germany is third.
"We're just happy to walk away from day one with two low scores," said Burling, the four-time World Champion. While the Kiwi boatspeed was good, most of their winning came from picking their way through the gusts and the lulls on the tricky course. "We made our gain in that first race when we gybe-set on that first run. It felt like we found some good breeze and that helped us get out of the pack and up to the front."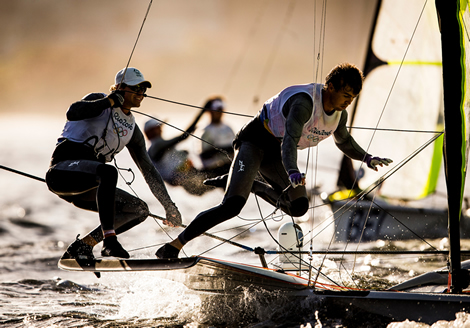 Their opening day wasn't the way that Nathan Outteridge and Iain Jensen (AUS) would have liked to open the defence of their Olympic title. Scores of 13,8 put the Australians in 11th overall. "We haven't lost the event, but we haven't set the world on fire," Outteridge admitted, acknowledging they just weren't quite fast enough out of the blocks. "A lot of it is trying to get on the first tack and getting yourself up the ladder ahead of everyone else. Both times we just missed that first opportunity."
Team GBR's Dylan Fletcher and Alain Sign had to use all their experience to recover through the fleet after poor start in race one to cross the line in 15th, after a long delay both ashore and on the water waiting for the breeze to build in Guanabara Bay. After another shorter postponement as the wind dropped, their fortunes improved in race two as they secured their first top 10 finish of the event, again coming back after an iffy first beat.

Sign said: "It's definitely something to build on. We've got a few opportunities we know we need to work on the rest of the week so we will have a little think and then come out tomorrow and hopefully keep moving forwards. It felt a bit like 49er gold fleet racing, which you get at any major championship. Everyone is on the their game and you're racing against the top 20 in the world effectively. It's really exciting to get out there on the water. There were a probably a few nerves around today and but at the end of the day it's just a 49er race."

Dylan added: "It's exciting to finally start off our Olympics. It wasn't the ideal start we wanted but we will be looking to build up on that this week and take each race as it comes. Rio is a tricky venue and we are looking forward to the challenge."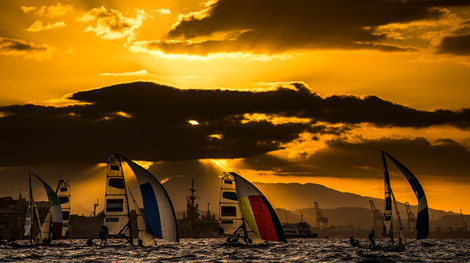 49erFX

There is no stand-out favourite for gold in the brand new women's skiff fleet, and after day one of competition things aren't much clearer with two of the three scheduled races sailed. Of all the teams that might have been expected to be topping the leaderboard, few would have picked the Canadians. Yet Erin Rafuse and Dannie Boyd scored a 5,4 to hold a one-point lead over one of the acknowledged favourites, local sailors Martine Grael and Kahena Kunze (BRA), who won the second race of the day just as the sun was setting over their home town.

Winners of the first race were Sarah Steyaert and Aude Compan (FRA) who are in third overall on equal points with last year's World Champions from Italy, Giulia Conti and Francesca Clapcich.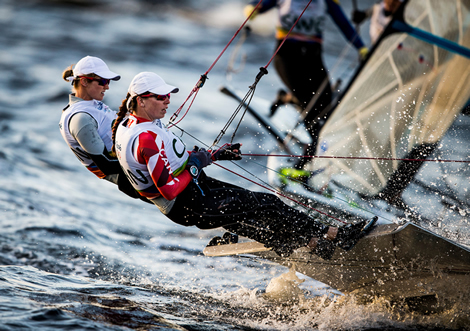 The Canadians were delighted with their first day of Olympic competition. "We don't like to get caught up in the numbers but this is definitely our best start to a regatta," said Rafuse. "We picked the right regatta." Boyd enjoyed the tricky racing in shifty winds. "These conditions are right in our wheelhouse," she said. "We know we can throw the boat wherever we want to. We had good starts and were able to get on the first shift of the day and it makes the rest of the race a lot easier."
Team GBR's Charlotte Dobson and Sophie Ainsworth were relieved to finally make their campaign underway. When racing did finally get going, the Olympic first timers showed no sign of nerves at all, blitzing around the Aeroporto course to finish second. In race two they remained consistently in the middle of the pack to cross the line in 11th.

Dobson said: "Thank goodness we got to go racing, it's been the longest build up ever! We had a good first race and then a bit more of a tough second race but I think all in all in Rio in those sorts of conditions you've got to take that for a day one. We will need a bit more consistency and we're just trying to build a steady regatta.

Ainsworth continued: "It was definitely what we expected in Rio, some tricky conditions but exciting racing. There's a long way to go and we are happy with the way we started. As soon as the breeze came in it was on to preparing ourselves as best we could and getting ready to fire."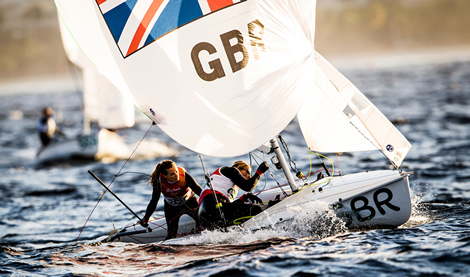 Women's 470

Team GBR's Hannah Mills and Saskia Clark won the only race of the day for the 470 Women on the Escola Naval course, moving them to the top of the leaderboard. Two earlier leaders in the series had disappointing days. Ai Kondo Yoshida and Miho Yoshioka (JPN) finished in last place today although when that score is discarded from their results the Japanese are still second overall, three points off the lead. Sharing the same points as them are the reigning World Champions, Camille Lecointre and Hélène de France (FRA).

With the defending Olympic Champions already having used up their discard in the first race of the series after a disqualification, a 12th place finish has proven expensive for Jo Aleh and Polly Powrie (NZL) who have dropped from first to sixth in the standings.

On the British race win, Mills commented, "It's always nice when there's only going to be one race to go out and smash it. We executed on our plan and we're very happy. It's such a hard venue and the fleet is all vying for that top spot. We just need to make sure we have a shot at winning come the Medal Race.
"It's always nice when you know there is only going to be one race for the day because you can really go out and smash it as hard as you can and try and get a good result, which we did.

"We executed the start we wanted, nailed the first upwind and from there on in it was just about staying ahead. The wind was dying and it was getting more and more shifty and it's dark so it was nice to get one really clean race."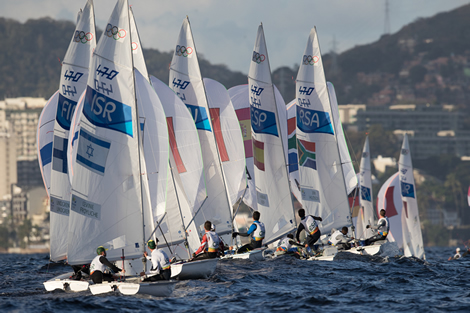 Men's 470

It was a frustrating wait for the 470 Men who were struggling to get in their races on the Escola Naval course. In the single race that was completed before sunset, Luke Patience and Chris Grube's victory has lifted the British crew to third overall. The duel for supremacy continues between the reigning World Champions from Croatia and the reigning Olympic Champions from Australia. Mat Belcher and Will Ryan (AUS) moved to within two points of the lead after finishing second in the day's only race, a place behind Sime Fantela and Igor Marenic (CRO) who lead the fleet. Panagiotis Mantis and Pavlos Kagialis (GRE) sit a point behind the British in fourth overall.

Fantela commented: "Another good day in our pocket, it was tricky inside the bay. Lots of waiting but we are used to it and finally the wind filled in around 3.30pm and we made a good climb from about seventh at the beginning to the front of the pack. We had a good fight with Australia, the British, the Americans. It was fun."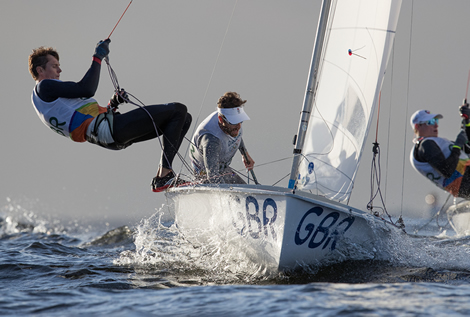 Luke Patience said: "We were dead happy with our performance today. Our strategy was to really lock into the conditions, we spent a long time talking about it and observing what was going on and just felt at ease with what our first move was.

"We executed it exactly how we wanted it to and even in an unpredictable venue like this, if you can execute what you plan to do so often it reaps the rewards."

Crewman Chris Grube added: "We're feeling like we've got some good flow and momentum behind us. We're just trying to build our regatta and it really feels like now we can start knocking in some results and taking a bit more risk. I am really enjoying it, I think winning a race at the Olympics should be exciting".

The 470 Men are now set for a rest day tomorrow.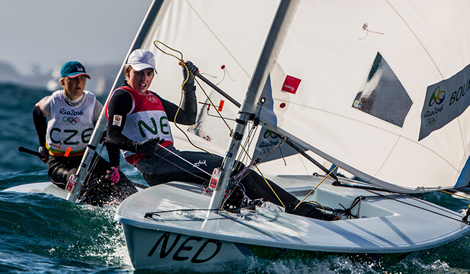 Laser Radial

With just two of the ten-race qualifying series remaining for the Women's Radial fleet, Anne-Marie Rindom (DEN) has pulled out a useful ten-point advantage after a very solid day's sailing in very tricky conditions, the light airs and big waves making for a seasick-inducing day on the water. Still within striking distance of the lead is Marit Bouwmeester (NED) who holds second place, four points in front of Annalise Murphy (IRL) who fell off the top of the leaderboard after struggling with the difficult conditions on the Copacabana course.
"I would like it to have been better today but it wasn't a complete disaster," Murphy shrugged. "Huge swell, big shifts, a lot going on, and not getting it quite right. I caught up a lot in the first race but I'm not happy. I'm looking forward to Sugarloaf tomorrow: lots of gusts, shifts, really tricky which is how I like it."
Team GBR's Alison Young scored 7-10 today on the huge swell of the South Atlantic Ocean moving her into ninth place overall with two races of their opening 10-race series to come tomorrow before Monday's Medal Race.

With that Medal Race worth double points, Young knows that two great results tomorrow could keep her in the hunt for silverware on the final day of racing: "With two more races I need to scrap it out and fire myself up for it. It's been a disappointing regatta so far, but there's still plenty to fight for. A lot of people are up and down across the fleet, so there are opportunities out there and I'll need to nail it tomorrow."

Reflecting on today's races she added: "There were opportunities on the racecourse so I managed to make some gains back, but could have given myself a bit more of a chance if I'd started a little bit better. It was pretty wavy out there and it was an okay day, but it wasn't great. If you round the windward mark outside the top 15, then it's going to be fairly hard work. I had to scrap pretty hard to get some results."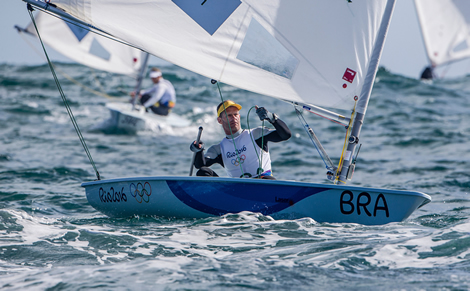 Laser

Tonci Stipanović (CRO) gave away a lot of his lead today after struggling to get to grips with the unusual conditions out on the big rolling ocean. The Croatian could only manage 28,9 while Robert Scheidt (BRA) went on the attack with a 4,5 that has taken him to just three points of the lead. Tom Burton (AUS) is two points behind Scheidt in third overall.
The Lasers ventured out on to the Copacabana ocean course amidst moderate breeze but huge swells and up to 10ft waves, which led to delay in starting as the race committee moved the courses further out to sea.
Stipanović made no secret of his dislike of today's conditions. "For me these conditions are strange and really hard. Light wind, big swell, I didn't know what to do. You need a lot of practice in this and I have probably only sailed in this kind of conditions four times in my life. Because of that it didn't go so well today."

Scheidt also acknowledged the difficulty of the weird combination of big waves and very little breeze. "Two metre swell out there, very difficult to sail the boat, pressure at the top of the wave, no pressure at the bottom of the wave."

The 43-year-old is more motivated than ever to become the first sailor to win six Olympic medals. "I think that the key to this week was to never give up. I made some mistakes on day one and two, but I believed I could come back and today was a massive day for my confidence. It's another crucial day tomorrow."
Britain's Nick Thompson followed up a disappointing 24th in the opening race of the day with a seventh to slip to fourth in the overall standings.

The Lasers are scheduled to contest their final two races of the 10-race opening series tomorrow before Monday's scheduled Medal Race. And with that race worth double points, the 30-year-old double World champion wants to ensure he is in the position to still be going for gold heading into that showdown.

He said: "The points are still pretty close and everyone still has big 'counter' scores as discards so realistically I'll probably have to knock in a good first race tomorrow, go from there and see what the points are like. It's so close all the way down and everyone is going to be battling away. I'll have a sit down with my coach and make a plan.

"I always knew it was going to be down to the wire and go down to the Medal Race and I just wanted to be in the mix, which I am, so even though I'm frustrated with throwing away quite a few points around the race course I'm sure everyone would say the same thing."

When racing finally got underway Thompson got off to a poor start, struggling up the first beat and rounding the first mark in 29th before clawing five places back to finish 24th. In race two he stayed comfortably around the top 10 and taking seventh.

He added: "We were expecting a little bit more breeze than we got. I was thinking it was going to be another 'yeehaw' day, another good flight around the racecourse, but it turned out to be actually quite light and very tricky.

"There was a huge shift range and a huge wind range, so it was a very tough day. The first race didn't go particularly well, I didn't get on the right side of the first shift on the first beat, and then tried to battle my way back through but couldn't get back through the fleet. Then the second race I turned it around and had an okay result.

"It's mixed emotions. I'm a bit frustrated with, but that's the nature of this venue and we knew that coming into it."
Back to top
Results after day 5
RS:X Men

| | | | | | | | | | | | | | | | | |
| --- | --- | --- | --- | --- | --- | --- | --- | --- | --- | --- | --- | --- | --- | --- | --- | --- |
| Pos | Nat | Crew | R1 | R2 | R3 | R4 | R5 | R6 | R7 | R8 | R9 | R10 | R11 | R12 | Total | Net |
| 1 | NED | Dorian Van Rysselberghe | 5 | 3 | 1 | 4 | 1 | 1 | 4 | 1 | 1 | 1 | 1 | -6 | 29 | 23 |
| 2 | GBR | Nick Dempsey | 1 | 1 | 2 | 1 | 4 | -8 | 2 | 5 | 8 | 5 | 7 | 8 | 52 | 44 |
| 3 | POL | Piotr Myszka | 4 | 5 | 5 | 2 | 2 | 3 | 12 | 2 | 6 | 13 | -16 | 16 | 86 | 70 |
| 4 | FRA | Pierre Le Coq | 7 | 7 | 12 | 6 | 3 | 2 | 8 | 10 | -17 | 2 | 3 | 12 | 89 | 72 |
| 5 | GRE | Byron Kokkalanis | 2 | 2 | 6 | -13 | 5 | 5 | 5 | 8 | 12 | 12 | 11 | 10 | 91 | 78 |
| 6 | GER | Toni Wilhelm | 8 | 4 | 13 | 10 | 9 | 4 | 1 | 7 | -19 | 7 | 8 | 19 | 109 | 90 |
| 7 | BRA | Ricardo Santos | 6 | 9 | 7 | 3 | 16 | -30 | 21 | 9 | 9 | 6 | 9 | 11 | 136 | 106 |
| 8 | ITA | Mattia Camboni | 11 | 13 | 4 | -37 | 37 | 9 | 10 | 21 | 3 | 3 | 5 | 1 | 154 | 117 |
| 9 | HKG | Cheng Chun Leung | 3 | 6 | 11 | 5 | 6 | 16 | 9 | 13 | 13 | 21 | 17 | -26 | 146 | 120 |
| 10 | ESP | Ivan Pastor Lafuente | 17 | 19 | 10 | 7 | 7 | -37 | 11 | 22 | 16 | 9 | 2 | 3 | 160 | 123 |
| 11 | POR | João Rodrigues | 21 | 10 | -23 | 15 | 15 | 10 | 15 | 12 | 4 | 4 | 12 | 7 | 148 | 125 |
| 12 | DEN | Sebastian Fleischer | 15 | 14 | 9 | 12 | -22 | 11 | 17 | 20 | 2 | 11 | 6 | 18 | 157 | 135 |
| 13 | CHN | Aichen Wang | 16 | 18 | 8 | 18 | -19 | 15 | 6 | 4 | 15 | 10 | 10 | 15 | 154 | 135 |
| 14 | SUI | Mateo Sanz Lanz | -24 | 15 | 21 | 8 | 14 | 8 | 20 | 11 | 11 | 19 | 4 | 5 | 160 | 136 |
| 15 | JPN | Makoto Tomizawa | 10 | 8 | 18 | 19 | 13 | -22 | 7 | 14 | 18 | 15 | 14 | 2 | 160 | 138 |
| 16 | RUS | Max Oberemko | -27 | 25 | 14 | 24 | 17 | 13 | 3 | 3 | 10 | 8 | 13 | 9 | 166 | 139 |
| 17 | ISR | Shahar Zubari | 9 | 17 | 20 | 22 | -37 | 18 | 19 | 6 | 7 | 17 | 21 | 4 | 197 | 160 |
| 18 | KOR | Tae Hoon Lee | 14 | 20 | 3 | 9 | 18 | 7 | -33 | 17 | 27 | 14 | 22 | 14 | 198 | 165 |
| 19 | CYP | Andreas Cariolou | 12 | 12 | 16 | 23 | 10 | 6 | 18 | -27 | 23 | 22 | 19 | 20 | 208 | 181 |
| 20 | MEX | David Mier y Teran | 28 | 21 | 22 | 26 | 21 | 17 | -32 | 15 | 5 | 16 | 15 | 21 | 239 | 207 |
| 21 | ARG | Bautista Saubidet Birkner | 20 | 16 | 19 | 17 | 12 | 23 | 14 | 25 | 24 | 18 | -29 | 22 | 239 | 210 |
| 22 | BLR | Mikita Tsirkun | 23 | 27 | 25 | 16 | 8 | -32 | 16 | 19 | 22 | 24 | 18 | 17 | 247 | 215 |
| 23 | UKR | Oleksandr Tugaryev | 22 | 31 | 27 | 11 | -37 | 12 | 13 | 16 | 30 | 20 | 30 | 13 | 262 | 225 |
| 24 | CRO | Luka Mratovic | 13 | 11 | 15 | 21 | -37 | 19 | 27 | 18 | 34 | 26 | 31 | 30 | 282 | 245 |
| 25 | HUN | Aron Gadorfalvi | 30 | 28 | 29 | 25 | 20 | 20 | 25 | -37 | 26 | 27 | 24 | 23 | 314 | 277 |
| 26 | LTU | Juozas Bernotas | 19 | 23 | 17 | 29 | -37 | 14 | 26 | 37 | 21 | 37 | 26 | 29 | 315 | 278 |
| 27 | VEN | Daniel Flores | 18 | 22 | 26 | 20 | 11 | 33 | 34 | -37 | 32 | 37 | 23 | 25 | 318 | 281 |
| 28 | USA | Pedro Pascual | 25 | 26 | 28 | 28 | -37 | 28 | 22 | 26 | 28 | 23 | 20 | 32 | 323 | 286 |
| 29 | THA | Natthaphong Phonoppharat | 32 | 29 | 32 | 14 | -37 | 21 | 30 | 24 | 25 | 25 | 28 | 27 | 324 | 287 |
| 30 | COL | Santiago Grillo | 29 | 24 | 24 | 32 | -37 | 24 | 28 | 23 | 14 | 29 | 35 | 37 | 336 | 299 |
| 31 | CZE | Karel Lavicky | 26 | 30 | 30 | 30 | -37 | 25 | 24 | 37 | 29 | 37 | 25 | 31 | 361 | 324 |
| 32 | TPE | Hao Chang | 34 | 34 | 31 | 27 | -37 | 34 | 35 | 37 | 31 | 28 | 27 | 28 | 383 | 346 |
| 33 | SEY | JEAN-MARC GARDETTE | 36 | 35 | 33 | 31 | 23 | 31 | 29 | -37 | 35 | 37 | 32 | 33 | 392 | 355 |
| 34 | SIN | Leonard Ong | 33 | 33 | 35 | 33 | -37 | 27 | 36 | 37 | 20 | 37 | 34 | 37 | 399 | 362 |
| 35 | TUR | Onur Cavit Biriz | 31 | 32 | -37 | 34 | 37 | 29 | 23 | 37 | 33 | 37 | 33 | 37 | 400 | 363 |
| 36 | ALG | Hamza Bouras | 35 | 36 | 34 | 35 | -37 | 26 | 31 | 37 | 36 | 37 | 36 | 24 | 404 | 367 |
RS:X Women

| | | | | | | | | | | | | | | | | |
| --- | --- | --- | --- | --- | --- | --- | --- | --- | --- | --- | --- | --- | --- | --- | --- | --- |
| Pos | Nat | Helm | R1 | R2 | R3 | R4 | R5 | R6 | R7 | R8 | R9 | R10 | R11 | R12 | Tot | Net |
| 1 | ITA | Flavia Tartaglini | -12 | 1 | 5 | 1 | 1 | 4 | 1 | 12 | 10 | 9 | 5 | 6 | 67 | 55 |
| 2 | RUS | Stefania Elfutina | 2 | 5 | 3 | 6 | 2 | 9 | 8 | 4 | 6 | 3 | -16 | 7 | 71 | 55 |
| 3 | CHN | Peina Chen | 9 | 11 | 11 | -15 | 7 | 1 | 4 | 10 | 4 | 1 | 1 | 1 | 75 | 60 |
| 4 | FRA | Charline Picon | 1 | 2 | 1 | 4 | 5 | 10 | 5 | 11 | 8 | -27 | 3 | 10 | 87 | 60 |
| 5 | ISR | Maayan Davidovich | 5 | 6 | 6 | 11 | 4 | 3 | 2 | -15 | 14 | 5 | 2 | 2 | 75 | 60 |
| 6 | ESP | Marina Alabau Neira | 8 | 7 | 2 | 8 | 6 | 8 | 7 | 2 | 1 | -27 | 9 | 3 | 88 | 61 |
| 7 | NED | Lilian De Geus | 3 | 4 | 14 | 3 | 3 | 7 | 15 | -19 | 5 | 2 | 7 | 5 | 87 | 68 |
| 8 | GBR | Bryony Shaw | 7 | -20 | 9 | 7 | 14 | 12 | 3 | 5 | 2 | 4 | 4 | 4 | 91 | 71 |
| 9 | BRA | Patricia Freitas | 6 | 8 | 4 | 2 | 13 | -16 | 10 | 1 | 3 | 8 | 8 | 9 | 88 | 72 |
| 10 | FIN | Tuuli Petäjä-Sirén | 4 | 9 | 8 | 5 | 9 | 5 | -27 | 3 | 12 | 10 | 6 | 8 | 106 | 79 |
| 11 | EST | Ingrid Puusta | -18 | 13 | 12 | 10 | 8 | 11 | 9 | 18 | 7 | 16 | 14 | 14 | 150 | 132 |
| 12 | NOR | Maria Mollestad | 14 | 10 | -20 | 14 | 18 | 20 | 14 | 6 | 11 | 6 | 17 | 11 | 161 | 141 |
| 13 | MEX | Demita Vega de Lille | 11 | 18 | 18 | 9 | 10 | 17 | -27 | 8 | 13 | 17 | 11 | 15 | 174 | 147 |
| 14 | POL | Malgorzata Bialecka | 13 | 21 | 13 | 23 | 12 | 6 | -27 | 14 | 9 | 11 | 13 | 18 | 180 | 153 |
| 15 | DEN | Laerke Buhl-Hansen | 17 | 16 | 17 | 20 | 16 | 13 | 12 | 9 | -21 | 12 | 10 | 12 | 175 | 154 |
| 16 | USA | Marion Lepert | 10 | 3 | 10 | 13 | 11.8 | 23 | 6 | 23 | 15 | -27 | 19 | 22 | 183.9 | 156.9 |
| 17 | HKG | Sonia Lo | 15 | 15 | 15 | 16 | 19 | -22 | 11 | 17 | 17 | 7 | 12 | 13 | 179 | 157 |
| 18 | THA | Siripon Kaewduang-Ngam | 19 | 23 | 22 | 18 | 11 | 2 | -27 | 7 | 18 | 14 | 15 | 17 | 193 | 166 |
| 19 | GRE | Angeliki Skarlatou | 16 | 17 | 7 | 12 | 17 | 15 | -27 | 20 | 16 | 15 | 20 | 16 | 198 | 171 |
| 20 | JPN | Megumi Iseda | 23 | 22 | 19 | 22 | 15 | 14 | -27 | 13 | 19 | 13 | 18 | 20 | 225 | 198 |
| 21 | ARG | Maria Tejerina Mackern | 21 | 12 | 16 | 17 | 21 | 19 | 16 | 16 | 24 | -27 | 23 | 21 | 233 | 206 |
| 22 | TUR | Dilara Uralp | 20 | 19 | 23 | 24 | 20 | 21 | -27 | 21 | 20 | 19 | 24 | 19 | 257 | 230 |
| 23 | HUN | Sara Cholnoky | 22 | 14 | 21 | 19 | 23 | 24 | 13 | 22 | 25 | -27 | 25 | 27 | 262 | 235 |
| 24 | LAT | Ketija Birzule | 24 | 24 | -27 | 21 | 24 | 26 | 27 | 25 | 23 | 18 | 21 | 23 | 283 | 256 |
| 25 | SIN | Audrey Yong | 25 | 25 | 24 | 25 | 22 | 18 | -27 | 24 | 22 | 27 | 27 | 27 | 293 | 266 |
| 26 | ALG | KATIA BELABBAS | -27 | 27 | 27 | 27 | 27 | 25 | 27 | 27 | 27 | 27 | 22 | 27 | 317 | 290 |
49er

| | | | | | | |
| --- | --- | --- | --- | --- | --- | --- |
| Pos | Nat | Helm | Crew | R1 | R2 | Tot |
| 1 | NZL | Peter Burling | Blair Tuke | 1 | 1 | 2 |
| 2 | POR | Jorge Lima | José Costa | 4 | 4 | 8 |
| 3 | GER | Erik Heil | Thomas Ploessel | 6 | 3 | 9 |
| 4 | POL | Lukasz Przybytek | Pawel Kolodzinski | 2 | 13 | 15 |
| 5 | IRL | Ryan Seaton | Matthew Mcgovern | 14 | 2 | 16 |
| 6 | DEN | Jonas Warrer | Christian Peter Lübeck | 8 | 9 | 17 |
| 7 | JPN | Yukio Makino | Kenji Takahashi | 3 | 15 | 18 |
| 8 | ARG | Yago Lange | Klaus Lange | 11 | 7 | 18 |
| 9 | ESP | Diego Botín le Chever | Iago López Marra | 16 | 5 | 21 |
| 10 | SUI | Sebastien Schneiter | Lucien Cujean | 5 | 16 | 21 |
| 11 | AUS | Nathan Outteridge | Iain Jensen | 13 | 8 | 21 |
| 12 | BRA | Marco Grael | Gabriel Borges | 10 | 11 | 21 |
| 13 | AUT | Nico Delle - Karth | Nikolaus Resch | 17 | 6 | 23 |
| 14 | GBR | Dylan Fletcher-Scott | Alain Sign | 15 | 10 | 25 |
| 15 | CRO | Pavle Kostov | Petar Cupac | 9 | 17 | 26 |
| 16 | ITA | Ruggero Tita | Pietro Zucchetti | 7 | 20 | 27 |
| 17 | CHI | Benjamin Grez Ahrens | Cristóbal Grez Ahrens | 12 | 18 | 30 |
| 18 | FRA | Julien d'Ortoli | Noe Delpech | 20 | 12 | 32 |
| 19 | BEL | Yannick Lefèbvre | Tom Pelsmaekers | 19 | 14 | 33 |
| 20 | USA | Thomas Barrows, III | Joseph Morris | 18 | 19 | 37 |
49erFX

| | | | | | | |
| --- | --- | --- | --- | --- | --- | --- |
| Pos | Nat | Helm | Crew | R1 | R2 | Tot |
| 1 | CAN | Erin Rafuse | Dannie Boyd | 5 | 4 | 9 |
| 2 | BRA | Martine Soffiatti Grael | Kahena Kunze | 9 | 1 | 10 |
| 3 | FRA | Sarah Steyaert | Aude Compan | 1 | 9 | 10 |
| 4 | ITA | Giulia Conti | Francesca Clapcich | 3 | 7 | 10 |
| 5 | IRL | Andrea Brewster | Saskia Tidey | 8 | 3 | 11 |
| 6 | NZL | Alexandra Maloney | Molly Meech | 6 | 5 | 11 |
| 7 | GBR | Charlotte Dobson | Sophie Ainsworth | 2 | 11 | 13 |
| 8 | ESP | Tamara Echegoyen Dominguez | Berta Betanzos Moro | 4 | 13 | 17 |
| 9 | SWE | Lisa Ericson | Hanna Klinga | 11 | 6 | 17 |
| 10 | FIN | Noora Ruskola | Camilla Cedercreutz | 7 | 12 | 19 |
| 11 | DEN | Jena Hansen | Katja Salskov-Iversen | 21 | 2 | 23 |
| 12 | NOR | Ragna Agerup | Maia Agerup | 10 | 18 | 28 |
| 13 | GER | Victoria Jurczok | Anika Lorenz | 21 | 8 | 29 |
| 14 | USA | Paris Henken | Helena Scutt | 13 | 16 | 29 |
| 15 | CHI | Arantza Gumucio | Begoña Gumucio | 16 | 14 | 30 |
| 16 | NED | Annemiek Bekkering | Annette Duetz | 21 | 10 | 31 |
| 17 | SIN | Griselda Khng | Sara Tan | 12 | 19 | 31 |
| 18 | EST | Kätlin Tammiste | Anna Maria Sepp | 15 | 17 | 32 |
| 19 | ARG | Victoria Travascio | Maria Branz | 14 | 20 | 34 |
| 20 | JPN | Keiko Miyagawa | Sena Takano | 21 | 15 | 36 |
470 Women

| | | | | | | | | | | |
| --- | --- | --- | --- | --- | --- | --- | --- | --- | --- | --- |
| Pos | Nat | Helm | Crew | R1 | R2 | R3 | R4 | R5 | Tot | Net |
| 1 | GBR | Hannah Mills | Saskia Clark | 4 | -7 | 1 | 6 | 1 | 19 | 12 |
| 2 | JPN | Ai Kondo Yoshida | Miho Yoshioka | 1 | 4 | 3 | 7 | -19 | 34 | 15 |
| 3 | FRA | Camille Lecointre | Hélène Defrance | 6 | -18 | 2 | 3 | 4 | 33 | 15 |
| 4 | USA | Anne Haeger | Briana Provancha | 7 | 3 | -10 | 2 | 5 | 27 | 17 |
| 5 | SLO | Tina Mrak | Veronika Macarol | 2 | 6 | 5 | 4 | -21 | 38 | 17 |
| 6 | NZL | Jo Aleh | Polly Powrie | -21 | 1 | 4 | 1 | 12 | 39 | 18 |
| 7 | BRA | Fernanda Oliveira | Ana Luiza Barbachan | 5 | 5 | -13 | 10 | 2 | 35 | 22 |
| 8 | AUT | Lara Vadlau | Jolanta Ogar | 3 | -12 | 12 | 5 | 6 | 38 | 26 |
| 9 | NED | Afrodite Zegers | Anneloes van Veen | -15 | 2 | 8 | 8 | 14 | 47 | 32 |
| 10 | POL | Agnieszka Skrzypulec | Irmina Gliszczynska | 10 | 14 | 9 | -21 | 3 | 57 | 36 |
| 11 | AUS | Carrie Smith | Jaime Ryan | 16 | 8 | 11 | -17 | 7 | 59 | 42 |
| 12 | ESP | Bàrbara Cornudella Ravetllat | Sara López Ravetllat | -14 | 13 | 7 | 11 | 13 | 58 | 44 |
| 13 | SUI | Linda Fahrni | Maja Siegenthaler | 8 | -15 | 15 | 12 | 9 | 59 | 44 |
| 14 | CHI | Nadja Horwitz | Sofia Middleton | 9 | 11 | -18 | 16 | 10 | 64 | 46 |
| 15 | RUS | Alisa Kirilyuk | Liudmila Dmitrieva | -21 | 21 | 6 | 9 | 11 | 68 | 47 |
| 16 | CHN | Lizhu Huang | Xiaoli Wang | 11 | 10 | 14 | 13 | -16 | 64 | 48 |
| 17 | ITA | Elena Berta | Alice Sinno | 13 | -19 | 16 | 14 | 8 | 70 | 51 |
| 18 | ISR | Nina Amir | | -21 | 9 | 19 | 15 | 17 | 81 | 60 |
| 19 | GER | Annika Bochmann | Marlene Steinherr | 12 | 16 | 17 | -21 | 15 | 81 | 60 |
| 20 | SIN | Jovina Choo | Amanda Ng | 17 | 17 | 20 | -21 | 18 | 93 | 72 |
470 Men

Pos
Nat
Helm
Crew
R1
R2
R3
R4
R5
Tot
Net
1
CRO

Sime Fantela

Igor Marenic

1
2
-4
1
3
11
7
2
AUS

Mathew Belcher

William Ryan

-8
1
3
3
2
17
9
3
GBR

Luke Patience

Chris Grube

-21
5
5
6
1
38
17
4
GRE

Panagiotis Mantis

Pavlos Kagialis

9
3
1
5
-13
31
18
5
FRA

Sofian Bouvet

Jeremie Mion

6
6
-10
2
6
30
20
6
SWE

Anton Dahlberg

Fredrik Bergström

-22
8
2
4
8
44
22
7
AUT

Matthias Schmid

Florian Reichstädter

3
9
6
9
-16
43
27
8
USA

Stuart Mcnay

David Hughes

10
7
8
-13
4
42
29
9
SUI

Yannick Brauchli

Romuald Hausser

11
4
-19
7
10
51
32
10
ESP

Jordi Xammar Hernandez

Joan Herp Morell

4
-16
14
10
9
53
37
11
RUS

Pavel Sozykin

Denis Gribanov

12
17
7
-25
5
66
41
12
KOR

Chang ju Kim

ji-hoon kim

5
-25
12
8
20
70
45
13
NZL

Paul Snow-Hansen

Daniel Willcox

2
10
20
15
-23
70
47
14
TUR

Deniz Cinar

Ates Cinar

14
-19
18
12
7
70
51
15
ARG

Lucas Calabrese

Juan de la Fuente

-17
14
11
11
17
70
53
16
GER

Ferdinand Gerz

Oliver Szymanski