'Survival' conditions off Rio
The previous word of the day was 'tricky'. The word of the day for those that went out to sea on day four was 'survival.

Rio 2016 again produced the extremes of flat water and shifty conditions on the inshore courses on Guanabara Bay while giant winds and size-of-a-house waves battered the 470s and Finns out on the seaward courses. This regatta is testing every extreme of a sailor's ability, which some argue is exactly what the Olympic competition should be.
The Lasers were on layday today.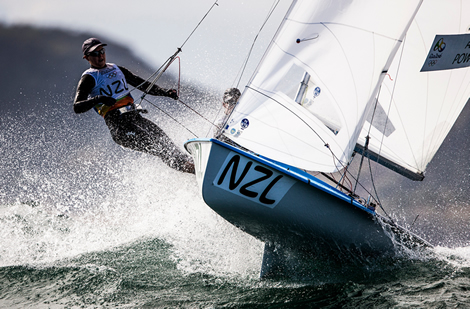 Women's 470

The defending Olympic Champions Jo Aleh and Polly Powrie (NZL) sailed an excellent day and met their simple goal despite having to tackle some of the toughest conditions they have ever experienced. "It was just keep the mast pointing upwards," said Aleh. "It was pure survival out there, keep Polly on the side of the boat because crews were getting washed off the side all the time. The wind was big. The waves were big. It couldn't have been more of a contrast to all the fluky stuff from yesterday, but this regatta is getting to be fun."

The Kiwis have replaced the Japanese at the top of the scoreboard, with Ai Kondo Yoshida and Miho Yoshioka just two points behind the Kiwi.
After finishing the opening day of their 2016 Olympic campaign sitting in fifth overall, Hannah Mills and Saskia Clark (GBR) could have dominated today with two wins. They enjoyed an awesome race win in today's opening encounter but in the second race they capsized while in the lead and did well to hold on to a sixth place. A missed opportunity that could come back to haunt the British crew later in the competition, but for the moment they sit in third place, just five points off the lead.
Mills and Clark admitted they had been frustrated with their decision making off the start line in both of yesterday's races and would be working on that overnight. That homework definitely paid dividends as they engineered themselves into commanding positions on both of their first beats today, as the 470s reveled in the big breeze over 20 knots and swells up to 2m outside of .

Mills said: "We're really pleased with today. We were really fast upwind and we were leading both races, which was nice. Unfortunately in the second one we ended up going swimming. It was super windy, with waves picking up all the time, unfortunately I was looking at another boat and mistimed a wave slightly and that was enough for a little gust to hit us over. It was bad timing and unfortunate error.

"But on a day like today it's a really good solid performance and were still in the mix. We've got three days of racing before the medal races to go so we're really happy."
On equal points with the Britons are the reigning World Champions, Camille Lecointre and Hélène de France (FRA). "We don't normally like those conditions very much so we're pleased to have come out of the day better than we expected," said Lecointre.

The 2014 and 2015 World Champions Lara Vadlau and Jolanta Ogar (AUT) would be hoping to do better than their current eighth overall. "In three years of training we've never seen any of the conditions that we saw yesterday or today," said Vadlau. "The first day was fluky and you needed some luck to do well, and today was about surviving. I tried to enjoy it but when you see people capsizing in front of you, you try to keep calm and keep on doing what you normally do. You can't get scared, because if you get scared you will capsize too."
The 470 Women are set to resume at 1600 tomorrow (UTC).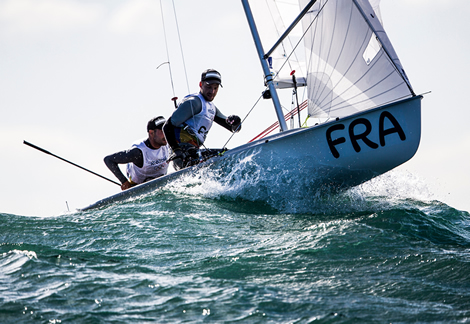 Men's 470

Sime Fantela and Igor Marenic (CRO) had the best day in the 20+ knot winds and survival conditions outside Guanabara Bay on to the Niteroi course, the Croatians' 4,1 scores lifting them to three points clear of their Aussie rivals and reigning Olympic Champions, Mat Belcher and Will Ryan. But it's all very tight, with Panagiotis Mantis and Pavlos Kagialis (GRE) just a couple of points behind in third.
Others are ready to pounce on any mistakes, with Sweden and France not far off the podium.
London 2012 silver medallist Luke Patience (GBR) was grinning from ear to ear after coming ashore from the biggest waves he'd ever seen. "They were three or four metres, as big as houses. You could see the front door, two windows, a kitchen and the bedrooms upstairs. When you were in the trough you couldn't see the boat next to you."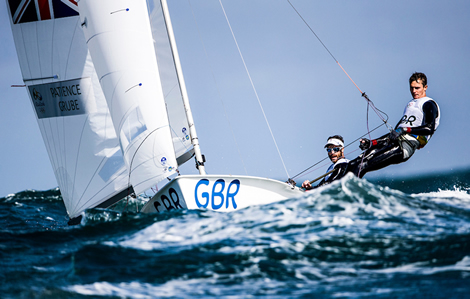 Patience and Grube picked up fifth and sixth place finishes to move them up to sixth overall. Despite posting a now discarded 21st in their opening race yesterday, the duo were happy with how they sailed and were committed to replicating that form today. And that methodical approach paid dividends as the top end of the fleet begins to take shape.

Grube said: "It was great fun out there, the kind of conditions we really enjoy. In the past when we've sailed together we've done well when the breeze is up, it's all thrills and spills."

Luke continued: "The waves were the size of houses! The type when you're in the trough and you cannot see another boat's tip of the mast. But we had a good day. We brought the same approach as we did for yesterday; nothing too heroic but not too passive either, just somewhere in the middle, and wait for the bigger risk taking moment later in the regatta.

"Don't lose the regatta on day one or two, you can't win it but don't lose it. That is the thing rolling now, the flow of the regatta has started, so it was a good day in the office."

Racing is scheduled to resume for the 470 Men at 1600 UTC tomorrow.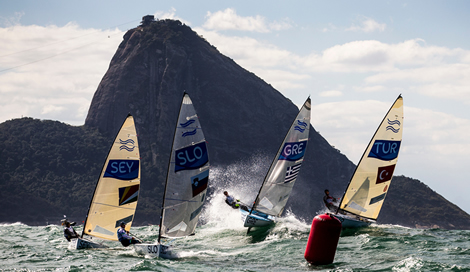 Finn

Giles Scott (GBR) didn't manage to capitalise on the survival conditions followed a course area switch to the Copacabana course, and the 2m swell and 20+ knot winds there.
Scott had to fight his way through the fleet in the first race of the day, as he rounded the first mark 19th of 23, before crossing the line 11th. But race two was a different story as he joined Jake Lilley (AUS) and Caleb Paine (USA) in a race to the first mark, eventually grabbing the lead, then keeping Paine at bay to take the win.
"It's good to put a bit more of a point gap on today but at the moment I'm just very frustrated with how I sailed in that first race. I found myself with only a handful of boats behind me at that first mark, which was pretty frustrating," said Scott, as self-critical as ever. "There was a huge gain on the right-hand side of the course all day today and I was pretty slow to realise that on that first leg and let the fleet get to the right of me. It just put me on the back foot but I managed to come back to 11th which I suppose was damage limitation. But then to come out and win the next race, that is all I could ask for.
"It's good to put a bit more of a point gap on today but at the moment I'm just very frustrated with how I sailed in that first race. The important thing to remember is that everyone has got big scores now. I don't think there is one person who has been massively consistent so you know you really have to fight for every single position, regardless of where you find yourself. There is a long way to go in this regatta and it's going to be tough."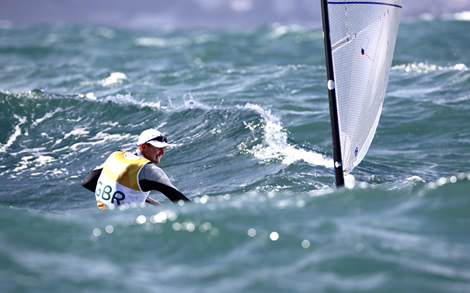 The Brits also had a surprise visitor in the form of Her Royal Highness The Princess Royal, President of the RYA, to welcome them off the water today. "I was caught a little bit off guard at the top of the slipway," Scott admitted, "but it was very nice to have a quick chat with Her Royal Highness and she wished me words of good fortune for the rest of the week. She was very nice."
There is now an 18-point gap between Scott and Paine in fourth after six races. But now carrying two scores outside of the top 10, with four races still to come, the Brit knows everything can change in one misjudged gust of wind and, as the Finns now head into their rest day, he won't be taking anything for granted.

Scott now holds a 12-point lead over second-placed Vasilij Zbogar (SLO).
Zsombor Berecz (HUN) is having the regatta of his life, sitting in third just two points behind Zbogar while Caleb Paine (USA) is just two points away from the Hungarian.
Local hero Jorge Zarif (BRA) started well with a second but then followed up with a 19th, putting him in tenth overall. "When it's this windy we don't go sailing in Brazil," he said. "Those were brutal conditions. Anyone who thought Rio was going to be a light wind regatta and prepared just for that is going to be struggling after today."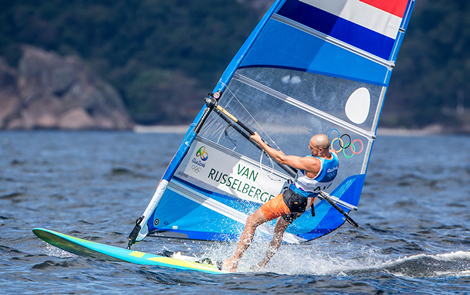 Men's RS:X

Back again inside Guanabara Bay, on the Escola Naval course, today and the winds were typically wacky, with unpredictable puffs of up to 15 knots injecting otherwise light airs for the RS:Xes.
Dorian van Rijsselberghe (NED) turned the tables on Nick Dempsey (GBR) by finding a level of consistency in the tricky, variable conditions that no one else could match. The defending Olympic Champion's scores, 4,1,1, have lifted him eight points clear of the London 2012 silver medallist who still had a good day to hold second overall, now five points in front of the reigning World Champion Piotr Myszka (POL).

These three have broken away from the rest of the pack, with fourth-placed Byron Kokkalanis (GRE) now 16 points off the podium.
Frustrated Nick Dempsey vowed to pile the pressure back on new RS:X Men's windsurfing leader, the reigning Olympic champion Dorian Van Rijsselberge (NED), after admitting small mistakes cost him in Rio today (Thursday 11 August).

Dempsey, who resumed racing after a rest day yesterday with a one-point advantage in first place, looked in the mood to further tighten his grip on top spot as he sailed to second place in the day's opening race but in the next two races Dempsey's speed was not reflected in his 5-8 race results.

Dempsey said: "I was winning every race today and I didn't win every race. I made mistakes, which is annoying because I was sailing brilliantly. I sailed really, really well and had opportunities to close it out but I didn't I made a couple of mistakes. They were only small mistakes, but on a day like today you get punished hard.

"That last race was really costly, especially from the dominant position that I was in. I had a cover on Dorian and on the fleet, the wind stated to swing so I dug back into the left and I got hammered. Tomorrow I think I need much the same but to attack Dorian a bit more. It's just frustrating when you've been a good solid potion to go backwards. It's hard, it's a game of snakes and ladders and sometimes you get caught out."
Five points behind Dempsey, 2016 World Champion, Piotr Myszka (POL) holds third place on 29.
Women's RS:X

The reigning Olympic Champion Marina Alabau (ESP) had the best day from the Women's Windsurfer fleet's three races, and she moves to within striking distance of the podium.
"It's been a very hard and complicated day, because of the gusty winds," said Alabau. "I nearly had a heart attack. But I'm super happy, it's been my best day. For me this was a very important day. If I wanted to fight for the medals this was the day to do it well, otherwise I would have been out of the fight." Her coach, Nico Beudou, added, "At last today I've seen the Marina I know."

Flavia Tartaglini (ITA) holds the lead by a single point from Charline Picon (FRA) and Stefania Elfutina (RUS) who sit on equal points, although a protest against the Italian by Demita Vega (MEX) could see a change of leader overnight.
Team GBR's Bryony Shaw enjoyed her best day of Rio 2016 posting the best results in the Women's RS:X's class today, moving her back into the top 10.
Shaw posted top five results in all three races, including an event best second in the final race of the day to go with a third and fifth.

"To take the momentum into tomorrow," explained Shaw of her plans. "I closed up on points and that was main goal. It was a solid day results wise. It was just important to keep my head up and know that I've still got my abilities. Backing myself was really important today because it was really about taking the opportunities, trying to stay in meaty gusts and making the right mode changes on my board, and I generally made all the right calls.

"I had a really good comeback in the second race and keeping those opportunities coming and my eyes open is really Important for me as is keeping that happy vibe and good communication between my coach Barrie (Edgington) and I."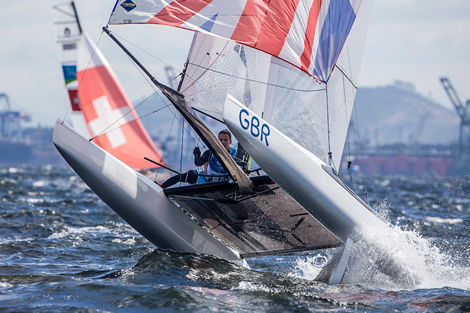 Nacra 17

After four brutal three-lap races (to make up for one lost race yesterday), two teams sit tied at the top on equal points: The Australian crew's two race wins put Jason Waterhouse and Lisa Darmanin (AUS) in first place ahead of Ben Saxton and Nicola Groves (GBR), while in third place and nine points behind the leaders is the Italian crew of Vittorio Bissaro and Silvia Sicouri.
"There were moments with very hard winds and others with just 10-12 knots," said Sicouri. "So it's been very important to have the skills to perform and always keep the balance on board. I'm happy to have a rest day tomorrow, because after four races with three laps each we are tired. There's still half the championship ahead and we will fight until the end."
Yesterday's leaders, Matias Buhler and Nathalie Brugger (SUI), struggled to get to grips with the stronger conditions on the Ponte course and have fallen to seventh overall. The four-time World Champions Billy Besson and Marie Riou (FRA) finished the day where they started, in 15th place. Besson's back injury couldn't have flared up at a worse time, and one of the hot favourites for gold have seen their dreams shattered after two gruelling days for the injured sailor.
Ben Saxton and Nicola Groves posted a consistent 2-5-3 today.

Groves said: "It was quite brutal out there but Ben helps me out a lot when it's those types of conditions as it's such hard work for the crews. Ben was fully up for the big waves and couldn't wait for the downwind. I can't believe we are halfway through already, it's gone so fast. We're looking forward to the rest of it but there is still a long way to go. We're sailing well and we just need to keep on going and smiling. It's pretty exciting and I'm enjoying it."

Saxton added: "It was a big day and at times there was quite a lot of wind. We kept sailing smart and needed a couple of comebacks but we always did it. Without winning a race we have had four good races."
Back to top
Results
470 Women

| | | | | | | | | | |
| --- | --- | --- | --- | --- | --- | --- | --- | --- | --- |
| Pos | Nat | Helm | Crew | R1 | R2 | R3 | R4 | Tot | Net |
| 1 | NZL | Jo Aleh | Polly Powrie | -21 | 1 | 4 | 1 | 27 | 6 |
| 2 | JPN | Ai Kondo Yoshida | Miho Yoshioka | 1 | 4 | 3 | -7 | 15 | 8 |
| 3 | GBR | Hannah Mills | Saskia Clark | 4 | -7 | 1 | 6 | 18 | 11 |
| 4 | FRA | Camille Lecointre | Hélène Defrance | 6 | -18 | 2 | 3 | 29 | 11 |
| 5 | SLO | Tina Mrak | Veronika Macarol | 2 | -6 | 5 | 4 | 17 | 11 |
| 6 | USA | Anne Haeger | Briana Provancha | 7 | 3 | -10 | 2 | 22 | 12 |
| 7 | NED | Afrodite Zegers | Anneloes van Veen | -15 | 2 | 8 | 8 | 33 | 18 |
| 8 | AUT | Lara Vadlau | Jolanta Ogar | 3 | -12 | 12 | 5 | 32 | 20 |
| 9 | BRA | Fernanda Oliveira | Ana Luiza Barbachan | 5 | 5 | -13 | 10 | 33 | 20 |
| 10 | ESP | Bàrbara Cornudella Ravetllat | Sara López Ravetllat | -14 | 13 | 7 | 11 | 45 | 31 |
| 11 | POL | Agnieszka Skrzypulec | Irmina Gliszczynska | 10 | 14 | 9 | -21 | 54 | 33 |
| 12 | CHN | Lizhu Huang | Xiaoli Wang | 11 | 10 | -14 | 13 | 48 | 34 |
| 13 | AUS | Carrie Smith | Jaime Ryan | 16 | 8 | 11 | -17 | 52 | 35 |
| 14 | SUI | Linda Fahrni | Maja Siegenthaler | 8 | -15 | 15 | 12 | 50 | 35 |
| 15 | RUS | Alisa Kirilyuk | Liudmila Dmitrieva | -21 | 21 | 6 | 9 | 57 | 36 |
| 16 | CHI | Nadja Horwitz | Sofia Middleton | 9 | 11 | -18 | 16 | 54 | 36 |
| 17 | ISR | Nina Amir | Nina Amir | -21 | 9 | 19 | 15 | 64 | 43 |
| 18 | ITA | Elena Berta | Alice Sinno | 13 | -19 | 16 | 14 | 62 | 43 |
| 19 | GER | Annika Bochmann | Marlene Steinherr | 12 | 16 | 17 | -21 | 66 | 45 |
| 20 | SIN | Jovina Choo | Amanda Ng | 17 | 17 | 20 | -21 | 75 | 54 |
470 Men

| | | | | | | | | | |
| --- | --- | --- | --- | --- | --- | --- | --- | --- | --- |
| Pos | Nat | Helm | Crew | R1 | R2 | R3 | R4 | Tot | Net |
| 1 | CRO | Sime Fantela | Igor Marenic | 1 | 2 | -4 | 1 | 8 | 4 |
| 2 | AUS | Mathew Belcher | William Ryan | -8 | 1 | 3 | 3 | 15 | 7 |
| 3 | GRE | Panagiotis Mantis | Pavlos Kagialis | -9 | 3 | 1 | 5 | 18 | 9 |
| 4 | SWE | Anton Dahlberg | Fredrik Bergström | -22 | 8 | 2 | 4 | 36 | 14 |
| 5 | FRA | Sofian Bouvet | Jeremie Mion | 6 | 6 | -10 | 2 | 24 | 14 |
| 6 | GBR | Luke Patience | Chris Grube | -21 | 5 | 5 | 6 | 37 | 16 |
| 7 | AUT | Matthias Schmid | Florian Reichstädter | 3 | -9 | 6 | 9 | 27 | 18 |
| 8 | SUI | Yannick Brauchli | Romuald Hausser | 11 | 4 | -19 | 7 | 41 | 22 |
| 9 | KOR | Chang ju Kim | ji-hoon kim | 5 | -25 | 12 | 8 | 50 | 25 |
| 10 | USA | Stuart Mcnay | David Hughes | 10 | 7 | 8 | -13 | 38 | 25 |
| 11 | NZL | Paul Snow-Hansen | Daniel Willcox | 2 | 10 | -20 | 15 | 47 | 27 |
| 12 | ESP | Jordi Xammar Hernandez | Joan Herp Morell | 4 | -16 | 14 | 10 | 44 | 28 |
| 13 | RUS | Pavel Sozykin | Denis Gribanov | 12 | 17 | 7 | -25 | 61 | 36 |
| 14 | ARG | Lucas Calabrese | Juan de la Fuente | -17 | 14 | 11 | 11 | 53 | 36 |
| 15 | ISR | Eyal Levine | Dan Froyliche | 7 | 15 | 17 | -21 | 60 | 39 |
| 16 | GER | Ferdinand Gerz | Oliver Szymanski | 13 | 18 | 9 | -23 | 63 | 40 |
| 17 | TUR | Deniz Cinar | Ates Cinar | 14 | -19 | 18 | 12 | 63 | 44 |
| 18 | CHN | Wei Wang | Zangjun Xu | -23 | 12 | 13 | 22 | 70 | 47 |
| 19 | RSA | Asenathi Jim | Roger Beresford Hudson | 18 | -24 | 15 | 14 | 71 | 47 |
| 20 | JPN | Kazuto Doi | Kimihiko Imamura | 15 | -21 | 16 | 16 | 68 | 47 |
| 21 | FIN | Joonas Lindgren | Niklas Lindgren | 20 | 11 | -23 | 18 | 72 | 49 |
| 22 | UKR | Borys Shvets | Pavlo Matsuyev | 16 | 13 | 21 | -24 | 74 | 50 |
| 23 | BRA | Henrique Haddad | Bruno Amorim | 19 | 23 | -25 | 17 | 84 | 59 |
| 24 | CAN | Jacob Chaplin-Saunders | Graeme Chaplin-Saunders | -26 | 20 | 22 | 19 | 87 | 61 |
| 25 | CHI | Andres Ducasse | Francisco Ducasse | -24 | 22 | 24 | 20 | 90 | 66 |
| 26 | ANG | Matias Montinho | Paixao Afonso | 25 | 26 | -27 | 27 | 105 | 78 |
Finn

| | | | | | | | | | | |
| --- | --- | --- | --- | --- | --- | --- | --- | --- | --- | --- |
| Pos | Nat | Helm | R1 | R2 | R3 | R4 | R5 | R6 | Tot | Net |
| 1 | GBR | Giles Scott | -17 | 3 | 2 | 1 | 11 | 1 | 35 | 18 |
| 2 | SLO | Vasilij Zbogar | 3 | 1 | 7 | 10 | -15 | 8 | 44 | 29 |
| 3 | HUN | Zsombor Berecz | 9 | -24 | 5 | 12 | 1 | 6 | 57 | 33 |
| 4 | NED | Pieter-Jan Postma | -14 | 13 | 12 | 4 | 4 | 5 | 52 | 38 |
| 5 | DEN | Jonas Hogh-Christensen | 13 | 2 | 4 | -24 | 10 | 10 | 63 | 39 |
| 6 | AUS | Jake Lilley | 16 | -24 | 8 | 6 | 6 | 3 | 63 | 39 |
| 7 | CRO | Ivan Kljakovic Gaspic | 6 | 8 | 10 | -15 | 8 | 7 | 54 | 39 |
| 8 | GRE | Ioannis Mitakis | 12 | -24 | 3 | 2 | 13 | 11 | 65 | 41 |
| 9 | BRA | Jorge Zarif | 4 | 6 | 11 | -22 | 2 | 18 | 63 | 41 |
| 10 | FRA | Jonathan Lobert | 10 | -15 | 1 | 7 | 12 | 13 | 58 | 43 |
| 11 | TUR | Alican Kaynar | 2 | 5 | 6 | -19 | 19 | 12 | 63 | 44 |
| 12 | SWE | Max Salminen | -15 | 11 | 13 | 9 | 7 | 4 | 59 | 44 |
| 13 | FIN | Tapio Nirkko | 20 | 7 | 15 | 5 | 3 | -24 | 74 | 50 |
| 14 | NZL | Josh Junior | 18 | -24 | 14 | 14 | 5 | 2 | 77 | 53 |
| 15 | USA | Caleb Paine | 7 | 10 | 21 | 3 | 14 | -24 | 79 | 55 |
| 16 | ITA | Giorgio Poggi | 11 | 4 | 16 | 11 | -18 | 14 | 74 | 56 |
| 17 | ARG | Facundo Olezza | 1 | 9 | 19 | 18 | 16 | -21 | 84 | 63 |
| 18 | EST | Deniss Karpak | 5 | 14 | 17 | 20 | -23 | 9 | 88 | 65 |
| 19 | NOR | Anders Pedersen | 8 | 16 | 18 | 8 | -22 | 15 | 87 | 65 |
| 20 | CAN | Tom Ramshaw | 19 | 12 | -22 | 13 | 9 | 16 | 91 | 69 |
| 21 | URU | Alejandro Foglia Costa | 21 | -24 | 9 | 17 | 20 | 20 | 111 | 87 |
| 22 | SEY | Allan Julie | -23 | 17 | 23 | 21 | 17 | 17 | 118 | 95 |
| 23 | CHN | Lei Gong | 22 | -24 | 20 | 16 | 21 | 19 | 122 | 98 |
RS:X Women

| | | | | | | | | | | | | | |
| --- | --- | --- | --- | --- | --- | --- | --- | --- | --- | --- | --- | --- | --- |
| Pos | Nat | Helm | R1 | R2 | R3 | R4 | R5 | R6 | R7 | R8 | R9 | Tot | Net |
| 1 | ITA | Flavia Tartaglini | -12 | 1 | 5 | 1 | 1 | 4 | 1 | 12 | 10 | 47 | 35 |
| 2 | FRA | Charline Picon | 1 | 2 | 1 | 4 | 5 | 10 | 5 | -11 | 8 | 47 | 36 |
| 3 | RUS | Stefania Elfutina | 2 | 5 | 3 | 6 | 2 | -9 | 8 | 4 | 6 | 45 | 36 |
| 4 | ESP | Marina Alabau Neira | -8 | 7 | 2 | 8 | 6 | 8 | 7 | 2 | 1 | 49 | 41 |
| 5 | BRA | Patricia Freitas | 6 | 8 | 4 | 2 | 13 | -16 | 10 | 1 | 3 | 63 | 47 |
| 6 | ISR | Maayan Davidovich | 5 | 6 | 6 | 11 | 4 | 3 | 2 | -15 | 14 | 66 | 51 |
| 7 | NED | Lilian De Geus | 3 | 4 | 14 | 3 | 3 | 7 | 15 | -19 | 5 | 73 | 54 |
| 8 | FIN | Tuuli Petäjä-Sirén | 4 | 9 | 8 | 5 | 9 | 5 | -27 | 3 | 12 | 82 | 55 |
| 9 | CHN | Peina Chen | 9 | 11 | 11 | -15 | 7 | 1 | 4 | 10 | 4 | 72 | 57 |
| 10 | GBR | Bryony Shaw | 7 | -20 | 9 | 7 | 14 | 12 | 3 | 5 | 2 | 79 | 59 |
| 11 | EST | Ingrid Puusta | -18 | 13 | 12 | 10 | 8 | 11 | 9 | 18 | 7 | 106 | 88 |
| 12 | USA | Marion Lepert | 10 | 3 | 10 | 13 | 11.8 | -23 | 6 | 23 | 15 | 115.9 | 92.9 |
| 13 | MEX | Demita Vega de Lille | 11 | 18 | 18 | 9 | 10 | 17 | -27 | 8 | 13 | 131 | 104 |
| 14 | NOR | Maria Mollestad | 14 | 10 | -20 | 14 | 18 | 20 | 14 | 6 | 11 | 127 | 107 |
| 15 | POL | Malgorzata Bialecka | 13 | 21 | 13 | 23 | 12 | 6 | -27 | 14 | 9 | 138 | 111 |
| 16 | THA | Siripon Kaewduang-Ngam | 19 | 23 | 22 | 18 | 11 | 2 | -27 | 7 | 18 | 147 | 120 |
| 17 | GRE | Angeliki Skarlatou | 16 | 17 | 7 | 12 | 17 | 15 | -27 | 20 | 16 | 147 | 120 |
| 18 | DEN | Laerke Buhl-Hansen | 17 | 16 | 17 | 20 | 16 | 13 | 12 | 9 | -21 | 141 | 120 |
| 19 | HKG | Sonia Lo | 15 | 15 | 15 | 16 | 19 | -22 | 11 | 17 | 17 | 147 | 125 |
| 20 | ARG | Maria Tejerina Mackern | 21 | 12 | 16 | 17 | 21 | 19 | 16 | 16 | -24 | 162 | 138 |
| 21 | JPN | Megumi Iseda | 23 | 22 | 19 | 22 | 15 | 14 | -27 | 13 | 19 | 174 | 147 |
| 22 | HUN | Sara Cholnoky | 22 | 14 | 21 | 19 | 23 | 24 | 13 | 22 | -25 | 183 | 158 |
| 23 | TUR | Dilara Uralp | 20 | 19 | 23 | 24 | 20 | 21 | -27 | 21 | 20 | 195 | 168 |
| 24 | SIN | Audrey Yong | 25 | 25 | 24 | 25 | 22 | 18 | -27 | 24 | 22 | 212 | 185 |
| 25 | LAT | Ketija Birzule | 24 | 24 | -27 | 21 | 24 | 26 | 27 | 25 | 23 | 221 | 194 |
| 26 | ALG | KATIA BELABBAS | -27 | 27 | 27 | 27 | 27 | 25 | 27 | 27 | 27 | 241 | 214 |
RS:X Men

| | | | | | | | | | | | | | |
| --- | --- | --- | --- | --- | --- | --- | --- | --- | --- | --- | --- | --- | --- |
| Pos | Nat | Helm | R1 | R2 | R3 | R4 | R5 | R6 | R7 | R8 | R9 | Tot | Net |
| 1 | NED | Dorian Van Rysselberghe | -5 | 3 | 1 | 4 | 1 | 1 | 4 | 1 | 1 | 21 | 16 |
| 2 | GBR | Nick Dempsey | 1 | 1 | 2 | 1 | 4 | -8 | 2 | 5 | 8 | 32 | 24 |
| 3 | POL | Piotr Myszka | 4 | 5 | 5 | 2 | 2 | 3 | -12 | 2 | 6 | 41 | 29 |
| 4 | GRE | Byron Kokkalanis | 2 | 2 | 6 | -13 | 5 | 5 | 5 | 8 | 12 | 58 | 45 |
| 5 | FRA | Pierre Le Coq | 7 | 7 | 12 | 6 | 3 | 2 | 8 | 10 | -17 | 72 | 55 |
| 6 | GER | Toni Wilhelm | 8 | 4 | 13 | 10 | 9 | 4 | 1 | 7 | -19 | 75 | 56 |
| 7 | HKG | Cheng Chun Leung | 3 | 6 | 11 | 5 | 6 | -16 | 9 | 13 | 13 | 82 | 66 |
| 8 | BRA | Ricardo Santos | 6 | 9 | 7 | 3 | 16 | -30 | 21 | 9 | 9 | 110 | 80 |
| 9 | DEN | Sebastian Fleischer | 15 | 14 | 9 | 12 | -22 | 11 | 17 | 20 | 2 | 122 | 100 |
| 10 | CHN | Aichen Wang | 16 | 18 | 8 | 18 | -19 | 15 | 6 | 4 | 15 | 119 | 100 |
| 11 | POR | João Rodrigues | 21 | 10 | -23 | 15 | 15 | 10 | 15 | 12 | 4 | 125 | 102 |
| 12 | JPN | Makoto Tomizawa | 10 | 8 | 18 | 19 | 13 | -22 | 7 | 14 | 18 | 129 | 107 |
| 13 | ITA | Mattia Camboni | 11 | 13 | 4 | -37 | 37 | 9 | 10 | 21 | 3 | 145 | 108 |
| 14 | SUI | Mateo Sanz Lanz | -24 | 15 | 21 | 8 | 14 | 8 | 20 | 11 | 11 | 132 | 108 |
| 15 | RUS | Max Oberemko | -27 | 25 | 14 | 24 | 17 | 13 | 3 | 3 | 10 | 136 | 109 |
| 16 | ESP | Ivan Pastor Lafuente | 17 | 19 | 10 | 7 | 7 | -37 | 11 | 22 | 16 | 146 | 109 |
| 17 | KOR | Tae Hoon Lee | 14 | 20 | 3 | 9 | 18 | 7 | -33 | 17 | 27 | 148 | 115 |
| 18 | ISR | Shahar Zubari | 9 | 17 | 20 | 22 | -37 | 18 | 19 | 6 | 7 | 155 | 118 |
| 19 | CYP | Andreas Cariolou | 12 | 12 | 16 | 23 | 10 | 6 | 18 | -27 | 23 | 147 | 120 |
| 20 | ARG | Bautista Saubidet Birkner | 20 | 16 | 19 | 17 | 12 | 23 | 14 | -25 | 24 | 170 | 145 |
| 21 | MEX | David Mier y Teran | 28 | 21 | 22 | 26 | 21 | 17 | -32 | 15 | 5 | 187 | 155 |
| 22 | BLR | Mikita Tsirkun | 23 | 27 | 25 | 16 | 8 | -32 | 16 | 19 | 22 | 188 | 156 |
| 23 | CRO | Luka Mratovic | 13 | 11 | 15 | 21 | -37 | 19 | 27 | 18 | 34 | 195 | 158 |
| 24 | UKR | Oleksandr Tugaryev | 22 | 31 | 27 | 11 | -37 | 12 | 13 | 16 | 30 | 199 | 162 |
| 25 | LTU | Juozas Bernotas | 19 | 23 | 17 | 29 | -37 | 14 | 26 | 37 | 21 | 223 | 186 |
| 26 | VEN | Daniel Flores | 18 | 22 | 26 | 20 | 11 | 33 | 34 | -37 | 32 | 233 | 196 |
| 27 | COL | Santiago Grillo | 29 | 24 | 24 | 32 | -37 | 24 | 28 | 23 | 14 | 235 | 198 |
| 28 | HUN | Aron Gadorfalvi | 30 | 28 | 29 | 25 | 20 | 20 | 25 | -37 | 26 | 240 | 203 |
| 29 | THA | Natthaphong Phonoppharat | 32 | 29 | 32 | 14 | -37 | 21 | 30 | 24 | 25 | 244 | 207 |
| 30 | USA | Pedro Pascual | 25 | 26 | 28 | 28 | -37 | 28 | 22 | 26 | 28 | 248 | 211 |
| 31 | CZE | Karel Lavicky | 26 | 30 | 30 | 30 | -37 | 25 | 24 | 37 | 29 | 268 | 231 |
| 32 | SEY | JEAN-MARC GARDETTE | 36 | 35 | 33 | 31 | 23 | 31 | 29 | -37 | 35 | 290 | 253 |
| 33 | SIN | Leonard Ong | 33 | 33 | 35 | 33 | -37 | 27 | 36 | 37 | 20 | 291 | 254 |
| 34 | TUR | Onur Cavit Biriz | 31 | 32 | -37 | 34 | 37 | 29 | 23 | 37 | 33 | 293 | 256 |
| 35 | TPE | Hao Chang | 34 | 34 | 31 | 27 | -37 | 34 | 35 | 37 | 31 | 300 | 263 |
| 36 | ALG | Hamza Bouras | 35 | 36 | 34 | 35 | -37 | 26 | 31 | 37 | 36 | 307 | 270 |
Back to top