Zbogar makes sense of Sugarloaf lottery
Day two of the Olympic Sailing Competition produced lighter winds more expected at this time of year in Rio, and the southeasterly breeze was mostly around five to seven knots with only occasional moments in double figures. This made for a challenging opening day for the Finn sailors, who raced two heats on the notoriously fickle Pão de Açucar (Sugarloaf Mountain) race course.

RS:X Men

Nick Dempsey's quest to claim a historic RS:X windsurfing gold remained on track in Rio today, but not without controversy as Dempsey was awarded redress post-racing for an incident involving the Lithuanian, Juozas Bernotas, that left him in the water at the first mark of the third and final race of the day – race six overall.

Dempsey had picked up from where he left from yesterday's blistering start as he added another race win and a fourth to maintain his lead over defending Olympic champion, Dorian Van Rijsselberge (NED). But race three proved much more incident packed as, after finally getting away at the third time of asking, in extremely light breeze as dusk drew in, Dempsey crossed the line in 14th, before being successful in his redress hearing and being awarded average points for the first nine races.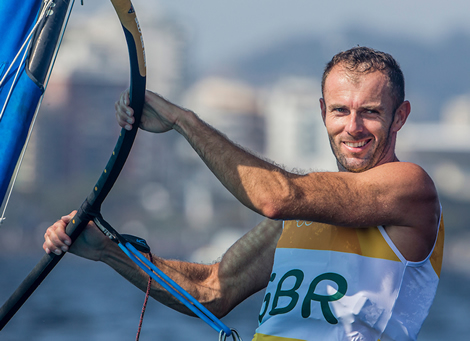 The decision leaves the five-time Olympian still sat in pole position with the RS:X class now having a rest day tomorrow. Dempsey could not be happier with how the first half of the regatta has gone: "I feel brilliant, I feel great, I feel the best I have ever felt on the board, I feel confident in any conditions. In 15 knots I'm particularly good, it's going really well.

"The first race was pretty simple, a bit like yesterday, I had a really good start, then the second race I was alright, I was into third then they put a shorten course mark on our leg which I presumed was for us, but it wasn't us so I lost a couple of places.

"In the third race I got knocked in at the windward mark and so the redress is great and it keeps me in the mix and strengthens my position going into the second half of my regatta. You don't want to lose your discard too early so it's a good day."

Currently the London 2012 silver medallist leads by a point from the reigning Olympic Champion, Dorian van Rijsselberghe (NED), who has the added benefit of a fifth place as his discard, to Dempsey's 14th. That could be a critical difference later on in the regatta.

"Good day today, with a four and two firsts," said van Rijsselberghe. "I've been lucky! Sometimes lucky and sometimes good. Everything is going well, we have done six races so we are not at the halfway point yet. But I'm feeling good, I'm happy about today and just need to try to keep going like this." With the wind dropping throughout the afternoon, it was physical day of pumping the sail to keep the board moving. "The last race was almost unraceable. But it is what it is."

The reigning World Champion Piotr Myszka (POL) moves up third place ahead of Byron Kokkalanis (GRE).
Tomorrow is a lay-day for the RS:Xes before racing resumes on Thursday.
RS:X Women

It was Flavia Tartaglini's (ITA) turn to rip up the race course in the Women's Windsurfer on day two of competition, the Italian veteran running away with a 1,1,4 scoreline and deposing yesterday's winner, Charline Picon (FRA), from the top of the leaderboard. The French sailor still had a very respectable day in difficult conditions to sit just a point behind.

Tartaglini commented: "I was not expecting these good results, to tell you the truth. I was feeling ready, but in others regattas I have also felt ready and then things have not gone so well. I'm trying to go day by day and race by race. We still have more than the half of the races to finish the Olympics, but at least this evening I'm going back home very happy."

As to her growing rivalry with the French sailor, Tartaglini observed, "Charline was leading yesterday and today she was behind me in all three races. But that means just that today I have had a good day. She's one of the strong contenders, so maybe I'm also one of them. Today was my best day, I hope I will continue in this way. I have the speed and I have the training, and we are all there in the fight."

Stefania Elfutina (RUS) sits just five points back in third overall, and is having the regatta of her young life. "I'm young, yes, I'm 19 years old," said the Russian. "But I think that's not a problem to be able to fight for the medals together with the most experienced women. Nobody expects anything from me, so I just do what I love, and sometimes I can do it well and be in the fight."

Maybe the challenging nature of the Rio race courses are playing to Elfutina's strengths. "Today the racing conditions were very complicated, with the currents and the wind, but it was hard for everybody. In the last race the wind dropped and we had to pump a lot. I feel tired, that's for sure. We had three hard races today, so it's nice to have a rest day tomorrow to charge some new energy."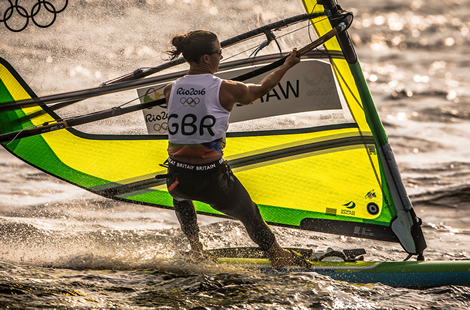 Team GBR's Bryony Shaw came out strong in today's first race interchanging positions in the top five before finishing seventh, but races three and four of the day proved more challenging and she really had to fight for 14th and 12th place finishes, to consolidate her position in 10th overall.

Shaw said: "The first race I was on pace, I managed to get up into third round the second windward mark, but I unfortunately just underlayed the leeward gate and it cost me four spots, which went from a good race to an average race instantly.

"Then I just felt off pace when the wind dropped, which is odd for me. It was very shifty and tricky and I found myself on the wrong side of a few of those as well.

"We have spent plenty of time here before, we know the race tracks and hopefully there are areas I can gain and improve on through the week. The next races are on Niterói course out in the waves, so maybe my performance will improve out there."

Laser Radial

Despite losing in a protest last night, reigning Olympic Champion Lijia Xu (CHN) bounced back even stronger on day two of competition, scoring 3-1 to reclaim the overall lead. Xu is currently able to discard her disqualification from her score, but it still means she has to be careful for the rest of the competition.
"I was very sad last night," said Xu. "But when I saw the TV footage I accepted that I could have taken my penalty turn sooner. Today though I am very happy with how things have gone. With injuries I have not spent as much time sailing as I would have liked, so now I am so happy to be back together, me and my boat."

Annalise Murphy (IRL) was by far the strongest sailor in strong winds four years ago at London 2012, but her Achilles' heel was her light airs performance. Not any more if the Irish sailor's results are anything to go by. Scores of 4,7 combined with her victory in the opening race yesterday put Murphy in second overall, just five points behind Xu. Even more consistent than the two sailors ahead of her, however, is Anne-Marie Rindom (DEN), who is the only sailor to have kept all of her scores inside the top 10. That level of consistency could play into the Danish sailor's hands further down the track. Rindom sits just a point behind Murphy and just a point in front of Marit Bouwmeester (NED), the London 2012 silver medallist who is having a quiet but steady regatta.
British reigning World Champion, Alison Young, finished 13th and 26th to sit in 18th place overall. Despite her disappointment, Young says will not be giving up. She said: "I have six races to go so I just have to look at what lessons I can take from today into the rest of the week. It wasn't a very good day on the water. Decisions I'm making aren't turning out to be particularly good at the moment."

Racing for the Laser Radials resumes at 16.10 (UTC) tomorrow.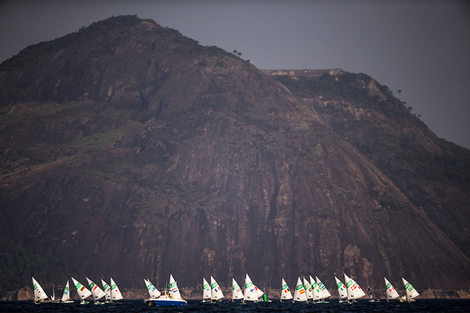 Laser

Victory for Julio Alsogaray (ARG) in Race 4 has lifted the Argentinean to the top of the leaderboard in the Laser, displacing Tonci Stipanovic (CRO) now second overall. Sam Meech (NZL) had a very solid day with scores of 5,6 to rise to third overall, just a point behind the Croatian. Best performer of Day 2, however, was Juan Ignacio Maegli (GUA), whose scores of 3,7 lift the Guatemalan to sixth overall.

Robert Scheidt (BRA) is giving his Brazilian fans something to worry about with inconsistent scores of 27,4 to put the five-time Olympic medallist in eighth overall, yet the 43-year-old veteran seems unperturbed and continues to believe he can get on to the podium. With just four of the ten races completed before the Medal Race, there's little reason to doubt his optimism. "The first day's racing was much harder today," said Scheidt. "Today was more straightforward. Still tricky, but I think what we have seen over the first two days is very typical for Rio."
Team GBR's two time World Champion, Nick Thompson, insists he will keep 'plugging away' after another difficult day. The British Olympic debutant showed his fighting spirit in today's opening race recovering from being as low as 18th in the fleet during the race to finish inside the top 10 in ninth. He now lies in 12th position overall.
After yesterday's shifty, unpredictable breezes in yesterday's opening two races, today threw much of the same in their direction as no sailor managed to finish both races inside the top five.

"It's a tough venue and I'm sure it's only going to get tougher with the conditions we're expecting so I've got to keep plugging away and try to improve a little bit. We've still got a long way to go in this regatta.

"It was another really tricky day. It was actually pretty decent breeze again, but the problem was the range of the wind shifts was still quite large. Again I battled away and had a few decent comebacks but it's still not the results I'm after."
Racing for the Lasers resumes at 1600 UTC tomorrow. The Laser class is scheduled to contest an 11 race series, with two races per day on 8, 9, 10, 12 and 13 August before the final one off medal race on Monday 15 August.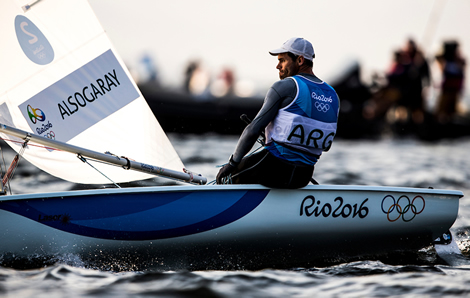 Finn (by Robert Deaves)
The talk going into the Rio 2016 Olympic Sailing Competition was that anything and everything could happen. Well, as the Finns started racing today, it did. Out of the crazy conditions, the youngest sailor, Facundo Olezza (ARG) won the first race, while the oldest sailor, Vasilij Zbogar (SLO) won the second. After two races, Zbogar leads overall from Alican Kaynar (TUR) and Olezza.

It was a day in which most of the favourites saw a different end of the fleet to normal and would prefer to forget. Sailed under the Sugarloaf mountain it was always going to be the hardest day of the week, but no one expected it to be as hard as it was. It turned into one of the shiftiest, random days on the water that most of the Finn fleet have ever been forced to endure. It was a day was full shocks and surprises as the fleet suffered 40 degree shifts and huge pressure changes that mixed the order on almost every leg.

Kaynar was the early leader in the opening race before Deniss Karpak (EST) took the lead downwind after a huge right shift turned the first run into a reach. Olezza was next up to take the lead on the following downwind to lead through to the finish from Kaynar and Zbogar.

Olezza said, "I think it was really important to get the first shift and I got the first right shift and just split with five or six more guys and from there it was a completely different race. It was just staying in the pressure and trying not to lose any places."

"I never thought I would actually win the first race here, but now it's over and it's time to think of tomorrow. I am not trying to be emotional about it, just focused. For me the races are in the bag and the next are coming, so I am preparing for that."

The second race was sailed in slightly more stable winds, at least in terms of pressure but still lacking in any particular direction. Zbogar held a nice lead at the top after favouring the left, but on the second upwind, Zsombor Berecz (HUN) went right and popped out ahead, while Zbogar covered the majority on the left. However, the Hungarian, along with NZL, AUS and URU were all pulled out after a starting penalty to leave Zbogar the winner from Jonas Høgh-Christensen (DEN) and Giles Scott (GBR).

Zbogar, a double Olympic medallist in the Laser, and now sailing his second Games in the Finn, explained his day, "The fleet is really strong and everybody is very close so making small mistakes can lose you five to ten places very easily, so to be a little bit in front and be able to cover the others makes the job much easier. We knew the left was much better but with this place you never know actually."

"It's a better to have a good day than a bad start, but there are two days ahead with strong winds, which I will try to get as less points as possible and be close to the leaders." He explained he was a bit lighter than the others, but also a bit older.

On the second start. "I was just next to these guys that were UFD. It was just a matter of seconds. But when there is a small group that start to push you have to push as well. The course was very tricky to get clear starts. So my goal today was just to be free of the others, because I have good speed and I don't need to push the start as much as the others."

"By the end of the week I think the average points will quite high."

One of the day's casualties was four time world champion Giles Scott (GBR), who picked up a 17, 3 to sit in tenth overnight: "The Sugarloaf course is notoriously difficult. The wind was that little bit further right than yesterday, which basically means the breeze comes straight down over Sugarloaf, which provides really tricky, unpredictable winds. There is a lot of scope for big gains and there is also a lot of scope for some big loses so managing those is particularly difficult. I'm not massively happy with how today has gone, but there is still a long way to go."

"It's certainly not the way you want to start an Olympic Games but unfortunately these things happen in regattas, and they have certainly happened to me over the past four years, so it doesn't make things easy but there is still a lot to play for."

Local favourite Jorge Zarif (BRA) faired better and lies in fourth overall after a 4, 6. "I feel like I had two bad starts and had to recover a lot, which was quite bad because the conditions were really tricky. If you ask someone if there are OK with a fourth and sixth, then on a normal day some guys would say no, but on a day like today it's two good results."

"On the Sugarloaf race area it's the worst one to keep a good average. It's the worst to predict anything and we can see that in the results."

Sixth overall Høgh-Christensen was more outspoken, "The wind was shifting 30-40° with pressure and there was swell coming across the race course at the bottom half. The wind was going all over the place. But it is what it is. We knew it was going to be tricky on this course and there was a good chance that we would have some randomness in races and we sure did. But we're through this course and onto the next one, at least until the medal race."

After two races, Zbogar holds a three point lead over Kaynar and a six point lead over Olezza.

Racing continues at 13.05 on the Niteroi course, outside the bay, on Wednesday, with some forecasts predicting strong winds.
Add to Anti-Banner
Results
RS:X Men
| | | | | | | | | | | |
| --- | --- | --- | --- | --- | --- | --- | --- | --- | --- | --- |
| Pos | Nat | Sailor | R1 | R2 | R3 | R4 | R5 | R6 | Tot | Net |
| 1 | GBR | Nick Dempsey | 1 | 1 | 2 | 1 | -4 | 1.8 | 10.8 | 6.8 |
| 2 | NED | Dorian Van Rysselberghe | -5 | 3 | 1 | 4 | 1 | 1 | 15 | 10 |
| 3 | POL | Piotr Myszka | 4 | -5 | 5 | 2 | 2 | 3 | 21 | 16 |
| 4 | GRE | Byron Kokkalanis | 2 | 2 | 6 | -13 | 5 | 5 | 33 | 20 |
| 5 | FRA | Pierre Le Coq | 7 | 7 | -12 | 6 | 3 | 2 | 37 | 25 |
| 6 | HKG | Cheng Chun Leung | 3 | 6 | 11 | 5 | 6 | -16 | 47 | 31 |
| 7 | GER | Toni Wilhelm | 8 | 4 | -13 | 10 | 9 | 4 | 48 | 35 |
| 8 | BRA | Ricardo Santos | 6 | 9 | 7 | 3 | 16 | -30 | 71 | 41 |
| 9 | KOR | Tae Hoon Lee | 14 | -20 | 3 | 9 | 18 | 7 | 71 | 51 |
| 10 | CYP | Andreas Cariolou | 12 | 12 | 16 | -23 | 10 | 6 | 79 | 56 |
| 11 | ESP | Ivan Pastor Lafuente | 17 | 19 | 10 | 7 | 7 | -37 | 97 | 60 |
| 12 | DEN | Sebastian Fleischer | 15 | 14 | 9 | 12 | -22 | 11 | 83 | 61 |
| 13 | SUI | Mateo Sanz Lanz | -24 | 15 | 21 | 8 | 14 | 8 | 90 | 66 |
| 14 | JPN | Makoto Tomizawa | 10 | 8 | 18 | 19 | 13 | -22 | 90 | 68 |
| 15 | POR | João Rodrigues | 21 | 10 | -23 | 15 | 15 | 10 | 94 | 71 |
| 16 | ITA | Mattia Camboni | 11 | 13 | 4 | -37 | 37 | 9 | 111 | 74 |
| 17 | CHN | Aichen Wang | 16 | 18 | 8 | 18 | -19 | 15 | 94 | 75 |
| 18 | CRO | Luka Mratovic | 13 | 11 | 15 | 21 | -37 | 19 | 116 | 79 |
| 19 | ARG | Bautista Saubidet Birkner | 20 | 16 | 19 | 17 | 12 | -23 | 107 | 84 |
| 20 | ISR | Shahar Zubari | 9 | 17 | 20 | 22 | -37 | 18 | 123 | 86 |
| 21 | RUS | Max Oberemko | -27 | 25 | 14 | 24 | 17 | 13 | 120 | 93 |
| 22 | VEN | Daniel Flores | 18 | 22 | 26 | 20 | 11 | -33 | 130 | 97 |
| 23 | BLR | Mikita Tsirkun | 23 | 27 | 25 | 16 | 8 | -32 | 131 | 99 |
| 24 | LTU | Juozas Bernotas | 19 | 23 | 17 | 29 | -37 | 14 | 139 | 102 |
| 25 | UKR | Oleksandr Tugaryev | 22 | 31 | 27 | 11 | -37 | 12 | 140 | 103 |
| 26 | MEX | David Mier y Teran | -28 | 21 | 22 | 26 | 21 | 17 | 135 | 107 |
| 27 | HUN | Aron Gadorfalvi | -30 | 28 | 29 | 25 | 20 | 20 | 152 | 122 |
| 28 | THA | Natthaphong Phonoppharat | 32 | 29 | 32 | 14 | -37 | 21 | 165 | 128 |
| 29 | COL | Santiago Grillo | 29 | 24 | 24 | 32 | -37 | 24 | 170 | 133 |
| 30 | USA | Pedro Pascual | 25 | 26 | 28 | 28 | -37 | 28 | 172 | 135 |
| 31 | CZE | Karel Lavicky | 26 | 30 | 30 | 30 | -37 | 25 | 178 | 141 |
| 32 | SEY | JEAN-MARC GARDETTE | -36 | 35 | 33 | 31 | 23 | 31 | 189 | 153 |
| 33 | TPE | Hao Chang | 34 | 34 | 31 | 27 | -37 | 34 | 197 | 160 |
| 34 | SIN | Leonard Ong | 33 | 33 | 35 | 33 | -37 | 27 | 198 | 161 |
| 35 | TUR | Onur Cavit Biriz | 31 | 32 | -37 | 34 | 37 | 29 | 200 | 163 |
| 36 | ALG | Hamza Bouras | 35 | 36 | 34 | 35 | -37 | 26 | 203 | 166 |
RS:X Women
| | | | | | | | | | | |
| --- | --- | --- | --- | --- | --- | --- | --- | --- | --- | --- |
| Pos | Nat | Sailor | R1 | R2 | R3 | R4 | R5 | R6 | Tot | Net |
| 1 | ITA | Flavia Tartaglini | -12 | 1 | 5 | 1 | 1 | 4 | 24 | 12 |
| 2 | FRA | Charline Picon | 1 | 2 | 1 | 4 | 5 | -10 | 23 | 13 |
| 3 | RUS | Stefania Elfutina | 2 | 5 | 3 | 6 | 2 | -9 | 27 | 18 |
| 4 | NED | Lilian De Geus | 3 | 4 | -14 | 3 | 3 | 7 | 34 | 20 |
| 5 | ISR | Maayan Davidovich | 5 | 6 | 6 | -11 | 4 | 3 | 35 | 24 |
| 6 | ESP | Marina Alabau Neira | -8 | 7 | 2 | 8 | 6 | 8 | 39 | 31 |
| 7 | FIN | Tuuli Petäjä-Sirén | 4 | -9 | 8 | 5 | 9 | 5 | 40 | 31 |
| 8 | BRA | Patricia Freitas | 6 | 8 | 4 | 2 | 13 | -16 | 49 | 33 |
| 9 | CHN | Peina Chen | 9 | 11 | 11 | -15 | 7 | 1 | 54 | 39 |
| 10 | USA | Marion Lepert | 10 | 3 | 10 | 13 | 11.8 | -23 | 70.8 | 47.8 |
| 11 | GBR | Bryony Shaw | 7 | -20 | 9 | 7 | 14 | 12 | 69 | 49 |
| 12 | EST | Ingrid Puusta | -18 | 13 | 12 | 10 | 8 | 11 | 72 | 54 |
| 13 | POL | Malgorzata Bialecka | 13 | 21 | 13 | -23 | 12 | 6 | 88 | 65 |
| 14 | MEX | Demita Vega de Lille | 11 | -18 | 18 | 9 | 10 | 17 | 83 | 65 |
| 15 | GRE | Angeliki Skarlatou | 16 | -17 | 7 | 12 | 17 | 15 | 84 | 67 |
| 16 | THA | Siripon Kaewduang-Ngam | 19 | -23 | 22 | 18 | 11 | 2 | 95 | 72 |
| 17 | NOR | Maria Mollestad | 14 | 10 | -20 | 14 | 18 | 20 | 96 | 76 |
| 18 | DEN | Laerke Buhl-Hansen | 17 | 16 | 17 | -20 | 16 | 13 | 99 | 79 |
| 19 | HKG | Sonia Lo | 15 | 15 | 15 | 16 | 19 | -22 | 102 | 80 |
| 20 | ARG | Maria Tejerina Mackern | -21 | 12 | 16 | 17 | 21 | 19 | 106 | 85 |
| 21 | JPN | Megumi Iseda | -23 | 22 | 19 | 22 | 15 | 14 | 115 | 92 |
| 22 | HUN | Sara Cholnoky | 22 | 14 | 21 | 19 | 23 | -24 | 123 | 99 |
| 23 | TUR | Dilara Uralp | 20 | 19 | 23 | -24 | 20 | 21 | 127 | 103 |
| 24 | SIN | Audrey Yong | -25 | 25 | 24 | 25 | 22 | 18 | 139 | 114 |
| 25 | LAT | Ketija Birzule | 24 | 24 | -27 | 21 | 24 | 26 | 146 | 119 |
| 26 | ALG | KATIA BELABBAS | -27 | 27 | 27 | 27 | 27 | 25 | 160 | 133 |
Laser Radial

| | | | | | | | | |
| --- | --- | --- | --- | --- | --- | --- | --- | --- |
| Pos | Nat | Helm | R1 | R2 | R3 | R4 | Tot | Net |
| 1 | CHN | Lijia Xu | 3 | -38 | 3 | 1 | 45 | 7 |
| 2 | IRL | Annalise Murphy | 1 | -13 | 4 | 7 | 25 | 12 |
| 3 | FIN | Tuula Tenkanen | 4 | -16 | 7.3 | 2 | 29.3 | 13.3 |
| 4 | NED | Marit Bouwmeester | 6 | 4 | -14 | 4 | 28 | 14 |
| 5 | BEL | Evi Van Acker | 2 | 12 | 2 | -29 | 45 | 16 |
| 6 | DEN | Anne-Marie Rindom | 5 | 8 | -38 | 3 | 54 | 16 |
| 7 | LTU | Gintare Scheidt | -38 | 1 | 8 | 8 | 55 | 17 |
| 8 | CRO | Tina Mihelic | -38 | 3 | 11 | 10 | 62 | 24 |
| 9 | HUN | Mária Érdi | 20 | -22 | 1 | 5 | 48 | 26 |
| 10 | USA | Paige Railey | 15 | 2 | 9 | -21 | 47 | 26 |
| 11 | BLR | Tatiana Drozdovskaya | -22 | 10 | 5 | 13 | 50 | 28 |
| 12 | CZE | Veronika Kozelska Fenclova | 11 | 7 | 10 | -16 | 44 | 28 |
| 13 | SWE | Josefin Olsson | -17 | 5 | 7 | 17 | 46 | 29 |
| 14 | AUS | Ashley Stoddart | 8 | 6 | 16 | -28 | 58 | 30 |
| 15 | TUR | Nazli Donertas | 16 | -20 | 6 | 9 | 51 | 31 |
| 16 | ARG | Lucía Falasca | 7 | 11 | -19 | 15 | 52 | 33 |
| 17 | NOR | Tiril Bue | -18 | 18 | 13 | 6 | 55 | 37 |
| 18 | GBR | Alison Young | 13 | 17 | 12 | -26 | 68 | 42 |
| 19 | CAN | Brenda Bowskill | 9 | -30 | 15 | 20 | 74 | 44 |
| 20 | ESP | Alicia Cebrian | -27 | 9 | 24 | 12 | 72 | 45 |
| 21 | ITA | Silvia Zennaro | 10 | -24 | 23 | 18 | 75 | 51 |
| 22 | FRA | Mathilde de Kerangat | 23 | 15 | -25 | 14 | 77 | 52 |
| 23 | BRA | Fernanda Decnop Coelho | 14 | 19 | -20 | 19 | 72 | 52 |
| 24 | JPN | Manami Doi | 21 | 14 | 18 | -24 | 77 | 53 |
| 25 | SIN | Elizabeth Yin | 19 | -29 | 26 | 11 | 85 | 56 |
| 26 | URU | Dolores Moreira Fraschini | 12 | -32 | 22 | 22 | 88 | 56 |
| 27 | ARU | Philipine Van Aanholt | 24 | 21 | 17 | -32 | 94 | 62 |
| 28 | TUN | Ines Gmati | 28 | 23 | -31 | 23 | 105 | 74 |
| 29 | POR | Sara Carmo | -34 | 31 | 21 | 25 | 111 | 77 |
| 30 | THA | Kamolwan Chanyim | 25 | 27 | 27 | -31 | 110 | 79 |
| 31 | PER | Paloma Schmidt Gutiérrez | -31 | 26 | 28 | 27 | 112 | 81 |
| 32 | LCA | Stephanie Devaux-Lovell | 29 | 25 | 29 | -33 | 116 | 83 |
| 33 | MAS | Nur Shazrin Mohamad Latif | 26 | -33 | 33 | 30 | 122 | 89 |
| 34 | BER | Cecilia Wollmann | 32 | 28 | 32 | -35 | 127 | 92 |
| 35 | CAY | Florence Allan | 35 | 34 | 30 | -36 | 135 | 99 |
| 36 | COK | Teau Mckenzie | 30 | 36 | 34 | -37 | 137 | 100 |
| 37 | ALG | Imen Cherif Sahraoui | 33 | -35 | 35 | 34 | 137 | 102 |
Laser
| | | | | | | | | |
| --- | --- | --- | --- | --- | --- | --- | --- | --- |
| Pos | Nat | Helm | R1 | R2 | R3 | R4 | Tot | Net |
| 1 | ARG | Julio Alsogaray | 4 | 2 | -14 | 1 | 21 | 7 |
| 2 | CRO | Tonci Stipanović | 1 | 5 | 7 | -12 | 25 | 13 |
| 3 | NZL | Sam Meech | -19 | 3 | 5 | 6 | 33 | 14 |
| 4 | AUS | Tom Burton | -17 | 8 | 2 | 10 | 37 | 20 |
| 5 | CYP | Pavlos Kontides | 7 | -31 | 1 | 14 | 53 | 22 |
| 6 | GUA | Juan Ignacio Maegli Aguero | -18 | 14 | 3 | 7 | 42 | 24 |
| 7 | FRA | Jean Baptiste Bernaz | 11 | 10 | 4 | -17 | 42 | 25 |
| 8 | BRA | Robert Scheidt | 23 | 1 | -27 | 4 | 55 | 28 |
| 9 | ISV | Cy Thompson | 13 | 4 | 11 | -35 | 63 | 28 |
| 10 | RUS | Sergey Komissarov | 2 | 9 | 19 | -23 | 53 | 30 |
| 11 | NED | Rutger van Schaardenburg | 3 | 21 | -24 | 8 | 56 | 32 |
| 12 | GBR | Nick Thompson | 8 | -17 | 9 | 15 | 49 | 32 |
| 13 | ITA | Francesco Marrai | -39 | 11 | 18 | 5 | 73 | 34 |
| 14 | KOR | Jeemin Ha | 26 | 6 | -38 | 3 | 73 | 35 |
| 15 | SIN | Colin Cheng | 5 | -20 | 13 | 18 | 56 | 36 |
| 16 | USA | Charlie Buckingham | 20 | 7 | 10 | -22 | 59 | 37 |
| 17 | GER | Philipp Buhl | -16 | 16 | 8 | 13 | 53 | 37 |
| 18 | NOR | Kristian Ruth | -47 | 13 | 32 | 2 | 94 | 47 |
| 19 | DEN | Michael Hansen | 6 | -24 | 23 | 20 | 73 | 49 |
| 20 | BEL | Wannes Van Laer | 27 | -30 | 12 | 11 | 80 | 50 |
| 21 | POR | Gustavo Lima | 15 | 15 | 20 | -25 | 75 | 50 |
| 22 | HUN | Benjamin Vadnai | 9 | -44 | 21 | 21 | 95 | 51 |
| 23 | IRL | Finn Lynch | 14 | 27 | 15 | -39 | 95 | 56 |
| 24 | SWE | Jesper Stalheim | 10 | 23 | 26 | -28 | 87 | 59 |
| 25 | EST | Karl-Martin Rammo | 24 | 19 | 17 | -44 | 104 | 60 |
| 26 | MNE | Milivoj Dukic | 12 | 26 | -35 | 24 | 97 | 62 |
| 27 | CZE | Viktor Teply | 29 | 18 | -30 | 19 | 96 | 66 |
| 28 | POL | Kacper Ziemiński | 34 | 28 | 6 | -47 | 115 | 68 |
| 29 | PER | Stefano Peschiera | 37 | -40 | 16 | 16 | 109 | 69 |
| 30 | FIN | Kaarle Tapper | -32 | 12 | 31 | 29 | 104 | 72 |
| 31 | TUN | Youssef Akrout | 21 | 29 | -34 | 26 | 110 | 76 |
| 32 | CHI | Matias Del Solar | 22 | -35 | 22 | 32 | 111 | 76 |
| 33 | CAN | Lee Parkhill | -43 | 37 | 33 | 9 | 122 | 79 |
| 34 | ESA | Enrique Jose Arathoon Pacas | -33 | 32 | 28 | 30 | 123 | 90 |
| 35 | ESP | Joaquín Blanco | 28 | -47 | 25 | 40 | 140 | 93 |
| 36 | RSA | Stefano Raffaele Marcia | 30 | 25 | -42 | 38 | 135 | 93 |
| 37 | THA | Keerati Bualong | 25 | -38 | 37 | 31 | 131 | 93 |
| 38 | EGY | Ahmed Ragab | 36 | 22 | -44 | 41 | 143 | 99 |
| 39 | BER | Cameron Pimentel | 31 | -45 | 41 | 27 | 144 | 99 |
| 40 | MAS | Khairulnizam Mohd Afendy | 38 | 33 | -40 | 33 | 144 | 104 |
| 41 | VEN | Jose Gutierrez | 35 | 36 | 36 | -42 | 149 | 107 |
| 42 | TTO | Andrew Lewis | -42 | 34 | 39 | 36 | 151 | 109 |
| 43 | MEX | Yanic Gentry | 41 | 42 | 29 | -43 | 155 | 112 |
| 44 | COK | Peter Elisa Henry | 40 | 39 | -43 | 34 | 156 | 113 |
| 45 | SEY | Rodney Govinden | 45 | 41 | -47 | 37 | 170 | 123 |
| 46 | ANG | Manuel Lelo | 44 | 43 | -45 | 45 | 177 | 132 |
Finn
| | | | | | |
| --- | --- | --- | --- | --- | --- |
| Pos | Nat | Helm | R1 | R2 | Tot |
| 1 | SLO | Vasilij Zbogar | 3 | 1 | 4 |
| 2 | TUR | Alican Kaynar | 2 | 5 | 7 |
| 3 | ARG | Facundo Olezza | 1 | 9 | 10 |
| 4 | BRA | Jorge Zarif | 4 | 6 | 10 |
| 5 | CRO | Ivan Kljakovic Gaspic | 6 | 8 | 14 |
| 6 | DEN | Jonas Hogh-Christensen | 13 | 2 | 15 |
| 7 | ITA | Giorgio Poggi | 11 | 4 | 15 |
| 8 | USA | Caleb Paine | 7 | 10 | 17 |
| 9 | EST | Deniss Karpak | 5 | 14 | 19 |
| 10 | GBR | Giles Scott | 17 | 3 | 20 |
| 11 | NOR | Anders Pedersen | 8 | 16 | 24 |
| 12 | FRA | Jonathan Lobert | 10 | 15 | 25 |
| 13 | SWE | Max Salminen | 15 | 11 | 26 |
| 14 | FIN | Tapio Nirkko | 20 | 7 | 27 |
| 15 | NED | Pieter-Jan Postma | 14 | 13 | 27 |
| 16 | CAN | Tom Ramshaw | 19 | 12 | 31 |
| 17 | HUN | Zsombor Berecz | 9 | 24 | 33 |
| 18 | GRE | Ioannis Mitakis | 12 | 24 | 36 |
| 19 | AUS | Jake Lilley | 16 | 24 | 40 |
| 20 | SEY | Allan Julie | 23 | 17 | 40 |
| 21 | NZL | Josh Junior | 18 | 24 | 42 |
| 22 | URU | Alejandro Foglia Costa | 21 | 24 | 45 |
| 23 | CHN | Lei Gong | 22 | 24 | 46 |
Back to top
Back to top