Fifth time lucky for Nick Dempsey?
Aside from Brazilian legend, Robert Scheidt, who is gunning for a sixth Olypmic sailing medal this week, one of the most capped Olympic sailors competing at Rio 2016 is Team GBR's RS:X veteran Nick Dempsey.
Having made his debut on the Mistral in Sydney, Dempsey went on to win the bronze at Athens in 2004, won the 'chocolate medal' (ie 4th) in Beijing before claiming silver behind the Netherland's Dorian Van Rysselberghe at London 2012. Having been World Champion for a second time in 2013, Dempsey is in fighting form for his fifth Olympiad as he clearly demonstrated on the opening day of racing when he posted a near perfect score line across three races.
One development with both the Team GBR RS:X campaigns this time is that now both Dempsey and Bryony Shaw now have some very strong homegrown competition to encourage them on. While Shaw has Izzy Hamilton and Emma Wilson, Dempsey has 21-year-old Kieran Martin, of whom he enthuses: "He's amazing - he is the first training partner I've ever had that is better than me in certain conditions. I think every person I've trained with I've always had the upper hand in all conditions. In 6-8 knots he has better technique than I have. If we race we're neck and neck, pretty even. I think for the first time it's working really well between us, and it feels like he's actually teaching me."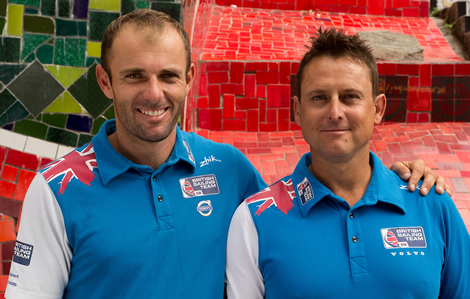 It is quite an accolade coming from someone who has been competing at Olympic level for the best part of two decades. "It's just the two of us on the Podium Squad plus a couple more in the Development Squad. But mainly it's just us and my coach Dom [Dominic Tidey - above]. We've been dissecting it all a bit more, gone back to basics a bit. and it's been really good. Sometimes you miss getting to the roots of your basic technique, how you pump, etc and you just kind of take it for granted that it's okay, but it's not okay, because I'm not winning races in all conditions. Everyone has their weaknesses and he is good where I'm bad, which is perfect. We've just been quite honest and quite on it in terms of trying to make those things good."
Fortunately for Dempsey's Rio aspirations, Martin and Development Squad sailor Tom Squires have been good and have been getting closer to his level by the day, but he is still proving to be the best performer across the board. Physically, it has been useful that he lies in the middle ground between them – Martin being 5ft10in and 69kg, while Squires is 6ft4in and 80kg, and Dempsey at 5ft11in and 72kg, is in between. "So I can kind of do everything, but you put me in a straight line race in 20 knots with Tom and he will beat me. And you put me in a straight line race with Kieran in 8 knots and Kieran will beat me. Put us both on a race course in all conditions and I will generally come out on top, which is what it's all about."
As to how RS:X technique has moved on in recent years, Dempsey acknowledges that weight or 'power to weight ratio' is vital in RS:X racing. This has been on the increase in recent years with top sailors typically around 6ft1in-6ft2in in height. "I've always been short for the fleet. You stand on the podium and it's like 'oh man….' But I do somehow make it go well in the breeze.
"When we moved from the Mistral 11 years ago it was very much more of a consistent style of pumping and now because the board is a dog - it's like a dinghy - you have to get the thing out of the water to get it going. You can basically double the speed, you can go from 4 knots upwind to 7 or 8 knots upwind if you can get the thing popped out. So it's quite explosive to do that - it's flat out, get it going for 20 seconds, recover for 40 seconds and go again. So that's kind of changed. It's just more aggressive than it was, that's all."
Pumping ability is one of the most important things and typically there are fast and slow techniques depending on if the board is planning or not, essentially fast pumping to get planing and slow pumping when the board's at speed.
This time there have been minor changes with the kit. Previously the RS:X gear was entirely supplied (like the Laser) but this time RS:X sailors are able to take their own fins, masts and booms to the Games.
"Last time there were a lot of complaints about the kit not being even," Dempsey explains. "So this time they're supplying half of it basically and because the fins are so crucial and people are very fussy about them, they've allowed us to take our own one. So we've bought a lot of fins - a lot!"
With the departure of Peter Bentley from the technical role within the British team, for Rio Dempsey has been working with Steve Mellors and Linton Jenkins of Full Force (who we last wrote when he displayed his Tomahawk foiler at the Dinghy Show back in 2009). "Linton's probably one of the best boat builders in the country and he just squirrels away in his little place in Portland and he's completely untapped," says Dempsey. "But I and many of the team have been using him for years - he is an absolute master of his trade."
Because of this, they have also been studying what makes a fast fin. Mellors was tasked with carrying out the R&D on this.
So what does Dempsey think of the RS:X and how could it be improved? "You'd want it to be lighter. At the moment it's about 17kg and it needs to be 12. The prototype was 12, so you can do that. It could maybe be a little bit narrower and it needs a bigger fin."
Rio
In terms of the competition at Rio 2016, Dempsey says that aside from him he rates Dorian Van Rysselberghe and especially Poland's Piotr Myszka: "He is 35, he's World Champion at the moment, he's been World Champion before, he's been one of the best sailors forever, but never gone to the Games before. So he will want this, but he's never been, so he may blow up, you never know, but he'll be good."
Then there's France's Pierre le Coq, who's taken over the mantle of Julien Bontemps and was World Champion in 2015. Also on the rise is China's Aichen Wang, who is benefitting this time from having Beijing RS:X gold medallist Tom Ashley as his coach.
As to Rio, Dempsey says it is what it is - a really tough sailing venue. Unlike Weymouth four years ago where each class stuck to one course before heading for The Nothe course for its medal race, this time they are rotating. The RS:Xs they will sail on three course in Rio – the Escola Navale in the middle of the Bay (where they will be today, Tuesday) and the medal race course (also known as the Sugar Loaf Course, where they were yesterday) plus the Niteroi course - the eastern course out in the open ocean.
"I think it's great," says Dempsey of the race areas. "I like the fact that we're racing outside as well, because it's very different. It can get really lumpy. So you get everything and suits me. But The medal race course is hard – much harder than The Nothe. The Nothe was pretty much one dimensional – if the wind was coming out of the west/southwest, then generally you had to go left - there wasn't really any other option. You could sniggle one up the middle, but the safest route was always on the left so people were generally always defending that. On the medal race course in Rio they stick the windward mark right under Sugar Loaf mountain, right under it, so you'll be planing out there in 15 knots but the mark will be in 4 knots, so it's often a big overstand up there and then a reach in…"
The bad news for Team GBR is that with Dempsey turning 36 this Saturday, he says Rio 2016 will definitely be his last Olympics. He even has a 'proper' job in his mind as an exit strategy. Already often seen with a camera around his neck, he intends to turn a hobby/passion into a business.
So what kind of photography? "Portraiture, people." Weddings, kittens and children? "No, no, none of that. I want to basically become a celebrity portrait photographer. I will definitely start within the marine industry, because that's where all my contacts are and it'd be ridiculous to not use that. I'll do a bit of coaching as well to pay for it for the first couple of years, because I can't just step in and make a living from it."
Fortunately Dempsey will be exiting the Olympics stage right at a good time, with some solid aspirant talent to continue his legacy. "It'll be great - they're two lovely people, lovely guys, and they deserve that, because they're training hard."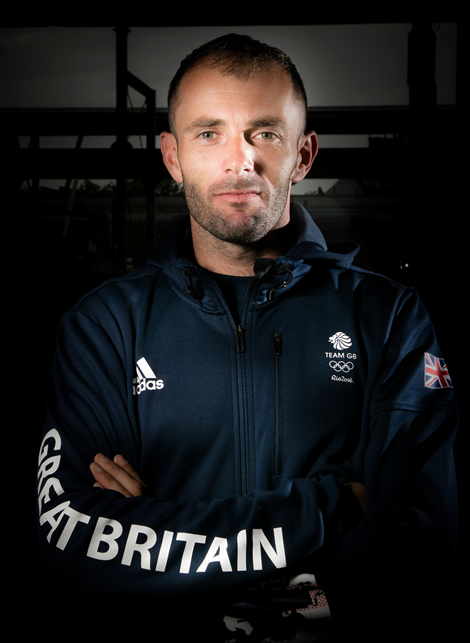 Add to Anti-Banner
Back to top
Back to top