Dempsey flies
Nick Dempsey got off to a blazing start on the opening day of sailing at the Rio 2016 Olympics finishing one point short of a perfect scoreline after three races were sailed in the RS:X Men's windsurfing today.
Sunny skies and southeast that varied across the race course from 14 knot down to half that were just want competitors wanted to begin their Olympic campaigns, and some of the favourites romped away to a dominant startm although others faltered badly. While some clear leaders have already emerged in the two Windsurfer events, most of the top players scored deep results in both the Laser and Laser Radial fleets.
Men's Windsurfer - RS:X

Two time World Champion Dempsey, who turns 36 on Saturday, could scarcely believe the fairy tale start to his fifth Olympic Games, with an opening day scoreline of 1,1,2. London 2012 gold medallist Dorian Van Rijsselberge (NED) couldn't quite match that level of excellence, but his freshly shaved head wasn't hurting the Dutchman too much either as he finished the day with ever-improving scores of 5,3,1. Byron Kokkalanis also sailed very solidly to notch up scores of 2,2,6, and puts him in 3rd overall on equal points with Rijsselberghe.
Dempsey was rightly pleased with his day. "A perfect start. I was pretty nervous this morning, really nervous. Training has been going really well, sailing fast. I was just nervous about something not going right, but it went so well. In the last race, the breeze dropped a few bombs on the course. It caught a few people out, a few people did well out of it, and I managed to hold on to 2nd, which was probably the best bit of the day."

The issue of debris in the water has been a big talking point in the build-up to these Games, but Dempsey said, "Today was the best it's ever been. When you're winning a race and going fast, the only thing you worry about is another factor, like hitting something in the water, breaking a fin. But it didn't, the water was fine and it's a good result for Rio."

Dempsey came out of the blocks meaning business as, in virtually carbon copy races one and two, he led from start to finish, keeping a healthy distance between himself and second-placed Kokkalanis in each. In race three he again led for half the race before settling for second behind Van Rijsselberge.
"Three good starts off the line and I was just really fast so it was good, brilliant. If you are fast and you are out in front then it's pretty simple. I was pretty nervous this morning. Training has been going well, I've been sailing really fast, and I was just nervous about something not happening, something not quite going right. But today was absolutely perfect, it couldn't have been better. But it's early days, we are three races into a 13 race series. It's brilliant and it's what you dream of as a start to your Olympic Games so we will see."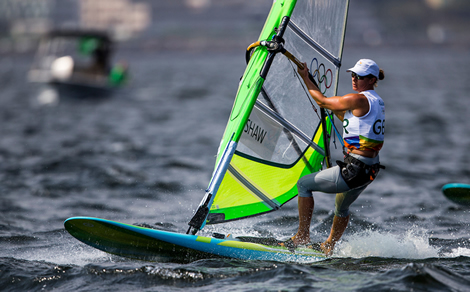 Women's Windsurfer - RS:X

Charline Picon (FRA) had a stunning start to her week, scoring 1,2,1 from the opening three races. Next best was Stefaniya Elfutina (RUS) who lies in second place ahead of Flavia Tartaglini (ITA). The defending Olympic Champion Marina Alabau (ESP) had a solid day to lie in 5th overall but one of the other pre-event favourites, Bryony Shaw (GBR) struggled and sits in tenth at the moment.

Picon was breathing a sigh of relief after racing. "I had a lot of pressure and to begin like that? Well I couldn't have imagined that yesterday because I was a little bit stressed. I'm happy but I need to stay focussed."

Local sailor Patricia Freitas (BRA) revelled in the stronger breezes to lie in sixth overall. "We had a very good day, sunshine and strong winds, unexpected for this time of year. The Brazilian spirit is everywhere, it's very special for us to have people watching us racing because that doesn't happen very often in sailing. Thanks to the Bay we can set up a good place for the people to watch, and when we were rounding the mark near the beach I could recognise a few friends. It was a great spirit and great to be part of."
Britain's Bryony Shaw had a slightly more difficult day to contend with as her first race was blighted by a technical issue seeing her finish seventh and in her second she got caught on the committee boat line, taking her into the water causing her to finish in 20th place.

Although regaining her composure for the third race to finish ninth, the Beijing 2008 bronze medallist will want to put on a good performance to get back on track in their three races tomorrow.
The gold and silver medallists from London 2012 seemed to be lying in first and second overall respectively after two races on the Escola Naval.
Lijia Xu (CHN) posted a third in the first race and then lost the lead to Gintare Scheidt (LTU) in second and was further held back by carrying out a 720deg turn following a port-starboard incident at the leeward mark dropping her to fourth. Unfortunately Xu was protested by Paige Railey (USA) who she's infringed and was subsequently disqualified from this race. (Croatia's Tina Mihelic was disqualified for a similar infringement in race one.)
Prior to the protest Xu said: "It was very difficult out on the course. It has been a short campaign building up to Rio but I am really enjoying being back in the boat. My whole approach is different this time. I'm more aware of avoiding injury and keeping the body fit for competition."
Gintare Scheidt was in a similar situation in race one where she finished second on the water only to later discovered that she had fallen foul of a U Flag disqualification (black flag-lite), for crossing the start line too soon.
As a result the current Radial leader with a 6-4 today, is London 2012 silver medallist Marit Bouwmeester (NED), who said: "I was very happy after the first race, because I didn't know until later that I was over the line. I sailed the second race really well, but I still have a really bad feeling about the day. My goal was to get two top tens, and even finishing first in the second race doesn't satisfy me. Now we have to be more safe, because there's only one discard which in this venue is really difficult."

Other hotly fancied sailors also struggled to be consistent, including Annalise Murphy (IRL) who charged through the fleet to win the first race, but could only manage 14th in the next. Even so, the fourth-placed finisher from London 2012 currently lies in fourth overall just a single point behind Anne-Marie Rindom (DEN). "There was a lot to think about out there," said Murphy. "Strong tide, big pressure differences up and down the race course. I was happy enough with the second race. It's going to be swings and roundabouts here, people are going to have good and bad races."
It was a disappointing start for Team GBR's reigning World Champion, Alison Young, who posted a 13-17 and lies 11th overall at the end of day one. "It was a tricky day out there racing," she said. "There were lots of opportunities on the racecourse, but unfortunately I made a few too many mistakes so there's room to work on through the rest of the week.

"The breeze is pretty shifty, we had some differences in the tide as well so it was just tricky racing. But I expect it to be challenging all the way through the week from what we've seen out here so far, so there are plenty of opportunities still to go."
Laser

Tonci Stipanovic (CRO) won the first race in the Men's Singlehander and with a fifth in the second race, the Croatian lies in first overall. Sitting on equal points, but in second place, is Julio Alsogaray (ARG) with scores of 4,2.
"There were plenty of places to fall down the rankings today," said Stipanovic, "so I am very happy with the day I've just had. Speed was good and conditions were difficult but what we expected for Rio."

Sergei Komissarov (RUS) sailed a good first day to lie in third overall, while a number of the favourites made harder work of the conditions. Strangely emulating his wife in the Radial, Robert Scheidt (BRA) made a bad start to his campaign to win a record sixth Olympic medal in sailing, finishing 23rd in the opening race. But the Brazilian bounced back to take a clear lead and the winner's gun in race 2.

Scheidt enjoyed the difficulty of the day: "They were good, technical races because there was a rounding mark set very close to the coast and that influenced the wind, and it was changing the second part of the race course a lot. But this is part of the game. I already knew conditions in the Bay were going to be very variable.

"In the second race I managed to do the start better and go with the main contenders, play the game step by step," said the 43-year-old. "I had a bit of an advantage at the first mark, and from there I managed to dominate the race. I'm pleased how I came back from the first race. There are still a lot of races ahead and a lot of points to fight for, and in the second race I showed that my age is not going to be a problem for me."

Tom Burton (AUS) and reigning World Champion Nick Thompson (GBR) lie in 10th and 11th respectively with equal points, while the London 2012 silver medallist Pavlos Kontides (CYP) is back in 19th.
Thompson said: "It was a couple of mistakes on the first beat that put me at the back of the fleet at the windward marks, but from there I think I sailed really well.

"It was a really tricky first day. The first beats threw up some really big surprises with big shifts right at the top and I didn't manage to get it right. I had a lot of positives to take from my windward mark positions but it wasn't the results I was looking for.

"It's mixed emotions; it's good to get the regatta away but I would have liked a better day and I'm sure everyone will come in and say the same thing."

Racing for all the four classes resumes at 1600 UTC tomorrow, while the Olympics also get underway for the Finn class meaning four-times World Champion Giles Scott begins his quest for Rio gold.
Laser Radial
| | | | | | |
| --- | --- | --- | --- | --- | --- |
| Pos | Nat | Sailor | R1 | R2 | Tot |
| 1 | NED | Marit Bouwmeester | 6 | 4 | 10 |
| 2 | DEN | Anne-Marie Rindom | 5 | 8 | 13 |
| 3 | AUS | Ashley Stoddart | 8 | 6 | 14 |
| 4 | BEL | Evi Van Acker | 2 | 12 | 14 |
| 5 | IRL | Annalise Murphy | 1 | 13 | 14 |
| 6 | USA | Paige Railey | 15 | 2 | 17 |
| 7 | ARG | Lucía Falasca | 7 | 11 | 18 |
| 8 | CZE | Veronika Kozelska Fenclova | 11 | 7 | 18 |
| 9 | FIN | Tuula Tenkanen | 4 | 16 | 20 |
| 10 | SWE | Josefin Olsson | 17 | 5 | 22 |
| 11 | GBR | Alison Young | 13 | 17 | 30 |
| 12 | BLR | Tatiana Drozdovskaya | 22 | 10 | 32 |
| 13 | BRA | Fernanda Decnop Coelho | 14 | 19 | 33 |
| 14 | ITA | Silvia Zennaro | 10 | 24 | 34 |
| 15 | JPN | Manami Doi | 21 | 14 | 35 |
| 16 | ESP | Alicia Cebrian | 27 | 9 | 36 |
| 17 | NOR | Tiril Bue | 18 | 18 | 36 |
| 18 | TUR | Nazli Donertas | 16 | 20 | 36 |
| 19 | FRA | Mathilde de Kerangat | 23 | 15 | 38 |
| 20 | CAN | Brenda Bowskill | 9 | 30 | 39 |
| 21 | LTU | Gintare Scheidt | 38 | 1 | 39 |
| 22 | CHN | Lijia Xu | 3 | 38 | 41 |
| 23 | CRO | Tina Mihelic | 38 | 3 | 41 |
| 24 | HUN | Mária Érdi | 20 | 22 | 42 |
| 25 | URU | Dolores Moreira Fraschini | 12 | 32 | 44 |
| 26 | ARU | Philipine Van Aanholt | 24 | 21 | 45 |
| 27 | SIN | Elizabeth Yin | 19 | 29 | 48 |
| 28 | TUN | Ines Gmati | 28 | 23 | 51 |
| 29 | THA | Kamolwan Chanyim | 25 | 27 | 52 |
| 30 | LCA | Stephanie Devaux-Lovell | 29 | 25 | 54 |
| 31 | PER | Paloma Schmidt Gutiérrez | 31 | 26 | 57 |
| 32 | MAS | Nur Shazrin Mohamad Latif | 26 | 33 | 59 |
| 33 | BER | Cecilia Wollmann | 32 | 28 | 60 |
| 34 | POR | Sara Carmo | 34 | 31 | 65 |
| 35 | COK | Teau Mckenzie | 30 | 36 | 66 |
| 36 | ALG | Imen Cherif Sahraoui | 33 | 35 | 68 |
| 37 | CAY | Florence Allan | 35 | 34 | 69 |
Laser
| | | | | | |
| --- | --- | --- | --- | --- | --- |
| Pos | Nat | Sailor | R1 | R2 | Tot |
| 1 | CRO | Tonci Stipanović | 1 | 5 | 6 |
| 2 | ARG | Julio Alsogaray | 4 | 2 | 6 |
| 3 | RUS | Sergey Komissarov | 2 | 9 | 11 |
| 4 | ISV | Cy Thompson | 13 | 4 | 17 |
| 5 | FRA | Jean Baptiste Bernaz | 11 | 10 | 21 |
| 6 | NZL | Sam Meech | 19 | 3 | 22 |
| 7 | BRA | Robert Scheidt | 23 | 1 | 24 |
| 8 | NED | Rutger van Schaardenburg | 3 | 21 | 24 |
| 9 | SIN | Colin Cheng | 5 | 20 | 25 |
| 10 | AUS | Tom Burton | 17 | 8 | 25 |
| 11 | GBR | Nick Thompson | 8 | 17 | 25 |
| 12 | USA | Charlie Buckingham | 20 | 7 | 27 |
| 13 | DEN | Michael Hansen | 6 | 24 | 30 |
| 14 | POR | Gustavo Lima | 15 | 15 | 30 |
| 15 | KOR | Jeemin Ha | 26 | 6 | 32 |
| 16 | GUA | Juan Ignacio Maegli Aguero | 18 | 14 | 32 |
| 17 | GER | Philipp Buhl | 16 | 16 | 32 |
| 18 | SWE | Jesper Stalheim | 10 | 23 | 33 |
| 19 | CYP | Pavlos Kontides | 7 | 31 | 38 |
| 20 | MNE | Milivoj Dukic | 12 | 26 | 38 |
| 21 | IRL | Finn Lynch | 14 | 27 | 41 |
| 22 | EST | Karl-Martin Rammo | 24 | 19 | 43 |
| 23 | FIN | Kaarle Tapper | 32 | 12 | 44 |
| 24 | CZE | Viktor Teply | 29 | 18 | 47 |
| 25 | ITA | Francesco Marrai | 39 | 11 | 50 |
| 26 | TUN | Youssef Akrout | 21 | 29 | 50 |
| 27 | HUN | Benjamin Vadnai | 9 | 44 | 53 |
| 28 | RSA | Stefano Raffaele Marcia | 30 | 25 | 55 |
| 29 | CHI | Matias Del Solar | 22 | 35 | 57 |
| 30 | BEL | Wannes Van Laer | 27 | 30 | 57 |
| 31 | EGY | Ahmed Ragab | 36 | 22 | 58 |
| 32 | NOR | Kristian Ruth | 47 | 13 | 60 |
| 33 | POL | Kacper Ziemiński | 34 | 28 | 62 |
| 34 | THA | Keerati Bualong | 25 | 38 | 63 |
| 35 | ESA | Enrique Jose Arathoon Pacas | 33 | 32 | 65 |
| 36 | MAS | Khairulnizam Mohd Afendy | 38 | 33 | 71 |
| 37 | VEN | Jose Gutierrez | 35 | 36 | 71 |
| 38 | ESP | Joaquín Blanco | 28 | 47 | 75 |
| 39 | BER | Cameron Pimentel | 31 | 45 | 76 |
| 40 | TTO | Andrew Lewis | 42 | 34 | 76 |
| 41 | PER | Stefano Peschiera | 37 | 40 | 77 |
| 42 | COK | Peter Elisa Henry | 40 | 39 | 79 |
| 43 | CAN | Lee Parkhill | 43 | 37 | 80 |
| 44 | MEX | Yanic Gentry | 41 | 42 | 83 |
| 45 | SEY | Rodney Govinden | 45 | 41 | 86 |
| 46 | ANG | Manuel Lelo | 44 | 43 | 87 |
Add to Anti-Banner
Back to top
Back to top