Britannia rules the waves...
Day three of the Sailing World Cup Weymouth and Portland was a second difficult one for race officials.
Grey overcast skies in the morning presented little prospect of a sea breeze developing and the light shifty breeze that enabling most classes to get in a singleton race evaporated as a slow moving, slowly dying rain cloud moved over Weymouth Bay.
Inevitably, later in the day, after the fleets had been sent home and just as it seemed likely that proceedings would be canned for the day, the forecast southeasterly filled in and the RS:Xes, Lasers, Radials and 49erFXes headed out. In the end only the Lasers and RS:Xes sailed and the singlehanded dinghies getting in well after the sun (had it been out) might have dropped below the yardarm.
The Laser classes finally managed to bring their tally up to four races with Australia's Tom Burton leading the men and Britain's Nick Thompson third, while in the Radials, the Netherland's Marit Bouwmeester leads the charge from London 2012 Gold medallist Lijia Xu, but the day belonged to fast rising Hungarian star Mária Érdi, who, aged just 18, won today's final race and is up to third overall. Last December Érdi came out on top in the Radial class at the ISAF Youth Sailing World Championship in Langkawi.
Team GBR's Rio 2016 Radial hope Ali Young has been struggling in the light conditions Weymouth has thrown up this week, and lies a disappointing 15th overall, but comes into not just this regatta, but August's all-important Olympiad, as the reigning World Champion.
In April in Vallarta, Mexico, Young became the first British woman to become world champion in a solo Olympic dinghy class, after victory in the medal race caused her to beat the USA's Paige Railey by a point.
With Giles Scott in the Finn, and two time Laser World Champion Nick Thompson and and now Young Radial crown, Team GBR is top nation going in Rio 2016 when it comes to kicking derriere in singlehanded dinghies.
Since her fifth place in the Laser Radial at London 2012, Young has focussed on adapting her sailing to this year's Rio de Janiero venue.
"We have been trying to spend as much time out in the venue as possible, getting used to the conditions and the different course areas. It is just an evolution developing race craft and improving technique across different ranges."
In Rio, the set-up is in some ways similar to Weymouth, with courses both inside and outside the harbour, both strongly affected by tide. "The tide can be a factor that be hard to understand what is going on. It will be about making the best decisions you can."
However courses will be rotated for Rio 2016, so competitors need to get used to all that is on offer. "Rio offers a huge variety. We have seen everything there over the last couple of summers form five knots to 20 knots. Outside you have swell and inside you have chop. So it is about being versatile and being able to adapt, day in, day out to changing conditions rather than narrowing yourself down to one area."
Then there is Rio's rather more dramatic topography compared to the rolling Dorset coastline.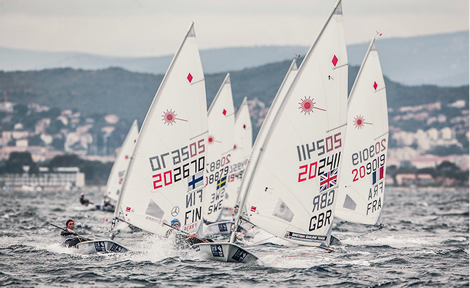 Personally Young says she has been working with her coaches to work on some technical areas of her sailing and her decision making. "My game has moved forward but the game across the fleet has moved forward." Improvements have also been made, similar to the Laser Men's class, in downwind technique. "People who are consistently quick can make big gains and that is one area where everyone is trying to push forwards."
Slightly boringly, the Laser Radial fleet has changed little in the last four years and, for example, all of the London 2012 medallists – Lijia Xu, Marit Bouwmeester and Evi van Acker - are back. But there are now others entering the fray. "You never get bored of trying to beat them," Young continues. "It is the same girls and more have moved up as well, so there is more competition for places. But people have been medalling consistently for the last four years will be the main faces in Rio."
Young reckons that there are no seven or eight Radial sailors capable for going home with the gold medal from Rio 2016. All have their different strengths and weaknesses although Young says that as Rio is a venue where being an all-rounder will be vital and it is no longer possible just to be a specialist, all the Radial sailors have been addressing their weak points over the last four years. Traditionally Young has enjoyed great fitness and as a result she has historically always performed best when it has been blowing.
So should we be putting money on her for some Brazilian Gold? "I wouldn't put money on me yet, but it is what everyone strives for and you just have to keep working hard. We've still got two months to go and the opportunity to move the game forwards and get myself into the best place possible."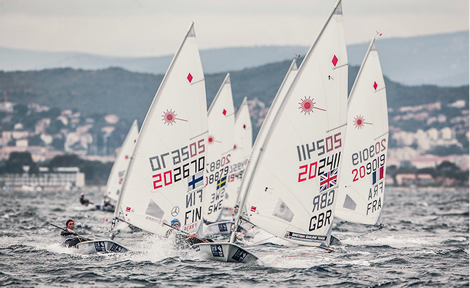 Once again former Laser sailor and 2000 Tornado Olympian, Hugh Styles returns as Young's coach. In terms of training partners, which trains from time to time with the British Radial squad, otherwise they have some links with foreign sailors and even the Men's Laser Standard fleet which she says is more competitive and, still, a higher standard. Competing in the Laser Standard is appropriate she says because: "It is a higher standard so everything is tighter, the margins are smaller, so for sure we can learn from them."
Aside from travelling interminably to different regattas around the world and her time acclimatising in Rio, Young has been based in Weymouth, where she is again racing this week.
To date this week, Young hasn't been at her best, although the Sailing World Cup Weymouth and Portland has thrown up light and testing conditions. At the end of play today she lies 15th in the 39 boat fleet having posted a 16th in today's only race.
"It is great to have the British Sailing Team base down here and we have great facilities - you can train, do your fitness tuff, you have access to the water."
But following London 2012, does she feel sentimental about the venue? "No - it is just racing.! Another regatta. I can't get too sentimental about venue."

Back to top
Back to top