100 days to go
To compete at Rio 2016, all the elements are essential, but to win, you must concentrate on one, gold.

Gold, or in its periodic table form, Au, is the one element sailors and Olympic athletes think about day and night. An Olympic gold medal is the end result of a lifetime of work but to get there, Sailing World Cup Hyères will play a key part as bragging rights, World Cup honours and national selections are on the line.

As the countdown to the Rio 2016 Olympic Games reached #100DaysToGo, the opening day of Sailing World Cup Hyères saw sailors turn their focus to the natural elements, wind and water.

Those elements came in strong in the form of the famous Mistral. The north westerly blew up to 28 knots with a slight sea state that enabled the 470s, 49er, Finn, Laser, Laser Radial and RS:X to complete a full schedule of racing. For the 49erFX and Nacra 17, scheduled in the afternoon, the breeze was simply too strong and only the Nacra 17 completed one race. The 2.4 Norlin OD and Sonar completed a race apiece.

49er

On Tuesday Peter Burling and Blair Tuke (NZL) could be seen meticulously practicing their tacking and gybing in huge breeze. The fluid, continuous motions that they rehearsed on Tuesday paid dividends as they took to the top of the table after three 49er races.

A bullet and a third was the ideal start but it could have been much better as Tuke explained, "We sailed the first two races well and 99% of the third race but we capsized right at the finish which is a bit of a pain. All in all, not a bad start."

Burling and Tuke are on a run of 25 consecutive regatta victories, remaining unbeaten in the Rio 2016 quad. As a result, they are rightly labelled as favourites for Rio 2016 gold and with 100 days to go until the Olympic Games Opening Ceremony, their run will count for nothing if they don't take gold.

"It is exciting, 100 days to go. I saw that [World Sailing's 100 Days to Go video] this morning on social media. It's a good little landmark but for us, it's business as usual and what we've been preparing for, for the last four years. We're here at the World Cup event to win but Rio in 100 days' time is fully on our mind and we're just looking to get better."

Their unbeaten run indicates pure perfection so how can they get better? "Well we could have been better today by not capsizing," Tuke said through a smile.

"There's still a lot of things that we can do better and we're just going to look at those things, at the big picture in Rio and concentrate on getting better. Since we've been focusing on improving, the results have spoken for themselves."

It is early days in the 49er and the Kiwis lead only stands at one point over Will and Sam Phillips of Australia but if they keep looking to improve then it's going to take a special performance to overhaul them.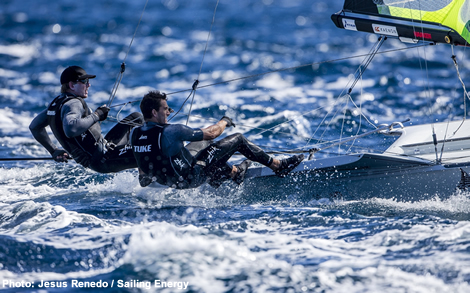 Men's and Women's 470

In advance of racing at World Cup Hyères, a keen observer of Olympic sailing remarked, "if the Mistral stays like this all week, Mat and Will are going to smoke it."

True to that, Mat Belcher and Will Ryan (AUS) did indeed smoke it in the Men's 470 picking up a first and a third, holding the lead.

From training in Sydney, around Sydney Heads, the pair have learnt to thrive in big breeze, especially in France, winning Hyères twice and taking silver in 2015. "Growing up in Australia we're used to a little bit more breeze," remarked Ryan. "The French Mistral is definitely something special. The French are probably more adapted to that, more so than we are, especially the cold weather as we can't feel our fingers and toes sometimes.

"We're happy with how we are sailing and that is the main thing. We're fresh off our Europeans and everyone is sailing the best they can, it's going to be a long, hard couple of days."

Luke Patience and Elliot Willis' partnership for the Rio 2016 quad was cut short late in 2015 as Willis was diagnosed with cancer. Patience continued his journey to Rio, joining forces with Chris Grube and their progress towards Rio took a huge step forward with a first and a fifth to sit second overall, three points off the Aussie leaders.

In the Women's 470, London 2012 Olympic gold medallists Jo Aleh and Polly Powrie (NZL) kept things tight to post a first and a second. They lead Agnieszka Skrzypulec and Irmina Mrózek Gliszczynska (POL) by four points.

Nacra 17

It was survival mode in the Nacra 17 and out of the 33 starters, just 14 finished the single race.

There was high drama as a number of boats struggled in the breeze resulting in capsizes aplenty. Moana Vaireaux and Manon Audinet of France stayed firm and took the bullet followed by Fernando Echavarri and Tara Pacheco (ESP).

Laser and Laser Radial

Matt Wearn (AUS) and Philipp Buhl (GER) took a win apiece in the Laser but it's the German who leads. A sixth in the opening race compared to Wearn's seventh in the second hands him the advantage.

The Laser is one of the most competitive Olympic fleets and 10 – 15 sailors have the capabilities to take the title. Six fleet races follow before Sunday's live Medal Races and one thing's for sure, there will be chops and changes.

Belgium's Evi Van Acker is aiming for a third consecutive Laser Radial victory in Hyères and she's done her chances no harm in 2016 with a first a fourth. She is a point clear of Veronika Fenclova (CZE) and three ahead of the freshly crowned World Champion, Alison Young (GBR).

Men's and Women's RS:X

It's a tale of two ups and a down for the leaders in the Men's and Women's RS:X.

Pawel Tarnowski (POL) in the men's and Helene Noesmoen (FRA) in the women's took a pair of bullets from the day's racing however they also used their drop, discarding their 17th and a 20th respectively.

Poland's Maja Dziarnowska is hot on the heels of Noesmoen in the women's fleet, sitting a point behind having won the opening race. Following Dziarnowska are her compatriots Zofia Noceti-Klepacka and Malgorzata Bialecka.

In the Men's, Tarnowski has a six-point lead over Joao Rodrigues, winner of the other men's race.

Finn

Josh Junior (NZL) continued his winning ways from Princesa Sofia in Palma de Mallorca, Spain to take the early lead over Caleb Paine (USA) and Oliver Tweddell (AUS) after two windy races were held.

Anders Pedersen (NOR) made the most of the opening race to lead all the way to win from Jake Lilley (AUS), who moved into second place on the second upwind, overtaking Jonathan Lobert (FRA) who crossed in third.

Early on in the second race Junior was in the pack but climbed through to second on the second upwind, to take the lead on the final downwind to the finish to take the bullet from Paine and Tweddell.

Paralympic Events

With the wind hitting the higher limits in the Olympic classes, the Paralympic classes also fell foul with only one race completed in both the 2.4 Norlin OD and the Sonar fleets.

In the 2.4mR, the French could not take advantage of the home Hyères wind and Kevin Cantin, Xavier Dagault and favourite Damien Seguin could only manage seventh, eighth and ninth place respectively.

Australia's Matthew Bugg took the bullet ahead of Italy's Antonio Squizzato with Norway's Bjonar Erikstad in third.

Great Britain's Helena Lucas came in in fifth position while Germany's Heiko Kroeger did not finish the race. A bad start for the German sailor means that he has less margin for error throughout the rest of the regatta than his competitors, but in the Hyères winds, anything can happen.

A bullet in the only race of the day puts Great Britain's Hannah Stodel, John Robertson and Steve Thomas on top of the leaderboard in the Sonar fleet as four crews were either forced to retire or did not finish.

From the crews that did cross the line, France's Bruno Jourdren, Eric Flageul and Nicolas Vimont-Vicary hold second position with Ireland's John C Twomey, Austin O'Carroll and Ian Costelloe just behind in third.

Racing on Thurday 28 April is scheduled to start at 11:00 local time and the 49erFX and Nacra 17 fleets will catch up on their missed races.
Back to top
Back to top