Aussies and Austrians still dominant
The pressure was on on the Bay of Palma as numerous teams vied for a spot in the 470 European Championship ten berth medal race line-up. For some today's racing marked a last shot at selection to their Olympic team. Stunning conditions with a breeze of 10-14 knots and blue sky.

Two races for the 470 men and scoring 7,2 results Mat Belcher/Will Ryan (AUS) have guaranteed themselves a top three finish in the 470 Open European Championship. Whether they can claim overall victory is in the hands of the double points Medal Race and a host of chasing teams.

Lara Vadlau/Jola Ogar (AUT) controlled the women's fleet again to tie up both the Open European title and European Championship gold medals from today's three races.

The double point Medal Races get underway on Tuesday 12 April at 1200 hours for the 470 Women, followed by the 470 Men at 1245 hours.

Before that, tonight's party is thrown in tribute to all their achievements. Whether teams feel like celebrating or commiserating, their performances have simply been phenomenal.


470 Men
The top ten medal race features ten different nations, but just one firmly in control

"It is good, you can never have enough points going into the Medal Race," said Belcher on their significant advantage. "You never know how it is going to pan out, so whatever buffer you have got, it is always helpful to have more points. Saying that, we are really happy with how we sailed today. We cannot be European Champions, so the Championship is not quite the same for us as the European nations, but we were racing hard and it has been great to back up a bit of our performance from Trofeo Sofia," he continued in reference to their earlier win here ten days ago.

"It is tough, we have had a bit of a fight. We did the simple things and it is nice to have that margin."

At the 2015 470 European Championships, Americans Stu McNay/David Hughes walked away with the open title, and they could still defend that here – but it will be a big ask as they sit on an 18 point deficit to the Australians.

Strong teams from France, Argentina and Italy lurk just behind McNay/Hughes in the standings, and the medal race promises to be as hard-fought as any held so far in this Olympic year. Even for an experienced team like McNay/Hughes, each chance to battle the world's best teams in a tight double-points medal race environment is an opportunity of significant value.

"Chances are good that this is exactly what the Olympics will feel like," said Hughes. "Right now, it's tight along all margins."

Sime Fantela/Igor Marenic (CRO) are 5 points ahead of the Americans and 12 points behind the Australians. The Croatians have been ever present in attack this week, but to usurp Belcher/Ryan will take a genius performance. On the other hand, the Croatians are the leading contenders for the European Championship gold medals.

Great to see the next generation coming to the front, with four of the younger pairings all advancing to the medal race and establishing themselves in the 470 line-up: Sofian Bouvet/Jeremie Mion (FRA), Simon Sivitz Kosuta/Jas Farneti (ITA), David Bargehr/Lukas Mahr (AUT) and Jordi Xammar/Joan Herp (ESP).

Jubilation for Xammar/Herp, who after racing faced a drawn out few hours until receiving confirmation that they had done enough to represent Spain at the Rio 2016 Olympics. The rapid rise of this young and hugely talented partnership has been extraordinary. Can they cap their European Championship performance with a win in the Medal Race? Quite possibly, as they have a reputation for controlling medal races, doing so at both the 2014 and 2015 470 Worlds.

"It has been really difficult," said Xammar on Spain's Olympic selection process. "After Argentina it was difficult. Here today was the hardest day of all. We had to fight with Onan for the Olympic slot. The first race was OK and then in the second we were racing against each other. It is a really hard situation."

For those not securing a place in Rio it is hard, but it is sport. Teams are close and many work together, which makes the match against each other an even more difficult experience. At this level, you don't want to lose and Olympic campaigners have the same end goal of securing an appearance in Rio.

470 Men – Medal Race Line Up

1. Mathew Belcher/Will Ryan (AUS 11) - 45 pts
2. Sime Fantela/Igor Marenic (CRO 83) - 57 pts
3. Stu Mcnay/Dave Hughes (USA 1) - 63 pts
4. Sofian Bouvet/Jeremie Mion (FRA 27) - 65 pts
5. Lucas Calabrese/Juan De La Fuente (ARG 7) - 66 pts
6. Simon Sivitz Kosuta/Jas Farneti (ITA 29) - 68 pts
7. David Bargehr/Lukas Mähr (AUT 437) - 75 pts
8. Anton Dahlberg/Fredrik Bergström (SWE 349) - 82 pts
9. Yannick Brauchli/Romuald Hausser (SUI 16) - 97 pts
10. Jordi Xammar/Joan Herp (ESP 44) - 98 pts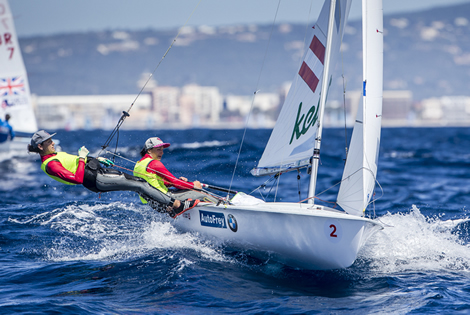 470 Women

"It is really cool," said Vadlau, as the Austrians reclaim the 470 Open and European Championship title they last held in 2014. "My father told me in the beginning that to not give him a heart attack in the medal race, as I should have already have won the Championship before. I told him, 'yeh, I will try my best, but we will see'. And now we have won a day before the medal race is fantastic, it is great."

This time four years ago Vadlau snapped up the final Olympic qualification place at the 2012 470 Worlds, going on to finish in last place at the Olympics. Rock forwards to Rio and Vadlau/Ogar have every chance of claiming Olympic gold.

Vadlau attributed the team's success to pure hard work and dedication. "This is our goal, we have trained only for this. We still have lots and lots of stuff to improve, so that makes us happy to see possibilities to make us better and better and we will not stop working."

Looking ahead to Tuesday's medal race, Vadlau continued, "Of course will always try to win it, but the most important is to enjoy it. Jola said to me yesterday that if we do today good, we will have champagne for breakfast, so tomorrow we have champagne!"

In second place overall Afrodite Kyranakou/Anneloes Van Veen (NED) have guaranteed themselves the European Championship silver medals. The Medal Race will pitch the Dutch against Brazil's Fernanda Oliveira/Ana Barbachan and the USA's Annie Haegar/Briana Provancha for a position on the Open European Championship podium. Slovenia, Japan and France also have a shot at a third place finish in the Open European leaderboard.

"You know the sailing part is the fun part," said Kyranakou reflecting on their campaign. "What is challenging is managing your energy and physical condition and mental part. There is a lot of travelling and racing and you still need to manage to stay healthy and fit and this is the part of being an athlete and staying focused until the end which is quite challenging over the four years. And then in the medal race at the Olympic Games, you must stay as sharp as when you started."

Third placed Fernanda Oliveira is one of the most experienced helms, with Rio 2016 marking her fifth Olympic appearance, and placing her amongst the Olympic podium frontrunners. Commenting on Tuesday's medal race, she said, "It is good to be always trying to get a medal and tomorrow will be interesting to watch from outside and inside there will be a lot of work!"

Taking stock of the team's preparations, Oliveira continued, "I think that we are going well. We are trying to develop and improve all the time. We still have to get some more speed in some conditions, but we have time. Our last event is World Cup Hyeres and then just Rio."

One of the few mothers on the campaign trail, Oliveira feels her daughter is a crucial part of her success, saying, "She helps me a lot. When I am at home with her I forget about everything. Sometimes it is hard though. Imagine today, I did three races and am tired and I still have to go to the beach and play or go for a bike ride or something! For my mind it is very good to be with her. She is a special girl and is enjoying now this part of the life of the athletes and team."

Not advancing to the medal race is a minor concern for Germany's Annika Bochmann/Marlene Steinherr as more importantly their ticket to Rio was confirmed today.

"At the moment no I can't believe it," said Bochmann, the 2011 470 Junior World Champion. "For both of us this will be the first Olympics. It has been hard, we have had lots of problems and only in the past 3-4 months has everything come together and our first goal is now completed."

As in the 470 Men, ten different nations feature in the women's medal race.

470 Women – Medal Race Line Up
1. Lara Vadlau/Jolanta Ogar (AUT 431) - 29 pts
2. Afrodite Kyranakou/Anneloes Van Veen (NED 216) - 50 pts
3. Fernanda Oliveira/Ana Barbachan (BRA 177) - 63 pts
4. Annie Haeger/Briana Provancha (USA 1712) - 67 pts
5. Tina Mrak/Veronika Macarol (SLO 64) - 71 pts
6. Ai Kondo Yoshida/Miho Yoshioka (JPN 1) - 71 pts
7. Camille Lecointre/Helene Defrance (FRA 9) - 79 pts
8. Carrie Smith/Jaime Ryan (AUS 99) - 81 pts
9. Xiaoli Wang/Lizhu Huang (CHN 1221) - 88 pts
10. Agnieszka Skrzypulec/Irmina Mrozek Gliszczynska (POL 11) - 92 pts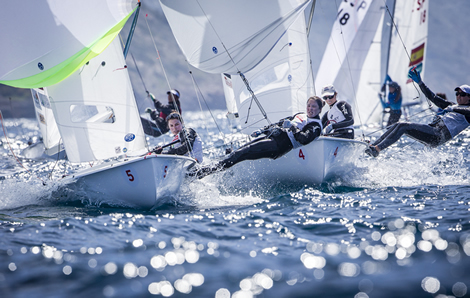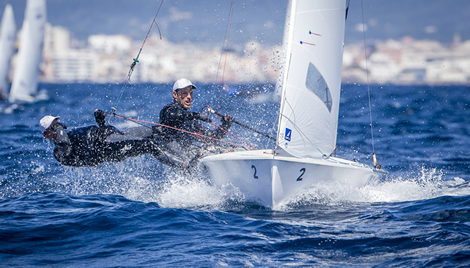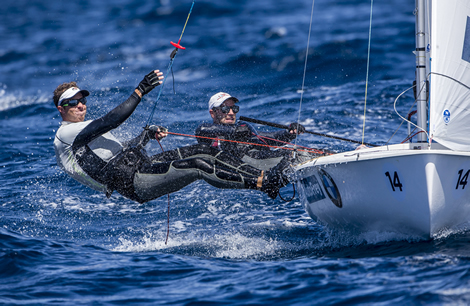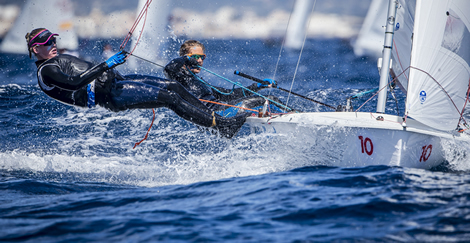 Back to top
Back to top