Bullets for Butters and King
A forecast of eight knots and building opened the second day of the RYA Youth National Championships at Plas Heli. A full schedule was planned, and the full schedule was completed.
There was a number a of standout performances across the classes, including Jack Butters and James King (Parkstone) in the Spitfire who had a clean sweep of wins, as did Clementine Thompson (Guernsey YC) in the Laser Radial.
Crispin Beaumont and Tom Darling posted three race wins and a second, meanwhile Andy Brown's score line was 2,1,1 in the RS:X windsurfing class.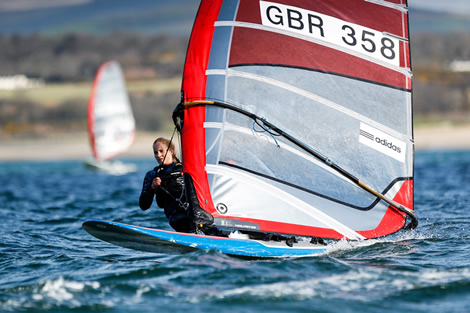 RS:X

Andy Brown's (Largs Sailing Club) racing winning form jumped him up to the top of the RS:X results list.
"It was a great day, pretty shifty, up and down but it was good. Lots of positioning, tactics and strategy," said Brown. "I was quite happy with how I did today and less happy with how I performed yesterday. Now I just need to carry on being consistent, its look windy so I just need to keep thinking about the processes."
Lily Young (WPNSA) transitioned into the RS:X just last year, and is already posting top scores, a second and third put her in sixth overall and second girl.
"It was a good day, it wasn't my best conditions so it's good to see that the fitness I have been doing has paid off, as it was really physical out there, you really had to look for the gusts."
Young continued: "I really was determined to beat some of the boys downwind, they went off to the right and I stayed down the middle and it paid off in the end, it was a really good finish at the end."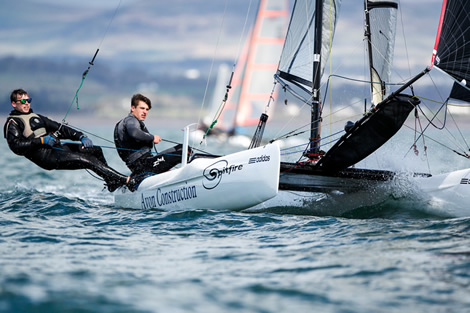 Spitfire

Three wins confirm Jack Butters and James King's (Parkstone YC) lead at the front of the Spitfire fleet. They are confident heading into the rest of the week even as the pressure build towards the business end of the week.
Brother and sister pairing Sophie Heritage and William Heritage (Gurnard SC) sit in second, Caleb Cooper and Megan Smith (Grafham Water) round off the podium in third.
29er

The 29er performance of the day came from Crispin Beaumont and Tom Darling (HISC), winning three of their four races.
"It was so shifty we always had to be on our toes, anyone could come from either side of the course," said Beaumont. "In the last race we took a few more risks because we knew had an eighth to bank but it was about sailing on the lifts. Now we will have to sail championship winning standard for the rest of the week, there are no easy steps."
Darling continued: "We feel really good, happy to finish qualifying on a high, ready for gold fleet tomorrow."
Chasing on their heels are Bobby Hewitt and Harvey Martin (Leigh and Lowton) and brother Dan and Fin Armstrong (Royal Torbay YC) in second and third respectively.
Phoebe Connellan and Sophie Otter (Grafham Water) maintain the girls lead and are fifth overall.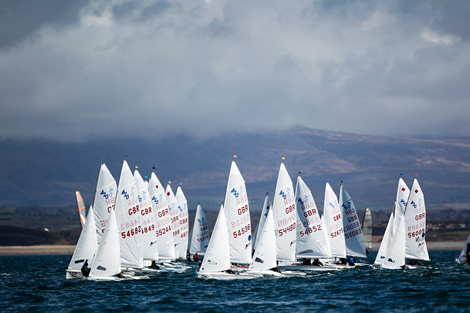 420

Isabel Davies and Gemma Keers (Itchenor) have a ten point lead at the front of the 420 fleet, winning the final race of the day.
"It's really fun and we feel really confident and we enjoyed today. We won the last race, got the shifts right and had a great start. Tomorrow should be windier so it will be easier to be consistent and fun with the waves."
Alex Smallwood and James Scott (Datchet Water) are just behind the girls in second: "We didn't have that higher expectations today, we were aiming to get a top seven, top five, just keeping consistent results, that's what we were going for," said Scott. "Tonight we are going to get a good night's sleep, eat some food. Windy stuff we are ok and there are a few bigger guys than us but we are strong enough."
Hatty Morsley and Pippa Cropley (Port Dinorwic Sailing Club) won the second race of the day and are third overall.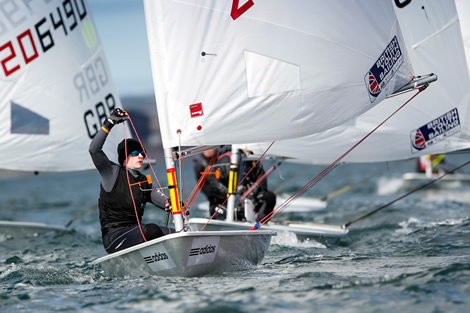 Laser

Sam Whaley and younger brother Ben Whaley from Swanage are the current front runners in the Laser Standard and Laser Radial class respectively.
Sam said: "I had a really awesome day, two firsts and a second so can't get much better than that and it was a great day."
Having your older brother in the boat park can be the helping you hand you need after a long day on the water and a race win in variable conditions.
"It was a bit shifty, a bit fluky but some big shifts where you didn't expect, just about being conservative so I am really happy with my results," said Ben. "It's really good having my brother here because we can discuss tactics and do some tuning up."
Winning Laser racing clearly runs in the family.
Clementine Thompson (Guernsey Yacht Club) jumped right up the leader board to fourth after her three wins, while Ellie Cumpsty (CVLSC) maintains the overall lead.
The forecast for the next two days, is windy with squally showers so should challenge many of our sailors. Racing is planned for 11am on Wednesday 6 April for all classes.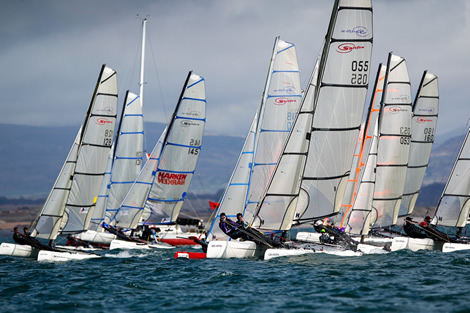 Back to top
Back to top