Golds for Croatia and France
In a medal race battle to the end, stepping away victorious with Gold medals are Camille Lecointre/Helene Defrance (FRA) and Sime Fantela/Igor Marenic (CRO).

A conclusion to the preceding five day of racing all came down to the medal races at the 2016 470 World Championship in Argentina.

In the 470 Women, any one of the top eight going into the medal race had a punt at a medal, whilst in the 470 Men the podium chancers were a bit more clear cut. Series leaders, Sime Fantela/Igor Marenic (CRO) were guaranteed a medal and fighting for gold with the Kiwis and Aussies. Whilst the French were in the hunt for silver or bronze.

After yesterday's storms, calms and in-betweens, medal race day was a much more sanguine schedule. The 470 Women got off first at 1100 hours for their short, sharp twenty-five minute windward/leeward race, followed by the 470 Men.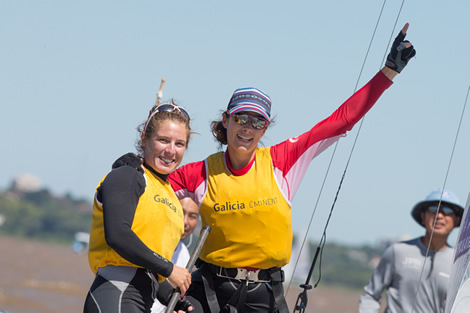 470 Women

Series leaders going into the double points medal race, France's Camille Lecointre/Helene Defrance had a 6 point advantage, giving them very little margin for error. A fifth place finish was more than good enough to secure their first ever Worlds title.

"I have never had this feeling before," grinned the new 470 World Champion helm, Camille Lecointre, "so I don't know how to describe it. It is so good to win with Helene today and I am so proud how we sailed well this week. Nothing was done before the medal race and it was very tricky with very shifty wind. We kept following the wind, even if we were not in the best position all the time, and in the end it worked."

"This morning we thought if we want to avoid all the problems, all the points calculations, we just have to go out to win the medal race," she explained Lecointre. They didn't quite do that, but as good as, by winning gold at the end of it.

"This is something we have never experienced and now I know what the feeling is when you win a World Championship. It is crazy," said a delighted Defrance said, "I am so happy to achieve something you know big, something solid and we are just proud. A lot of emotion. A new feeling I would say."

This surely will seal the French pair's date in Rio come August 2016, although they still await formal confirmation.

"I hope this will be enough," added Lecointre. "I think this is good for our confidence, but nothing is done, as the level in the girls is really tight. This doesn't mean we will be Olympic Champions, we will continue working, but it is a big boost. To know we can win a big event is important."

Despite their slow opener to the Championship, which even pushed them out of the leaderboard top ten, 2012 Olympic Gold Medallists Jo Aleh/Polly Powrie (NZL) dug deep when it mattered and converted their third overall going into the medal race to a silver medal. They needed to finish the high pressure medal race ahead of Austria's Lara Vadlau/Jola Ogar, the defending 470 World Champions, and did just that. An impressive performance in any medal race, but this was a cut above, as crew Powrie has battled illness for several days. To work their way through the fleet from 5th at the first mark to 3rd by the end was some undertaking.

"Polly was incredible; I was so proud today. She was worried about letting us down, she was amazing. She called a few of the bits in the race that actually made the difference," said Aleh after coming ashore. "She could croak things out. She used up the last of her voice in the race. I'm really amazed with Polly's performance."

On their performance at a World Championship in an Olympic year Aleh added, "Yeah, I think it is good. The good thing for us is that there are so many things that we didn't get quite right this week. To still be able to pull off a silver medal feels good. We've got a lot of things to go and work on, so we'll do that and we'll be back fighting fit."

Rounding out the podium are Lara Vadlau/Jola Ogar, who already count gold in 2015 and 2014 and silver in 2013, and now add the missing bronze medal to their collection.

"Here the competition was not easy, so we are happy we have the medal," commented Ogar. "I must say Camille deserved to be first, because she was brilliant tactically and figured out how to avoid the weed. Our finish is OK, but we are looking forward to Rio and this is one of the steps we have to do. We are super happy, because in these conditions to have a medal is quite something."

"We wanted to win gold, but we took what we could take. We did our job and we are ready to work even more," said Vadlau.

Describing the team's race plan, she said "We knew the left side would pay off, and the Kiwis tacked three times on us, which stopped us from going left and I didn't expect this. From this moment on, we were already too far behind to be better than 6th position. Really we killed ourselves from the start, which is a pity but still I am happy."

Glory in the medal race went to Poland's Agnieszka Skrzypulec/Irmina Mrozek, who overhauled early leaders Fernanda Oliveira/Ana Barbachan (BRA) by the second rounding of the upwind mark.

"We were waiting for our moment to push the button," said a thrilled Skrzypulec. "We are very happy that we did it today and this is our first victory in a Championship medal race. This will give us a lot of self-confidence. I don't know if it is a good expression in English, but this gives us a 'licence to kill'," she laughed in reference to the James Bond character.

"Our result is doubly special, as today our team mates won gold in the RSX Men and Women Worlds, so this is a golden day for Polish Olympic sailing," she concluded.

Results (top 10)

1. Camille Lecointre/Helene Defrance (FRA 9)
2. Jo Aleh/Polly Powrie (NZL 75)
3. Lara Vadlau/Jolanta Ogar (AUT 431)
4. Fernanda Oliveira/Ana Luiza Barbachan (BRA 177)
5. Agnieszka/Irmina Orozek (POL11)
6. Anne Haeger/Briana Provancha (USA 1712)
7. Xiaoli Wang/Lizhu Huang (CHN 1221)
8. Sydney Bolger/Carly Shevitz (USA 88)
9. Afrodite Zegers-Kyranakou/Anneloes Van Veen (NED 216)
10. Bàrbara Cornudella Ravetllat/Sara López Ravetllat (ESP 14)

Full results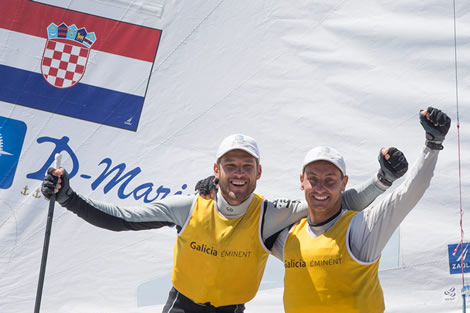 470 Men
"It feels amazing," said a delighted Fantela. "It has been a tough week and we are really happy. After seven years, we got gold back. Mostly every day of this week I was refreshing memories from our gold at the 2009 Worlds in Denmark and I am very happy.

"We had 13 points in hand, which seemed quite easy for us," explained Fantela in reference to their points advantage going into the medal race. "We rounded first at the gate, then suddenly we hit weed, five boats passed us and we rounded 8th at the upwind mark, with the New Zealand guys winning the race and just in a brief moment we were losing it. Fortunately we had a good downwind, stayed calm and we managed to regain some places and secure gold. It looked easy, but this was tough. I am proud of Igor and proud of myself and proud to have the gold medal in our pockets."

Overcoming adversity as faced by the Croatians in the medal race demands special skill sets.

"It helps that we have been in many medal races and we know we have to stay calm whatever," continued Fantela. "Definitely there are moments when we are losing it, but a few deep breaths, some discussion between us, and we are back calm and positive. Plus, there is an automatic instinct which kicks in through all our training."

"We have been so close the last two years especially," said Marenic. "This is a team effort and we did so well this week both of us. At some points this experience we have, our 15 years together, comes to the surface. And in these really, really tough conditions, I think it was harder for the younger and less experienced teams to deal with."

Their fifteen years of experience, so far includes two Olympic appearances, with Rio making it three, two 470 World Championship gold medals, two silver and three bronze, three 470 European Championship medals, and a stack of other top results.

Add to that an Optimist World Championship gold medal sixteen years ago for Fantela and you start to get the picture of the massive depth of knowledge these two have built up.

The speed machines this week, with 5 race wins to their credit including the medal race, were silver medallists Paul Snow-Hansen/Dan Wilcox. They opened their ticket with two wins, and simply were on a mission.

"Our medal race was really good to out on a win, and we are really stoked to have the silver medal," said Snow-Hansen. "It's been a hugely complicated week and everyone has had a story to tell here. You just had to keep concentrating on what you were doing."

The Olympics is in the DNA of the Willcox family. Dan's sister Anna competed in the slope style event at the Sochi 2014 Olympics and is campaigning for 2018, and father Hamish, who has been coaching the boys this week, won gold at the 1984 and 1983 470 Worlds and bronze in 1982.

The scoreboard puts three-time World Champions Mat Belcher/Will Ryan (AUS) and Sofian Bouvet/Jeremie Mion (FRA) on tiebreak, from a redress decision due to a scoring error. Both teams were awarded third place, so in a unique situation they stepped up to the podium together to receive their medals and prizes.

"It's been good competition and apart from the first day's racing we were really happy with how we came back," said Belcher. "Overall, we're happy with our performance, but we're disappointed with the result. When you have won so many worlds, you want to win and that's what we are here for. It's a credit to the others and their performance and they seemed to handle conditions a bit better than we did. We learnt our lessons this week. It hurts a bit now, but we're looking forward to making a few changes and hopefully for the Games we'll be ready to go."

"This is our first medal at a World Championship," said Mion. "It was a tough medal race with very shifty wind and we succeeded to be top three at every mark throughout the medal race. We are very happy with how we sailed throughout the Championship and that it paid in the medal race."

Results (top 10)

1. Sime Fantela/Igor Marenic (CRO 83)
2. Paul Snow-Hansen/Daniel Willcox (NZL 2)
= 3. Mathew Belcher/William Ryan (AUS 11)
= 3. Sofian Bouvet/Jérémie Mion (FRA 27)
5. Luke Patience/Chris Grube (GBR 868)
6. Gabrio Zandona/Andrea Trani (ITA 2)
7. Ferdinand Gerz/Oliver Szynmanski (GER10)
8. Panagiotis Mantis/Pavlos Kagialis (GRE 1)
9. Anton Dahlberg/Fredrik Bergström (SWE 349)
10. Onán Barreiros Rodríguez/Juan Curbelo Cabrera (ESP 9)

Full results

The medal presentations and closing ceremony took place at the Club Nautico San Isidro. After being presented with medals and prizes, sailors let their hair down with a spot of celebratory champagne spraying in true winners' style.

Next up for many teams is Trofeo Princesa Sofia, 25 March-2 April, which will be the 470 Men and 470 Women European Continental Qualification with one nation quota awarded in each event, and the 470 Women African Continental Qualification also with one nation slot awarded. A few days off, and then teams will compete at the same venue for the 2016 470 European Championship from 5-12 April.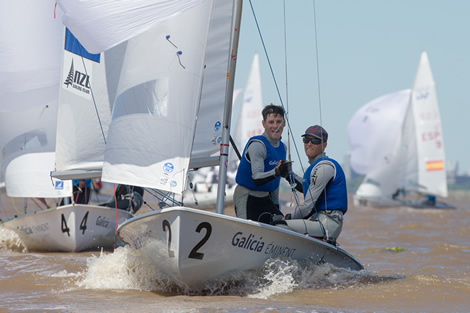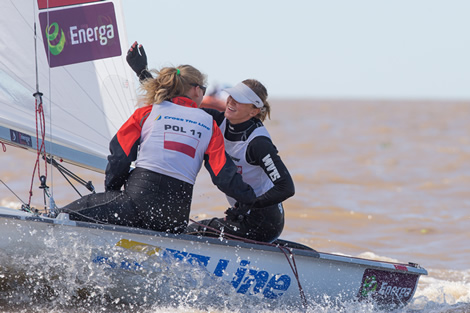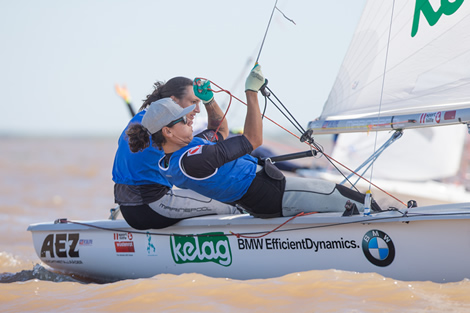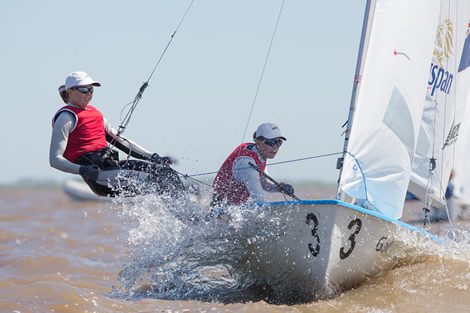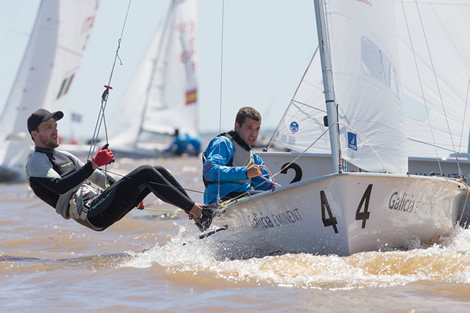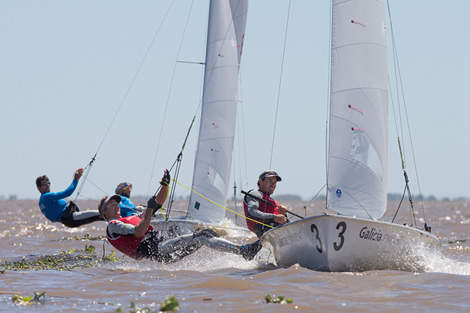 Back to top
Back to top