Denmark and Italy fill the podium
The unbeatable Billy Besson and Marie Riou chose to sail the final race of the series even though they had already done enough to claim their fourth consecutive Nacra 17 World Championship title.
Besson and Riou were pleased with their performance and with the event as a whole. Today the pair took a second placed finish to add to their already extremely low score. When asked how he felt about his days finish Besson replied: "It was a little bit complicated near the harbor because the wind is going to be shifty with the buildings. We finished two, which is not so bad, but when we are competing, we like to win every time." Never settling for second best apparently.

Still sitting in second, taking their first ever silver medal at a World Championship was the Danish team of Allan Norregaard and Annette Viborg Andreasen. Today they found out they are also the Nacra 17 duo set to represent Denmark at the Rio 2016 Olympic Games, this August. Three regattas were used in the Denmark national selections: 2015 Europeans in Barcelona, 2016 Miami World Cup, and this final 2016 World Championship.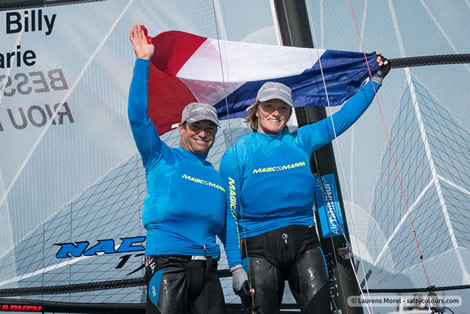 Norregaard said: "It's a big relief to be over that trial, and now we are surprisingly in such a good position, which we didn't know because we were defending our trial, it's really surprising for us that we would end up so high on the scores, so it's really just a bonus for us now to go out there and fight for a medal. It turned out as good as it could for us, cannot complain!"

Today the Danes finished just two places in front of the Italians Vittorio Bissaro and Silvia Sicouri, to give them just a five point lead. The strong Italian team pushed their way back on the podium after their third place finish today.

Thomas Zajac and Tanja Frank came to shore with hanging heads. The pair competed very strongly throughout this regatta and were looking forward to ending this 2016 World Championship with some silverware. The medal race took a turn for the worse for the Austrians. They were focussed very much on their competitors around them and they weren't focusing on the shifty conditions that developed as the race went on.
"It was nice to see that we can fight for a medal, and looking at the 2015 Worlds, they were not like this, so that was quite great. Even with the medal race, we are proud we had come so far," Frank admitted.

This pair will be have their chance in the coming months to take on their competitors once again before Rio.

Australia's Jason Waterhouse and Lisa Darmanin came back from a dip in scores to steadily finish in fifth overall. The pair took a bit of a risky move going into the first upwind leg and had to fight back to recover. "We still were able to pull off a fifth off at the Worlds which is a great achievement, especially after coming off a silver in Miami, so its a great way to finish off our US tour," Jason Waterhouse feels he and Lisa will be able to keep this momentum going into the rest of their season continues. "Now, back home for a bit of rest, and then back at it training in Sydney harbor!"

The sailors all enjoyed their time in Clearwater, and with the trying and variable conditions, they all felt this venue definitely helped to showcase the extreme talent amongst the fleet.
Full results here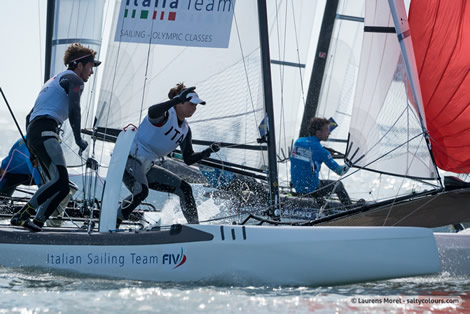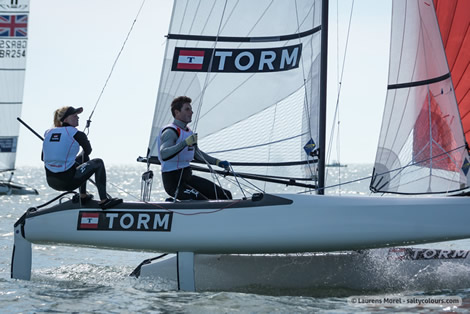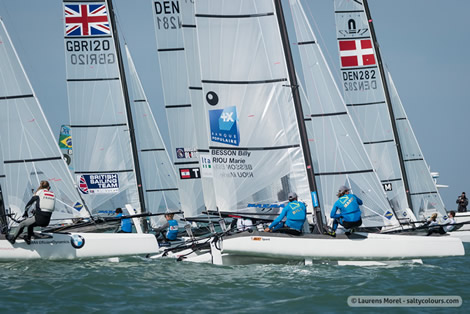 Back to top
Back to top