Return to Weymouth
The eyes of the sailing world return to Weymouth and Portland with Olympic medallists returning to the venue of the London 2012 Olympic Sailing Competition for ISAF Sailing World Cup Weymouth and Portland.
Weymouth and Portland, the fourth of six ISAF Sailing World Cup regattas in 2015, will welcome sailors across ten Olympic and three Paralympic events in Great Britain from 8-14 June 2015.
ISAF Sailing World Cup glory, a share of the €78,000 prize fund and Abu Dhabi final spots are on offer with racing commencing on 10 June culminating in the live Medal Races on Sunday 14 June.
The world's top 30 sailors from the 27 April 2015 ISAF World Sailing Rankings release were invited to Weymouth and Portland with the remaining receiving their spot at the qualification event, the Delta Lloyd Regatta in Medemblik, the Netherlands.
Laser
Pavlos Kontides (CYP) made history at the London 2012 Olympic Sailing Competition by becoming the first athlete from Cyprus to claim an Olympic medal. With gold medallist Tom Slingsby (AUS) concentrating on the America's Cup and Rasmus Myrgren (SWE) stepping away from the boat, Kontides is the only returning Olympic Laser medallist in Weymouth and Portland.
"The best sporting moments of my life are obviously from Weymouth," explained a nostalgic Cypriot. "Scoring two bullets on the second day of the Olympics, holding the yellow jersey mid-way through and finally, glory for myself, my family, my team and my country's first ever Olympic medal.
"[Sailing World Cup Weymouth and Portland] is a perfect opportunity for me to visit the same place where it all happened. It will just always feel special to me and a strong bond will exist due to the memories.
"Of course I do remember a lot of rainy days as well during my preparation there," he said with a winking face on his email response.
Kontides will form part of an exceptional fleet of 40 strong Laser sailors in Weymouth and Portland. The 40-boat invitational fleets were introduced at World Cup Hyères and proved an immediate hit as Kontides explained: "This type of racing is challenging and exciting with no mistakes allowed.
"The start and opening of the race are even more important as recovery opportunities are less frequent due to the high level of the fleet and evenness in speed. Consistency is always key for a good result.
"Competition will definitely be tough and together with the conditions Weymouth is known for, hiking, strong changing current and a big swell will provide the sailors with fascinating racing."
The Laser is one of the most hotly contested Olympic fleets at the moment with a number of competitors consistently fighting for top honours. But what does it take to succeed? "Sailing is a sport which depends on many different parameters," explained Kontides. "Consistency is a must for success as you have to perform well in all kinds of conditions.
"In doing so you have to start good, sail fast and smart with low risk and finish every race as best as possible. You can always win a regatta without even winning an individual race."
Matt Wearm (AUS) recently won the Delta Lloyd Regatta by taking just a single race win from nine races. Consistency is certainly king in the Laser and Wearn comes into Weymouth and Portland eager to continue his good form, "The win in Medemblik has prepared me well for Weymouth. It gives me a great deal of confidence that I have the ability to be on the top of the podium.
"It was also great to be so consistent in the tricky conditions against some tough opponents. The Laser fleet as always is extremely competitive. It feels that you can go to any event around the world and you can expect to be racing the world's best. The depth in the fleet is incredible to that anyone from the top 20 in the world has the ability to win regattas.
"I feel Weymouth will be no exception to this and that it's going to be another incredibly tight regatta between the top few guys in the world. It is definitely now becoming the time where everyone wants to assert their dominance going in to the last year before the [Olympic] Games."
World #1 Tom Burton (AUS) heads into Weymouth in good form having won World Cup Hyères whilst Tonci Stipanovic (CRO), Nick Thompson (GBR) and Philipp Buhl (GER) will all make the journey to Weymouth and Portland well prepared.
Laser Radial
The Laser Radial Medal Race at London 2012 saw a four way shoot out for the medals between Lijia Xu (CHN), Marit Bouwmeester (NED), Evi Van Acker (BEL) and Annalise Murphy (IRL).
Xu went on to win gold and has since stepped away from the Laser Radial to attend university. Meanwhile silver medallist Bouwmeester, bronze medallist Van Acker and the fourth place Murphy all return to the waters for ISAF Sailing World Cup Weymouth and Portland.
"I have fond memories of Weymouth. [It was] a dream come true to become an Olympian in 2012," commented Bouwmeester. "It will be my first time back in the UK since 2012. I am very excited and looking forward to the nice waves in the bay."
Van Acker is also of a similar mind set in advance of competition, "I have great memories of Weymouth. The conditions during the Olympics were fantastic with good winds and sunshine every day. I'm looking very much forward going back to the Olympic venue.
"Winning an Olympic medal was something truly exceptional. My team and I worked so hard for it. My friends and family were cheering for us on the mountain [the Nothe]. It was a dream come true, although I still feel like I could have done better."
The level of the competition at the ISAF Sailing World Cup regatta has the potential to be higher than the Olympic Sailing Competition with multiple entrants per nation possible. The qualification system ensures the best of the best are in the 40 boat fleet, something Bouwmeester enjoys, "In my opinion this concept is the way forward.
"It's nice to have the big fleet qualifying events and then the high level World Cup events. It's nice to race with all the good girls in one fleet, just like the Olympics."
Van Acker added, "Racing in a 40 boat fleet in Hyères was definitely exciting. It's different in many ways, but good fun and good practice for the Olympics. Pressure is on from day one without a qualifying series and with only the top sailors competing.
"I expect fierce competition in Weymouth. The Laser Radial is a very competitive class and there is always a good battle going on between the girls. We are coming closer to the test event in Rio, many national trials are going on so everyone wants to perform at their best."
Ireland's Murphy missed out on an Olympic medal by just four points over the third placed Van Acker but looks back fondly on the venue, "I have a lot of great memories from Weymouth as I first competed there in the ISAF Youth Worlds in 2006. I like coming to Weymouth as it is so close to home for me and because I have spent so much time there everything is very familiar."
Murphy, like Bouwmeester and Van Acker, also pointed out the positives of the elite level competition, "It was really exciting racing with the top 40 boats in Hyères and it brings in a whole new dynamic to Olympic racing. If you make a small mistake you're most likely going to get punished for it as everyone is so close.
"I think you have to work extremely hard to succeed in the Laser Radial right now, everyone is extremely professional and if you're not giving it 100% it is very easy to get left behind."
Belgium's Van Acker will be the one to beat in Weymouth and Portland. Over the last 15 months she has finished on the podium at every ISAF Sailing World Cup regatta she's competed at, winning gold at the 2014 and 2015 Hyères editions and the 2014 ISAF Sailing World Cup Final.
Aiming to halt her run, alongside Murphy and Bouwmeester, will be Hyères bronze medallist Josefin Olsson (SWE), World #1 Alison Young (GBR) and World #3 Anne-Marie Rindom (DEN).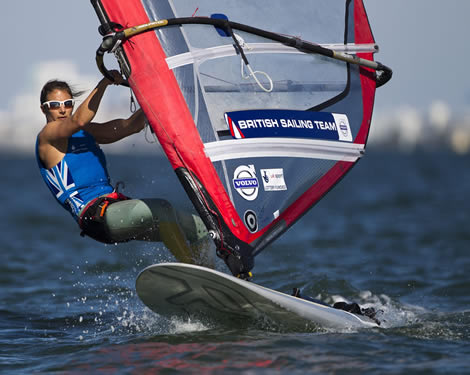 Men's and Women's RS:X
Host nation favourites Nick Dempsey (GBR) and Bryony Shaw (GBR) will be leading contenders in the Men's and Women's RS:X.
Shaw, the current World #1 in the Women's RS:X, took gold at ISAF Sailing World Cup Miami at the turn of the year following victory at the ISAF Sailing World Cup Final in Abu Dhabi, UAE in 2014. A seventh followed at World Cup Hyères but she'll be out to make amends on her home waters.
Joining Shaw in the fleet will be former World #1 Flavia Tartaglini (ITA) and British rival Isobel Hamilton (GBR).
In the Men's RS:X, Dempsey will be the spearhead and the man to beat. Dempsey took silver on Weymouth and Portland's waters at London 2012 and knows the surroundings better than most. He will be joined by a strong pack of Men's RS:X racers that includes Brazil's Ricardo Santos, China's Aichen Wang and Hong Kong's Michael Cheng.
A high level of competition is also on the cards for the Nacra 17, Men's and Women's 470, 49er, 49erFX, Finn and Paralympic events. A further preview will follow on Wednesday 3 June.
Racing at ISAF Sailing World Cup Weymouth and Portland commences on Wednesday 10 June. Medal Races on Sunday 14 June will bring the regatta to a close.British sailors are preparing to take on the world's best on home waters next week, as the ISAF Sailing World Cup series returns to the 2012 Olympic and Paralympic venue of Weymouth and Portland (8-14 June).
Some 76 British athletes, including Olympic and Paralympic medallists, are set to compete across the ten Olympic and three Paralympic classes, plus an invitational kiteboard event, over five days of racing at this fourth stage of the revamped world tour.

Entries are limited to 40 boats in each of the Olympic classes, with qualifying berths either via the ISAF world ranking lists or from last week's Delta Lloyd Regatta in Holland, so the calibre of racing is set to be high from the outset.

Olympic bronze medallist Bryony Shaw, who hails from Weymouth, is excited to welcome an elite world event back to her home waters again.
"Weymouth is my home, my parents live there and they loved the whole buzz of the Olympics and having all the people there. So the fact that there is a truly world class event with the best sailors in the world coming back to Weymouth and Portland is just amazing," the 31-year-old explained.
"The event will be a great showcase for the sport in the UK and us as athletes, and it will also provide the opportunity for people to come into the venue, rub shoulders with some of the best sporting talent and see them doing their thing. That can be pretty inspiring."

Shaw will compete in the RS:X women's windsurfing class, with male counterpart and fellow Weymouth local Nick Dempsey also racing on the waters which saw him clinch an emotional Olympic silver medal in 2012.
World Champion Giles Scott will spearhead the British challenge in the Finn class, still with an 18-month winning streak to his name in the men's heavyweight dinghy event. He'll be joined by 2014 bronze medallist Ed Wright plus young talents Ben Cornish and James Hadden, with the latter having earned a last gasp World Cup berth at the Dutch qualifier a week ago.
Having come within touching distance of victory at the last two World Cup events in Miami and Hyeres, Nick Thompson, 2014 World Championship bronze medallist, will be looking to chase down World Cup gold in the Laser class next week, and with it a timely boost to his 2015 World Championship preparations. The ISAF Sailing World Cup Weymouth and Portland is the last event for the Class ahead of the World Championship, which gets underway in Kingston, Canada, at the end of June.
Three British crews will contest the 470 Women's event, including Olympic silver medallists Hannah Mills-Saskia Clark, plus Sophie Weguelin-Eilidh McInytre and Amy Seabright-Anna Carpenter, who ensured a British 1-2 at the Delta Lloyd Regatta last week.
In the 470 Men's event, Luke Patience and Elliot Willis have World Cup gold and bronze under their belts from the Miami and Hyeres events earlier this year, so will be keen to continue their podium run on home waters, while Alison Young is expected to challenge in the Laser Radial event.
In the women's 49erFX skiff, leading British crew Charlotte Dobson and Sophie Ainsworth will have to sit out of their home World Cup event, with Ainsworth recovering from injury, so Kate Macgregor-Flora Stewart, Vicky Payne-Steph Orton and Anna Burnet-Katie Tomsett will fly the flag. In the men's 49er class, six British boats will be vying for honours, including Podium squad pairings John Pink-Stuart Bithell and Dylan Fletcher-Alain Sign.
Lucy Macgregor and Dave Evans will be putting their new partnership through its paces in the Nacra 17 multihull event, with Ben Saxton-Nicola Groves, John Gimson-Hannah Diamond and Tom Phipps-Nicola Boniface also aiming to be in the mix for the British Sailing Team.
Helena Lucas will have fond memories of Portland Harbour as the site of her 2012 Paralympic triumph as she prepares to race again there in the 2.4mR class this week. Paralympic SKUD bronze medallists Alexandra Rickham-Niki Birrell are also in action, with SKUD newcomers Will Street-Megan Pascoe extending their experience in the two-person Paralympic class into a third regatta next week.
British Sailing Team crews John Robertson-Hannah Stodel-Steve Thomas and Craig Wood-Steve Palmer-Liam Cattermole will be in action in the Sonar class, while mother and son kiteboard World supremos Steph and Olly Bridge are also set to race just along the coast from their Exmouth home.
Racing gets underway on Wednesday 10 June, with the Paralympic Classes concluding on Saturday 13 June and the final ten boat medal races for the Olympic Classes on Sunday 14 June.
Back to top
Back to top