Last minute preparations
Head-torches on, Howie Hamlin and Jeff Nelson were working another late night in the boat park, on the eve of the SAP 505 World Championship in Port Elizabeth, South Africa.

Forced to fit out a brand new boat in record time, the former 505 World Champions are in a race against time to be ready for the first heat at midday on Algoa Bay. Hamlin wasn't even aware of who had won the two-day Pre-Worlds which concluded yesterday, as he and Nelson, along with three local South Africans have been working round the clock to get the new boat ready for competition.

The winner of the Pre-Worlds was another team from California, Mike Holt and Carl Smit, who beat Ian Pinnell and Johannes Tellen on tie-break, with a score of 5,1 from the two races. Holt is the reigning World Champion, although he won last year's Worlds in Germany crewed by Rob Woelfel. Now Holt sets out to claim a second world title, this time with his long-time regular crew Smit. The 2007 World Champion, Great Britain's Pinnell, will be pleased to have settled in well with his crew for the week, Tellen, with solid scores of 4,2 from the warm-up regatta. In 3rd place were the Australians, Sandy Higgins and Paul Marsh, who also racked up a consistent 3,4. Top South African team were Peter and Thomas Funke in 7th overall.

Hamlin and Nelson tried to race in the Pre Worlds, but equipment failure led to their main shroud breaking and the mast come alarmingly close to falling over the side. "Tack!" yelled Nelson to his helmsman, who responded quickly enough to get the boat on to starboard tack and keep the mast in the air. Even so, the aluminium mast had already bent, and while Hamlin managed to bounce it more or less back into alignment, it's a less than ideal scenario for the usually meticulously-prepared, multiple World Champion from California.

It all went wrong for the team - and many other American competitors - when their shipping container was held up by a dockers' strike in San Francisco a few weeks ago. While other notable competitors like former World Champion Mike Martin were left high and dry and forced to withdraw from the event, Hamlin at least had the option of a using a bare, brand new hull that he was already shipping from the UK to Port Elizabeth, en route to his home in California where he would have fitted out the boat at his leisure.

Instead, Hamlin decided to fit the boat out in haste in South Africa. "It was always going to be hard, but we've been really lucky to be helped out by Jim Foot, who lent us his garage, all his tools, and a lot of his time," said Hamlin in the boat park this evening. "We've also been helped out by Andrew Blane and Ewen Hurter who's racing in the fleet this week. It's been five guys working solidly, a combined 200 hours over the last few days to try to get this boat ready. Couldn't have done it without them! When it was reaching midnight I'd say it was time to get some sleep, but they never let up. There's a great 'can-do' attitude here in South Africa."

Asked if by some miracle if he could still win the Worlds, Hamlin would only reply: "Well we're certainly on the back foot!" It will be fascinating to see what Hamlin and Nelson can accomplish this week.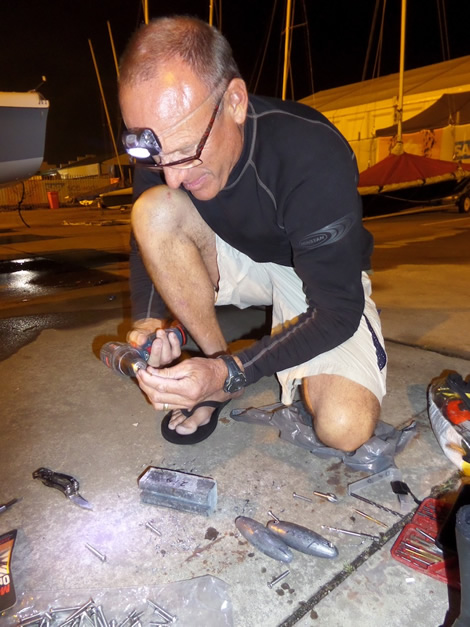 Back to top
Back to top