7 with a day to spare
US 18ft Skiff champion Howie Hamlin turned the memory clock back 12 years when he skippered Harken to victory in Race 6 of the 2015 JJ Giltinan 18ft Skiff Championship today.

Hamlin, who won the JJ Giltinan title in both 2002 and 2003 and this year teamed with Dan Phillips and Skip McCormack, today scored a 24 second win over Thurlow Fisher Lawyers (Michael Coxon, Trent Barnabas, Dave O'Connor). New Zealand's Yamaha (David McDiarmid, Andrew Archibald and Mark Overington) finished in third place, a further 50 seconds behind Thurlow Fisher Lawyers.

However despite finishing in a disappointing eight place today, the Gotta Love It 7 team of Seve Jarvin, Sam Newton and Scott Babbage did enough today to be crowned the 2015 JJ Giltinan champions with a day to spare as a result of the team's brilliant start to the regatta, comprising four consecutive race wins.
After discards, Gotta Love It 7 leads the series on six points, followed by Thurlow Fisher Lawyers on 20, Mojo Wine (Lee Knapton) on 21, Harken 25, Asko Appliances (Marcus Ashley-Jones) on 28 and Yamaha on 35.

A very light easterly breeze saw two distinctive choices made by the fleet on the windward leg from the start at Robertson Point to Rose Bay.

Mojo Wine's team elected to sail a course past Bradleys Head while Thurlow Fisher Lawyers and Gotta Love It 7 went to the right off Clarke Island. When the two groups met off the western side of Shark Island, Mojo Wine was the leader with Harken close behind.

At the windward mark, Mojo Wine held a 20 second lead over Harken, with Compassmarkets.com (Keagan York) in third place just ahead of Yamaha and Gotta Love It 7, which was 1 minute 10 seconds off the lead.

The downwind leg to the mark off Clarke Island, then to the bottom mark back near the start, provided some dramatic changes in the fleet.

Harken got through to the lead while Thurlow Fisher Lawyers was trailing by 10s.

Mojo Wine had dropped back to third ahead of Yamaha then a large bunch headed by Lumix (Jonathan Whitty), Asko Appliances, Knight Frank (Riley Dean) and The Kitchen Maker (John Sweeny).

Gotta Love It 7 had a disasterous leg and was now back in 14th position.

Hamlin and his Harken team took a cenbtral line on the next windward leg and retained their lead while Thurlow Fisher Lawyers and Yamaha settled into a good battle for the minor placings.

The trio held these positions over the rest of the course and now go into tomorrow's final race in a great battle between four boats for second place overall.
From Christophe Favreau / www.christophefavreau.com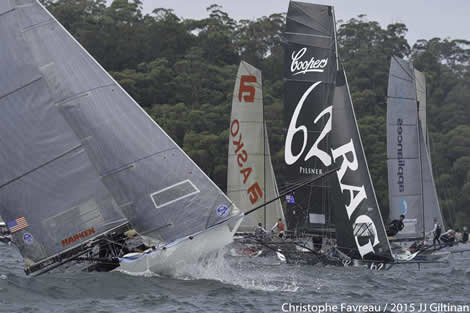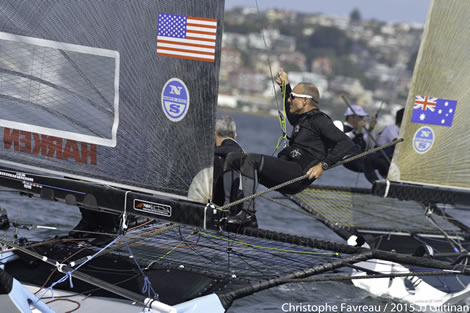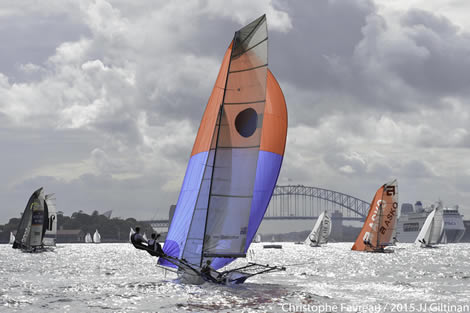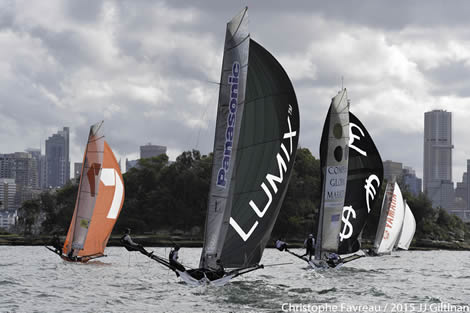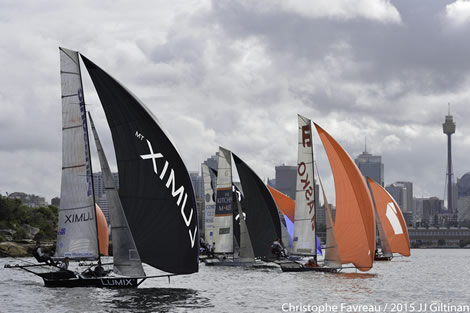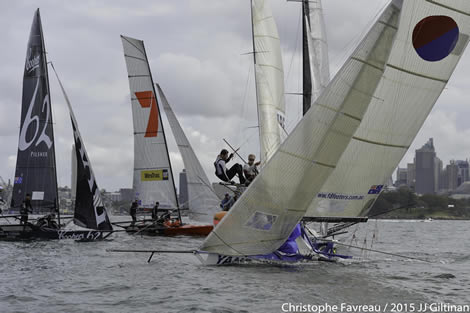 Back to top
Back to top