Gold for Scott and Shaw with a day to spare
Team GBR's Giles Scott and Bryony Shaw sealed early World Cup victories at ISAF Sailing World Cup Miami on Biscayne Bay with a day to spare.
However they are not alone. The Nacra 17 team of Vittorio Bissaro and Silvia Sicouri (ITA) and the breakaway 49erFX Kiwis, Alex Maloney and Molly Meech (NZL) also have gold in the bag.
Seven of ten Olympic classes completed at least one race on Friday in winds varying from light to dead calm, the forecast promisomg a decaying breeze as the day went on, with the 1000 starters enjoying the best of the light wind conditions.
Women's RS:X
Across 13 fleet races Bryony Shaw (GBR) finished out of the top five just once, resulting in an early successful defence of her ISAF Sailing World Cup Miami title.
Shaw has been dominant across the week, mustering such consistency that has been lacking from many sailors score lines in the ten Olympic and three Paralympic events on show in Miami. Shaw ended the day 33 points clear of Lilian de Geus (NED) and a further 14 ahead of Flavia Tartaglini (ITA).
"It's a great start to the year," commented Shaw. "Miami has had a really high quality fleet here. It's been very popular, with the new World Cup format and it was a target event for me. I wanted to start the year on a high. We've had 30 knot gusts down to some marginal and then today was 5 or 6 knots. It was a range of conditions this week and that really played to my strengths. My downwinds have been exceptional this week. I've made some big gains and some big comebacks so I am really pleased."
Silver and bronze have yet to be decided. Hayley Chan (HKG) and Olga Maslivets (RUS) are two points off Tartaglini so it's all on the Medal Race.
Men's RS:X
Dorian van Rijsselberge (NED) is now ten points better off than Thomas Goyard (FRA) heading into the Men's RS:X Medal Race. The Dutchman has been his relaxed yet internally focused self in Miami and is primed for victory if he finishes in the top five.
For Goyard, his performance has come as a bit of a surprise for him. Not for vigilant observers, however, who have seen fervent improvements in Goyard across the last 12 months that resulted in a bronze at the Santander 2014 ISAF Worlds.
He holds a good points margin over the fourth placed sailor and bronze is guaranteed, but he is poised to improve on that, "It's been a really good week for me. I did not expect to be in second but it is a really good result for me," commented Goyard. "The wind was crazy today. Tricky and shifty. It was tough racing and still, really interesting. Everybody has a lot of points currently, even the leader. It's not usual but it's been a good regatta."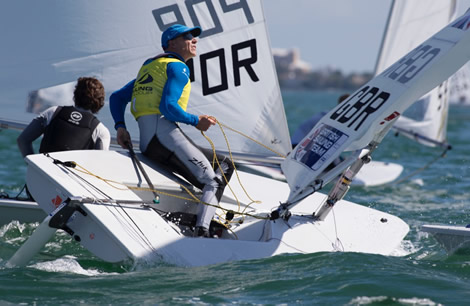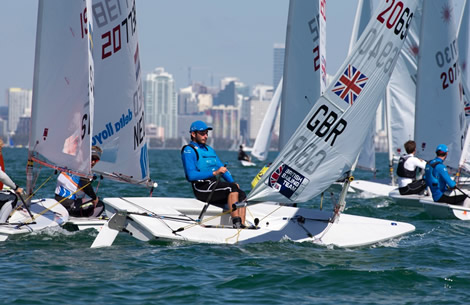 Laser
Team GBR's Nick Thompson will achieve gold or silver in tomorrow's medal race, but Philipp Buhl of Germany is in the same boat, only one point behind. Either of them could place 10th in Saturday's double-points contest and still lead third-place Matthew Wearn of Australia.
Wearn has more to play for. Brazil's formidable five-time Olympic medalist, Robert Scheidt, is 13 points back. Add one more point, and there is New Zealander Andy Maloney. Wearn was smarting from his results in today's races. A 16th and a 30th meant that he has to keep the 20th place finish in race six that used to be his discard. That was the context as he said, speaking for a lot of people, probably "It was extremely tricky racing. You think you're doing well and then the next minute you're not. Usually you go to a regatta and it's all about boat speed. This week was definitely about being smart as well as getting to the right place quickly. Mentally, it's one of the hardest regattas I've ever done."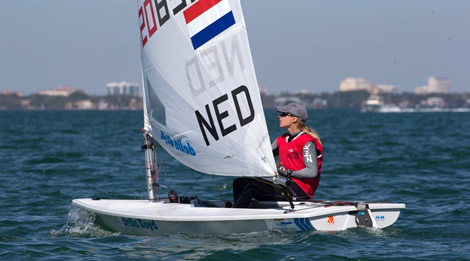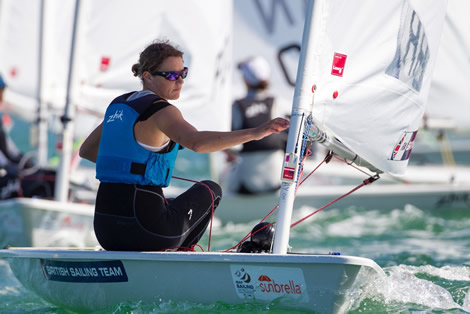 Laser Radial
This Medal Race will be one to watch being probably the least decided. Marit Bouwmeester, NED, Anne-Marie Rindom, DEN, and Evi Van Acker, BEL, in that order are separated by only three points. With such a tight threesome, Van Acker said, "It's going to be an interesting day."
The only other Radial sailor with a mathematical chance at a medal is Paige Railey, USA. If she can win the race, she can beat any or all of the top three, but only if their days turn into a bottom of the pack nightmare.
Railey, a Florida native, called this week of sailing in extremely shifty and unstable winds "probably the most difficult conditions I've seen in ten years of sailing here." With the breeze dropping out of the teens to single digits on Friday, it was close to gruesome, and only a fraction of the scheduled races were completed - and only one Radial race.
"We set up expecting to start in one set of conditions," Railey said, "and then the race started and we found ourselves in something completely different. All through that race, if you weren't on the right end of the shift, you couldn't get to the next one."
Women's 470
Sadly the Women's 470 was unable to compete today. Jo Aleh and Polly Powrie of New Zealand, the gold medallists at the 2012 Games, have a handy lead.
"We went out and waited for breeze," Aleh said of what occurred (or didn't) today. "It looked promising a couple of times, and then it didn't. But the race committee has done a good job through the week, and I think they were right today to not send us off in a race that would have turned into a lottery."
Only the London 2012 silver medalists, Hannah Mills and Saskia Clark, could take the gold medal spot away from Aleh and Powrie, and then, given a 19-point difference, only if the Kiwis stumble badly in a way that they just have not done yet.
The battle for bronze? There are six boats within a 10-point range.
Men's 470
Luke Patience and Elliott Willis of Great Britain are in a position very much like that of the Women's 470 leaders. Like them, they drifted around for a long day with no result but time lost. They too have a nice lead of 15 points, and second place is the only team with a shot at them and they are thus assured of gold or at least silver.
The second-place team is Australians Mat Belcher and Will Ryan, who hold a 13-point lead over third and a 15-point lead over fourth. Onan Barreiros and Juan Curbelo Cabrera of Spain are in third, two points ahead of a pair of New Zealanders, Paul Snow-Hansen and Daniel Wilcox, with another points gap behind them.
A striking fact about the ten boats in the Men's 470 fleet: Ten countries are represented. In order: Great Britain, New Zealand, Spain, New Zealand Sweden, Greece, South Africa, Russia, France, Japan.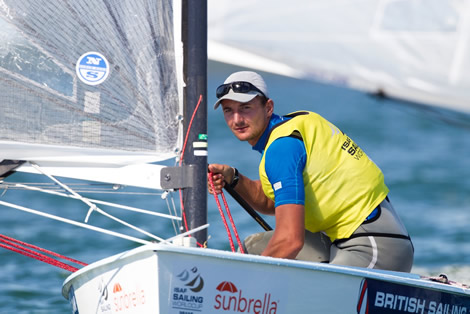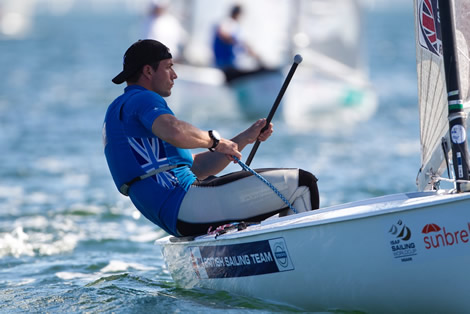 Finn
Finn star Scott extended his dominance in the heavyweight dinghy class to defend his 2014 ISAF Sailing World Cup Miami crown and add another title to his 15-month winning run. The Finn fleet managed their scheduled two races just before the wind shut down, with Scott winning the first of them and finishing fifth in the second with Australia's Jake Lilley – his closest rival heading into the day – finishing deep in the pack.
It was enough to see the World and European Champion go into the final day with an insurmountable 23 point lead.
"It feels very good to be able to round off the racing this morning and have a 23 point lead and not have a stressful day tomorrow!" the 28-year-old Scott admitted. "It was a difficult day today. We were kind of lucky in that we were on so early so we got the morning breeze. It was very light, very shifty, so to be able to continue the sort of consistency I've had all week is great to have done."
With gold already in the bag, those thinking Scott will take his foot off the gas for tomorrow's medal race may need to think again, with the Weymouth sailor stating: "Hopefully I can round the week off well tomorrow."
However the battle for silver and bronze will be hot. Ivan Kljakovic Gaspic of Croatia lifted himself from fourth to second on Friday. "It was not so nice a day for sailing, but it was nice for me," he said. Gaspic now has 46 points to 47 points for Ioannic Mitakis of Greece. The podium spots are their battle, with only Jake Lilley to watch out for. This rising star is another 11 points back after having his worst day of the week, but still potentially a threat.
Remarkably the Finns completed two races. A morning start helped. From a booming 7-8 knots at the start of the first race, the breeze dropped to 3-4 knots by the end of the second.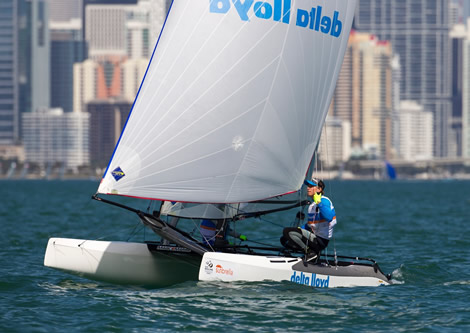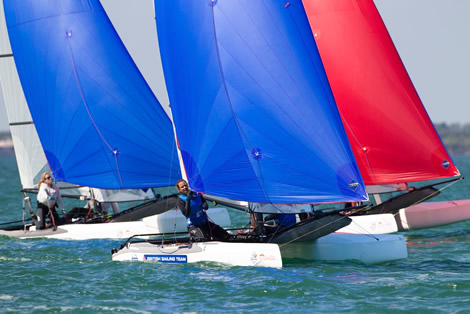 Nacra 17
A professional penultimate day performance from Vittorio Bissaro and Silvia Sicouri (ITA) ensured they go into the Medal Race with gold in the bag.
The defending champions ventured into Miami with one aim, to defend their title. Hard graft had been done over the first four days of the regatta, leaving them in a handy position going into the penultimate day.
Bissaro and Sicouri notched up a 2-1 while their nearest rivals, Team GBR's Ben Saxton and Nicola Groves missed their opportunity to hold on, only managing a ninth and a 21 - their discard. The Italians ended the day with an unassailable 26 point lead to take the title once again.
Saxton and Groves have a 17 point advantage over Gemma Jones and Jason Saunders (NZL) - not untouchable, but Jones and Saunders will more likely have their eyes on Mandy Mulder and Coen de Koning (NED) and Billy Besson and Marie Riou (FRA) who are within striking distance of the final podium spot.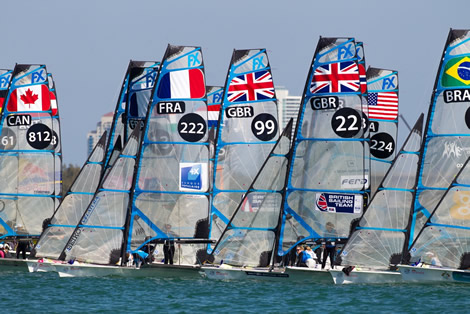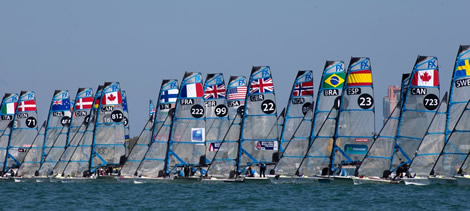 49erFX
Consistent days have been few and far between for the 49erFX fleet. No one has truly grasped the Miami race track and after 15 fleet races, every team counts a triple digit net score.
A 110 point net score isn't usually one which wins regattas, but for Alex Maloney and Molly Meech (NZL) it has proven to be, surprisingly. They hold an unassailable 50 point lead heading into the Medal Race, but will no doubt want to finish strong after a 10-10-20 scoreline on the penultimate day.
There have been 14 race winners across the five day in the 15 race series. Only the Kiwis have picked up a duo of wins, a sign showing that when you read the Miami racing area well, it pays dividends and when you do not, you flounder.
Nonetheless, lessons will be taken away from Miami on the journey to the 2015 ISAF Sailing World Cup Final, which the Kiwis qualify for as event winners.
Although gold is settled, the battle for silver is an intriguing one with one point separating Giulia Conti and Francesca Clapcich (ITA) and Martine Grael and Kahena Kunze (BRA). Jena Hansen and Katja Salskov-Iversen (DEN) are 12 points off the podium and in with a shout.
49er
No racing was possible in the 49er with the light breeze again reaping havoc. The overnight results stand and Nico Delle Karth and Nikolaus Resch (AUT) will take a one point lead over Joel Turner and Iain Jensen (AUS) into the Medal Race.
Spanish brothers Carlos and Anton Paz are 14 points off the leaderboard with John Pink and Stuart Bithell (GBR) two points off of them and Jonas Warrer and Anders Thomsen (DEN) three off. In all likelihood, the medal race will be a duel between the top two with the Spaniards fending off the medal chasers.
Paralympic Events
The Paralympic events came to a light wind conclusion in Miami with no racing possible, so results from overnight stand with the medals confirmed.
Norway's Bjornar Erikstad claimed only his second ISAF Sailing World Cup gold medal in Miami, remaining in control across the seven 2.4mR races. Erikstad's rivals were either inconsistent or picked up penalties that affected their scores. Megan Pascoe (GBR) and Allan Leibel (CAN) were OCS in what turned out to be the final race of the regatta the day prior. Discarding that score ensured they counted their next big score, thus promoting Erikstad and leaving them in silver and bronze medal position respectively.
Although frustrated with her own false start on Thursday, Pascoe was content with her performance this week. "Another World Cup medal – I think that means I've won a medal at every EUROSAF and World Cup event for the past two years, so happy days!" the Portland-based sailor enthused. "It's been a really tough week actually so I'm really happy to come out of it with silver.
"I was really happy with how I was going yesterday boat speed-wise. I struggle in that 10-13 knots usually so I'm really happy that I made a gain there actually. There have been ups and downs [with the OCS] but It's quite a long year to come with hopefully a few more medals."
Dan Fitzgibbon and Liesl Tesch (AUS) made it two ISAF Sailing World Cup SKUD18 victories in a row in Miami. The pair won the Melbourne edition in December and facing new foes, they claimed another scalp. Alexandra Rickham and Niki Birrell (GBR) take silver while bronze goes to Marco Gualandris and Marta Zanetti (ITA).
Rickham and Birrell were frustrated to not get racing to try and reel in the Australian leaders, but Rickham was philosophical after a challenging week: "We're always happy with a medal – not so happy with the colour, but nothing new there. It's a bit frustrating as we'd have liked to have had the chance to go out and battle it out with the Aussies and maybe try and get our hands on the extra shiny one.
"It's been a difficult week across the board," she continued. "There have been really a range of results in all of the fleet just because it's been so shifty, breeze up, breeze down but our scoreline's been pretty consistent – the most consistent in our fleet other than a small blip.
"We can't really be disappointed. We tried out a few new things – some of them worked and some of them really didn't ! That's just how it goes."
A double bullet penultimate day advanced Aleksander Wang-Hansen, Per Eugen Kristiansen and Marie Solberg (NOR) to the top of the leader board. With no racing on the final day, those victories proved crucial as they took Miami gold for the fourth time.
Alphonsus Doerr, Brad Kendell and Hugh Freund (USA) pick up silver whilst Paul Tingley, Logan Campbell and Scott Lutes (CAN) take bronze.
Racing is scheduled to commence at 11:00 local time on Saturday 31 January as the Medal Races bring the regatta to a close.
Back to top
Back to top