Sydney Sailmakers again
The Sydney Sailmakers crew of Nick Press/Andrew Stevenson continues to make light work of the 12ft Skiff Interdominion with a win and a second place on Sydney Harbour today, but the top Kiwi crews of Little Bus (Chris Reid/Andrew Clarke and C-Tech White, Alex Vailings/Fraser Brown are proving a force to be reckoned with.

Race 4 was held on a perfect Sydney summer day in a light ENEerly breeze. Queensland's Hempel Yacht Paints (Michael Spies/Robbie Polec) got away cleanly off the pin right on the gun, leading the fleet up the first beat of the easterly course with Cunning Stunts (Lachie Paramor/Scott Hobson) and Stay Connected Electrical (Jacob Ronowicz/Craig Nicholson) giving chase.

But halfway up the kite run from Rose Bay to Clark Island, Sydney Sailmakers had assumed the lead with Hempel astern while Little Bus had moved into third place. Defending champs, Alex Vailings/Fraser Brown on C-Tech moved quickly up to fourth, chased by Big Foot Custom Trapeze Harnesses (BFTH) sailed by Murray Press/Scott Lanham.

By the time they reached the Robertson Point mark near Kirribilli, Sydney Sailmakers had romped away from the rest, leaving C-Tech, Hempel Yacht Paints, Geotherm (Brett Hobson/Brad Phillips), Press/Lanham, Ghetto Sled (Richard Billett/Ben Cross) and Little Bus to fight it out behind them.

Around the Rose Bay mark for the last time, Sydney Sailmakers left daylight between themselves and Little Bus, which had moved into second place, while Geotherm stayed consistent to finish third and C-Tech was fourth.

Race 5 and the wind hand swung further to the left and increased slightly in strength from 10 to 12-13 knots, perfect No. 1 rig weather.

Spies/Polec hit the pin running again, with Press/Lanham on BFTH, Cunning Stunts and Chapman High Performance Sailing (Adrienne Cahalan/Brett Phillips) going with them.

Further up the line, Little Bus made a perfect start and kept going. Like a runaway train, Reid kept the momentum up, and as his crew, Andrew Clarke, later said, "We had a little bit of wiggle room, clear air and we stayed out of trouble."

The Little Bus crew kept making gains, having nobody but themselves to think about, their big red kite popping at each windward mark well in front of the rest.

Geotherm's crew did all it could to peg back the Kiwis, but were in the unenviable position of also having to cover Press/Stevenson aboard Sydney Sailmakers. Press had worked his way up to third place. His father Murray Press was nipping away at his stern, but could not find the overtaking lane downwind to Clark Island.

In the end, it was Little Bus first, while Geotherm could not withstand the boat speed of Sydney Sailmakers and finished behind them for third.

"We had a terrible start in the earlier race, but we made up for it in the second," Little Bus skipper Chris Reid said this afternoon, following their win.

His crew, Andrew Clarke added: "We've got the right boat and we're just trying to minimise our mistakes."

"The rig's pretty special in light air – great for 10 knots. It's a weapon – a development with Ging (Vailings, C-Tech)," Reid said of their No. 1 rig. "And watch out, you can't take anything away from Ging, he's just getting started."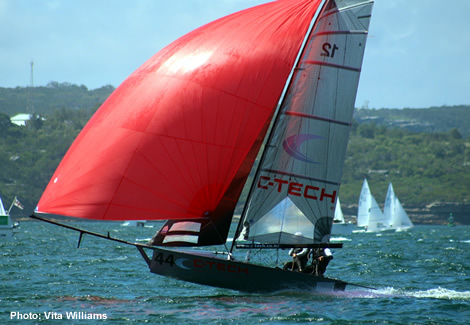 Vailings, whose name is synonymous with the development of the 12 foot class, has been a little slow to get into gear at this regatta.

"We need more time on the boat," Vailings' crew, Fraser Brown said. "Ging is in a funny situation where he campaigns 18s and 12s, so it's hard to get time to practice on the 12 before the Interdominion. We need to get more tuned and practice more. We were a bit sticky in Race 4, but we clawed our way back up the fleet to fourth. We've had our practice now (referring to the five races) and now we're ready to race!"

Hosted by the 18 Footers League at Double Bay, with assistance from Double Bay Sailing Club, the 12ft skiff Interdominion continues with two further races planned for tomorrow, starting from 2.30.
Full results here
Back to top
Back to top