Australia and Austria claim 470 golds
Austria's Lara Vadlau and Jolanta Ogar and Australia's Mat Belcher and Will Ryan stormed to gold in the Men's and Women's 470 as a capacity crowd watched the action unfold at the Santander 2014 ISAF Sailing World Championships.
The spectator Dune was packed with 2,500 to 3,000 sailing fans who watched Vadlau and Ogar claim their first world title and Belcher and Ryan claim their second together. The victory was special for Belcher as he made it five 470 world titles in a row.
After a slight delay to proceedings the Women's 470 got off in 8 knots of breeze at 14:50 local time and were followed by the Men's 470 at 15:50.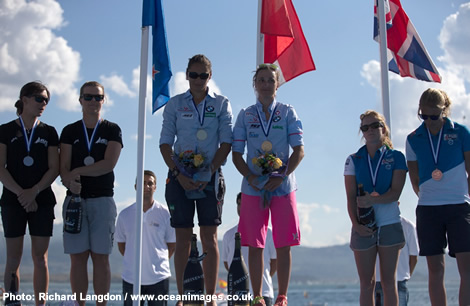 Women's 470
Going into the Medal Race, Championship leaders Lara Vadlau and Jola Ogar (AUT) had to finish ahead of the London 2012 Olympic gold medallists Jo Aleh and Polly Powrie (NZL) to secure the gold medal.
With a textbook perfect start, the Austrians claimed a clear lane, to put the lead in their hands and just over eighteen minutes later they crossed the finish line to become 2014 470 Women World Champions.
At the first upwind mark, it was Japan's Ai Kondo Yoshida and Miho Yoshioka who were closest behind, rounding with just a four second gap to the Austrians, but Vadlau and Ogar's eyes were only on the Kiwis.
Downwind, the Austrians continued to extend their lead over the fleet, with only the British pair of Hannah Mills and Saskia Clark punching through the pack to move up to second place and put in a challenge. Despite pushing hard, there was no change in positions and the two teams crossed the finish line with just five seconds between them, and holding almost a minute margin over the next team, Slovenia's Tina Mrak and Veronika Macarol.
So World Championship gold in the bag, to add to the 470 European title they won in July this year. Just two years ago at the 2012 Olympics, Vadlau finished in last place, with Aleh and Powrie winning Olympic gold. Since, the Vadlau and Ogar partnership has delivered a meteoric climb upwards and today proved once again they have the courage, passion and a burning desire to be the best they can be.
"In the first upwind when we were close to the right layline and we saw this huge gust on the right side and I saw the Kiwis were left side and I said to Lara this is good because we have wind and they don't," said Ogar as she relived the race. "But we didn't get too excited and only when we rounded the downwind mark did we realise we could have it. But we still stayed focused and remembered the times when we have been leading a race and then lost first place because we were too relaxed. We never win medal races! Yes we won in Miami, but it was not such a strong fleet."
"For this medal race I told Jola I will sail the wind and check the wind and you will keep your eyes on all the other boats," said Vadlau. "Yes, this is always our plan," added Ogar. "It works and if something is working, you shouldn't change it!"
"It is amazing, we are World Champions," grinned Vadlau. "You know I told Jola before the race that we must win it because I want to have a gold 470 on my mainsail," she added referring to the right they have now earned themselves as World Champions.
For Aleh and Powrie it was effectively game over for gold within the first six minutes of the race, as they rounded the first mark in seventh and knew there was no hope of catching the Austrians. The 2013 World Champions' race was now all about ensuring they didn't let any more boats get between them and the British, to ensure they could keep hold of silver.
"From there, winning was out of the question. We just had to make sure we were close enough to the prints to make sure they couldn't get us," commented Aleh. "We just had to keep our composure on the next beat and take a few boats which we did, so that was some consolation."
"It was a pretty tough race and the Austrians just did it really well. Good on them as they sailed a really good Worlds.
"We are getting there, but there is a lot to work on. I guess that's what good about these regattas, when it doesn't all go well we find more things to fix for next time. The Austrians are getting better and we all need to keep going. There is a lot we can do better," Aleh concluded. A couple of weeks break at home, and Team Jolly will then be back in Rio in December 2014 for training.
The 2012 Olympic Silver medallist Hannah Mills and Saskia Clark sailed a perfect race, but were always too far behind on points to have a real shout at silver or gold. For them, securing the bronze medal was a pleasant surprise, as the pair still don't feel in prime performance mode, after both having injury set-backs earlier in the year. The Olympic silver medallists went into the final day in bronze medal position, with an outside chance of moving upwards in the rankings, and gave a strong display to finish second in the medal race behind the Austrian duo who were crowned World Champions.
With their second place in the race, the British duo had to hope that New Zealand's defending champions and Olympic gold medallists Jo Aleh and Polly Powrie finished the 10-boat race in ninth or worse to wrest the silver medal from them. Mills and Clark were happy with their efforts and to have remained among the leading lights in the women's double-handed class.
"This was all we could have hoped for today really," Cardiff's Mills explained. "It was too far for silver and gold to be in with a shout so we did just did the best job we could and came home with the bronze. This is the ISAF World Championships, it is only once every four years - it is a big deal in the build up to any of the Olympic Games so to come here and perform we are really happy. It's not quite the colour we wanted but we have a lot to work on."
The medal racers played to a 2,500-3,000 strong crowd in the grandstands, but had to wait to get their race underway as the sea breeze built.
West Mersea's Clark explained: "It was a big deal this morning there was lots of noise when we came to the boat park. We don't get much chance to practice in that - it is only the Olympics really we have all that kind of excitement. On the water it was really tricky with land all around us that is similar to a lot of our race courses in Rio so we feel we have made a real step forward sailing in that kind of breeze this week."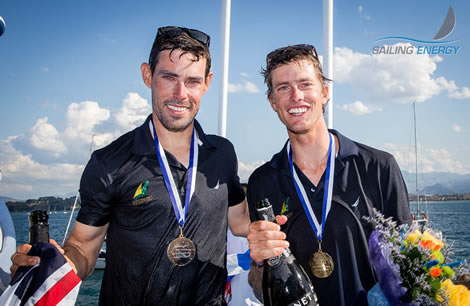 Men's 470
The gold medal was effectively a done deal going into the Medal Race for defending World Champions Mat Belcher and Will Ryan from Australia. In theory Croatia's Sime Fantela and Igor Marenic could get their hands on claim gold, but in practice the chances of that happening were remote as the Croatians would need to win the Medal Race and the Aussies finish last.
In front of a home team, the reigning 470 Junior World Champions Jordi Xammar and Joan Herp led to the first windward mark, and controlled the race from start to finish. Whilst the Spaniards had no chance of a podium spot, they knew a win would put them up the leaderboard, but even more special was to win a Medal Race in front of a home crowd, including the eyes of the Spanish President.
Onto the second upwind leg and the Spanish and Australians split, each choosing a separate side of the gate. Advantage to the Spanish, but not such a good choice for the Australians who dropped back to fifth overall, but this was no worry for the Australians. Belcher and Ryan clawed one boat back to finish the medal race in fourth place and successfully secure their second World Championship title together, but Belcher's fifth successive World Championship title.
Celebrating his 32nd Birthday today, Belcher gave himself one of his most memorable presents by becoming the only sailor in 470 history to win five successive World Championship titles.
"It is really cool. Amazing. Now I can really celebrate. It is a shame my wife and son can't be here, but I will see them tomorrow. It is so cool and I didn't think we would be in this position. It says a bit about our personality too, that we went through that winning streak of two years and to keep focused on what we are doing. It doesn't really bother us or distract us. We are really just enjoying what we are doing and racing our competitors and having fun and that is the main thing to keep winning and keep performing.
"It has been so up and down here. We are really happy with how we have performed and it is nice to come away on top," said Belcher.
Croatia's Fantela and Marenic went into the Medal Race in silver medal position, but as they found themselves back in eighth place at the windward mark things were not looking so good and they had lost the silver medal to the Greek team of Panagiotis Mantis and Pavlos Kagialis who were in fifth. The Croatians resolutely fought back, chipping their way up through the fleet to finish in sixth place, with the Greeks in fifth, and seal silver by a three point margin, with bronze to Greece.
The silver medal was the one colour missing from Fantela and Marenic's haul of medals, so now they count, one 470 World Championship gold, one silver and three bronze medals.
"It was very close, but it ended up very well for us with our fifth medal in a row and the only medal that we missed in our collection. Gold, three bronzes and finally one silver. We are very happy," said Fantela. "Today's medal race was quite tough as Mat and Will were keeping an eye on us more than expected, because there was theoretically an opportunity that we might beat them. During the race he tacked on us more than a few times. This was hard for us as we had to control the Greeks, so it was very tough until the finish."
Mantis and Kagialis also sailed an incredibly strong series with all top-10 finishes apart from one 15th place in race 6.
"Our plan was to stay close to the British to ensure we could secure the bronze medal," said Mantis. "We had the option to get silver, we were close but I think everyone got what they deserved and we are all happy."
Heading towards the finish, at the front of the pack the Spanish had to stay calm with the British and Americans hunting. But their lead was more than enough to win the race, with Luke Patience and Elliot Wilis (GBR) finishing in second place and Stuart Mcnay and David Hughes (USA) in third. As the Spanish crossed the finish, the crowd on the Duna simply went wild, and Jordi held his head in disbelief at their achievement. Xammar and Herp couldn't quite take in the applause as they sailed in front of the Duna grandstand, before coming ashore by RIB and in true superstar style worked their way through the spectators to massive applause.
Team GBR's Patience and Willis had a tricky ten point gap separating them from the third-placed Greek boat heading into the final day, they just had to sail their own race and hope that the finishing positions around them fell favourably. And it almost worked out, with the Greeks back in sixth in the race at one stage and needing to be seventh for the Brits to sneak past them on the podium, but they pulled back to finish the medal race in fourth.
"I've never finished fourth before," said Helenburgh Olympic silver medallist Patience after the race. "It's a new feeling and not one I'm particularly keen on! It was a really big ask to win a medal due to the amount of points that were separating us. It was going to take them having a bad race as well as us having a good race. So we could only do what we could do. We are racing well, we are going fast and we are on track for what we're trying to achieve in two years' time."
Willis added: "We've had a great season – we've medal raced all year, we've won the Europeans and were second at the Test Event in Rio so we're going well. We've got a few fine bits to sort out boat-wise and equipment development-wise and we're looking forward to the next year."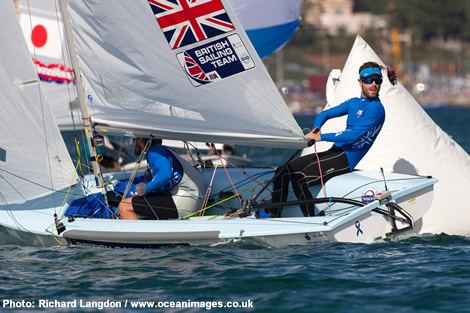 Back to top
Back to top