Too much wind now...
Sailors arose to big breeze in Santander for the sixth day of racing at the Santander 2014 ISAF Sailing World Championships and with 64 scheduled races it was set to be a big Wednesday.
Gusts of up to 30 knots were reported across the race track early on in the day and with an 11:00 local time start some of the fleets took to the water. As the day progressed the breeze began to decrease significantly across the race tracks but all fleets, apart from the Nacra 17, were able to get racing in.
The Laser and Laser Radial have completed their series and the top 10 in each fleet will now advance to Thursday's Medal Races. The 49er, Finn and Men's RS:X completed their qualification series whilst the 49erFX need to complete two further races and the Men's 470 one to complete theirs. Racing in the Women's RS:X and Women's 470 resumed with gold fleet competition.
Laser Radial
Evi Van Acker (BEL) gained valuable points for the Medal Race and got closer to the top three overall who adopted a more careful strategy. "I had a good start at the committee boat end. It was a good wind and I rounded the first mark 4th or 5th and then went hard right on the second windward leg whilst most of the fleet went left. I got a nice shift and moved up to first. It is a pity we could not race more races today."
Ann-Marie Rindom (DEN) also helped her overall position going into the Medal Race, "It was really windy when we got out to the start. When we eventually started my start was not very good because my mainsheet was stuck to my rudder. But I got fresh wind because I tacked to the right because I saw more wind on the right. You have to be quick in these conditions to take your chance. I was looking for the pressure and led round the first mark. The conditions were very up down and I was trying to cover the fleet but Evi passed me."
Marit Bouwmeester (NED) sailed a conservative race to finish 12th but still has enough better positions in the bank to go into the Medal Race with a lead of 10 points. That means she has to finish in the top four places to win the championship title. However there are nine other sailors behind her trying to take a podium positon. Closest to Bouwmeester is Veronica Fenclova (CZE) and Josefin Olsson (SWE) who are both on 37 points and Van Acker is only three points more behind who would also like to take the title or at least a silver or bronze.
Team GBR's Alison Young's third place in the only race for the Laser Radial class was enough to see her into the medal race positions, and confirm Great Britain's country berth in the women's singlehander at Rio 2016. The Bewdley sailor is out of contention for the medals, but can be satisfied with her showing at just her second regatta back after an illness-affected season.
Laser
The Laser fleet managed just one of their scheduled three races on their penultimate race day as officials struggled to maintain the position of the starting boat in the strong winds.
Matthew Wearn (AUS) finished his championship off on a high point mixing it with the rock stars and holding his own to take the winning gun ahead of Phillipp Buhl (GER) and Nick Thompson (GBR) in the single Laser race.
On the proceedings Thompson said, "It was a good technical race with lots of shifts. We mostly played the middle and we were swapping places most of the way round."
Overnight leader Tom Burton (AUS) holds his lead and was relaxed when he told his story, "There was a lot of waiting and not much sailing but some events are like that. My race was not too bad. I got round the first mark in fourth but I got myself kind of stitched up on the second beat when I missed a persistent right shift and dropped to seventh. That could be costly but it was not a too bad race anyway."
Burton goes into the Medal Race two points ahead of Thompson who in turn is only four points ahead of Nicholas Heiner (NED). Philipp Buhl (GER, who has hit a purple patch in the last three gold fleet races, is breathing down his neck.
Thompson has medalled three times at a world championship and after nine times world champion Robert Scheidt (BRA) in 6th place is the second most experienced sailor in the top ten. For sure he will be fighting hard to complete his medal set.
Thompson will head into tomorrow's double points medal race effectively tied with the series leader Australian Tom Burton. But the Lymington sailor made the most of his one race to narrow the gap on the series leader heading into Thursday's finale: "I managed to get a third, so that was pretty pleasing but it was a bit of a hike-off really on the first upwind and then there were plenty of shifts to make it interesting," the 28-year-old explained.
"From there I kept in second and third the whole way round and finished up third, which is good. It's all reasonably close, so it's all about trying to bring back that gold," said Thompson looking ahead to the medal race. "It's going to be the same for a few guys – it's quite close with the top three or four but hopefully we'll get some breeze and it will be a good race."
The scene is set for an exciting Medal Race in both fleets tomorrow morning.
49erFX
The 49erFX had an explosive day, but in the end not much racing that counted. The day started off with a bang when the breeze kept building all morning. About half of the fleet managed to bear away after the first mark, but nobody could make it to the leeward marks and the race committee abandoned the racing. There were casualties, however, as in the big breeze there were a number of broken masts, a broken wrist, and a separated shoulder.
The fleets were sent home to wait out the squall, and by the time they came back out there was a decaying breeze that allowed the fleet to get one race in. They were racing in front of large crowds on the Duna course and Charlotte Dobson and Sophie Answorth (GBR) dominated from start to finish taking the win which puts them on the top of the leaderboard in a tie with two others.
Martine Grael and Kahena Kunze (BRA) had to battle their way forward into the second place spot and likewise Jena Hansen and Katja Iversen (DEN) also had to make passes to take 3rd. The wind kept dying and it did not allow for any more racing for the 49erFX, who now stand at three races each over the three days so far. It is expected they will forgo their lay day to complete qualifying tomorrow.
Team GBR's Charlotte Dobson and Sophie Ainsworth bounced back from protest disqualification yesterday to win the only race for the 49erFX class today. They top the standings in the women's skiff event after three races, with Kate Macgregor-Katrina Best in eighth and Frances Peters-Nicola Groves in 15th.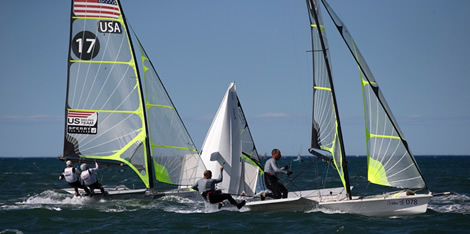 49er
The 49er racing was all about completing qualification and securing a spot in Gold fleet for the final part of the championship. The 49er racing started out with a final race of the yellow fleet to even up the fleets. They went out into big breeze and difficult conditions. Of the 40 boats racing only 19 managed to complete the course. It was complete carnage on the water, and heartbreak for Dylan Fletcher and Alain Sign (GBR) who scored a DNF, effectively knocking themselves out of the championship.
For most of the rest of the contenders, the goal of making gold fleet was achieved. Peter Burling and Blair Tuke (NZL) had another stellar day with a 4, 1 and sit atop the leader board. Jonas Warrer and Anders Thomsen (DEN) had a pair of 3's, Manu Dyen and Stephaine Christidis had a 4, 2, and Dave Gilmour and Rhys Mara (AUS) had a 4, 1.
The final race of the day was quite a special one. Struggling to find steady breeze outside, the course managers brought the 40 boat fleet to the Duna Medal Race course area for one final race. The area is restricted due to the shipping channel, so the 40 strong fleet raced a 4 lap race in over 15 knots that only took 16 minutes. The crowd were boisterous in approval of the amazing display of talent and boathandling required for these sailors to pull off such a feat of seamanship. The largest cheer of the day was for the Paz brothers who finished third in the race, which was just what they needed to secure one of the final gold fleet spots.
The fleet now turns its attention to Olympic qualifying. There are 14 countries represented in the gold fleet and 10 Olympic places on offer. Here are teams making it so far, bearing in mind there are protest being held at the time of press: NZL * 3, DEN, USA, AUS * 2, POR, ITA * 3, GBR * 5, FRA * 3, IRL, FIN, CRO, AUT, POL, ESP.
The battles for Olympic positions and the podium are shaping up.
John Pink-Stuart Bithell are the highest placed British Sailing Team crew presently, in ninth overall, with four other British pairs joining them in the finals series. Dave Evans-Ed Powys, Nic Asher-Fynn Sterritt, Stevie Morrison-Chris Grube and James Peters-Sam Batten also make the cut. But there was disappointment for European silver medallists Dylan Fletcher and Alain Sign, as equipment breakages and crashes compounded a bad opening day on Monday, ruling out their World Championship medal chances for another year.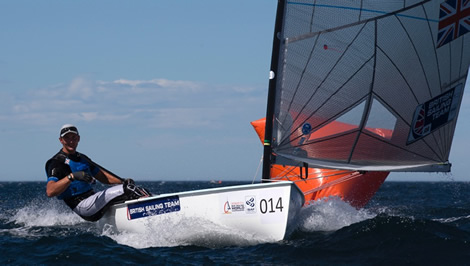 Finn
Giles Scott produced a dominant performance on the third day for Finns with three more race wins giving him a perfect score after four races sailed. The opening series is now complete, so from Thursday the fleet will sail in gold and silver fleets. Jonathan Lobert (FRA) recovered from a double capsize in the first race of the day to score 2, 4 and trail Scott by six points. Ed Wright (GBR) was unable to sail the opening race after picking a black flag disqualification in Tuesday's abandoned race but channelled his energies into the remaining two races to pick up two race wins to sit in third overall.
It was a tough day for the fleet starting out with epic conditions with 20 plus knots of breeze which decreased through the day for a tricky final race with some major wind changes.
Scott summed up his day, "Early on it was pretty epic, but we had two hour wait because they couldn't get the committee boat to hold station and then the last race turned a bit odd with the wind swinging through 180. The wind just kept going right all during the race. The shift was very gradual, but it wasn't normal racing. But for me personally it was still a very good day so I am happy about that."
He added: "Today we've managed to finish the qualification and we're into gold and silver fleets so the racing will get a lot tighter from tomorrow. That's where the regatta really starts so tomorrow's a very important day. I managed to come away with three firsts, which I'm very happy with. It was a pretty frustrating day for the fleet in general I think – the race committee had some issues holding anchor so we were delayed by a couple of hours. The result of that was we had a pretty dodgy race for the final one. But for me personally it was all good and I managed to get a good result in that last one as well."
Lobert said, "In the first race I had a double capsize. I had a great start, but it was very shifty and very turbulent so it wasn't easy. I was top ten at the first mark so that was okay. I made a mistake downwind. One big gust came and I was surprised and capsized by the lee. It took me a while to get the boat up and I capsized again at the downwind mark. So I was full of water and it was race over for me.
"Then I tried to be in good shape for the next races. I got a second in the next race so that was good. I was also on the game in the next race. I was third at the downwind mark, and I lost a little bit, but managed to come back to fourth, so pretty happy with that. But now I know that I cannot make any more mistakes."
Britain's Ed Wright is poised in third overall, winning the second and third races on Wednesday after having to sit out the first one following a black flag disqualification in a previous attempted race.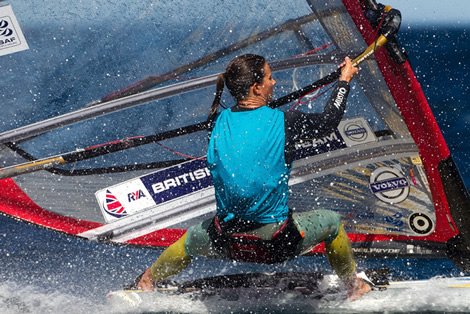 Men's and Women's RS:X
A strong offshore wind that established through the night was waiting for the participants at the race area Freixenet in front of the famous Sardinero beach.

As always, a change of the wind causes changes in the results. The stronger the change – the more dramatic reshuffle we see. That was exactly the case for today!

Stable strong wind across the course allowed sailors for the fulltime planing. But the poor-to-killing-strong wind at the top mark which was set in the pretty unfair area under the cliffs, led to some very unpredictable changes in the results.

That was evidently seen when the guys were switching from full planing to a full stop within 50 metres to the top mark. "The more overlay - the better you go" scenario has spoiled a proper sailing impression, but the top sailors are on top anyway.

The second race was the toughest wind wise for girls with extreme wind gusts on the downwind and leaders capsized multiple times during the race.

Charline Picon (FRA) has set high standards in the Women's RS:X fleet, showing extreme consistency with three third place finishes today regardless of the racing conditions. The experienced French racer has kept increasing her lead this week and is an impressive 20 points clear now.

Zofia Noceti-Klepacka from Poland climbed up to second with two bullets today. Another French racer Eugenie Ricard (4,6,11) climbed to third overall and is closely followed by Maayan Davidovich from Israel, bronze medallist from the 2013 RS:X World Championship. Davidovich got a 5,4,2 in her bag today.

It was a frustrating day for Britons' Bryony Shaw and Izzy Hamilton as they dropped from second and and seventh to fifth and ninth respectively. Patricia Freitas from Brazil also dropped down to 10th having been third overnight.

London 2012 Olympic gold medallist Marina Alabau (2,10,8) improved after an unsuccessful start of the regatta in light wind and jumped and jumped up to eighth position. Alabau was happy with her speed even though some tactical decisions were not that good.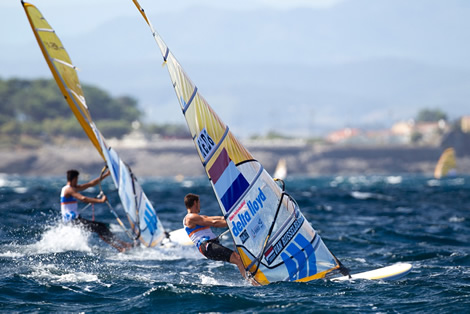 The Men's RS:X leader board has changed as well. The man of the day and present leader of the regatta is Julien Bontemps from France who, with his 3,1,1, jumped from fifth overall to first. He holds a six point lead over Poland's Piotr Myszka (7,4,6) and his compatriot Przemyslaw Miarczynski (2,5,4) who climbed into the top three from seventh overall.

It was a tough racing day for Pierre le Coq (15,21,13) to and he slips down from third overall to 11th. Strong wind specialists like Nick Dempsey (11,20,19) and Dorian Van Rijsselberge (14,6,8) were not too happy with their racing at but still confidently sit in the top ten. Dempsey, the defending champion, cited 'missed opportunities' as he dropped to eighth overall with one more fleet racing day before their medal races on Friday.
With another three races scheduled for tomorrow the overall picture can be easily changed with the top ten in the Men's and Women's fleet quite close on points which makes the game very interesting.

Men's 470
The day kicked off with race 3 for the 470 Men blue fleet, to get them on equal races with the yellow fleet. An on-water postponement for around an hour was pretty challenging, in big breeze and big waves, as they waited for the Race Committee to re-set the course.
A useful win to Greece's Panagotis Mantis and Pavlos Kagialis (GRE) saw them leap up to third overall on the leaderboard.
Second place for Spain's rising stars, and back to back 2013/2014 470 Junior World Champions, Jordi Xammar and Joan Herp marked a career best race result in senior fleet racing. With a leaderboard 19th place, the pair are now the highest placed home team after three races.
Sime Fantela and Igor Marenic (CRO) continued their run of consistency, finishing race 3 in third and move up to second overall on the leaderboard.
Series leaders, Stuart McNay/David Hughes had a change of form, adding a 12th place finish to their otherwise perfect scoreline of two wins, but still retain pole position.
The blue fleet were then sent ashore, to the Spanish team's relief, as Herp commented, "We left our lunch in the boat park, so we were happy to come and eat."
Although delighted with their second place, it was almost a race win for the Spanish, "We started well, although the Greeks were better and had more pressure next to the Committee boat," explained Herp. "We were next to the pin, where there was a bit less pressure, but we managed to go faster than the guys next to us, tacked and crossed, and were in the top 3 by the first mark."
They headed upwind in a close pack with the Greeks and Croatians, passing both to take the lead from the second upwind leg and extended. Onto the last leg to the finish, and the Croatians forced the Spanish up on the reach, giving the opening for the Greeks to sail through and take the win. Regardless a really promising result for the young Spaniards.
After a brief break ashore the 470 Yellow and Blue fleets were sent back out to the race track, but the wind failed to deliver so no more racing. The pressure is now high intensity, with just two more days left to wrap up the qualification series and get the Gold and Silver fleet racing underway, before Medal Race day on Saturday.
Women's 470
The 470 Women Gold Fleet were anticipating some big breeze conditions for today's races 5 and 6, but by the time they got out on the race track and started just before 16:00 hours, the conditions had eased and were much lighter than anticipated.
It was a tight race 5 with under 20 seconds separating the top three finishers. Austria's Lara Vadlau and Jola Ogar nailed the win, just ahead of Brazil's Renata Decnop and Isabel Swan, chased by Japan's Ai Kondo Yoshida and Miho Yoshioka in third. The Austrians now leap to the top of the leaderboard, with the world #1 pairing of Camille Lecointre/Helene Defrance in second and the 2012 Olympic silver medallists Hannah Mills and Saskia Clark (GBR) in 3rd.
Reigning Olympic and World Champions Jo Aleh and Polly Powrie (NZL) sit in fifth place. As the only team in the Gold fleet counting an all top 10 scoreline of keeper results, they are just waiting for the opportunity to pounce on the teams ahead who all carry double-digit scores in their race series.
No race 6 for the Gold fleet, as the easing breeze became destabilized, forcing the Race Committee to abandon racing for the day.
For Japan's Ai Kondo Yoshida, today's third place finish underlined her decision to return to the Olympic fray. Kondo Yoshida has notched up appearances at Beijing 2008 and London 2012 Olympics, then took a year out to consider her competitive future. "I have won some events, but never got a top result at the Olympics and that is a driving factor," she said. "After taking some distance from competition, I just realised how much I love sailing and just wanted to be back."
Kondo Yoshida's Olympic campaign number 3 sees a new partnership with Miho Yoshioka, in a balance of experience and youth. Yoshioka is a decade younger than her helm and knows she has plenty to learn. "I am very excited," said Yoshioka, "and lucky to team up with Ai. But our experience is very different as Ai is a top sailor and super sailor, so I feel the pressure on my shoulders to match that experience."
Racing is scheduled to resume at 11:00 local time tomorrow.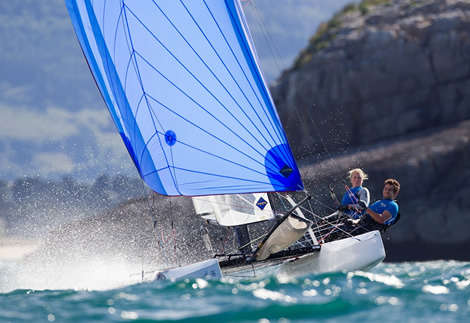 Back to top
Back to top