Kiwis into the lead
Runaway wins on the first day of the 13th annual 18ft Skiff International Regatta Monday may have resembled the lopsided racing in the 34th America's Cup on these same tricky waters a year ago, but this time the tide turned at the starting line.

After sailing away in the first of two 6.7 mile, two-lap windward-leeward races in the week-long event hosted by the St. Francis Yacht Club, Brett Van Munster's ASCC-sponsored entry from Australia placed second to Skip McCormack's Event Clothing from New Zealand - or thought he had until he hit the beach. Then he learned that he had been called for crossing the line early and not returning to start properly. Van Munster disagreed, saying: "We were going for the pin [end of the line]. We didn't pass the pin until three seconds after the gun."

One of his two crew, Paul Montague, agreed, noting, "We were a boat length behind."

Rivals on some of the other seven boats had mixed views, but veteran Graham Catley of New Zealand - who inherited first place overall with a pair of second places - thought ASCC may not have heard his recall hailed from the other end of the line.

"We heard the call," Catley said. "That's why we went back … and why we were so far behind for most of the second race. They called 'ASCC'."

Catley's son Nick, 26, who is crewing for McCormack's Events Clothing, which won the second race, said: "We were closer to the line than they were."

By the end of the week it may not matter. Boats may discard their worst result after five races and two results after nine races.

Meanwhile, the senior Catley, a mature campaigner who will turn 60 next month, said his secret was "conservatism. We just planned to keep it safe today."

Skip McCormack, by the way, is reversing the America's Cup trend as skipper of a New Zealand boat. He's an American who lives in nearby Richmond, Calif. "We're representing New Zealand well," he said, smiling.

Howie Hamlin, a six-time winner of this event, stands third at 3-5/8 after recovering from a broken jib halyard on his 10-year-old back-up boat. His best boat, which he sailed to third place in the 18' European Championships earlier this month, was last reported passing through Houston, Tex. on its shipment home. He hopes to have it by Thursday. "The older boat," he said, "is not ready for San Francisco."
Full results here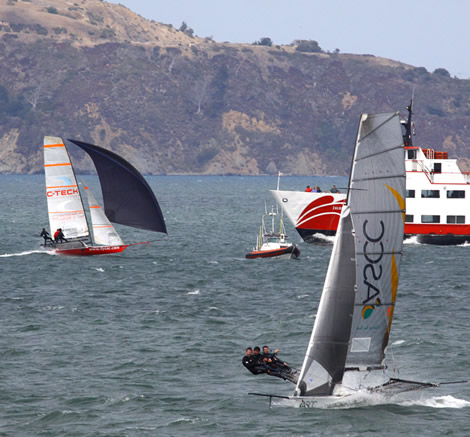 Back to top
Back to top