Consistency pays for Martinez and Pacheco
On the strength of an exceptional run of three second places today in a challenging, shifty Tramontane WNW'ly which peaked at a stamina sapping 26kts, Spain's Iker Martinez and Tara Pacheco lead the Nacra17 European Championships into the final day.
In terms of sheer consistency double Olympic 49er medallist Martinez and Pachecho were on a different level, strong enough in their boat handling to capitalise on their excellent tactical choices over the three races which were contested in La Grande Motte's gusty, cross offshore breeze which varied in strength and brought regular shifts in direction.
Their six points tally from the only three Finals races to have been completed was head and shoulders above any of their rivals. Until now it looked like France's world champions Billy Besson and Marie Riou were on target to add the European title to their World Champions title but after winning the first race comfortably, their second was more ragged. They lead to the first windward mark but then ended up on the wrong side of the sequence of big shifts and dropped to fifth at the second windward mark, finishing eighth.
But it was only 400 metres from the finish line of the very breezy third race of the day when Besson and Riou's European title challenge faltered. Lying fourth they capsized within sight of the line and struggled to get across the line in 27th place. With only three Finals races sailed – and hence no Finals discard or chance of a discard - their error proves expensive.
It was another windy day in La Grande Motte, one which was again punctuated by long periods waiting. For the gold fleet there was a hold ashore into the evening to see if the breeze would abate enough for another Finals race. It proved to be in vain and so Martinez and Pacheco go into Saturday's ten boat double points medal race with a lead of 13pts ahead of Italy's young world ranked 1 pair Vittorio Bissaro and Silvia Sicouri who won the third race today, again showing their prowess in the really breezy stuff.
But helm Bissaro, who – with Sicouri - won the ISAF World Cup events this year in Miami and Hyeres , confirmed they were very disappointed with their first two races today from which they returned a 14th and 10th, considering they spent too much focus on their rivals rather than sailing their own races:
"Sometimes it is not easy to decide the compromise between tactics and strategy and with this kind of wind it is a lot easier to think about the wind and not the competitors and maybe we paid too much attention to the others and not the wind.
"Actually we are not very happy because we didn't sail well today. We were not good at picking the right shifts so we are not happy about the way we sailed in the first two races. At least in the final race we were able to win and that helps us a lot in the ranking. Now we are in second and that's good for the medal race."
With Denmark's Allen Norregard – sailing with Line Just – lying third, two of the top three helms going into the medal race are 49er Olympic medallists, Norregard wining bronze in Weymouth and Portland in 2012.
"It's a bit of a surprise we are doing so well. But it's quite funny to see but I'm actually not that surprised that the 49ers are doing well because I feel that this is very similar to 49er racing so I think the 49er racers have a good way in. I did a bit of sailing on a Tornado as well, and on a 49er, but I think this boat is closer to the 49er than it was to the Tornado.
"We are still not so good downwind because I am still a bit cautious and don't want to push it as hard, we need more days like this and to go home and practice more in the big winds.
"It's really close. Everyone could take over each other so there will be no match-racing from anybody I think, it will be all about getting your own race. With Iker I am good. We have always been fighting against each other so tomorrow we will have another fight."
Hard galvanised experience over 15 years of Olympic 49er sailing, not to mention a gold and a silver medal as well as three 49er world titles grants the upper hand to Martinez, and Pacheco, going into the short, sharp Medal Race which starts at 1600hrs local time. They are 13pts up on the Italians and at 17pts up on the Danish duo the Spanish pair are almost assured of their first medal in the class. Besson and Riou are 21pts behind Martinez and Pacheco and their European title hopes are all but over.
Martinez, who is looking to maximise their improvements before the ISAF World Championships which are on what more or less ranks on his home waters, Santander: "We are improving. Here it has mostly been windy and we seem to have been okay, but we are a long way to get to where the Italians and especially Billy and Marie are in all the conditions. We can be competitive in some conditions but not all of them. But a day like this we seem to do okay when some of those guys capsize or things like that. Overall they are still ahead of us, we have to keep improving. Today it looks like we have been better in the breezy stuff, we were good."
Top 10 standings after five Qualifying races and three Finals races:
1. Iker Martinez/ Tara Pacheco (ESP246) 15+2,2,2. 21pts
2. Vittorio Bissaro/ Silvia Sicouri (ITA200) 9+14,10,1. 34pts
3. Allan Norregaard/ Line Just (DEN248) 12+3,11,13. 39pts
4. Billy Besson/ Marie Riou (FRA1) 6+1,8,27. 42pts
5. Euan McNicol/ Lucinda Whitty (AUS158) 15+5,9,7. 46pts
6. Jason Waterhouse/ Lisa Darmanin (AUS133) 14+10,15,9. 48pts
7. Renee Groeneveld/ Steven Krol (NED243) 27+11,12,3. 53pts
8. Thomas Zajac/ Tanja Franck (AUT205) 34+17,3,6. 60pts
9. Pipa Wilson/ John Gimson (GBR076) 28+27,1,5. 61pts
10. Matais Buhler/ Nathalie Brugger (SUI220) 21+15,13,12. 61pts.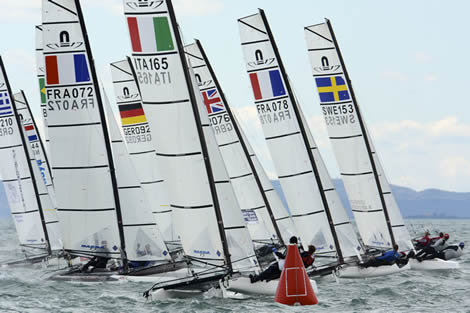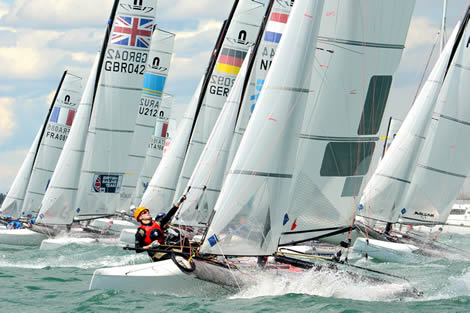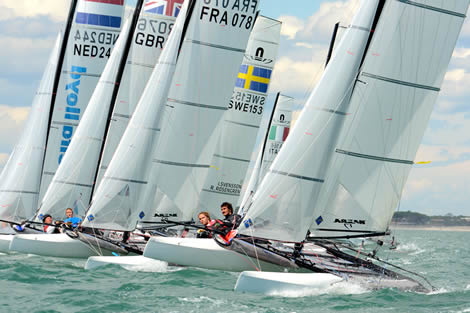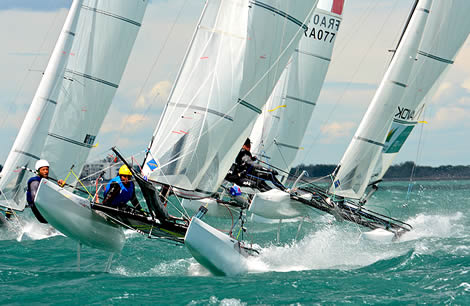 Back to top
Results:

| | | | | | | | | | | | | | |
| --- | --- | --- | --- | --- | --- | --- | --- | --- | --- | --- | --- | --- | --- |
| Pos | Sail no | Helm | Crew | R1 | R2 | R3 | R4 | R5 | R6 | R7 | R8 | Tot | Net |
| 1 | ESP 246 | MARTINEZ Iker | PACHECO Tara | DNF | O+D | 2 | 4 | 6 | 2 | 2 | 2 | 58 | 21 |
| 2 | ITA 200 | BISSARO Vittorio | SICOURI Silvia | 1 | 4 | 1 | 3 | 4 | 14 | 10 | 1 | 38 | 34 |
| 3 | DEN 248 | NORREGAARD Allan | JUST Line | 2 | 2 | 4 | 4 | 6 | 3 | 11 | 13 | 45 | 39 |
| 4 | FRA 1 | BESSON Billy | RIOU Marie | 5 | 1 | 1 | 2 | 2 | 1 | 8 | 27 | 47 | 42 |
| 5 | AUS 158 | MC NICOL Euan | WHITTY Lucinda | 2 | 8 | 4 | 8 | 1 | 5 | 19 | 7 | 54 | 46 |
| 6 | AUS 133 | WATERHOUSE Jason | DARMANIN Lisa | 6 | 4 | 6 | 1 | 3 | 10 | 15 | 9 | 54 | 48 |
| 7 | NED 243 | GROENEVELD Renee | KROL Steven | 7 | O+D | 7 | 11 | 19 | 11 | 12 | 3 | 72 | 53 |
| 8 | AUT 205 | ZAJAC Thomas | FRANK Tanja | BFD | 1 | 6 | 25 | 2 | 17 | 3 | 6 | 97 | 60 |
| 9 | GBR 076 | WILSON Pipa | GIMSON John | 10 | 2 | 8 | 8 | 13 | 27 | 1 | 5 | 74 | 61 |
| 10 | SUI 220 | BAHLER Matias | BRUGGER Nathalie | BFD | 6 | 5 | 7 | 3 | 15 | 13 | 12 | 98 | 61 |
| 11 | ARU 212 | VAN DER VELDEN Nicole | VISSER Thijs | 8 | 5 | 3 | 5 | 9 | 30 | 7 | 4 | 71 | 62 |
| 12 | ARG 226 | LANGE Santiago | CARRANZA SAROLI Cecilia | 4 | 16 | 12 | 5 | 7 | 9 | 17 | 8 | 78 | 62 |
| 13 | FRA 077 | CAMMAS Franck | DE TURCKHEIM Sophie | 13 | 9 | 9 | 1 | 10 | 23 | 4 | 14 | 83 | 70 |
| 14 | FRA 225 | VAIREAUX Moana | AUDINET Manon | DSQj | 7 | 3 | DPI | 10 | 13 | 5 | 28 | 110 | 73 |
| 15 | GBR 2 | SAXTON Ben | DIAMOND Hannah | 14 | 6 | 9 | 2 | 8 | 18 | 23 | 10 | 90 | 76 |
| 16 | FRA 085 | OGEREAU Audrey | VANDAME Matthieu | 22 | 10 | 2 | 6 | 5 | 19 | 9 | 31 | 104 | 82 |
| 17 | ITA 209 | BRESSANI Lorenzo | MICOL Giovanna | 11 | 14 | 28 | 10 | 9 | 7 | 16 | 17 | 112 | 84 |
| 18 | GBR 042 | MACGREGOR Lucy | WALSH Andrew | 3 | 3 | 13 | 11 | 1 | 4 | 22 | DNF | 98 | 85 |
| 19 | NED 244 | MULDER Mandy | DE KONING Coen | 3 | 3 | 19 | BFD | 7 | 25 | 18 | 11 | 123 | 86 |
| 20 | NZL 222 | JONES Gemma | SAUNDERS Jason | 1 | 11 | 8 | 9 | 8 | 8 | 24 | 29 | 98 | 87 |
| 21 | GBR 182 | PHIPPS Tom | ROOK Marie | 18 | 13 | 5 | 23 | 5 | 20 | 14 | 21 | 119 | 96 |
| 22 | AUS 242 | BUNDOCK Darren | CURTIS Nina | BFD | 12 | 12 | 3 | 4 | 21 | 25 | 20 | 134 | 97 |
| 23 | GER 211 | KOHLHOFF Paul | WERNER Carolina | 11 | 7 | 13 | 7 | 16 | 6 | 37 | 32 | 129 | 113 |
| 24 | AUS 067 | PIETROMONACO Pip | WIERZBOWSKI James | 15 | 10 | 10 | 18 | 27 | 26 | 20 | 16 | 142 | 115 |
| 25 | ITA 219 | SALVA Federica | BIANCHI Francesco | 17 | 8 | RDG | 22 | 12 | 39 | 6 | 22 | 138.5 | 116.5 |
| 26 | NED 081 | DELNOOZ Elke | VAN LEEUWEN Jeroen | 13 | 5 | 10 | 21 | 17 | 12 | 30 | 30 | 138 | 117 |
| 27 | GBR 120 | WHITE Rupert | NIKKI Boniface | 8 | 9 | 16 | 14 | 13 | 32 | 34 | 15 | 141 | 125 |
| 28 | ITA 126 | PORRO Francesco | BANTI Caterina Marian | BFD | 15 | 11 | 12 | 14 | 16 | 35 | 24 | 164 | 127 |
| 29 | DEN 082 | CHRISTIANSEN Lin Ea | SOREN Kristensen | 5 | 11 | 23 | 19 | 22 | 28 | 29 | 18 | 155 | 132 |
| 30 | AUS 217 | WALKER Evan | GILBERT Annalise | 6 | 14 | DNF | 13 | 21 | 34 | 21 | 23 | 169 | 132 |
| 31 | FRA 078 | LAUGIER Flora | BELLET Valentin | 12 | 12 | 11 | 12 | 15 | 33 | 33 | 19 | 147 | 132 |
| 32 | RUS 227 | SEMENOV Maksim | SHCHETINKINA Alina | 4 | 18 | 20 | 15 | 12 | 24 | 38 | 25 | 156 | 136 |
| 33 | DEN 187 | VIBORG ANDREASEN Anette | HJORTLUND Christensen | 9 | 31 | 26 | 9 | 16 | 29 | 27 | 33 | 180 | 149 |
| 34 | RUS 022 | DZHIENBAEV Sergey | IVANOVA Daria | 9 | 13 | 22 | 17 | 11 | 35 | 26 | DNC | 174 | 152 |
| 35 | SWE 153 | SVENSSON Ida | ROSENGREN Rasmus | 7 | 20 | 7 | 18 | 14 | 37 | DNS | 34 | 178 | 158 |
| 36 | BRA 231 | ALBRECHT Samuel | RODRIGUES DE SILVA Georgia | RDG | 21 | 16 | BFD | 11 | 22 | 31 | DNC | 197.5 | 160.5 |
| 37 | URU 147 | DEFASIO Pablo | FOGLIA Mariana | 12 | O+D | 15 | 26 | DNF | 31 | 32 | 35 | 200 | 163 |
| 38 | ITA 089 | BONDI David | ANGELINI Alessandra | 10 | 32 | 24 | 14 | 17 | 36 | 28 | 36 | 197 | 165 |
| 39 | ITA 032 | SORRENTINO Vincenzo | CATARCI Giorgia | 19 | 16 | 14 | 13 | 15 | DNF | DNF | 26 | 185 | 166 |
| 40 | GBR 152 | CLIFFORD Alicia | BRUTON Thomas | 15 | 19 | 20 | 16 | 18 | 38 | 36 | DNC | 203 | 183 |
| 41 | ITA 166 | SABATINI Francesco | MAMUSA Marcella | 14 | 17 | 18 | 20 | 20 | 1 | 1 | | 91 | 71 |
| 42 | JPN 249 | GOTO Hiroki | TABATA Wakako | 26 | 18 | 19 | 19 | 21 | 3 | 3 | | 109 | 83 |
| 43 | AUS 156 | DARMANIN Paul | COPELAND Lucy | 24 | 17 | 22 | 15 | 19 | 4 | 7 | | 108 | 84 |
| 44 | GRE 210 | BEKATOROU Sofia | PASCHALIDIS Iordanis | 18 | 23 | 17 | 21 | 24 | 2 | 4 | | 109 | 85 |
| 45 | FRA 072 | HAINNEVILLE Charles | DESBORDES Alizee | 32 | 24 | 18 | 24 | 18 | 7 | 2 | | 125 | 93 |
| 46 | CAN 100 | RAMSAY Luke | CHAFEE Louisa | 25 | 15 | 15 | 23 | 28 | 14 | 10 | | 130 | 102 |
| 47 | USA 123 | HUDSON Stephanie | ANDREWES Ian | 33 | 29 | 25 | 20 | 25 | 8 | 8 | | 148 | 115 |
| 48 | ESP 198 | VERDAGUER Marc | LOPEZ CASANOVA Marina | 17 | 19 | RDG | 22 | 24 | 12 | OCS | | 144 | 120 |
| 49 | GER 092 | LENZ Jakob | BRECHLIN Susann | 28 | 26 | 21 | 16 | 23 | 6 | OCS | | 152 | 124 |
| 50 | GBR 162 | ANDERSON Maddy | ANDERSON Finbar | 31 | 34 | 23 | 30 | 27 | 10 | 5 | | 160 | 126 |
Back to top