Flying Scottsman
Britain's Giles Scott again produced a superlative performance on the fourth day of the Finn Europeans in La Rochelle, with two more race wins giving him a 36 point lead with just three races to sail. Though Ed Wright (GBR) won the opening race, he has dropped back to fourth overall. Defending Champion Vasilij Zbogar (SLO) is back up to second, while Jonathan Lobert (FRA) had a great day to climb to third.
It was another great day's sailing with the wind in place from the beginning and peaking at 12-14 knots, with some nice waves and Oscar flag for free pumping flying for most of the day. For many it was moving day. Lots of sailors moved up, some moved down, but Giles Scott (GBR) moved even further clear at the top of the leaderboard. The great racing also brought the sun out for a while which made everything seem much better.
A lot of tired sailors came ashore at the end of a third day on the water in a row exceeding six hours. But it was time well spent and none of them were complaining. Today there were a lot of new faces at the front and but for Scott's devastating downwind speed there could have been some different winners.
Race 6 started in 9-10 knots after four boats were pulled out on a black flag. Mads Bendix (DEN), sailing in his first major Finn championship, rounded the top mark ahead of Philip Kasuske (GER) and Ed Wright (GBR). Bendix managed to build a nice gap downwind and held onto his lead on the second upwind. However on the final run, Wright slowly reeled him in and passed him just by the bottom mark, before turning for the finish. Kasuske, who is competing in the junior championship as well, held on for an excellent third place.
Bendix said: "I got a decent start but was forced to tack away and then I had some good shifts out to the left and tacked underneath the group furthest left and got the perfect lane to the top mark. I had a good downwind as well, extended a bit with Ed rounding second. I felt I had controlled the race up the second beat but unfortunately he caught me right at the end, just a few metres from the mark, and got the inside track."
"When I finished I felt really disappointed, because I felt like had sailed a good race but it had just slipped away, but now I am pleased about the way I sailed. I have done Cannes, Palma and Hyeres, and this is my first major event." Apart from Kiel Week last year he hasn't been in the boat much. Having finished second in the 2012 Danish Laser Olympic trials, "The Danish Federation gave me the chance to go for the Finn with some good support and coaches."
Scott was back in front in race 7, leading round the top mark from Ioannis Mitakis (GRE), Zsombor Berecz (HUN) and Pieter-Jan Postma (NED). Scott extended downwind and everyone though that was that. However, on the second upwind Mitakis found a shift big enough to pass Scott and lead round the top mark, while Thomas Le Breton (FRA) moved into third. Inevitably though, Scott found the best route downwind to pass the Greek sailor and take his fifth race win of the week. Mitakis got second and Le Breton third.
Miktais said, "On the second beat Giles and I both went to the left, he tacked and I went a bit further and the shift came out of nowhere from the left so I took it and was leading at the top mark, but Giles found a better groove downwind and passed me again. I would have been nice to win, but I am pleased with a second."
There were more black flagged sailors for race 8, including a second one for Deniss Karpak (EST). Postma led at the top mark from Pablo Guitian Sarria (ESP), Alejandro Foglia (URU) and Michele Paoletti (ITA). Scott rounded in fifth. Postma held his lead downwind with Jake Lilley (AUS) flying down the run into second and Scott up to third. It all changed on the second upwind with Lilley going further left than the fleet and coming back clear ahead. He rounded the top mark in the lead and pumped hard to create a gap big enough. However it wasn't enough with first Scott, then Postma and then Vasilij Zbogar (SLO) finding a way past before the finish line.
Lilley finished fourth which consolidates his position at the top of the Junior rankings. He is now 40 points clear of second placed Jorge Zarif (BRA) and 74 points clear of third placed Kasuske.
On the day Lilley said, "I had some OK starts and it was just about going fast, and trying to move through the fleet downwind. In the last race I had my best start yet and was on the front row, and able to have a good position at the top mark. Eventually on the last run the boys caught me up but fourth is still my best race result. Considering the first downwind though, I thought I could win. I think my work rate is pretty good, I just have to go the right way. I went outside and the boys went inside and that was to their advantage. I think in the last race everyone was pretty tired, which made it easier to sail at the front of the fleet. I felt good, had good energy and was feeling fresh."
On the Junior title ha said, "We're not really focussing on the Juniors to be honest. Our biggest priority is doing well in the seniors, making the medal race. Everything is building towards Santander. A result in the seniors, up the ranks, is more important than the Juniors, though if we could win it that would be a bonus."
There are several battles going on in the fleet to claim to be the best from each country, especially with the Santander Worlds and the Test Event coming up.
Björn Allansson (SWE) has been sailing well this week and sits in 11th place overall, just one place behind Max Salminen (SWE). Allansson said, "I have had pretty solid starts so far, except for the last one when I had to recover. I made a few mistakes at the end of the upwind. Overall I am happy with my upwind speed, and keep working on the downwinds. They were tricky today. I think it's pressure and attacking it right for the long surfs. I reckon I have been too intense, doing too many pumps and not really riding each wave as long as I can. I think every race apart from two I have been rounding in the top 10, which proved I have put a lot of effort into improving my starts, and I shows it's paying off."
Meanwhile Andrew Murdoch (NZL), last year's Europeans bronze medalist trails his team mate Josh Junior (NZL) by 18 points. Speaking about his week, Murdoch said, "There's areas of my performance I am happy with and those that I am still struggling with. I am lacking speed upwind, and probably struggling more with that than last year. If I can get that right over the next couple of months that will certainly help out in Santander, that's for sure."
"I am getting good starts if I can get some space and I think that some good tactical calls early in the race are getting me up there, and I am usually fairly strong downwind, but I am never pulling through on the second beats. I'm pretty sure I'll get there, just got to keep working away at it."
After a 5, 11, 3 today, Zbogar has moved back up to second overall. He said about his day, "It was surprisingly good for me. This morning I was really tired and my legs were hurting so I was not very optimistic going into today's racing. To have three races was really tough, and I started the day not very positive, but the racing went well. Probably the other sailors are tired too and they made mistakes. I know I am having good runs so I am pushing there as much as I can. My weakest point, definitely against the big guys, is the upwind, but I try to be top 15 at the top mark, that's my goal, and then I know I can gain places downwind. I was sailing like that today and it paid off. I had two really nice races and one comfortable."
Reflecting on his day, Scott said, "In the first race I got into a good position down the run then had a shaky second upwind; I was always on the wrong shift." He placed eighth in that race.
Having twice overtaken the leader on the final run, again, today, he commented with a smile, "I could say I feel bad about it, but I don't." He explained, "I have been rounding in the pack round the top and if you're in that pack it's quite hard to find a decent groove and get a good set of wind and waves, but by the second run it opens out and you have more space to play with, which frees you up a bit more."
In theory Scott could wrap up victory with one more good race. But he is as cautious as ever. "Tomorrow, the goal is not to be over. I keep saying it, but it's a 100 boat fleet, so there's potential for some big big errors, so I just need to try and not do that, and hopefully sail like I have the rest of the week."
The opening series concludes on Friday, with two more races scheduled from 11.00.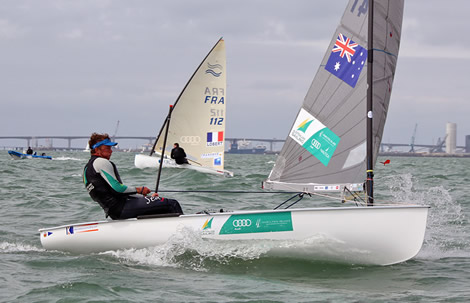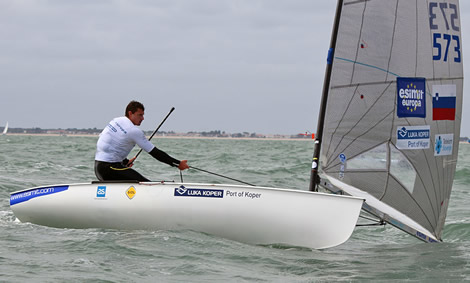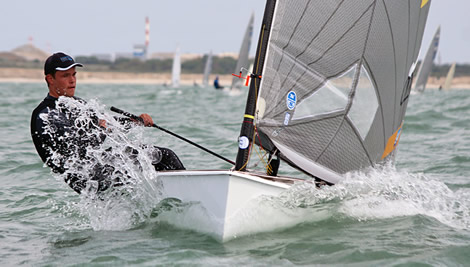 Back to top
Top 50 results

| | | | | | | | | | | | |
| --- | --- | --- | --- | --- | --- | --- | --- | --- | --- | --- | --- |
| Pos | Sailor | R1 | R2 | R3 | R4 | R5 | R6 | R7 | R8 | Tot | Net |
| 1 | SCOTT Giles (GBRGS20) | 1 | 1 | 2 | 1 | 1 | 8 | 1 | 1 | 16 | 8 |
| 2 | ZBOGAR Vasilij (SLOVZ) | 3 | 2 | 13 | 15 | 7 | 5 | 11 | 3 | 59 | 44 |
| 3 | LOBERT Jonathan (FRAJL23) | 4 | 19 | 8 | 8 | 11 | 7 | 5 | 5 | 67 | 48 |
| 4 | WRIGHT Edward (GBREW3) | BFD | 5 | 10 | 2 | 6 | 1 | 15 | 13 | 154 | 52 |
| 5 | POSTMA Pieter Jan (NEDPP1) | 5 | 17 | 48 | 6 | 3 | 24 | 9 | 2 | 114 | 66 |
| 6 | KLJAKOVIC GASPIC Ivan (CROIK3) | BFD | 4 | 9 | 11 | 18 | 9 | 16 | 8 | 177 | 75 |
| 7 | JUNIOR Josh (NZLJJ1) | BFD | 7 | 28 | 3 | 2 | 27 | 8 | 7 | 184 | 82 |
| 8 | BERECZ Zsombor (HUNZB1) | BFD | 14 | 7 | 16 | 15 | 4 | 3 | 23 | 184 | 82 |
| 9 | MILLS Andrew (GBRAM55) | 6 | 8 | 3 | 17 | 5 | 15 | 30 | 46 | 130 | 84 |
| 10 | SALMINEN Max (SWEMS11) | BFD | 20 | 5 | 14 | 8 | 21 | 7 | 9 | 186 | 84 |
| 11 | ALLANSSON Bjorn (SWEBA4) | 18 | 11 | 11 | 19 | 13 | 12 | 6 | 18 | 108 | 89 |
| 12 | LE BRETON Thomas (FRATL1) | BFD | 6 | 6 | 5 | 14 | 26 | 4 | 34 | 197 | 95 |
| 13 | MURDOCH Andrew (NZLAM4) | 7 | 21 | 12 | 22 | 4 | 36 | 14 | 20 | 136 | 100 |
| 14 | ANDREWS Mark (GBRMA18) | BFD | 12 | 4 | 9 | 10 | 10 | 38 | 17 | 202 | 100 |
| 15 | LILLEY Jake (AUSJL12) | BFD | 13 | 20 | 18 | 26 | 14 | 13 | 4 | 210 | 108 |
| 16 | NIRKKO Tapio (FINTN1) | 2 | 10 | 24 | 21 | 29 | 37 | 22 | 16 | 161 | 124 |
| 17 | PAOLETTI Michele (ITAMP5) | 8 | 29 | 41 | 27 | 30 | 11 | 26 | 6 | 178 | 137 |
| 18 | ZARIF Jorge (BRAJZ4) | BFD | 30 | 16 | 4 | 47 | 30 | 10 | 11 | 250 | 148 |
| 19 | VUJASINOVIC Milan (CROMV2) | BFD | 16 | 14 | 30 | 17 | 32 | 18 | 33 | 262 | 160 |
| 20 | MITAKIS Ioannis (GREIM3) | BFD | 24 | 26 | 26 | 12 | 44 | 2 | 29 | 265 | 163 |
| 21 | POGGI Giorgio (ITAGP5) | 13 | 18 | 42 | 23 | 35 | 6 | 55 | 26 | 218 | 163 |
| 22 | VOLOLINI Enrico (ITAEV14) | BFD | 23 | 18 | 34 | 27 | 20 | 12 | 30 | 266 | 164 |
| 23 | BENDIX Mads (DENMB4) | 29 | 34 | 22 | 12 | 31 | 2 | 54 | 36 | 220 | 166 |
| 24 | KULA Piotr (POLPK6) | BFD | 3 | 1 | 7 | 19 | BFD | 19 | 24 | 277 | 175 |
| 25 | FOGLIA Alejandro (URUAF1) | 27 | 44 | 15 | 24 | BFD | 28 | 25 | 14 | 279 | 177 |
| 26 | KASUSKE Philip (GERPK18) | 12 | 40 | 33 | 35 | 32 | 3 | 42 | 27 | 224 | 182 |
| 27 | TWEDDELL Oliver (AUSOT1) | BFD | 25 | 21 | 29 | 44 | 19 | 34 | 10 | 284 | 182 |
| 28 | MELO Frederico (PORFP1) | BFD | 15 | 35 | 51 | 16 | 22 | 24 | 19 | 284 | 182 |
| 29 | MC COY Peter (GBRPM40) | 23 | 22 | 32 | 13 | 50 | 13 | 71 | 31 | 255 | 184 |
| 30 | CORNISH Ben (GBRBC35) | 9 | 67 | 30 | 28 | 24 | 29 | 46 | 22 | 255 | 188 |
| 31 | MUSCAT Alejandro (ESPAM21) | 26 | 26 | 17 | 55 | 9 | 23 | 47 | 43 | 246 | 191 |
| 32 | PEDERSEN Anders (NORAP2) | 19 | 43 | 25 | 25 | 23 | 48 | 37 | 25 | 245 | 197 |
| 33 | KARPAK Deniss (ESTDK1) | 17 | 9 | 23 | 10 | BFD | 16 | 28 | BFD | 307 | 205 |
| 34 | KAYNAR Alican (TURAK2) | BFD | 49 | 40 | 20 | 25 | 33 | 20 | 21 | 310 | 208 |
| 35 | VINCEC Gasper (SLOGV1) | 11 | 39 | 37 | 54 | 20 | 56 | 27 | 32 | 276 | 220 |
| 36 | MARCINIAK Jakub (POLJM5) | 24 | 42 | 27 | 36 | 41 | 54 | 32 | 28 | 284 | 230 |
| 37 | GUITIAN SARRIA Pablo (ESPRA2) | BFD | 60 | 52 | 33 | 36 | 18 | 23 | 12 | 336 | 234 |
| 38 | VIKA Tomas (CZETV1) | 28 | 35 | 61 | 41 | 34 | 47 | 39 | 15 | 300 | 239 |
| 39 | OLUJIC Josip (CROJO01) | 10 | 41 | 51 | 42 | 28 | 31 | 44 | 44 | 291 | 240 |
| 40 | BALDASSARI Filippo (ITAFB31) | BFD | 28 | 19 | 47 | 33 | 61 | 17 | 41 | 348 | 246 |
| 41 | SELIANOV Alexey (RUSAS8) | 15 | 38 | 78 | 31 | 42 | 17 | 35 | BFD | 358 | 256 |
| 42 | SKORNYAKOV Eduard (RUSES2) | 16 | 36 | 31 | 43 | 40 | 66 | 45 | 45 | 322 | 256 |
| 43 | FERNANDES VASCO Miguel (ESPMF11) | 25 | 59 | 36 | 32 | 65 | 34 | 50 | 49 | 350 | 285 |
| 44 | BILIC Tudor (CROTB4) | 33 | 61 | 59 | 50 | 51 | 58 | 21 | 37 | 370 | 309 |
| 45 | BEVILACQUA Riccardo (ITARB31) | BFD | 32 | 69 | 38 | 39 | 50 | 33 | 51 | 414 | 312 |
| 46 | ALICAN Basegmez (TURAB9) | 40 | 65 | 64 | 37 | 48 | 42 | 41 | 40 | 377 | 312 |
| 47 | CHILDS Paul (GBRPC31) | 30 | 66 | 47 | 44 | 66 | 35 | 29 | 63 | 380 | 314 |
| 48 | BRODTKORB Lars (NORLB8) | 14 | 80 | 46 | 56 | 37 | 64 | 58 | 48 | 403 | 323 |
| 49 | PRADA Bruno (BRABP1) | 32 | 45 | 50 | 53 | 62 | 75 | 53 | 38 | 408 | 333 |
| 50 | TERPIGOREV Egor (RUSET1) | BFD | 27 | 53 | 57 | 22 | 39 | BFD | 39 | 441 | 339 |
Back to top