Back in the saddle
Britain seems to do a good line in silver medals in the 470 fleets if the results from London 2012 were anything to go by. You will remember of course Luke Patience and Stuart Bithell in the Men, while Hannah Mills and Saskia Clark ended up on the second tier of the podium behind Kiwis Jo Aleh and Olivia Powrie in the Women.
At present Mills and Clark are revving up in Palma for the Trofeo Princesca Sofia - the first event of this season's ISAF Sailing World Cup to take place in Europe. In the lead up to this, the British squad has in the throws of a training camp out of the sailing club in Arenal.
While Mills and Clark didn't compete at this regatta last year, they say it is much the same as previous years, only that they are now joined in the boat park by the Nacra 17 catamarans and the 49er FXs.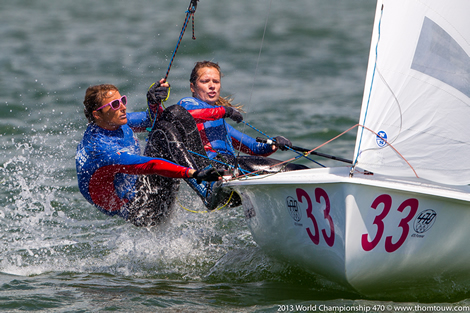 After London 2012, Mills and Clark took several months off. "For me especially, I've just been doing this a long time and needed to have a proper break and decide if 2016 was something I definitely wanted to do, rather than just carrying because of the lack of anything else to do," admits Clark. "I've done this for five years and there are other adventures that life has to offer, particularly because the circumstances we came together in - it was an 18 month campaign, which was very intense right from the beginning to the trial and to the Olympics – it was massively full on and we couldn't do that for another four years."
During her break Clark even tried her hand at an office job, working in marketing. "But now I am back!" she declares, Hannah Mills adding: "That's how well that went!"
Meanwhile Mills, the talented Welsh helmswoman, last year got to race in the Extreme Sailing Series, on board Leigh McMillan's winning The Wave, Muscat, at the Nice and Rio events. "That was my first trip to Rio, which was quite exciting," she says. "Suddenly it was like 'look, we've won!' That was wicked and those boys were really good to sail with."
However now that she and Clark are back in full Olympic mode, Mills has had to give that up, her place filled on The Wave by Yngling double Olympic gold medallist, Sarah Ayton.
Mills and Clark got back into the 470 in time for the World Championship in La Rochelle last year which, after their break, they admit as pretty punishing and they finished 12th (although they were top British team). However they made up for this winning the test event last September for the Santander 2014 ISAF Sailing World Championships. This was practice for the main event this year, which will be the key objective for this season as it will be first occasion that nations can country qualify for Rio 2016.
Clark observes of Santander: "It is a really hard venue with the five different race courses. I didn't really know anything about Santander - I was thinking it was going to be a sea venue, but there are some high cliffs on one side and big waves. So it's going to be tricky."
While their campaign for London 2012 saw Mills and Clark thrown together as a pairing, this time they have the whole cycle to work up to the next Games. This will require a different approach, but should also result in a more measured, refined campaign.
Mills observes: "Last time it was all thrown together quite quickly, in terms of finding our equipment, getting happy with our equipment, all our team work, our communication, how we sail the boat, etc. Whereas this time, we feel that as sailors we have a lot to improve. Having more time means we can break it all down a lot more and as sailors become much better in our roles and responsibilities as well as making sure our equipment is as good as it can be for Rio. For London we found something we liked and we had to stick with it because of the time schedule. This time we can be a bit more exploratory and potentially find something better."
This will means a whole technical development program, trying different boats and masts although they will probably stick with the same sail maker. "There is so much in the 470 that you can do, so to have the time to explore it without being totally under pressure to perform is nice."
The landscape in the 470 Women's class has also changed as during their absence, Sophie Weguelin and Mike McIntyre's daughter Eilidh (pronounced 'Aylee' – in case you're wondering) have been putting in a seriously impressive and consistent performance: Since the summer of 2012 they haven't finished out of the top five. Weguelin was 470 European Champion in 2012 with her previous crew Sophie Ainsworth (who has moved to the 49erFX, with former Laser Radial sailor Charlotte Dobson), but together with McIntyre they won Kiel Week last year and this year have already come out on top at the ISAF World Cup event in Miami in January. They are currently ISAF ranked no1 in the world.
"And they haven't even done a couple of years yet..." says Clark. " But it is not different to last time round, when Penny [Clark] and Katrina [Hughes] were winning medals at World Cup events, when Hannah and I started sailing together."
Mills interjects: "It is good to have competition, because it just means that it pushes you and you don't relax into plodding along. It means that you are always pushing to be better than them and they are always pushing harder. It promotes healthy competition."
Back to Clark: "I think for the last four years, it has been a total turnaround for British 470 Women's sailing compared to when I started: To have two boats consistently in the top 10 is pretty cool. Certainly when I started out that wasn't the case."
Within the British camp the two teams train together most of the time, although both have the ability to work on their own projects as and when they feel like it.
The 470 Women's squad currently has two coaches. With Joe Glanfield officially retiring from sailing (again), he is now back to coaching the 470 Women – as he did for the nine months running into London 2012. The squad also has French ex-470 sailor Romain Bonnaud working with them, who previously held this role with the US 470 squad for the last Games.
"We are using them both to give us a bit of flexibility on the dates, because they both have kids and families. Some camps we'll have Joe and others we'll have Romain. Joe is our principle coach for events and Romain is Sophie and Eilidh's principle coach for the events. It just gives us a bit of freedom to build our relation with the coaches and with the team. And we both have quite different needs from a coach. It creates a nicer working environment within the squad."
Surprising in what is a well refined boat, both the 470 Men and Women's classes have stand out crews. In the Men it is the Aussies Mat Belcher and Will Ryan, while in the women it remains Kiwi London 2012 gold medallist Jo Aleh and Olivia 'Polly' Powrie.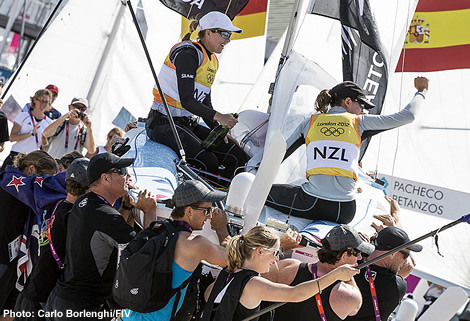 "It is pretty obvious to us and the rest of the fleet, that they are the standout performers at the moment and they are the ones to beat," says Mills of the Kiwis. "They are at where we aspire to be in a year's time: They are consistent throughout the range, they are solid as a team and they are sailing the boat really well and it is up to the rest of us to get to that point and then start challenging them and hopefully start overtaking them."
But behind them, the 470 Women's fleet has dramatically changed, with an exodus of sailors moving to the 49erFX, such as Martine Grael, Sophie Ainsworth, Guilia Conti, and Berta Betanzos, and more going to the Nacra 17, such as Ingrid Petitjean, Claudia Swan, Tara Pacheco, Laia Tutzo, Giovanna Micol and Sofia Bekatorou. Looking at the World Championship results from last year, the top 10 seemed to be filled with unknowns with the exception of the winners Aleh and Powrie.
"The fleet has thinned the fleet out," admits Mills. "There is a noticeable gap between the top five or so and the rest of the fleet, but they are catching up pretty quickly. I am sure by the time Santander comes around we'll have a pretty strong fleet again."
Clark adds: "I think in the [London 2012] Games fleet there were the older, more established people and probably half the fleet was quite a lot of younger. Now you see the younger lot more around the race course. Whereas before they just had the odd race, now they are now beginning to put a regatta together..."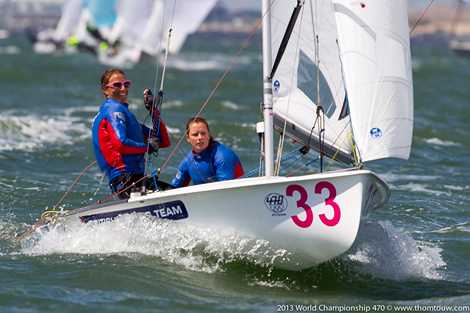 A busy year lies ahead for Mills and Clark. After Palma (where their team mates aren't competing – McIntyre is recovering from breaking her finger), they head on for the next event on the ISAF Sailing World Cup in Hyeres before returning to the UK and the familiar waters of Weymouth for some training, culminating in Sail for Gold – sadly a rather depleted affair compared to what it was pre-London 2012. They then head to Santander for some more training, which the international 470 coaches have clubbed together to organise, prior to the European Championship, set to take place in Athens, but sadly not in the 2004 Olympic venue.
They are then off to Rio for the 'test event for the test event'.
While Mills got to sail in Rio on the Extreme 40, the duo were out at the 2016 Olympic venue in October. Mills explains: "We are quite good friends with the Brazilian girls and they had a boat out there we could borrow, so we went out for two weeks to see what it was like and do a bit of sailing and to get accustomed to the venue a little bit."
While they are playing their cards closely to the chest in terms of whether they expect Rio to be an ultra-light regatta to the same degree as Qingdao, or if it is perhaps likely to be light, but more variable – and crucially what this means for their personal weight regimes – the feeling is that it will be more the latter scenario.
"I think we will get a mixture," says Mills. "It is really tricky place to sail just with the topography of the land and the tide lines and the current, it is just a bit chaotic. It is going to take some getting our heads around."
After 'the test event for the test event' in Rio in early August, they will return to Europe ready for Santander 2014 taking place in late August.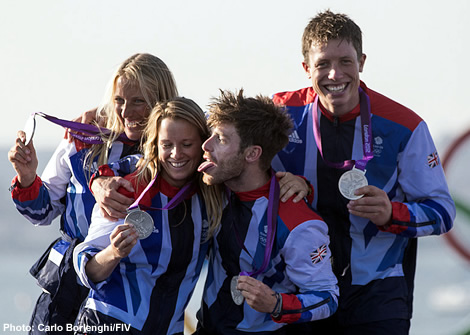 So has winning an Olympic silver medal changed their lives? They laugh hesitantly. "Once we'd got over the initial disappoint of that medal race...it was a goal achieved - winning an Olympic medal - but it hasn't changed our lives," says Clark. "It definitely has helped to open the door to potential sponsors and have conversations with people. Unfortunately from what we've experienced over the last 18 months, people committed pretty hard to London, so they aren't either ready to commit to a Rio campaign or they haven't got the funds. At the moment we are totally struggling on that front..."
While sailing is getting more lottery money, this hasn't yet filtered through to them and the British team is also crucially lacking a replacement for Skandia as its title sponsor. "So it has been a year of everyone tightening their belts," Clark continues. "And Rio is an expensive venue. Rather than training in Weymouth and that being the Olympic venue and it being accessible and cheap, Rio is £1000 flight away."
However generally they are back on track. Clark concludes: "We are good. It feels like the wheels are back on and we are getting some movement, some momentum. The motivation is back."
Mills: "For us at the moment it is just about getting ourselves back up to on track and getting back to where we were around the Games and moving forwards from there."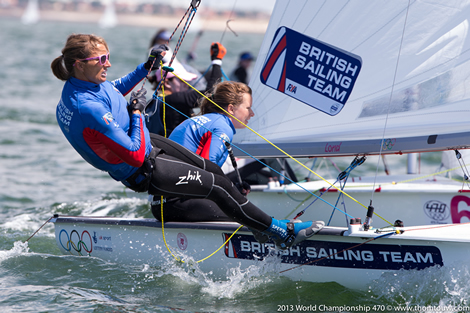 Back to top
Back to top