Unbeaten for two years in the 470
Mat Belcher has just won the ISAF Rolex Sailor of the Year Award, presented to him at a ceremony at the ISAF Conference in Oman. While this is ISAF and predictably they made the award to an Olympic sailor over and above the youngest ever Vendée Globe winner or Paul Larsen, who earlier this year knocked the ultimate speed sailing record into the stratosphere with Vestas SailRocket 2, Belcher is a particularly special Olympic sailor.
The last event the 31-year-old Aussie 470 helm lost (when he finished second) was two years ago and he has scored an unprecedented number of consecutive regatta wins since, including Gold at London 2012 and three World Championships – all in an ultra competitive Olympic class. Belcher hasn't finished off the podium since April 2011 and has won every 470 World Championship since 2010 – a record that even the likes of Ben Ainslie would be envious of.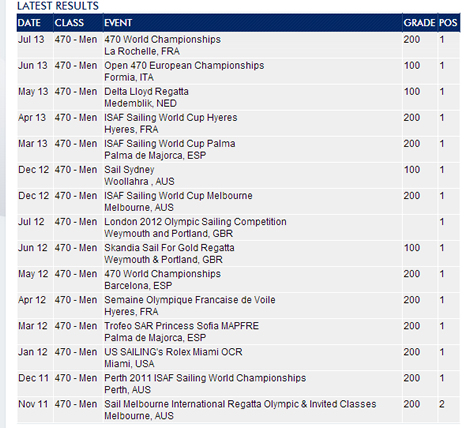 In addition, Belcher has maintained this record despite a change of crew, with legendary 470 sailor (and double Olympic gold medallist) Malcolm Page hanging up his Olympic sailing boots after London 2012 and Will Ryan stepping in to replace 'the irreplaceable'.
"We are having a good run, which is nice," Belcher acknowledges. "It is a little bit surreal, because if you are in good shape - which we were this year - you can go into the these events and, if everything goes well, you know that you'll at least be fighting for the medals. We are also experienced enough to know that things go wrong, you have a bad day or you pick your moments wrong, the talent in the 470 fleet is such that you get punished. So we have probably been a little bit lucky in some cases to come away with a win, especially this year with the winner-takes-all format in a couple of events that we did - that certainly adds to the pressure - but we've fought hard and got through.
"Like the Worlds - the conditions made that a very difficult event. We changed race areas each day and it was very hard to adjust. It was fantastic to come away with that one, especially for Will and I being a new team. We've only been sailing together for about a year."
Heralding from the Gold Coast, Belcher's parents aren't sailors although he grew up living on a canal and the water was very much part of his life. He says that as a child he was "sport mad" and aside from his sailing he has a black belt in Taekwondo (ie don't mess with him...), got his golf handicap down to 9 at one point and did ice hockey competitively for a couple of season.
"As kids, we used to go out on the boat at weekends and used to play in the water. One day they got a really old Sabot [the Aussie version of the Oppie], and I just jumped in and after an hour, I hadn't come back! They spent the rest of the afternoon trying to get me off the boat – I was having a great time!"
His 18 month older brother Daniel was instrumental to his sailing, as Mat puts it "he had the license, so he needed to drive me to the regatta sites anyway! I thought 'good deal'!" And he had plenty of opportunity to develop his sailing at school and through the programs at the Southport Yacht Club and the Royal Queenland Yacht Squadron in Brisbane, which continue to support him to this day.
"I grew up through the programs, step by step. You do well at State level and you get a little bit more noticed and eventually you get into the Olympic side of things and I got into Victor's program. It has been a long road and a pretty up and down one to be honest."
The Belcher brothers graduated up to the 420, winning the Worlds in 2000 in La Rochelle (where Mat won his fourth consecutive 470 World title this summer) and then into the 470. As a result of his 420 title he got to carry the Olympic flag at the closing ceremony for the Sydney Olympic Games that year, despite having just turned 18.
At the Sydney Games he met Australian 470 Gold medallists Tom King and Mark Turnball. "I bought their boat and got straight into the program. Actually it was a bit awkward, because I had enrolled in uni - I was doing a law and business degree - and Victor said to me 'well, this is your moment, you either come to Europe with me and we do these events or you go study'. So there was an interesting conversation with my parents, because I was already six weeks into my course, but I decided to take a chance and went overseas and lived with Victor for six months and it went from there."
Belcher campaigned with his brother up until the Athens Olympics, getting up to 8th in the ISAF rankings and finishing 11th at the Worlds in Cadiz. But after this, Daniel chose to change tack and pursue a professional career, going off to New York and getting a Masters degree in law/business at Columbia University and subsequently working for McKinsie in the Big Apple. "He is actually shorter than me - so we were struggling a little bit," admits Mat.
After this Belcher teamed up with Nick Behrens. They got up to no1 in the ISAF rankings through the first half of 2007, but ended up not being selected to go to represent Australia at Beijing 2008, that honour going to Nathan Wilmot and his future crew Malcolm Page.
Thankfully Wilmot and Page returned home with the Gold medal, but Belcher admits this was a difficult period in this Olympic career: "Australia was 1 and 3 in the world at the time and it's no secret that the team wasn't so much of a 'team' in the 470 at that point. We didn't get on too well with the other guys, Nathan and Malcolm, and as in any close battle you have got your differences. We were disappointed we didn't win the trials - it was based on our performance throughout the year, but it was quite discretionary. At the end of the day they deserved to go and came away with the result, which was fantastic."
After losing the selection Belcher took some time out and returned to complete his degree. However finishing this coincided with the Games in China and he was invited to attend driving a RIB for the team.
"I actually had no intention of campaigning after that," he says. "I hadn't spoken to my then girlfriend, now wife. But I saw them and it brought back the eight years of training. I thought 'I just want the chance to see if I can do it...just one more time'." Knowing that Wilmot was going to quit Olympic sailing, he met up with Page the day after he'd won the gold and offered his services as a replacement helm.
Two months later and Belcher and Page were the new kick-ass Aussie 470 team.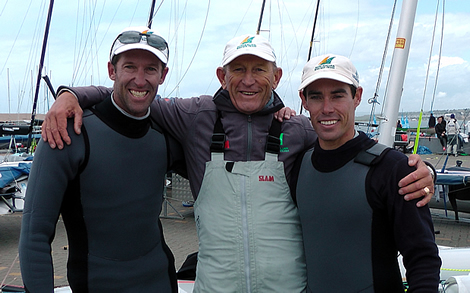 After a dire Olympic Games in Athens, the Australian Sailing Team reinvented itself for Beijing, but the real fruits of their endeavour only fully became apparent at London 2012, not just in the 470 but in the 49er and Laser thanks to the effort of Nathan Outteridge/Iain Jensen and Tom Slingsby. With the exception of the Aussie Women's match racers who brought home silver, a common theme to the Aussie 470, 49er and Laser sailors was their annihilation of the competition to the extent there was a small competition going on within the team to see the amount by which they won (claimed by Outteridge and Jensen, who had secured 49er gold before even going into the medal race).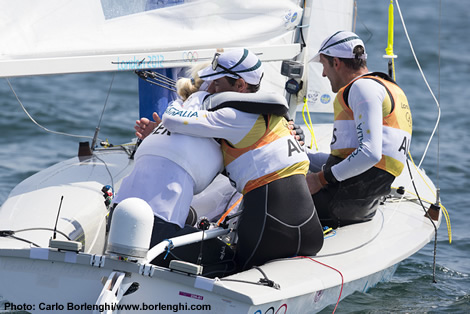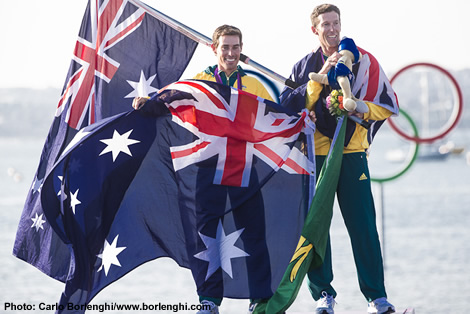 "I think it was down to the athletes getting older and more experienced and the personalities within the team, especially for London," says Belcher of the Aussie team's performance. "That collective, shared knowledge approach which we grew up with those guys, we knew them really well and we knew how hard everyone was working, so we supported each other."
Unlike Team GBR, the Aussies typically had little by way of depth in their ranks below their 'star' sailors. "We have a lot of talent coming through, but we usually have one team in the top 10 and another team developing. But we are on our way. The direction with the sponsors and the support and the team environment - I am pretty certain that if not by 2016, then by 2020, our team will be pretty solid across all the Olympic classes."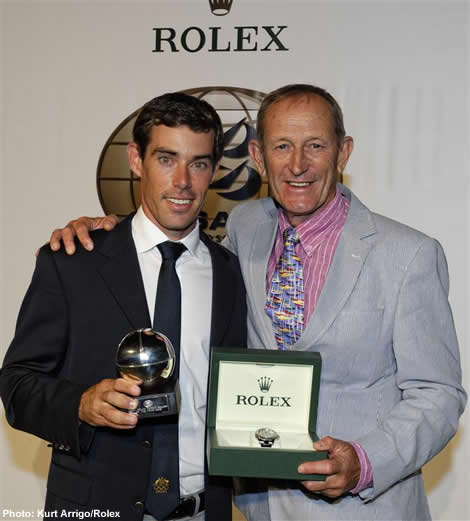 A significant component to Belcher's success with his two crew, as well as the Australian Sailing Team generally, has been the 'Victor' element: Victor Kovalenko (above), the former Ukrainian, turned Aussie, a former Soviet era 'professional' Olympian, Olympic sailor turned coach - is considered one of the foremost coaches in our sport and his impressive record is such that has been dubbed 'the medal maker' (see a more complete article about the great man here). Conveniently for Belcher, his foremost love is 470 sailing.
"Victor plans a lot," says Belcher of the third member of their team. "He knows where you want to be at certain times. He has always got that milestone in the back of his head that you have to meet. Sometimes he comes out and just says it and it is a bit of a shock. At the beginning of 2010, he said to us he wanted us to be World no1 in the ISAF ranking, wanted us to win the World Cup and he wanted us to win the Worlds. After we left the meeting, it was like 'Jeez Mal – he doesn't ask much, does he???!'"
However Belcher acknowledges the effect Kovalenko has had on him. "He is there and he is completely committed to your program, fully in, and it is an amazing experience to have that support at that intensity and at that level. He is a brilliant man and I have certainly learned a lot from him."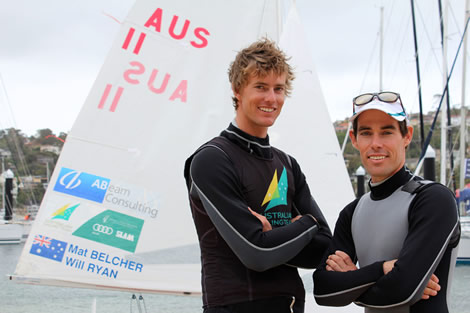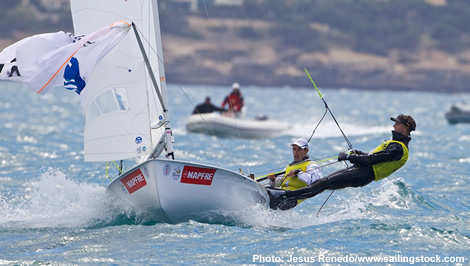 As to Belcher's new crew, Will Ryan, the choice was made ahead of London 2012 as Ryan had been one of their training partners.
"I sailed a couple of World Cup events with him back in 2010. He was my reserve crew for London. That guy is seriously motivated. He is phenomenal. The pressure that he had this year was quite enormous. I thought I had a bit of pressure, but a lot of people are trying to compare him with Malcolm. His response to filling Malcolm's shoes is that he says he has bigger feet! He is 23 years old and he has really taken charge. He is a phenomenal talent and he is defining new areas of 470 sailing and he is defining his own style and he is performing amazingly. I am really enjoying sailing with him and really looking forward to see us grow as a team."
Personally Belcher going for what will be his fourth Olympic campaign is made all the harder this time in that he has just become a father with his German wife Rike Ziegelmayer to son, Anton. He is fortunate that her indoors is also a 470 sailor and in fact is 470 royalty - her father being Ziegelmayer, the 470 builder, her grandfather was also an sailing Olympic medallist. "So there is a bit of pressure on our kid! He'll be the one who'll want nothing to do with sailing!"
As to his relationship with the Ziegelmayers he adds: "It is nice to have those relationships and make it more personal. It is pretty cool when you father-in-law is building your boat and your wife is competing too. It is a great experience."
In the build-up to London 2012 he says that they won two World Championships in Ziegelmayers and two in Mackay-built 470s. "Both boats are great. Obviously the family connection for myself, adds that special part to it, but the tolerances are so small and the quality - there is not much difference between them. This year, we have seen a bit of a shift to teams using gear that we use."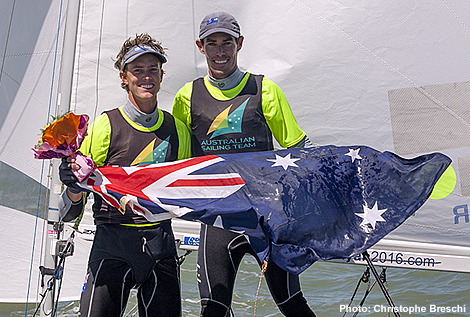 So what is his motivation for continuing with his Olympic sailing to Rio 2016. "I am still working on that! I think that the biggest things for me was the opportunity after the Games and the response to the sport of sailing in Australia. We have had fantastic sponsors. Our new sponsor, ABeam Consulting, and a development project down in Melbourne, Windham Harbour - they have said 'we want to support you for another four years. We love what you've done'. That has certainly helped a lot. And the support of the Australian Sailing Team.
"I think the biggest thing for us is that we learned so much last year about where we wanted to go and we were in such great shape to get to that level to start with, winning consecutive events. Plus we had a list a mile long of stuff we want to explore and develop and there is that opportunity to say 'hey, we are in a position to see where we can take this class'. And we love doing it."
You certainly wouldn't bet against him for Rio 2016 470 Gold.
Back to top
Back to top