Update from the Moth Worlds
The McDougall + McConaghy International Moth World Championship being held out of the Kaneohe Yacht Club in Hawaii this week, at present looks like it will end up as a two horse race between American Bora Gulari, the 2009 World Champion and Nathan Outteridge, the London 2012 49er gold medallist, Artemis Racing AC72 helmsman and 2011 Moth World Champion.
Five days into the regatta and racing has been only possible on three with proceedings canned on Monday and Thursday due to light wind. Hawaii? Light wind?
Like the Little America's Cup recently in the UK, the Moth Worlds was moved on in the calendar in order to accommodate sailors who were involved in the America's Cup, like Outteridge or Adam May and multihull 'Yoda' turned newbie Moth sailor, Loick Peyron, who is sploshing his way around the race course over the last few days.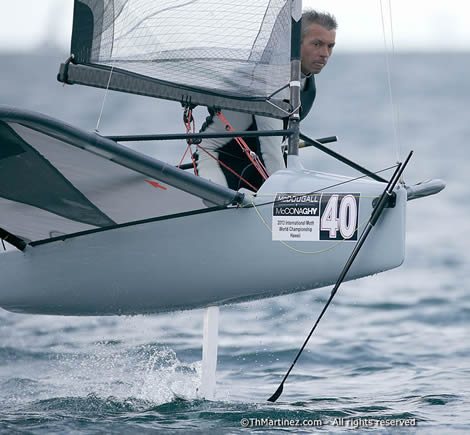 Three time Volvo Ocean Race sailor (and past International 14 and 18ft skiff World Champion) Rob Greenhalgh, who won two races today and now lies in fifth place overall, just two points away from the podium, explains how moving on the date effected the weather: "If you look at any historical data for this time of year here, things are on the change from solid trades to a lighter period. Last week was very good - we had the upper end of the wind range, up towards 20 knots, but then it coughed this week. We were expecting 8-14 and its actually been a bit of struggle, particularly tough for the race management to find their windows to get races in, especially with an 80 boat fleet and a very short race track."
And this is despite Kaneohe Yacht Club being on the windward side of the island (the trade winds are northeasterly).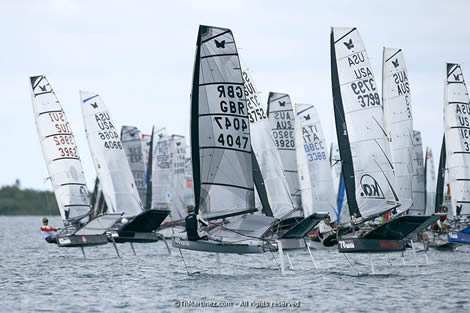 The race area in the bay off the club is constrained with reefs on every side with a boundary set up that they aren't allowed to cross. As Scott Babbage, currently holding third place overall, says they are fortunate that the winds are light otherwise they would be forced to split the 80 strong fleet in two.
The line-up in Hawaii is fabulously diverse. In addition to Gulari and Outteridge, Babbage (normally found in the middle of the profoundly successful Gotta Love It 7 18ft skiff team) is back, while there is a strong contingent from the UK including Rob Greenhalgh, who is currently fifth, one point behind Ben Paton in fourth, while three time European Champ Chris Rashley is holding seventh place.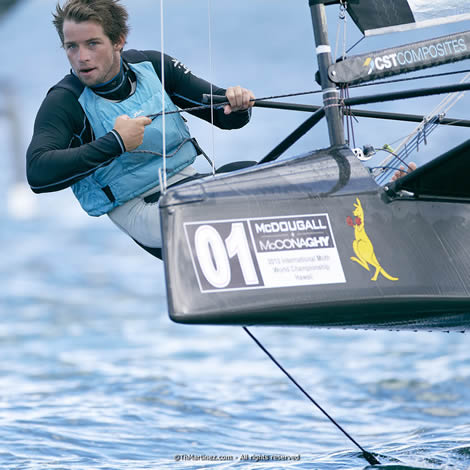 Also in the frame have been defending champion Josh McKnight and 49er silver medallist, Kiwi Peter Burling, part of strong posse of Olympic 49er sailors including Austrian helm and crew, Nico Delle-Karth and Nikolaus Leopold Resch, who were fourth at London 2012 and Outteridge's crew, Iain Jensen.
Other surprises in the fleet include Dutch 470 sailing Coster brother, Kalle, and Irish Laser Radial Olympic medallist-in-waiting, Annalise Murphy, and Italian ex-Volvo Ocean Race sailor Stefano Rizzi.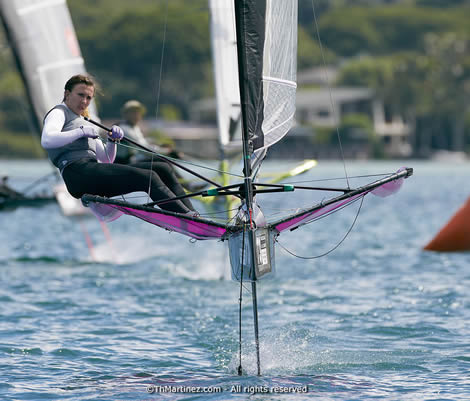 With no indigenous Moth fleet, Australia has the most boats at the Worlds, around half of whom are from Sydney and specifically from Woollahra Sailing Club in Munros Bay.
"It is probably the best field the Moth class has ever seen," agrees Babbage. "The names...everyone is very happy to have Loick [Peyron] here to sail against, but he is just learning and it is his first regatta and he's toughing it out. We do have quite a few old guys in the fleet, people into their mid-60s. He is definitely not the oldest..."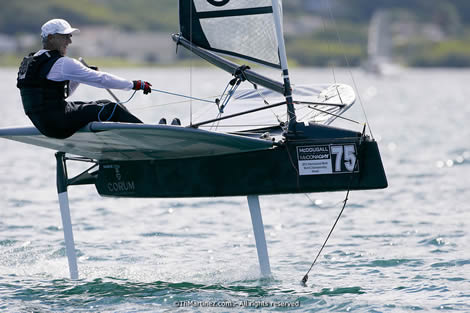 For most, the light, shifty northwesterly offshore breeze at the Worlds, even with two discards, has turned it into a high scoring regatta (and with 80 boats and 10 races having been sailed so far, for some it is very high scoring...) as ever the most consistent come out on top. In the case of Gulari and Outteridge, to date both have one result outside of the top 10 and for example there is a 15 point leap from Outteridge to third placed Babbage.
Given the confines of the race area, courses have been short and are typically two windward-leeward laps with legs of around 0.75-0.8 miles, with races lasting just 15-16 minutes for the leaders.
Today the breeze was more steady than it has been previously this week with less holes in it and with the first race starting in 6-7 knots, it built gradually during the afternoon.
"I got away pretty cleanly in the first race and led the whole way around and it was likewise in the second race," described Greenhalgh of his first bullet of the regatta. "I am pretty quick in the light stuff, so I don't have much to ask for really, as long as i don't do anything silly I should be in good shape. The breeze built for the third race and my start was okay, but there are a lot of good sailors here and a lot of big wind shifts... I was 12th at the first mark and ended up 8th. It is tough out there."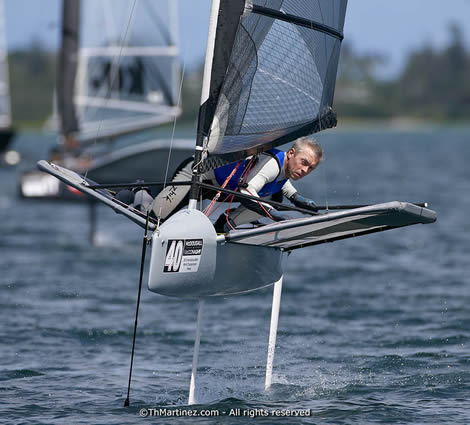 According to Greenhalgh with the conditions as they are and the giant fleet on the compact race area, starting has been at a premium this week as well as making a call on which side of the first beat to choose. "On these boats you end up with a lot of separation very quickly and if the wind shifts by 5or 10° you are either a long way ahead or a long way behind."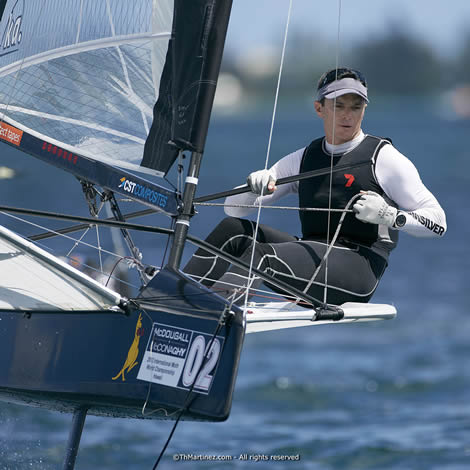 Babbage agrees that this week has been more about tactics than boat handling. "The shifts are huge, so being on the right side of those is really important and Nathan has been very good at that."
With the weak wind making foiling a marginal thing, foil size has come into play. Greenhalgh observes that Peter Burling, a pre-race favourite has been struggling with his smaller foils. "But when the breeze picks up, like the last race today, he had big wheels on him and he could rumble through alright. It is horses for courses as always."
Apart from being one of the most talented sailors of his generation, one of theories why Outteridge has been performing well is that he is using gear he hasn't fully updated since he last won the Worlds two and a half years ago. Babbage explains: "Outteridge is one of the last guys who still has a big main foil, whereas almost all the main guys have either cut them or discarded them over the last two or three years. He is quite rare in that regard. But running big foils gets him out of the water earlier, which has been a handy thing to have when it gets marginal, but he has said that with the big foils he also has a speed disadvantage and is quite slow downwind compared to Bora."
Increasingly Moth sailors are being offered a wider range of foils to use and Babbage admits that he and defending World Champion Josh McKnight both pitched up in Hawaii with foils still smaller than the ones they have on at present, which they simply haven't been able to use due to the light winds.
While the basic Moth hardware is becoming standardised – the leaders are all on Mach 2s with the exception of the lead Brits such as Greenhalgh, Ben Paton and Chris Rashley who are all sailing Kevin Ellway-designed Exocets, built by Maguire Boats in Lymington (more on these here and here)
According to Babbage there doesn't appear to be much difference between the boats relative performances only that the Exocets have shown themselves to be taking off at a lower wind speed. "That has been quite beneficial in the lighter airs. Rob [Greenhalgh] has looked good all week in those conditions. The Mach 2 guys are more optimised for a bit stronger wind."
However there are increasing differences between the bits attached to the boats, which are becoming more and more 'pimped...' "There is quite a range of foils now," states Babbage. "We have got the big and the small main foil, the Dave Lister main foil... [as Bora Gulari is using]. I think the Exocets are carrying three different sizes of foil to cover the wind range and there are a couple more different rudder designs as well and Andrew McDougall (designer of the Mach 2 and KA Moth sails) has a new rudder which he thinks is better again."
Similarly there is even increasing choice between the Moth's one sail and the mast. Gulari is using a North sail (H13) designed by Chris Williams of the Connecticut loft, while Greenhalgh has a sail from North Japan, Chris Rashley has a Hyde membrane sail and many others, particularly the Aussies such as Babbage, are using KA, where the latest model is the MSL 16. Similarly masts from CST, Mach 2 and C-Tech are all represented in the top 10.
According to Babbage, at the Moth class' AGM this week there was further discussion on whether there needs to be some control introduced to prevent an arms race from beginning. Although this has yet to be resolved, he feels that in the future people may be limited on how much gear they can measure in at major regattas or they might write into the Notice of Race that foils cannot be changed out on the water. "I think we'll see that development off before it happens."
Aside from the 'appendages' much focus this year is being placed on the Moth's aero package (again less important in the light conditions, but everyone was anticipating more breeze in Hawaii...) "Everyone has done low windage tramps, trying to smooth the front wing bar with the rest of the bar. But Bora [Gulari] has taken it to another level with fairings on the back of his compression struts and on the back of wing bars. So he's had his 3D printer working overtime building these plastic fairings he's got on everything!"
Gulari has also been on a friction reducing drive and has introduced a number of new titanium ball bearing systems, for example in the mechanism connecting wand to foil trim tab.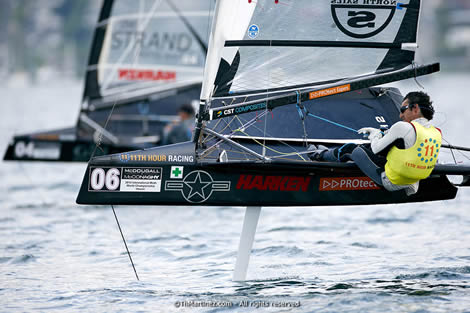 There are no wings being used in Hawaii and to date one hasn't kicked butt in the fleet adequately for it to be banned. However allegedly Gulari is contemplating building a new one (and Adam May may or may not have some top secret new equipment in this vein lurking somewhere his garage...)
With four races scheduled for the final day of racing tomorrow and with the 80 strong fleet, there is still a lot of points on the boards and the forecast is once again for light conditions. "We have only got two drops in the series and a lot of people have used up their big scores already, but there is still plenty of runway," says Babbage, who lies third and dropping a 27th and a 24th.
On the class front, there is more good news - in addition to an ever stronger turn out of skippers, there are increasingly attractive offers being made to hold future World Championships. While the Worlds is coming to Hayling Island (not quite Hawaii, but close...) next year there are the options of Switzerland and Japan for 2016 and more in store for 2017.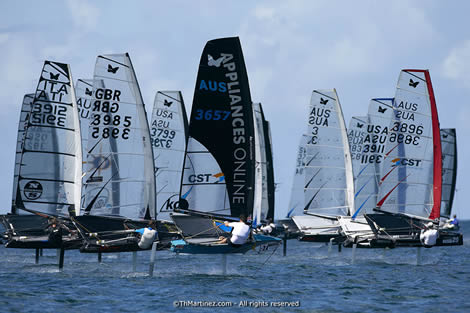 Back to top
Results:
| | | | | | | | | | | | | | |
| --- | --- | --- | --- | --- | --- | --- | --- | --- | --- | --- | --- | --- | --- |
| Pos | Sail no | Skipper | R1 | R2 | R3 | R4 | R5 | R6 | R7 | R8 | R9 | R10 | Tot |
| 1 | USA 6 | Bora Gulari | [18] | 1 | 2 | 1 | 3 | 3 | [7] | 5 | 3 | 3 | 21 |
| 2 | AUS 3997 | Nathan Outteridge | 1 | 2 | 1 | [10] | 9 | 1 | 8 | 2 | [13] | 5 | 29 |
| 3 | AUS 2 | Scott Babbage | 4 | 4 | [27] | [24] | 1 | 12 | 1 | 4 | 5 | 13 | 44 |
| 4 | GBR 3982 | BEN PATON | [15] | 3 | 3 | 15 | [23] | 6 | 3 | 6 | 2 | 7 | 45 |
| 5 | GBR 4047 | Robert Greenhalgh | 2 | 7 | 7 | 9 | [19] | [13] | 11 | 1 | 1 | 8 | 46 |
| 6 | AUS 3 | Rob Gough | [17] | 8 | 13 | 8 | 8 | 2 | 4 | [38] | 6 | 1 | 50T |
| 7 | GBR 7 | Chris Rashley | 3 | [35] | 6 | 11 | 7 | 4 | 13 | [36] | 4 | 2 | 50T |
| 8 | AUS 8 | Julian Salter | [12] | 9 | 8 | 5 | 2 | [29] | 5 | 3 | 12 | 11 | 55 |
| 9 | USA 3931 | Brad Funk | [24/ZFP] | 5 | 4 | 3 | 5 | 5 | 18 | 10 | 21 | [23] | 71 |
| 10 | NZL 3991 | Peter Burling | [40] | 28 | [52] | 2 | 10 | 7 | 6 | 9 | 11 | 4 | 77 |
| 11 | AUS 1 | Josh Mcknight | 7 | 10 | [16] | 7 | 14 | 10 | 9 | 16 | 7 | [39] | 80 |
| 12 | USA 4054 | George Peet | 5 | 6 | 9 | [37] | 22 | 9 | 14 | [25] | 22 | 9 | 96 |
| 13 | AUS 3951 | Iain Jensen | [34] | [27] | 21 | 4 | 6 | 14 | 15 | 22 | 18 | 25 | 125 |
| 14 | USA 3911 | Eric Aakhus | 10 | [37] | [32] | 19 | 4 | 16 | 26 | 8 | 26 | 30 | 139T |
| 15 | SUI 3796 | Psarofaghis Arnaud | [33] | 21 | 18 | 23 | 15 | 20 | 10 | 15 | [40] | 17 | 139T |
| 16 | AUS 3958 | Steven Thomas | 13 | 16 | 12 | 32/ZFP | [34] | 30 | 16 | [33] | 17 | 12 | 148 |
| 17 | AUT 4029 | Nico Luca Marc Delle Karth | 6 | [32] | 14 | 30 | 16.5/TIE | 17 | 28 | [32] | 20 | 21 | 152.5 |
| 18 | AUS 3832 | Les Thorpe | 25 | 20 | 15 | 20 | [41] | 19 | 33 | 17 | 8 | [40] | 157 |
| 19 | ITA 3912 | Rizzi Stefano | 21 | 12 | [43] | 17 | 27 | 24 | 20 | [31] | 27 | 10 | 158 |
| 20 | USA 4056 | Tom Johnson | 26 | [33/ZFP] | [28] | 18 | 12 | 11 | 21 | 20 | 25 | 26 | 159 |
| 21 | GBR 3985 | Simon Hiscocks | 19 | [43] | 24 | 13 | 13 | 22 | 27 | [34] | 23 | 20 | 161 |
| 22 | AUS 5 | Andrew McDougall | 36/ZFP | 11 | 22 | 14 | 20 | 15 | 30 | 14 | [81/OCS] | [81/OCS] | 162 |
| 23 | JPN 3989 | Hiroki Goto | 24 | 14 | 17 | 21 | 30 | 25 | [35] | 13 | [31] | 19 | 163 |
| 24 | ESP 3975 | Pablo Arandia | 14 | 30 | [35] | 26 | [37] | 33 | 12 | 11 | 33 | 18 | 177 |
| 25 | USA 3896 | John Harris | [31] | 26 | 10 | [39] | 16.5/TIE | 21 | 31 | 29 | 29 | 15 | 177.5 |
| 26 | USA 4007 | Dalton Bergan | 35 | 22 | [36] | 22 | 11 | [39] | 19 | 27 | 14 | 35 | 185 |
| 27 | SUI 3962 | Christopher Rast | [39] | 25 | [81/DNS] | 6 | 21 | 32 | 25 | 23 | 30 | 24 | 186 |
| 28 | AUS 3657 | David Lister | 29 | [58/ZFP] | [81/DNS] | 40 | 25 | 8 | 24 | 39 | 16 | 6 | 187T |
| 29 | USA 3799 | Jonathan Goldsberry | [36] | 15 | 29 | 27 | 31 | 27 | [32] | 7 | 19 | 32 | 187T |
| 30 | ISV 4 | Anthony Kotoun | 57 | 45 | 11 | 29 | [81/DNF] | [81/DNS] | 2 | 12 | 9 | 27 | 192 |
| 31 | AUS 4020 | Warren Sare | 45 | [81/DNS] | [53] | 28 | 32 | 26 | 34 | 24 | 15 | 16 | 220 |
| 32 | AUS 3803 | Kohei Kajimoto | 9 | 34 | [55/TLE] | 12 | 40 | 36 | [46] | 37 | 36 | 43 | 247 |
| 33 | USA 4017 | Matt Knowles | 30 | 24 | [48] | [42] | 18 | 40 | 41 | 41 | 34 | 28 | 256T |
| 34 | GBR 4025 | Adam May | 27 | 31 | 41 | 35 | 33 | 23 | [45] | 21 | 45 | [81/DNS] | 256T |
| 35 | AUS 3920 | Ben Newling | 23 | 23 | 19 | [49] | 36 | 34 | 42 | 42 | [49] | 38 | 257 |
| 36 | SWE 3786 | Nils Akervall | [59/TLE] | 18 | 31 | 31 | 45 | 43 | 43 | [54] | 39 | 14 | 264 |
| 37 | AUS 4000 | Mark Robinson | 38 | 19 | [55/TLE] | 50 | 26 | 41 | 17 | 30 | 44 | [53/ZFP] | 265 |
| 38 | AUS 3750 | Andrew Chapman | 28 | 36 | 25 | 48 | 28 | [50] | 36 | 28 | 37 | [81/OCS] | 266 |
| 39 | SUI 3752 | David Holenweg | 32 | 29 | 30 | 32 | 38 | [60] | 39 | 26 | [50] | 42 | 268 |
| 40 | JPN 3899 | Masatomo Suzuki | [56] | 41 | 47 | 38 | [48] | 38 | 29 | 18 | 38 | 29 | 278 |
| 41 | NZL 4024 | Mike Bullot | [81/DNF] | [57] | 23 | 34 | 42 | 18 | 38 | 55 | 42 | 36 | 288 |
| 42 | GER 3954 | Leopold Fricke | 22 | [50] | 20 | 43 | [53] | 45 | 44 | 46 | 24 | 47 | 291 |
| 43 | AUS 4003 | Reece Tailby | 37 | 40 | 34 | [65] | 47 | 37 | 23 | [61/ZFP] | 47 | 45 | 310 |
| 44 | AUS 3847 | Charlie Connor | 48 | 38 | [55/TLE] | 46 | 24 | 46 | 40 | [56] | 41 | 52 | 335 |
| 45 | AUS 3878 | Andrew Cuddihy | 32/ZFP | 54 | 51 | 62 | 35 | 35 | 37 | 40 | [81/DNS] | [81/DNS] | 346 |
| 46 | SUI 3622 | Fabien Froesch | 50 | 46 | 50 | 33 | [54] | 48 | 22 | [53] | 46 | 53 | 348 |
| 47 | AUT 4028 | Nikolaus Leopold RESCH | 59/TLE | [81/DNF] | 55/TLE | 25 | 39 | 44 | [66] | 60 | 35 | 33 | 350 |
| 48 | USA 3984 | John Bartlett | 52 | [68/ZFP] | 37 | 56 | [66] | 47 | 61 | 19 | 43 | 66 | 381 |
| 49 | AUS 3934 | Jamie Woods | [81/DNC] | [81/DNC] | 81/DNC | 81/DNS | 29 | 31 | 48 | 62 | 28 | 22 | 382 |
| 50 | USA 4066 | Dylan DiMarchi | 41 | 44 | 46 | 53 | 55 | [81/DNF] | 49 | 44 | [66] | 56 | 388 |
| 51 | SWE 3794 | Emma Aspington | 43 | 39 | 38 | 68 | [72] | [69] | 62 | 35 | 58 | 46 | 389 |
| 52 | USA 3683 | Zack Maxam | 53 | 48 | 39 | 47 | 46 | 55 | [59] | 48 | 54 | [57] | 390 |
| 53 | IRL 3771 | Michael O'Shea | 42 | [68] | 44 | 36 | 50 | 57 | 51 | 64 | [68] | 49 | 393 |
| 54 | FRA 3596 | Nicolas Rousselon | 54 | [65] | 26 | 45 | 58 | 53 | 47 | 61 | 56 | [81/DNS] | 400 |
| 55 | AUS 4004 | Will Logan | 59/TLE | 47 | 55/TLE | 41 | 44 | 52 | 57 | [74] | [81/DNS] | 48 | 403 |
| 56 | USA 3801 | Ian Andrewes | 58 | 56 | 49 | [63] | 43 | 28 | 54 | 58 | [61] | 58 | 404 |
| 57 | NED 4023 | Kalle Coster | 46 | 53 | [71/ZPT*] | 51 | 49 | 51 | 53 | 51 | 55 | [68] | 409 |
| 58 | SUI 3729 | Philip Käsermann | 44 | 33 | 54 | [81/DNF] | [81/DNS] | 81/DNS | 81/DNS | 57 | 32 | 34 | 416 |
| 59 | AUS 3785 | Rayshele Martin | 49 | 58 | 33 | 60 | 57 | 58 | [67] | 43 | 62 | [65] | 420 |
| 60 | AUS 3824 | Fang Warren | 59/TLE | 55 | 45 | 44 | 64 | [81/DNF] | [73/TLE] | 63 | 64 | 31 | 425 |
| 61 | GBR 4038 | Tom Special Offer | 11 | 13 | 5 | [81/DNF] | [81/DNS] | 81/DNS | 81/DNS | 81/DNS | 81/DNS | 81/DNS | 434T |
| 62 | ITA 3855 | Fabio Mazzetti | 59/TLE | [64] | [81/DNS] | 57 | 59 | 42 | 58 | 52 | 53 | 54 | 434T |
| 63 | USA 4018 | Thomas Loughborough | 59/TLE | 60 | 55/TLE | 54 | 65 | [81/DNF] | [81/DNS] | 59 | 52 | 41 | 445 |
| 64 | SWE 3792 | Casper Arvefors | 55 | [67] | 55/TLE | 64 | 60 | 59 | 52 | [68] | 60 | 44 | 449 |
| 65 | JPN 3886 | Takashi Nakagawa | 59/TLE | 49 | 40 | 69 | 52 | 62 | 73/TLE | 47 | [81/OCS] | [81/OCS] | 451 |
| 66 | SWE 3793 | Magnus Gravare | 47 | 63 | 55/TLE | 52 | 61 | 64 | 50 | [75] | [72] | 61 | 453 |
| 67 | AUS 3905 | Phil Stevenson | 59/TLE | [73/TLE] | 55/TLE | 58 | 51 | 56 | 64 | [67] | 57 | 62 | 462 |
| 68 | USA 4001 | Chris Maas | 59/TLE | 73/TLE | 55/TLE | 71 | 51/TLE | [81/RET] | [81/DNF] | 65 | 10 | 81/OCS | 465T |
| 69 | FRA 3964 | Loick Peyron | 59/TLE | 66 | 55/TLE | [81/DNS] | [68] | 54 | 60 | 49 | 59 | 63 | 465T |
| 70 | ITA 4030 | Marco Lanulfi | 51 | 61 | [81/DNS] | [81/DNS] | 81/DNF | 81/DNS | 55 | 50 | 51 | 51 | 481 |
| 71 | AUS 3770 | Emma Spiers | 59/TLE | 59 | 55/TLE | 61 | 70 | [81/DNF] | 56 | [71] | 65 | 59 | 484 |
| 72 | GBR 3604 | Katherine Knight | 59/TLE | 51 | 42 | 66 | 69 | 66 | 69 | [73] | [81/DNS] | 64 | 486 |
| 73 | SUI 3798 | Philippe Schiller | 59/TLE | 62 | 55/TLE | 55 | 63 | 65 | 68 | 70 | [71] | [81/OCS] | 497 |
| 74 | IRE 3805 | Ryan Seaton | [80/ZFP] | 71 | [81/DNS] | 74 | 56 | 63 | 71 | 66 | 48 | 50 | 499 |
| 75 | IRE 3861 | Annalise Murphy | 59/TLE | 69 | [81/DNS] | [73] | 71 | 49 | 73/TLE | 69 | 67 | 55 | 512T |
| 76 | ITA 3388 | Tommaso (Thomas) Freddi | 59/TLE | 70 | [81/DNS] | 59 | 62 | 67 | 65 | [72] | 70 | 60 | 512T |
| 77 | AUS 4021 | David Robinson | 59/TLE | 72 | 55/TLE | 67 | [73] | 70 | 63 | [76] | 73 | 67 | 526 |
| 78 | USA 3479 | Jimmer Montgomery | 59/TLE | 73/TLE | 55/TLE | 72 | [74] | 71 | 70 | [81/DNS] | 69 | 69 | 538 |
| 79 | USA 3510 | Ryan Lorence | 59/TLE | [81/ZFP] | 55/TLE | [81/ZFP] | 67 | 68 | 81/RET | 77/TLE | 63 | 70 | 540 |
| 80 | USA 3678 | Guy Fleming | 59/TLE | 73/TLE | 55/TLE | 75/TLE | 73/TLE | 61 | 73/TLE | [81/RET] | [81/DNS] | 81/DNS | 550 |
Back to top