Chris Nicholson joins Mojo Wines
An outstanding 'newcomer' to the Australian 18 Footer League's fleet is the highly credentialed Chris Nicholson, who will skipper Mojo Wine during the 2013-2014 Season, which begins on Sydney Harbour this Sunday.

Nicholson has been a Volvo Ocean Race sailor since 2001 and it's been more than ten years since he sailed an 18ft Skiff with the Grand Prix Sailing circuit in the 1990s but his previous experience in an 18 will see a competitive campaign from the outset.

His successes extend to a number of classes at the highest level. He is an Olympic sailor and world champion in both the 49er and 505 classes.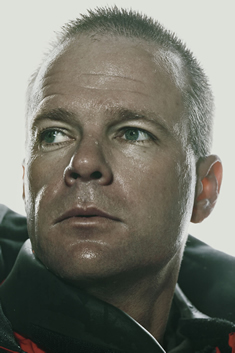 Nicholson is fortunate to retain the experienced crew from the 2012-2013 Season campaign; long standing 18ft Skiff sailor Mike McKensey and twice (incl. current) Australian 16ft Skiff champion Ricky Bridge.

"We have never sailed together as a crew before, but I saw potential when Ricky and I sailed 'Brydens' to victory in last year's Australian 16ft Skiff Sprint Championship", Nicholson said.

Securing Nicholson as skipper has been a real coup for the Mojo Wine campaign.

Ricky said one of the motivators for asking Nicholson to join the Mojo Wine team this year was the opportunity to sail with his long-time friend and sailing mentor: "Nico, Mike and I all grew up on Lake Macquarie where we progressed through the junior fleet at the Belmont 16ft Skiff Club. Nico has had such a great influence on my sailing career. Talking to Nico about my ambitions to win an 18ft Skiff title, I sensed his appetite for a return to high performance skiff racing."

Obviously, the 2014 JJ Giltinan Championship is a title Nicholson would like to add to his already impressive record.

"I've always followed the JJs but never had the opportunity or time to compete in one", he said. "I've very much missed small boats and the chance to have a summer on Sydney Harbour racing 18s is too good to pass up. Last year I followed the JJ results while racing in the Southern Ocean from Auckland to Brazil. Things will be warmer and more enjoyable this year."

The Mojo Wine skiff showed great potential last season and, with the addition of three new sails and new masts this team is sure to be one of the "gun teams" for the major 18ft Skiff titles this Australian summer.
Back to top
Back to top