Groupama C clear winner
Sunday September 29th 2013, Author:
James Boyd
, Location: none selected
The final day of the International C-Class Catamaran Championship was one of disappointment for the crews. With a strong-ish easterly onshore breeze out on Falmouth Bay, the decision was made to attempt to race within the confines of Carrick Roads - potentially great for spectators, who would get a bird's eye view of the competition from the beach.
However the wind was gusty, up and down around the wind limit, making the job of the Restronguet Sailing Club Race Committee one of 'damned if you do, damned if you don't': keen to get racing in following Friday's cancellation, but beset by conditions hovering around the limit of what C-Class catamarans can realistically race in, with the added pressure of a final day time limit.
Between the two finalists - Franck Cammas and Louis Viat on Groupama C and Billy Besson and Jeremie Lagarrigue on the Swiss Hydros Lombard Odier cat - there were decidedly mixed feelings about the prospect of racing. Groupama C has been stand-out boat all week, but Cammas admitted being reluctant to sail in anything above 15 knots. Conversely, the Swiss team felt that they might be the stronger team in big conditions: In the morning there were loud sounds of sawing from the Swiss tent and sure enough when they emerged blinking into the sunlight, their wing had been shortened by 1.2m. However according to Hydros Lombard Odier Team Manager Jérémie Lagarrigue, this drastic 'reefing' system is something that the Swiss team had planned in advance for; a secret feature designed into their wing from the outset.
Problems were compounded by there being inadequate communication between the PRO out on the water and teams waiting ashore to find out their fate – no one ashore was co-ordinating what was going on.
After much waiting, the Hydros Lombard Odier team stepped the wing on Besson and Lagarrigue's cat and hauled it down to the 'beach' only for the wind to pick up again (lots of people were sitting on the Swiss boat to prevent it taking off) while the Groupama shore crew took its wing back into the tent as they waited for the squall to pass.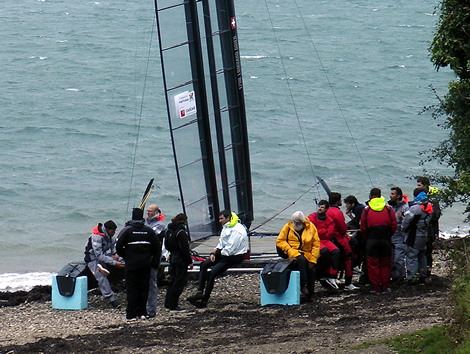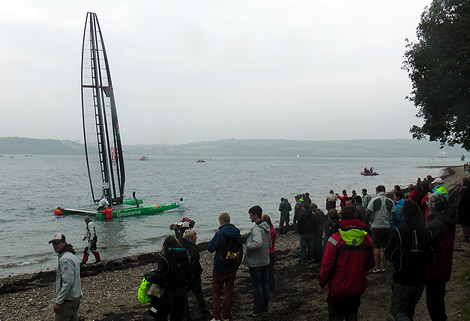 Ultimately the Swiss team launched and the PRO got racing underway for them, much to the Groupama team's consternation as they were still in the throws of getting their boat prepared. This left one boat sailing around the race course – once again this event living up to its nickname of the 'Little America's Cup'.
As the Groupama shore team hurriedly prepared to launch, a big gasp went up from those watching the racing when in the big conditions the Swiss C-Class cat rounded the top mark, bore away only to come off her foils and dive headlong into a big pitchpole.
As Lagarrigue later explained: "We didn't open the camber when we bore away and basically, if you don't do that, the wing stalls and then you have to re-attach the flow and you have to go high - Billy went quite high and then after there was a big gust and he bore away butit was too slow and the foil didn't work and we did a nose-dive..." Aside from damaging the wing they also broke the arm at the top of the rudder.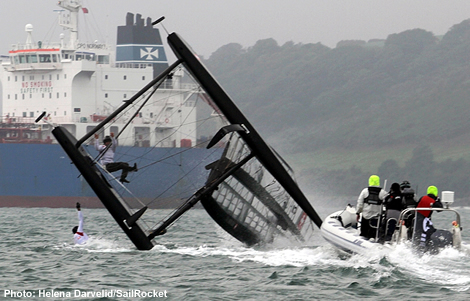 The boat was righted, but as usual more damage was done to the wing in the righting than during the accident itself (some procedural guidelines for righting catamarans with wings need to be written and issued). For some reason, despite having received outside help, they continued on around the course thereby continuing the disintegration of their wing.
Like that scene from Monty Python and the Holy Grail where a knight has all his limbs systematically loped off until only his head remains ("come back – I can still bite you..."), the Swiss team still for a while seemed to be up for racing, despite their wing being in tatters - genuinely members of the team were turned up on the beach with replacement ribs hoping to fix it somehow. Meanwhile Groupama C had been launched and was charging up and down Carrick Roads.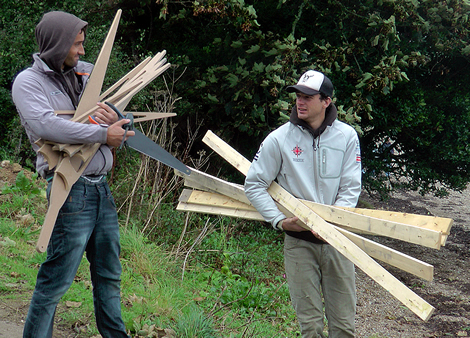 Finally the Swiss team threw in the towel, admitting they were done. This took place at 13:15 and with the SIs stating 14:00 as the latest start time, for a brief period there was contemplation of carrying out one race for the 'Petite Finals' (ie a fleet race for the rest of the boats). However given that it would take at least 45 minutes to rig the boats and get out to the race course, this idea was finally canned.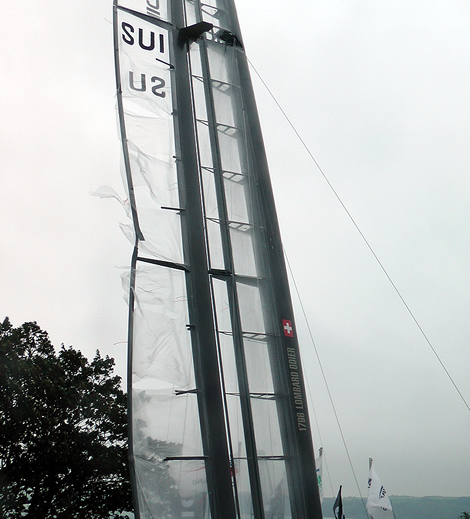 Finals
| | | | | | | | |
| --- | --- | --- | --- | --- | --- | --- | --- |
| Pos | Boat | Sail no | Helm | Crew | R1 | R2 | Tot |
| 1 | Groupama C | FRA7 | Franck Cammas | Louis Viat | 1 | 1 | 2 |
| 2 | Hydros Lombard Odier | SUI1 | Billy Besson | Jeremie Lagarrigue | 2 | 2 | 4 |
Petits finals
| | | | | | | | | |
| --- | --- | --- | --- | --- | --- | --- | --- | --- |
| Pos | Boat | Sail no | Helm | Cew | R1 | R2 | R3 | Tot |
| 1 | Cogito | USA104 | Lars Guck | Max Kramers | 2 | 2 | 1 | 5 |
| 2 | Canaan | CAN9 | Billy Gooderham | Chritian Pavey | 7 | 1 | 2 | 10 |
| 3 | Hydros Lombard Odier | SUI11 | Mischa Heemskerk | Bastiaan Tentij | 3 | 4 | 4 | 11 |
| 4 | Fill Your Hands | CAN10 | Fred Eaton | Magnus Clarke | 1 | 6 | 6 | 13 |
| 5 | Patient Lady VI | FRA2 | Gurvan Bentemps | Gwenole Gahinet | 4 | 5 | 5 | 14 |
| 6 | Aethon | USA105 | Steve Clark | Oliver Moore | 6 | 3 | 7 | 16 |
| 7 | Invictus | GBR38 | Tom Phipps | Cedric Bader | 8 | 7 | 3 | 18 |
| 8 | Alpha | ESP8 | Luke Patience | Sito Aviles | 5 | 10.0 DNC | 10.0 DNC | 25 |
| 9 | Wild Horse | POR25 | Diago Cayola | Nuno Balieto | 9 | 10.0 DNC | 10.0 DNC | 29 |
Cammas was not impressed when he came ashore: "It is a shame to finish like this, because it is not a good spirit for me. I was expecting them to wait for us to race."
Out on the water, Cammas said conditions had been tough. "It was very puffy and it is hard to be confident with the boat and to push it and if you don't push it, it is no fun. This boat is good until 15 knots and above that it is survival mode. We don't train in more than 15 knots. The only time we've sailed in that was on Monday!"
Given that the event took place in Falmouth at the end of September, we were surprised the wind was ever below 15 knots... However Cammas added Groupama C's wing is potentially good in bigger conditions as its top completely inverts to spill wind (like the Oracle Team USA wing).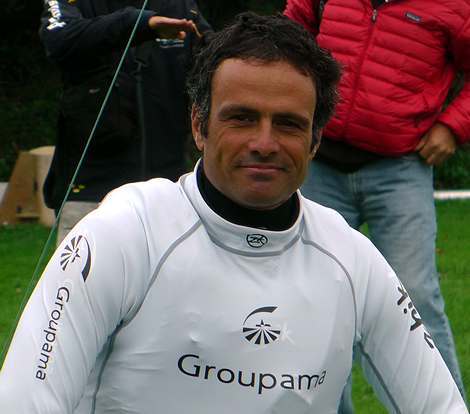 Nonetheless the winner of the Volvo Ocean Race and countless ORMA 60 events had won the Little America's Cup on his first attempt, and by some margin. As this week's results prove, the Groupama team has done a veni, vidi, vici on the C-Class and Cammas says he now very much wants to move on to 'big' America's Cup.
As to the C-Class he feels the class needs to write the rules down completely, because they are more than just length, beam and sail area...
Jeremie Lagarrigue said that he was happy for the Hydros Lombard Odier team because they had achieved second place on their first attempt against old hands such as defending champion Fred Eaton and Steve Clark.
The Swiss team is hosting the next C-Class Championship in Geneva in 2015 in conjunction with the Societe Nautique de Geneve [sure to go down well with the AC defender...] "It will be fantastic for the media, for the sponsors, for the VIPs to come to have a look at the C-Class. It will be a very different approach to what we have in England, which it is basically a camp site."
According to Lagarrigue there was a meeting on Friday where it was decided that the plan for the Class going forward is to hold the International C-Class Catamaran Championship every two years with European and North American championship filling in the intervening years.
In Europe both Groupama and Benjamin Muyl's Challenge France are believed to 'have plans'.
Hydros Lombard Odier's other helmsman, A-Class World Champion Mischa Heemskerk, said that he had thoroughly enjoyed his C-Class experience: "It is a fun to sail the boat, especially since foiling is the future of sailing. Te technology we have seen here which will drip down, as everyone wants to go foiling – it is naturally appealing."
However an International C-Class Catamaran Championship on notoriously light wind Lake Geneva, doesn't immediately sound like an event where foilers will prevail. The present boats need around six knots to foil.
"I think our first C-Class event has been a magnificent experience, sailing with the wings and these big powerful boats," Heemskerk continues, adding that they have learned huge amounts about the wing, in particular leech twist, and TPT construction – the Hydros wings came out a lot stiffer than expected.
"Despite the results we are quite happy, because by being behind or in a tough spot, you learn the most and I think Hydros, as a knowledge company, we have learned a whole bunch, which will be very valuable information for any future projects." This includes his future A-Class catamaran racing.
Defending International C-Class Catamaran Championship winner, Team Canada's Fred Eaton admitted that they had come to this competition underestimating the level of competition from the Swiss team and Groupama.
"The whole event was really successful," said Eaton. "First of all, we had the biggest C-Class event ever, certainly the most competitive in terms of the number of good boats and we had one boat [Groupama C] that was spectacularly faster, which I think is something the class should cherish, because that is what we are about as a class.
"I think it will motivate everyone. Our measurement for what is fast has just changed. So I think the fleet will be closer next time, because no one was prepared for this kind of huge jump and we will work on a much smaller gap in the next racing, we'll have a lot more closer racing."
Looking at Groupama C, Eaton said he particularly liked how easily Cammas and Viat made it look foiling stably. "They sail and they gybe and they pull it back up and they sail – all the other boats, like us, were porpoising in and out. You watch Hydros today – they had huge problems with their control...
"So this is the first foiling catamaran that has ever beaten a non-foiling catamaran in a regatta. It is the first really fabulous foiling small catamaran, that can compete across the whole wing range. Part of the reason it is so good is the conservative solution, it is a solution that allowed the crew to make mistakes on the water and survive that – no other crew can do that."
Eaton says he is looking forward to the International C-Class Catamaran Championship on Lake Geneva in two years time. However he admits that he is not sure that he will be helming after the impressive performance on Canaan of International 14 sailors, Billy Gooderham and Christian Pavey. "Billy did the right job for us this year – he is a pretty impressive kid and he wants to go sailing. I think the boat deserves a helmsman who really wants to push and go racing. You need to let the boys get out of the owners' control and let them rip!"
As to the future of the C-Class – one imagines that with the America's Cup likely to remain in wingsail catamarans then the C-Class could easily become the development class of choice for the AC teams. Unfortunately AC teams arriving in the class will inevitably kill it for any remaining average mortals, in being able to apply bigger resources and more PhD power to it, just as Franck Cammas and Groupama so amply demonsrated on this occasion.
Still this remains one of the most fascinating classes in all of sail boat racing and it has been a great privilege to have had the biggest ever assembled fleet of them competing on UK shores for the first time since 1968.
Back to top
Back to top