Groupama C dominant
A change to lighter conditions for the third day of the International C-Class Catamaran Championship on Falmouth Bay seemed to have little effect on the continued forward march of Franck Cammas' Groupama C. With six races now held, and having scored bullets in five, Cammas' discard today is a second from race five in which his green C-Class catamaran had been leading up until the final run into the finish, when his crewman's trapeze broke causing the unfortunate Louis Viat to go for a swim.
"We had a man overboard exercise!" quipped Cammas later. "Louis hurt his knee. It was hard because the main sheet was around his leg when he fell in the water. And we broke two parts of the trampoline, the shock was so hard." Nonetheless Viat was recovered and Groupama C went to slide in ahead of the third-placed Hydros Lombard Odier boat of Billy Besson and Jérémie Lagarrigue with the win going to their Swiss team mates, Mischa Heemskerk and Bastiaan Tentij.
Groupama C was showing particularly good pace upwind today. In the second race Besson and Lagarrigue attempted to lock them out by the committee, forcing Groupama C to start behind them only for Cammas and Viat simply to roll past the Swiss crew. "When we double trapeze we are very fast upwind," agreed Cammas. "It seems easy, especially in the high mode compared with the others."
However Cammas admitted they still have work to do downwind. In particular they are sailing higher angles than the Swiss boats and when they gybe it seems to take an eternity to get the boat sorted out, re-canting the mast, etc. Nonetheless barring the MOB, they have a perfect scoreline.
After most of the teams were up working on their boats into the early hours of this morning following Monday's carnage, there was marginally less damage within the fleet today. The most heart rendering was when Team Sentient Blue's Alpha capsized in today's fourth race, shortly before it was canned when the wind dropped to nothing. Sadly this was the first ever day of racing for 470 silver medallist Luke Patience as helmsman of a C-Class catamaran. The young Scot was gutted by the experience. "I feel terribly guilty. The one thing I didn't want to do is to break anything..."
He recounted what happened: "It got really light on the first run of the last race and Sito [Avilés] was trapezing to leeward and I was hiking down here. A bit of puff hit and I bore away... and I kept bearing away and bearing away and I can only imagine that it was not hard and quick enough, so we just tipped in and capsized." Unfortunately while the capsize caused minimal damage to the wing, it was in righting the fragile catamaran that demolished its entire rear element.
While not exactly the ideal outcome, Team Principal John Downey is an old hand when it comes to C-Class racing and was more than aware that in sailing the fragile exotic catamarans you are only ever a small step away from catastrophe. "It is here to be sailed...it is just one of those things. I was really pleased watching their steep learning curve going up over the course of the races," he said of his crew.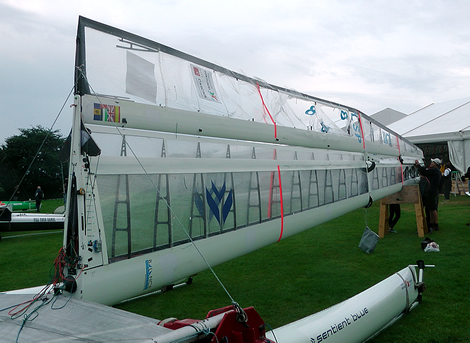 Downey, professionally an airline pilot with Etihad, felt it was unlikely that they would be able to get Alpha back in action to race again this week. They only acquired the boat three weeks ago. "It is probably 1.5-2 days work, because there is also a crack in the leading edge, although that's just the fairing. But we're not just here for this regatta - we bought it to go forwards and if we bodge it, we could end up having a major structural failure, then you end up having real problems."
After a long night working in the tent, Team Cogito was back in action today. Steve Clark and his Aethon got off to a good start in the first race today only for the rear element of their wing to break once again, close to where their overnight repair had been made following Monday's breakage. They were also suffering from ties on their stiff 3Di trampoline pulling out.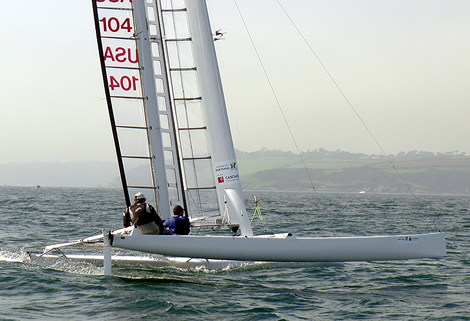 However the consolation prize for the team was the performance of Lars Guck and Max Kramers on Clark's 1996 Little America's Cup winner, Cogito, finally getting out on the race course for the first time after the leading edge of their rear element broke before racing had even started yesterday. After a slow start in the final race today, when one of the cleats for their wing's twist mechanism failed, causing the wing to repeatedly go to maximum twist, they managed to get to the correct side of a big shift that came through on the first beat and were in the hunt at the top mark.
"On the downwind we got into a really good mode and by the first bottom mark we had caught right up with Franck [Cammas]," said Kramer. "He was out of phase and it was light and that boat is pretty finicky in light air." They raced Groupama C for the next lap and on the second run managed to overhaul the otherwise invincible French team. Unfortunately leading up the final beat the wind shut off and the race was canned – but, still, not a bad performance from the 18-year-old piece of Little America's Cup history.
While Groupama C is clear leader, causing the rest of the fleet to believe that the fight is now on for the places, the pretender to the throne remains the Swiss two boat Hydros Lombard Odier team. While their Dutch crew of Mischa Heemskerk and Bastiaan Tentij was the star performer (after Groupama C) today with a 2-1-2, they remain on the backfoot in the overall results after their capsize in yesterday's second race (their shore team was up all night repairing their wing). As a result, holding second overall is Billy Besson, on a roll this year having won both the F18 and Nacra 17 Worlds, sailing here with the Swiss team's manager Jérémie Lagarrigue.
Despite their immaculate preparation, Besson and Lagarrigue started the day on the back foot when in their first bear-away they broke the car on the track that acts as a fairlead for the daggerboard rake control in the port hull.
They finished thanks to Lagarrigue lashing up a running repair, but Besson said that the lashing had some stretch in it that causing the rake control to develop a life of its own at times. Despite this they managed to post a 3-3-3 scoreline today, leaving them second overall.
Little America's Cup defender, Fred Eaton and his crew are not looking their usual dominant selves at this event, although Eaton and Magnus Clarke's new boat, Fill Your Hands, is currently lying third overall. "We are just not far enough forward on the hydrofoiling understanding and implementing the systems," admitted Eaton. "We were too late into it, our initial mind set was a skimming boat would be good and it just turned out that it wasn't fast enough and we were too late converting, and didn't have enough time testing. We were comparing ourselves to what had previously been the fastest boat around and we had a faster boat, so we were fairly happy with that. But we didn't know how fast the other guys were going..."
Even so, they are gradually improving. "We managed to get the boat hydrofoiling for a bit of it, but we don't have the pace of the other two foiling teams," Eaton continued. "It puts us between fleets very nicely. At least we did feel we were racing in the hydrofoiling fleet today, a lot of time." The second race went particularly well for them and they showed noticeable pace over the non-foilers. However Eaton says they are still getting used to the boat – in 8-10 knots it is fine, in 15 they are all over the place.
Eaton, who has been the one of the main driving forces behind the C-Class for the last few years, does think foiling is good for the class. "I am very happy with it. I just wish we were a little further ahead compared to some of the other guys. We misunderstood the gap that was there, but you can't be the smartest guy all the time. They did a great job and have done some good homework."
Sadly the Team Canada B-boat, Canaan, Eaton's 2010 winner, didn't make it out on to the course today following their boom box failure yesterday. "They made a competitive decision not to sail with the replacement wing today, because they would have to keep it for the rest of the regatta. They should be ready by tomorrow if they are on schedule."
Back in the water and heading out for testing this afternoon was Team Invictus, following their main beam and daggerboard breakage caused during their capsize yesterday.
"We were lucky in that we had a spare beam that we had built probably nearly 10 years ago that has been gathering dust in our workshop," said Team Principal Norman Wijker. "It was a shock loading during the capsize that caused the beam to snap." One of the team made an eight hour round trip to the team's in Bristol to pick up the replacement beam and they were up all last night drilling the beam, glue on plates and reinforcement patches. "We were lucky that the wing suffered almost no damage, unlike Alpha," said Wijker.
After their impressive upwind display yesterday in the regatta's oldest boat – the 1985 generation Patient Lady VI - the Challenge France crew of Gurvan Bontemps and Gwenole Gahinet – were lacking pace in today's lighter conditions.
"We were very happy to have sailed three races today," said crewman Gwenole Gahinet. "We were fighting with Alpha and we have a very hard boat." Gahinet, who is due to set off in the Mini Transat in a couple of week's time as one of the race favourites, said that Patient Lady VI is very fast in 15-20 knots of wind.
Tomorrow is technically a layday but as no races were completed on fog-bound Sunday, three are to be held tomorrow.
Back to top
Results:

| | | | | | | | | | | | |
| --- | --- | --- | --- | --- | --- | --- | --- | --- | --- | --- | --- |
| Pos | Boat name | Sailno | Helm | Crew | R1 | R2 | R3 | R4 | R5 | R6 | Net |
| 1 | Groupama C | FRA7 | Franck Cammas | Louis Viat | 1 | 1 | 1 | 1 | -2 | 1 | 5 |
| 2 | Flyer | SUI1 | Billy Besson | Jeremie Lagarrigue | 2 | 2 | 2 | -3 | 3 | 3 | 12 |
| 3 | Fill Your Hands | CAN10 | Fred Eaton | Magnus Clarke | 4 | 3 | 3 | 4 | 4 | -5 | 18 |
| 4 | Above Archmedus | SUI11 | Mischa Heemskerk | Bastiaan Tentij | 3 | (12.0 DNF) | 12.0 DNC | 2 | 1 | 2 | 20 |
| 5 | Patient Lady VI | FRA2 | Bentemps | Gahinet | -6 | 5 | 4 | 6 | 6 | 6 | 27 |
| 6 | Alpha | ESP8 | Luke Patience | Sito Aviles | 5 | 4 | 5 | (12.0 DNF) | 7 | 7 | 28 |
| 7 | Cogito | USA104 | Lars Guck | Max Kramers | (12.0 DNC) | 12.0 DNC | 12.0 DNC | 5 | 5 | 4 | 38 |
| 8 | Wild Horse | POR25 | TBD | TBD | (12.0 DNC) | 12.0 DNC | 12.0 DNC | 12.0 DNC | 12.0 DNC | 12.0 DNC | 60 |
| 8 | Canaan | CAN9 | Billy Gooderham | Chritian Pavey | (12.0 DNF) | 12.0 DNC | 12.0 DNC | 12.0 DNC | 12.0 DNC | 12.0 DNC | 60 |
| 8 | Aethon | USA105 | Steve Clark | Oliver Moore | (12.0 DNC) | 12.0 DNF | 12.0 DNC | 12.0 DNC | 12.0 DNC | 12.0 DNC | 60 |
| 8 | Invictus | GBR38 | Tom Phipps | Cedric Bader | (12.0 DNC) | 12.0 DNC | 12.0 DNC | 12.0 DNC | 12.0 DNC | 12.0 DNC | 60 |
Back to top