C-Class carnage on a grand scale
Down to ten boats at the beginning of the day following the Portugese teams' main beam snap-age yesterday, the Little America's Cup fleet endured carnage on an even grander scale today as three races were held within the confines of Falmouth's Carrick Roads.
Even before racing started the British Invictus Challenge suffered a capsize within sight of Restronguet Sailing Club. Thankfully speedy action by her shore crew saved the day and prevented the wing touching the water and being decimated. With additional help from the Hydros Lombard Odier support RIB, the Invictus C was successfully righted and the intricate wing saved. However on closer inspection the main beam had cracked beneath the wing. At present a fresh piece of carbon tube is coming down from Bristol which will be sized and then drilled ready to be fitted, hopefully in time to go racing tomorrow.
Once ashore and the breakage had been assessed, Team Invictus Team Principal, Norman Wijker said: "We broke a daggerboard as well - we think it all happened at the same time..." Invictus Helmsman Tom Phipps was ill this morning and was replaced on board by a member of Team Canada, but is set to be back tomorrow, assuming Invictus is back in action.
With the wind in the southeast, the wind was gusty on Carrick Roads and, this even caught out Lars Guck and Max Kramers when the leading edge of the rear element on Cogito broke, again before racing had even started. As Max Kramers, son of legendary America's Cup engineering guru Dirk, recounted: "We got a big puff and then 'pop'."
And then there were eight.
| | | | | | | | | | |
| --- | --- | --- | --- | --- | --- | --- | --- | --- | --- |
| Pos | Boat | Sail no | Helm | Crew | Team | R1 | R2 | R3 | Tot |
| 1 | Groupama C | FRA 7 | Cammas | Viat | Groupama | 1 | 1 | 1 | 3 |
| 2 | Lombard Odier 1 | SUI 1 | Besson | Lagarrigue | Hydros | 2 | 2 | 2 | 6 |
| 3 | Fill Your Hands | CAN 10 | Eaton | Clarke | Fred Eaton | 4 | 3 | 3 | 10 |
| 4 | Alpha | ESP 8 | Downey | Aviles | Sentient Blue | 5 | 4 | 5 | 14 |
| 5 | Patient Lady VI | FRA 2 | Bontemps | Gahinet | Challenge France | 6 | 5 | 4 | 15 |
| 6 | Lombard Odier 11 | SUI 11 | Heenskerk | Tentj | Hydros | 3 | DNC | DNC | 27 |
| 7 | Wild Horse | POR 25 | Coyolla | Barreto | Team Cascais | DNC | DNC | DNC | 36 |
| 7 | Cogito | USA 104 | Guck | Kramers | Project Cogito | DNC | DNC | DNC | 36 |
| 7 | Canaan | CAN 9 | Gooderham | Pavey | Fred Eaton | DNC | DNC | DNC | 36 |
| 7 | Aethon | USA 104 | Clark | Moore | Project Cogito | DNC | DNC | DNC | 36.0 |
| 7 | Invictus | GBR 38 | Phipps | Bader | Team Invictus | DNC | DNC | DNC | 36.0 |
In the 13 knots winds that dropped to below 10 for race 2 and then up into the teens for race 3, the class act today was certainly Franck Cammas and Louis Viat on Groupama C, who dominated all three races from start to finish. While the two Swiss Hydros Lombard Odier boats were expected to be favourites going into this regatta, having two near identical boats and having had more time on the water, Cammas has the benefit of having had a decade on top in the ORMA 60 circuit, a Jules Verne Trophy record and, of course, a Volvo Ocean Race win on his first attempt, all under his belt.
A foil-off has been anticipated this week between the Swiss boats and Groupama C, and in fact this is ended up in a situation very similar to the 'big' America's Cup where the Swiss are like Oracle Team USA in having low drag high speed, but highly tweaky foils, while Groupama is very much taken the Emirates Team New Zealand approach with much more forgiving lifting foils. No surprise then that Groupama C has been showing much better stability foiling, both upwind and down than the Swiss opposition. Cammas and Viat got so good at showing the way around the course today, that in the final race they finished almost of leg ahead on the three lap, six mile long windward-leewards.
"It was fun, it was tricky sometimes," said Cammas. "It is not easy to finish the race in one piece, but for sure I am really happy with the boat."
While they looked very confident in their foiling, the great man admitted that they weren't so confident downwind. "I pushed more today and took more risks. We need to sail more in these conditions - it was the first time for us. In more than 15 knots, we haven't trained a lot. We discovered lot of things. Upwind we tried some different modes and it was fast sometimes. The boat is very stiff and you can play with all the toys very easily and be confident with the boards and the direction of the boat - it is good for that."
Having very much enjoyed the design openness of the ORMA 60 and G-Class subsequently, Cammas is really at home in the C-Class, which allows huge opportunity for design evolution. Very him. "It is a very good class to try and improve the concept. It is fun to design and it is fun to sail," he says.
The otherwise impeccable Hydros Lombard Odier team suffered a set-back today when in the second race, Mischa Heemskerk/Bastiaan Tentij's boat capsized on the beat.
Heemskerk, the F18 ace and A-Class World Champion, explained what happened: "It is difficult to sail these boats and there was one moment when I lost a rudder for a short moment. The boat went into a gybe and I couldn't get her out of it – I broke my tiller by pushing her out of there in the turn, but she still went over. Before I knew it were in the water and we both went to windward.
"Our top speed today was 29 knots, but at that speed you only need something small to get out of line to capsize the boat."
By the time their boat was righted, all the ribs in her bottom rear element had been broken, thanks to the boat having been caught by one awkward wave.
Fortunately the Swiss team came to Mylor prepared and have the materials to effect the repair job, which they will undertake overnight. "The whole second element needs to be replaced," continued Heemskerk. "The boys will work overnight so we can sail tomorrow alright. There's not much time, but we have a lot of man power and I hope we can do it."
The Swiss definitely looked to be on the back foot compared to the class act that was Groupama today. "I think in a straight line she is quite fast, but it seems Groupama finds it easier to get to their top speed," admitted Heemskerk.
Fortunately Nacra 17 and F18 World Champion Billy Besson and Jérémie Lagarrigue put in a solid series for the Swiss team and at the end of the first day are second overall, having posted three seconds.
Another two boat team to have mixed fortunes was Team Canada. Defending champions Fred Eaton and Magnus Clarke ended the day in third.
Clarke was back in action despite a deep gouge in his leg, following an accident on board the new Canadian C, Fill Your Hands on Thursday. He said: "Today was exciting - it was sort of as we had foreseen, a war of attrition, equipment breaking down, so our goal was to get things sorted, to get around the course and just get scores on the board for starters, because we knew sooner or later people would tip it in or break things. And things evolved around those lines."
However Clarke admitted that they are unhappy with their speed. "It was quite gusty out on the course and there were big gears changes between up-speed and down-speed and when it was up-speed it was very up-speed, so we were slow on our gear changes. In races two and three we found our groove a little bit better and we started well. Finally in the third race we had found a good mode downwind – it wasn't as fast as Franck and the Hydros boys, but it was good to be able to put the hammer down and push quite hard, quite aggressively."
Clarke admitted that through a whole summer of training in Toronto on Fill Your Hands, they sailed in big conditions just once. Roll on later in the week when conditions here in Falmouth are supposed to get lighter.
Sadly their team mates Billy Gooderham and Christian Pavey on Eaton's 2010 winner Canaan weren't so lucky. In race one after rounding the leeward gate, there was the disturbing and expensive-sounding 'bang' of carbon fibre breaking as the boom box in their wing disintegrated, forcing them to head for home. "We have never seen a failure like that," mused Clarke as to why this might have happened.
Fortunately the Canadians have a spare wing with them, originally used on their 2007-generation foiling C-Class, Off Yer Rocker.
While Cogito didn't even make it to the race course, Steve Clark's newer Aethon also experienced problems. As Clark explained: "Before the first race the primary twist control blew off the rig - the spar which stops the spar from rotating inside the wing."
Unfortunately it didn't stop there: "In the second race, we had a decent start and rolled over the top of Billy and Jeremie [the Hydros crew] and tacked at about the same time Franck [Cammas] did and thought we were in a horse race and then the number 3 element shat the bed," recounted the LAC legend.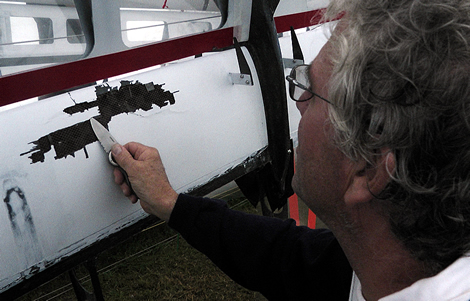 While when we spoken to him later ashore as he was stabbing away at his broken wing with a knife to determine the extent of the damage, Clark bemoaned that he'd been having issues with this area of this wing for a while. "We thought we built it fairly carefully - it is just not very good all told."
He expects both boats to be back on the water tomorrow. "As they say 'go ugly early' – that is the motto - glue it back together, paste it all up."
Tomorrow, three more fleets races are scheduled and, thankfully, in lighter conditions. But before then there is one long night ahead for most of the teams.
Back to top
Back to top