11th hour C-Class campaign
The most 11th hour entry to the International C-Class Catamaran Championship has been that of John Downey's Team Sentient Blue.
A Tornado sailor of old and a two time UK National Champion, John Downey's first experience of the Little America's Cup was when he and fellow Tornado sailor Keith Bliss and their boat, The Hinge, challenged (unsuccessfully) Australian Lindsay Cunningham's defender, The Edge in 1987.
"That was my first go at a C-Class, which was a bit of a disaster, but I have never managed to cure myself of the addiction since then," admits Downey, who professionally is an airline pilot with Etihad Airlines. For the last eight years he's been based in Abu Dhabi, where he originally went to help start up Etihad's 777 fleet but he is now the Chief Pilot for their Dreamliner program. His claim to fame is that he was previously a Concorde pilot.
In the recent era of the ICCCC he has been involved on the periphery of Norman Wijker's Invictus Challenge, but since the last event in Newport in 2010 he has been working with Spanish designer/builder and A-Class sailor, Sito Avilés, on a kind of mini C-Class, they are calling an A+. "Basically we have used an A-Class' hull tooling, although heavily modified, with 10ft beam, so it is a scale model of a C-Class. We are building our own wing for that, because originally we couldn't afford to do our own C-Class campaign," says Downey.
The boat is currently under construction in Murcia in the south of Spain, where Avilés is based.
Over the course of the last few weeks, their involvement in the ICCCC here in Falmouth has taken a dramatic change.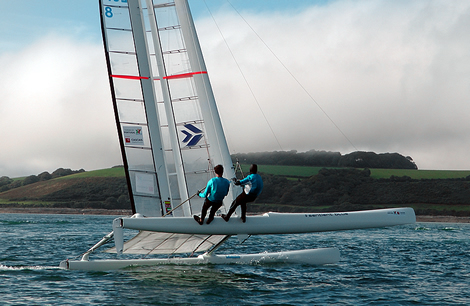 "We were just going to come here and observe and then about three weeks ago, via various routes, I discovered that Alpha was up for sale," says Downey, referring to Canadian Fred Eaton's 2007 winner. This had been bought by Groupama, as a development platform for their Groupama C. "It took me about 15 nanoseconds to make the decision to buy it. One of the reasons is that I live in Abu Dhabi now and we are very keen to get cat sailing in all forms going properly in the UAE. I think there is a very good chance of doing that if we take a machine like this back to Abu Dhabi and show it off."
How much a good second C-Class catamaran changes hands for is a little vague, but Downey says that he acquired Alpha for the "price of a rather nice car", whereas building new would be 2-2.5x that or 150-200,000 Euros.
Downey continues: "One of the things that we are very interested in in this regatta, is that it might a tipping point: the foiling boats are either going to do fantastically well or they are going to be so difficult to control that they will hurtle around the course and then stop, and then hurtle around the course and then stop. The AC72s have been coping with it, but they have a crew of 10 guys..."
We contemplate how C-Class foiling is at much the same stage as Moth sailing was a decade ago. But with many of the wings taking on an extra level of complication and now the foils being added with all the required controls to adjust rake and cant, plus the cant of the rudders - perhaps it will be too much for two people to manage? "The poor crews are going to be steaming away, trying to control all of the bits and pieces."
Since Fred Eaton's ownership, Alpha was modified slightly when she was in Groupama's ownership, who changed her wing controls. And the boat is obviously a 'low-rider' with no lifting foils. The wing is an evolution of Cogitos' with the two principle 'elements' fore and aft and a flap slung off the trailing edge of the front element. The wing has leading edge twist, and is very much of the same family as most of the other wings here.
The aim of the campaign is to have a full-blow C-Class campaign for the next ICCCC scheduled to be held on Lake Geneva in 2015.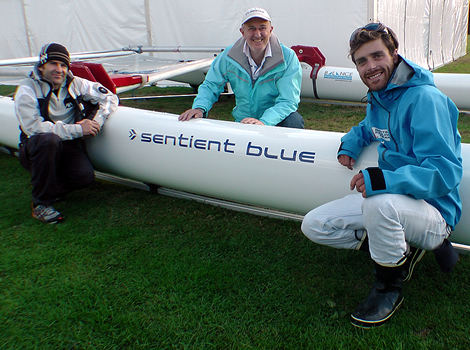 On board for the ICCCC they have got London 2012 470 silver medallist Luke Patience helming (although Paul Larsen is standing in for him today), with Sito Avilés as crew. The only problem with Patience and Avilés is that they are both pint-sized.
According to Patience, he has been talking to Downey about the campaign since the beginning of the year, but it was only two weeks ago that the opportunity came up to sail in this regatta. As the exact opposite of his 470 campaign, he will start this regatta on Monday having never sailed with Avilés and having never sailed Alpha before. "It is cool. I quite like jut jumping in at the deep end with these things," says Patience. "I have sailed A-Class cats a bit. I did a little bit on the Extremes last year."
"A boat is a boat..." he tries to convince us, but admitting: "Okay, there are two of them and there's no sail! It is a big learning curve for me and I'm just really pleased to be part of it and to have had the offer. Who knows? If the Kiwis win the Cup, who knows what will happen?"
Obviously a lot of budding pro sailors are looking to catamarans with the long term aim of grooming themselves for the highly paid world of the America's Cup. "More than anything, I am a sailing enthusiast and I am excited to go and develop my skills in the sport in as many areas as I can," says Patience, who is fresh from winning the ISAF Worlds trials in Santander with his newish crew, Joe Glanfield.
Back to top
Back to top