C-Class teams revving engines
A warm, but overcast day on Falmouth's Carrick Roads, 24 hours out from the start of the International C-Class Catamaran Championship (ICCCC), which kicks off with three fleet races, the first scheduled to get underway at 1100 BST.
Most of the teams have been out on the water at some point today. Team Canada decided not to go, awaiting for Fred Eaton's crew, Magnus Clarke, to recover from his fight on Thursday with Fill Your Hands' dolphin striker – after coming off the foils suddenly, Clarke swung forward on his trapeze and ended up under the boat where his leg received a deep gash from the carbon fibre strop going around the dolphin striker. He ended up being whisked off to hospital nearby where he received seven stitches.
Rob Greenhalgh, who is helping the team out here, stood in for Clarke during training yesterday, but Clarke is expected to be on the boat with Fred Eaton for racing tomorrow, this dynamic duo having won the two previous ICCCC.
While no stitches were involved, Mr Little America's Cup, Steve Clark is recovering his composure after he fell off Aethon yesterday causing the boat to capsize. Capsize and C-Class catamarans (with their wings) are not by any means happy bed fellows, however thanks to the benign conditions and the rapid action of Clark's Team Cogito support team, Aethon was rapidly righted with only minimal damage. Phew.
Among the interested parties visiting the event today are Martyn Smith, designer of the Firebird and Freebird catamarans, as well as the nosecone on Concorde, while Barcelona World Race Race Director, Denis Horeau, himself an offshore multihull racer of old, is helping with the Swiss team.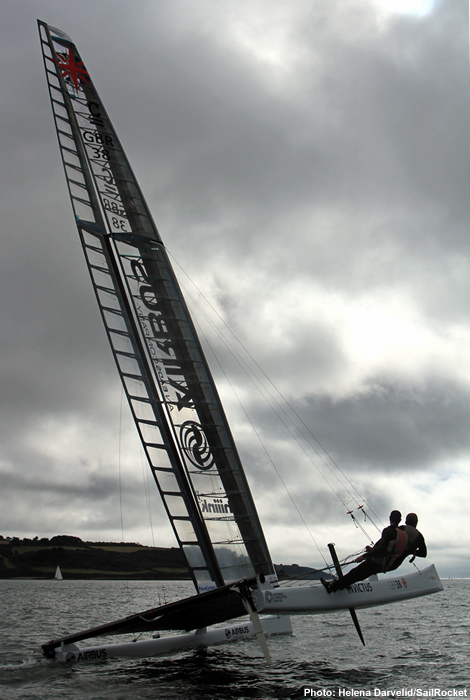 British challenge

Norman Wijker's Invictus Challenge is the host of the 2013 International C-Class Catamaran Championship having previously competed at the events in 2004 and 2010 in Rhode Island.
Led by Wijker, the British challenge is based around a group of Airbus employees from Bristol, but with the weight (and boat building skills) of SailRocket's Paul Larsen and Helena Darvelid who have waded in to help propel them to the start line. Larsen is not sailing on board this time - the ride has gone to the young Anglo-French duo of Tom Phipps (son of Brian, who runs the Catamaran Clinic here) and Cedric Bader.
The epoxy was not quite drying on their new wing when they went for their first sail yesterday, but not far off.
Using the same platform as they have used in all three of their campaigns with its 1990s-style big bows, the team has a new wing – their third - which is much more conservative than their previous attempts. The first Invictus wing had a split flap back element, while their second wing was a three element affair with a unique 'active' flexi second element.
Paul Larsen describes the latest wing: "This one is a simple, two element wing, with no twist on the leading edge. So we have a box spar, the whole element one [ie the front element] doesn't twist. We have a very nice and exact slot geometry – all the tooling has been out of machined moulds and all the flap hinges have been made out of titanium, so we got exactly what we designed. We struggled to achieve that with the other two wings."
Unusual is that the two elements overlap: "Element 2 swings around the trailing edge of element 1 in an arch, so that when it settles on the new tack there is an overlap, a bit like an overlapping jib or a non-overlapping jib, so that gives you better slot geometry," continues Larsen.
"The concept behind this wing was to keep it very simple and to keep it very light. Norman [Wijker] believes that if we had the time and the resource, he could get this wing down to around 35-40kg, which makes it super light, whereas at the moment it is about 75kg. The thing is that as these boats are now going faster with the hydrofoils, you are sailing at much tighter apparent wind angles, so all these high drag, high lift devices are slowly getting stripped off. So this might be a good way to go, particularly if we could get it down to 35kg. If that had been the case, ours would be the lightest boat here, but it is a low-rider and you know what is about to happen..." Ie the foilers like Groupama 3 and the Hydros Lombard Odier cats are going to kick some butt.
The Invictus wing has sheet, camber and flap twist controls and, fingers crossed, when the wing tacks the second element will automatically fall into place on the new tack. However the team has only had two days to bed the new wing in and remove stretch from the system...Mmm.
Team Cascais
Team Cascais arrived yesterday from Portugal and her crew have slowly been piecing together their Tony Castro designed C-Class cat.
The crew for the boat is Diogo Cayola (helm) and Nuno Baretto, both of whom have strong Olympic credentials, Cayola in the Tornado and Baretto in the 470 – he won bronze in the 470 at the Sydney Olympics.
The great man, Tony Castro, was down in Mylor yesterday and apparently previously worked with Baretto on his 470 foils.
Sadly, like Invictus Challenge, the Portugese campaign is both brand new and also lacks sailing time due to failure of sponsorship money to arrive on time and according to Project Manager Antonio Reis whether they race or not tomorrow is in the balance. Thankfully, long suffering measurer Duncan Maclane is preparing to take his tape measure to both Invictus Challenge and the Portugese C later this evening.
The boat was built by Optimal, a Portuguese company offering structural design solutions to the automotive and aerospace industries, but, according to Tony Castro, the build (and the design) got dumbed down due to the late arrival of funds. With the boat launched, they have only completed three towing tests and the smallest amount of sea trialling in Portugese before whisking the boat up to the UK.
In theory the boat is a foiler, but considering the work-up time necessary to achieve this, the boat, if it races, will certainly be low-riding. "I am sure it could and it will one day!" says Castro of his design's airborne potential. "We designed two sets of foils - an 'S' skimming solution first and then a full flying set of 'L' foils (not yet built) and their respective rudders. Both the optimisation of the shapes, and the checks on the flying stability of the design was all done at the beginning of the project with the usual assistance from CFD technology just like the America's Cup."
The wing is the same design at Team Invictus' new one, but according to Antonio Reis it is different structurally.
Castro describes the wing: "The intention was to save a considerable amount of weight versus the conventional inner tube and rotating lower section in order to control twist, etc. Our intention was to control twist through a dose of 'plastic engineering', whereby the structure is designed to flex as intended for a given wind speed, with a set of controls limiting the flex along the span... This required a much more sophisticated 'tacking' flap pivot mechanism and control to maintain the gap to an exact amount, to keep flow attached with only two part foils and the overall wing functioning at its best lift coefficient. Unfortunately I don't think we managed to achieve due to structural and construction problems."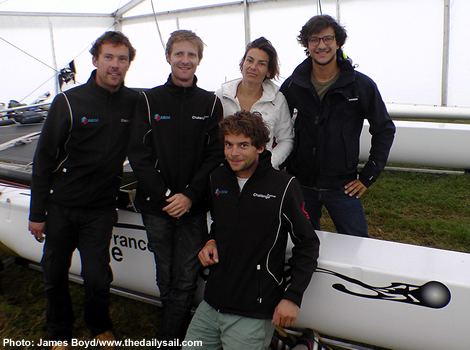 Challenge France
Challenge France first came into being for the last International C-Class Catamaran Championship. While many of Fred Eaton's Team Canada worked with Oracle for the 33rd America's Cup, during this period Eaton encountered French designer Benjamin Muyl, part of Guillaume Verdier's design network, who at the time was working for BMW Oracle Racing (as was).
For the 2010 ICCCC Eaton generously lent venerable Patient Lady VI - Tony DiMauro's final C-Class, which lost the Little America's Cup in 1985 and which Eaton had subsequently acquired from Steve Clark as his starter C-Class catamaran in the build-up to his 2007 ICCCC-winning campaign with Alpha. At the 2010 event it was sailed by former ORMA 60 skipper Antoine Koch and cat sailor Jérémie Lagarrigue (who now is managing, and sailing in, the Hydros Lombard Odier campaign).
According to Muyl (second from the left above), at the end of the 2010 ICCCC, Fred Eaton generously bequeathed Patient Lady VI to Muyl, with the aim of rejuvenating C-Class racing in traditionally the world's greatest multihull sailing nation: France.
"It was an expensive present!" admits Muyl. "It took some time for me to accept it, because I wanted to get some other people to come into the project with me, because otherwise it wasn't feasible."
About six months after the last ICCCC they got Patient Lady VI up and running and held a press event in Quiberon as a result of which they managed to get backing from a company called ABM (only in France can you get a yachting sponsor that is based in the very centre of the country whose business is hiring out agricultural and industrial machinery).
Former Sergio Tacchini ORMA 60 skipper Karine Fauconnier was going to sail on board, but the crew is now F18 sailor Gurvan Bontemps and Mini Transat sailor Gwenole Gahinet.
Patient Lady VI is all original, apart from the rudders which the team has changed. The aim of the campaign, says Muyl, is to create some interest in France, with the aim of finding a backer to build a new C-Class. Fortunately in this respect he already has the know-how: He was on the design team of Groupama's C-Class.
One thing is certain – Patient Lady VI won't be foiling...
Back to top
Back to top