Eleven C-Class teams set to do battle in the UK
While the 'big' Little America's Cup attempts to draw to a conclusion in San Francisco with scorn universally being poured on the maximum wind limit, the Little America's Cup (technically the International C-Class Catamaran Championship) is set to get underway in the more docile location of Falmouth in the UK.
This is the first time the event has been held in British waters since 1969 and for fans of birthdays, 2013 represents the 50th anniversary of when the event was first sailed in the UK.
Ironically, while the America's Cup itself may have only been held in the UK just the once, before taking up its 132 year tenure in the US, the Little America's Cup went in the opposite direction: It was first held in 1961 in Long Island Sound, when John Fisk and designer Rod McAlpine-Downie, sailing Hellcat II, challenged the American Wildcat team and won, kicking off a British winning streak in this event that lasted...a whole seven years.
While the 1960s events were held in Thorpe Bay at the opposite end of the country, in Essex, this year's event is being hosted by Restronguet Sailing Club at Mylor, famous for being where one Ben Ainslie got his first experience dinghy racing as a child.
Despite it being late September, around the time of the autumn equinox, the weather seems to be behaving, despite a freak hailstorm having occurred here earlier this month that left Falmouth looking as though deepest winter had set in.
No doubt spurred on by the big America's Cup being sailed in wing-powered catamarans (which iconically the Little America's Cup and the C-Class pioneered the use of back in the early 1970s), this year's event sees the biggest turnout of teams ever to have taken part. An unprecedented 11 C-Class catamarans are competing from eight teams and seven countries.
They have set themselves up in tents in a field by Brian Phipps' famous Catamaran Clinic on the shores of Carrick Roads.
The C-Class

For those unfamiliar with C-Class catamarans - this is one of the four catamaran classes originally created in the early 1960s by the RYA and subsequently adopted by the IYRU (now ISAF), with just three rules for each, limiting length, beam and sail area. The A-Class still exists and is more prolific than ever, while the B-Class became the Olympic Tornado, while only very few examples exist of the longest - the 32ft D-Class.
The C-Class is 25ft long, with 14ft beam and has 300sqft maximum sail area. Significantly, unlike AC45s and AC72s, C-Class cats are not allowed to increase their sail area downwind (or at least not over the limit) and so they don't use headsails or downwind sails. To compensate, the efficiency of the rigs has developed and developed, very rapidly moving from sloops to unarigs to wingmasts, to larger wingmasts to full wings by the early 1970s. Today C-Class wings produce a higher lift to drag ratio (effectively more power for their acreage) than any other sailing boat rig, including the big fellas in San Fran (AC72/45s don't need such enormous lift characteristics because they can use headsails and Code 0s).
The line-up

| | | | | |
| --- | --- | --- | --- | --- |
| Team | Boat | Nat | Helm | Crew |
| Team Canada | Canaan (CAN9) | CAN | Billy Gooderham | Christian Pavey |
| Team Canada | Fill Your Hands (CAN10) | CAN | Fred Eaton | Magnus Clarke |
| Challenge France | Patient Lady VI (FRA2) | FRA | Gurvan Bontemps | Gwenole Gahinet |
| Team Cogito | Cogito | USA | Lars Gluck | Max Kramers |
| Team Cogito | Aethon | USA | Steve Clark | Oliver Moore |
| Hydros Lombard Odier | Hydros Lombard Odier [1796] | SUI | Billy Besson | Jeremie Lagarrigue |
| Hydros Lombard Odier | Hydros Lombard Odier 2 | SUI | Mischa Heemskerk | Bastiaan Tentij |
| Groupama | Groupama C | FRA | Franck Cammas | Louis Viat |
| Team Sentient Blue | Alpha (ESP8) | ESP | John Downey/Luke Patience | Sito Avilés |
| Team Invictus | Invictus (GBR38) | GBR | Tom Phipps | Cedric Bader |
| Team Cascais | Wild Horse (POR25) | POR | Diogo Cayola | Nuno Barreto |
Among the campaigns here, three are two boat teams. The defender, Fred Eaton's Team Canada is one of them, his line-up including the new Fill Your Hands, which he will sail once again with Magnus Clarke (sadly injured during training this morning), while Eaton's 2010 winner, Canaan is also here.
Mr Little America's Cup himself, Steve Clark, has another two boat campaign including the venerable Cogito, that famously finished the 11 year Australian winning streak back in 1996.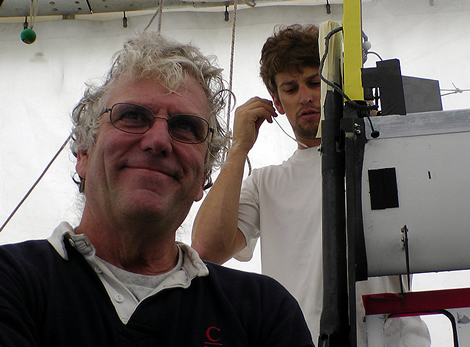 Respect needs to be given to Steve Clark (above with his crew)– over the last couple of decades he has been driving force behind getting the C-Class back on its feet. After a seven year hiatus in the Little America's Cup, he challenged Australian Lindsey Cunningham's Yellow Pages The Edge III and won in 1996. Then after another eight years, Clark held a C-Class event in his native Rhode Island, which spawned many of the present teams. He was partly prompted to do this when the Sea Cliff Yacht Club, the trustees of the 'International Catamaran Challenge Trophy', decided post-1996 that in the future competitors would sail for their trophy in F18-HTs (remember them?) and not C-Class cats, hence why the 'Little America's Cup' has since officially become the International C-Class Catamaran Championship.
While Lars Gluck is sailing Cogito with Max Kramers (son of AC engineering guru, Dirk), Clark is campaigning the 2010 generation Aethon with his nephew, Oliver Moore.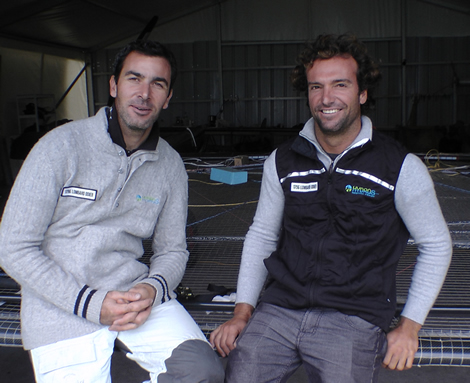 Jeremie Lagarrigue with Billy Besson (right)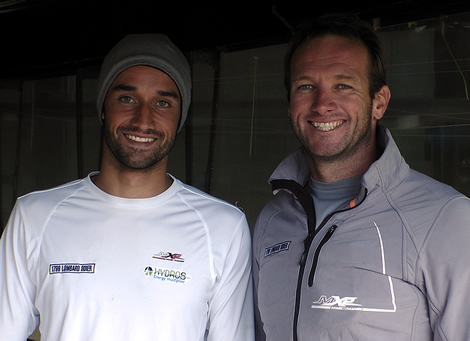 Mischa Heemskerk (right) with Bastiaan Tentij
However the form book says that the Swiss Hydros Lombard Odier campaign is favourite. While they are newcomers to the event, they are the only European two boat team competing with a line-up including some hardcore dinghy cat sailors such as F18 and recently crowned Nacra 17 World Champion Billy Besson, and the powerful Dutch F18 crew of Mischa Heemskerk (also the present A-Cat World Champion) and Bastiaan Tentij. They have also been in Mylor training for the last month.
In addition Volvo Ocean Race winner Franck Cammas has pitched up with one of the more ground breaking designs here, his Groupama C featuring a wing that cants - which, again, we'll go into more detail shortly.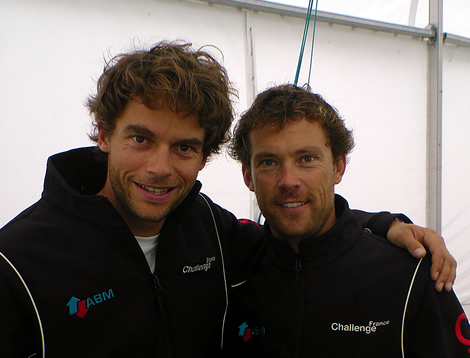 Gwenole Gahinet and Gurwan Bontemps
There is also another French team, Challenge France, led by yacht designer and engineer Benjamin Muyl, who is both part of Emirates Team New Zealand and the Groupama design teams. As their crew they have Mini sailor Gwenole Gahinet (son of the late yacht designer, Gilles) and F18 sailor Gurwan Bontemps (above) - former Sergio Tacchini ORMA 60 skipper Karine Fauconnier (daughter of 1984 OSTAR winner Yvon) has had to stand down from sailing due to a back injury, but is still here at the event. They are campaigning the old lady of the fleet, the 1985 vintage former Patient Lady VI. (If people want to go older still, on display nearly in Falmouth's National Maritime Museum Cornwall is Reg White's 1966, 1967 and 1968 winner, Lady Helmsman, a pre-wing C-Class, indicative of the direction the class was going at the time, sporting a substantial wingmast with an Austin Farrar elliptical trailing edge, Spitfire-stylee, later seen on Tony Bullimore's Spirit of Apricot ORMA 60).
Among the outside chancers are Alpha, Fred Eaton's original ICCCC winner from 2007 having passed through Groupama's ownership and recently acquired by long term British C-Class campaigner, airline pilot John Downey. Downey originally put his Sentient Blue team together with Spanish designer Sito Aviles, to develop an 'A Plus' catamaran, effectively a widened A-Class catamaran with a wing – a project that is still going, with a launch expected in December), however they have roped in London 2012 470 silver medallist Luke Patience as helm (who has to attend his sister's wedding this weekend – hence John Downey will be getting his feet wet for the first day of racing, before Patience takes over).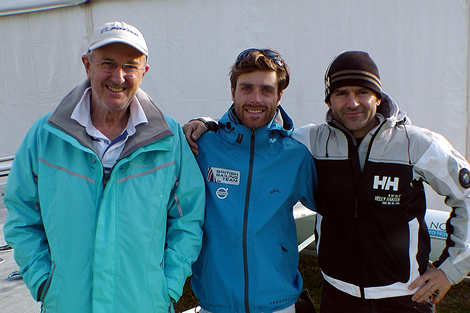 John Downey (left) with Luke Patience and Sito Aviles
Norman Wijker's Team Invictus is down although long hours are still going into getting the last components of her wing ready and looks like being last of the Cs to be ready, with Nacra 17 sailor Tom Phipps set to be helming. Paul Larsen (who helmed Invictus' boat the last time they challenged) is in situ with his rubber laminating gloves on, along with Helena Darvelid.
Very much a dark horse is Wild Horse, the design by Tony Castro for the Portugese Team Cascais. The Portugese is the only team yet to make it to the venue.
Flying

Of the 11 boats, five are brand new, built especially for this competition. Significantly, of the 11 four are foilers, properly mini AC72s: the canting rig Groupama 3, the two Swiss Hydros Lombard Odier boats and Fred Eaton's latest Fill Your Hands.
Will the foilers walk away with this competition? All the indications are that they will, but with an area of high pressure encroaching on the British Isles next week, the conditions might not be idea for them.
Format and timing

While teams are practicing this week (when the weather allows – some are certainly planning on going out this afternoon), racing formally gets underway this Sunday. The event kicks off with three days of fleet racing, comprising three races per day, with an 1100 BST kick-off each day. The race format is three laps of a windward-leeward course with one mile long legs.
There is a layday on Wednesday (although at present the forecast is such that it looks like this will be a sailing day) before the event moves into a best of seven match racing series for the top four (finalists and petit-finalists) while the rest get to continue their fleet racing, the event concluding on Saturday week.
According to conditions the course will be in Falmouth Bay or within Carrick Roads, according to the wind direction and if some shelter is required.
With the America's Cup wrapping up in San Francisco presumably at some point this week, unless Oracle pulls one gigantic bunny out of the hat, an influx of design teams and sailors fresh from California is expected here next week, their number dependent upon who wins and whether the feeling is that the 35th America's Cup will be held in monohulls or multis.
Our eminent colleague French photo-journalist Christian Fevrier is in town and it is a great pleasure to be hanging out with him again. Christian has been sailing and reporting on multihull racing a good decade or two longer than we have (and we're coming up for 30 years in 2014).
We are down here until the bitter end of this event and will be reporting daily...
Back to top
Back to top